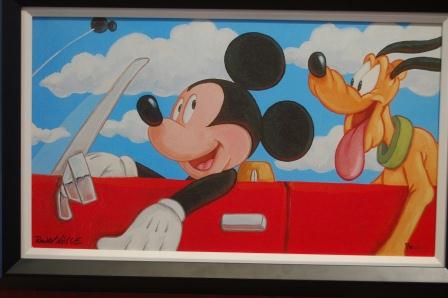 January 1, 2013:

Here it is, the first of a New Year -time to start planning trips for this year.  Actually, we started planning for this year before we left WDW last Fall.  We booked reservations for four trips to allow for hockey play-offs.

Trip One: May 8 - July 1 (?)

Trip two: August 23 - October 6

Trip three: December 1 - December 21

You might notice that Trips One and Two do overlap, this is to allow for Mavericks hockey playoffs.  We can slide check in dates as long as we have reservations for that time period.  Also, if we check in early, we can check out earlier than scheduled. 

We are now in the process of making dinner reservations at various resturants, including our favorites (LeCellier) and some new ones (Be Our guest in the New Fantasyland).  Alf is almost cleaned up and ready to go (gas, water, etc).  We have removed the "dining table" as it was always in the way.  In its place, we are adding a "map shelf" for, you guessed it, maps and atlas's.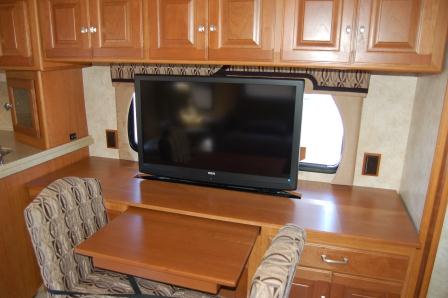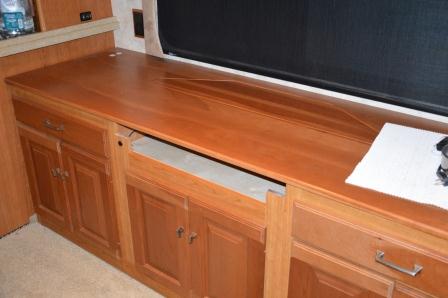 Before - "dining" table, sorry Itasca it was usually just a place to pile stuff (for us)

After - now a usable atlas, map and magazine shelf

Some other modifications I plan to make before next trip: change out some light bulbs to LED's (going green) and adding roof gutter extensions.

JANUARY 30, 2013:

This is just wrong!!!!

It is time to seriously think about getting out of here!  Mickey should never have SNOW on him!!!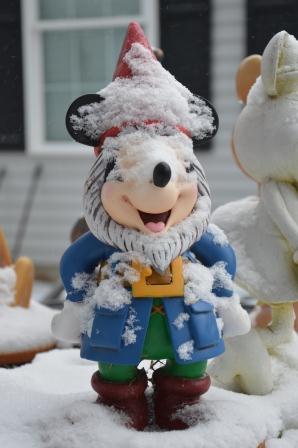 Sunday, March 24, 2013:

Only 46 days until we leave for WDW!  We can't wait.  We don't think the Mavericks will get past the first round of the play-offs this year, but don't tell them that. The snow just keeps coming.  We haven't had this much snow in years.  This is what we woke up to this morning: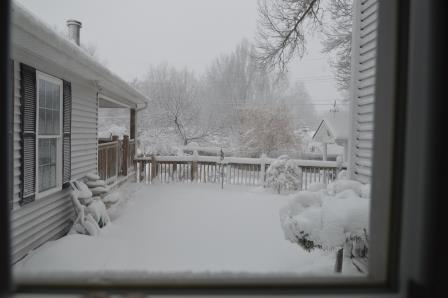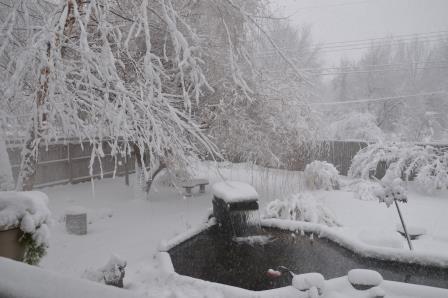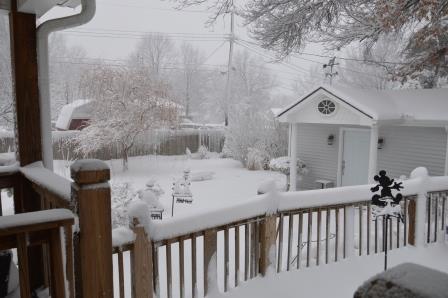 April 9, 2013:

A very sad day for Disney folks!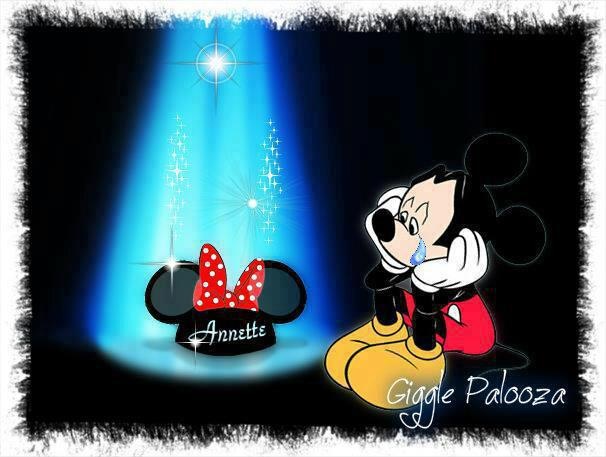 April 30, 2013:

One week to go, we are more than ready!!!  But first, a trip to Washington D.C. to accompany my Dad on a Veterens Honor Flight.  Leave K.C.I at 6:30 a.m. - whirlwind tour of  memorials and Arlington Cemetary and then back home at 9:30 p.m.  since it is a charter flight we even get TWO meals on the plane.  The best part - it doesn't cost us a cent.  I will try to post some photos when I get back.

Wednesday, May 1, 2013 (WWII Veteran's Honor Flight to Washington, D.C.)

Trip to Washington on the WWII Veteran's Honor Flight started at 4:00 a.m. picking up Dad and then a trip to the airport to be there by 5:00 a.m. We had an easy entry through security (I guess they thought they could trust a bunch of 80+ year old veterans)

We were treated to coffee and Krispy Kreme donuts (the area rep for Krispy Kreme is a big sponsor for the Honor Flight). We boarded the plane at 6:00 for a 6:30 departure.  The jetway and plane we all decorated with red, white and blue banners, pretty awesome.  Dad and I were assigned seats in rows 4 & 5, but someone wanted to change seats so we were "bumped" to row 3 (first class, darn the luck).  Very nice seats with LOTS of room!!  We were greeted at the airport with a water cannon salute on the tarmac and a brass band in the gate area.  Escorted through the airport (to a lot of cheers and applause) to three waiting buses. Then we were off to the World War II Memorial for an hour there.  It is HUGE!  pictures of the memorials don't do them justice, they are all so big.  From there we went to the Viet Nam, Korea and Lincoln Memorials.  Again, very big and very impressive (in a very somber way).  Had a box lunch compliments of ARBY's on the bus and then we were off to Arlington National Cemetery for a changing of the Guard ceremony.  Normally they don't allow coaches into the cemetery proper, but since we were Honor Flight, the buses were allowed to go all the way to the Tomb of the Unknown Soldier.  It is a very impressive ceremony!  Guard is changed every 30 minutes in the summer and every 60 minutes in the winter.  Guards wear the same (wool) uniform all year round.  We also got to see two wreath laying ceremonies.  Then it was back to the buses and off to the Iwo Jima Memorial and the Air Force Memorial.  All very spectacular.  The weather couldn't have been better and everything was coordinated perfectly.  We went back to the airport and went right through security and to our gate.  Ride home was nice and allot of guys dozed.  We had a light supper (turkey wraps prepared by the airline (USAirways).  When we got back to K.C. we were greeted in the gate area by a fife and drum group from the Sons of the Revolution.  Perfect end to a perfect day!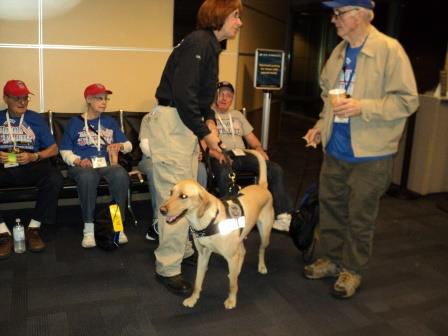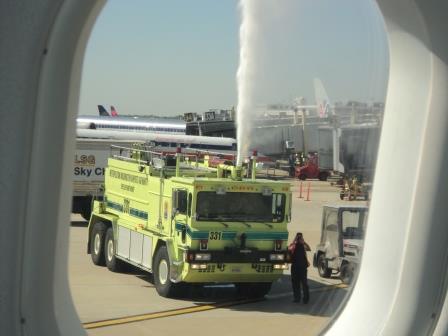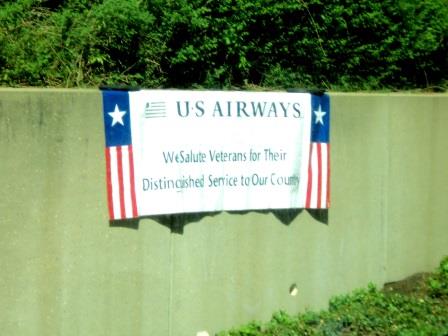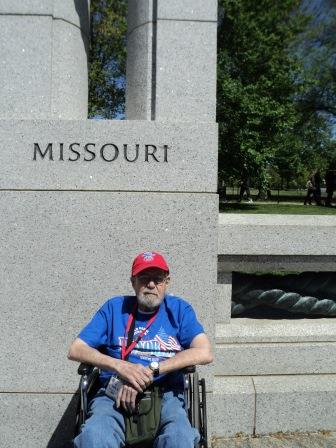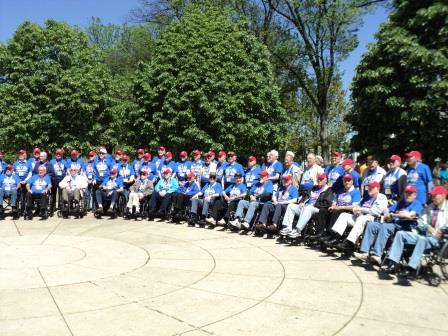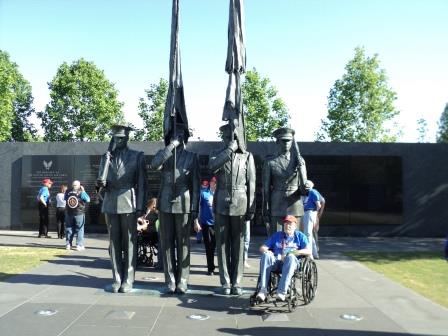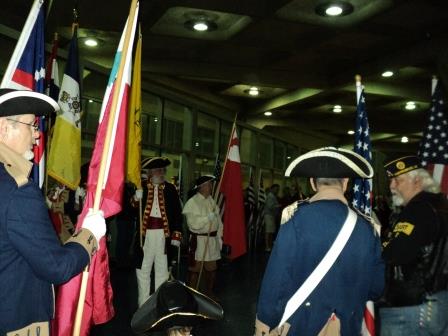 Return home greeting by Sons of the Revolution and

Patriot Guard

Dad at the Air Force Memorial

Group photo of all the Veterans

The bomb dog even came out to see us off

Greeting at Reagon airport