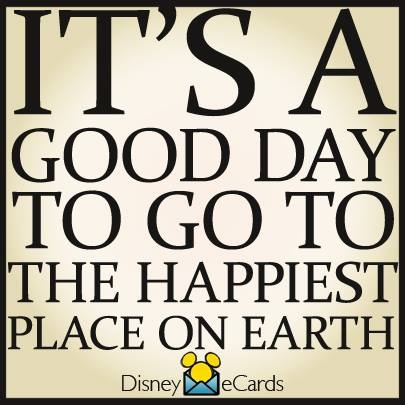 It is that time of year once again!

Yes, we are heading to Walt Disney World again.  we will make stops in Sikeston, Mo, Jackson, MS, Navarre, Fl, Lake City, Fl and then to The Fort.  This will be the first trip in the new coach.  We haven't had a chance to do a shake down trip so we are hoping it is an uneventful trip.

"I have been putting a lot of thought into it and I just don't think being an adult is gonna work for me"

Saturday, April 12:

We got an early start- 7:30ish thanks to Jane being up in to the early morning to get things put away and arranging so we didn't have things flying all over the place.  I am sure things will get rearranged a couple of times before everything finds a permanent home.  Our first stop - Panera's for coffee and pastry.  This is a traditional first stop.  Then we were on our way.  After a few miles I noticed how different Alf 2 is to drive than Alf 1.  More power on hills and entrance ramps, and quiet up front!  with the engine in back there is no engine noise in the cockpit.  Smoother ride with air suspension, too.  I think the kids liked that part.  After a couple of hours Nico started getting restless so we decided to stop and let them out and get some fuel while we were stopped.  This was my first time doing the diesel thing and I had to have a lesson from - a girl!  Seems like you don't just pull up, put your credit card in and pump.  No, you first take your credit card in and have them turn the pump on, then you go back out and take one nozzle off the pump and lay it on the ground, then you go around to the pump you want to use and put it into your tank and fill.  I guess that is for the truckers that fill 2 huge tanks at once.  And the diesel pumps pump FAST! I got 18 gallons in less than 30 seconds.  I am trying to keep track of mileage so we will see what that ends up being.  Continues on our way east then south on I-55 and everything was going great.  Then the winds came!  For about the last 100 miles it was very (two hands on the wheel at all times) windy.  We got an email from Chuck and Margie from home that said they were staying at Hinton also. They were with a camping group that had been there all week.  So we decided to try and meet up with them and maybe do dinner.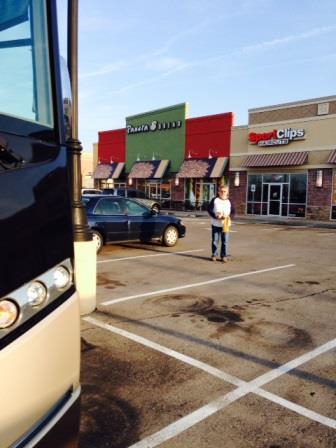 We finally got to Sikeston and we had the pick of sites so we took a site away from the road and in a quiet area so the kids wouldn't be barking at every moving thing.  Headed back to the site and turned into it and then the EVIL TREE struck.  Now why do campgrounds plant trees next to narrow sites and not keep them trimmed up to at least 13' from the ground?  So now I have some nice scratches that will hopefully rub out.  Moral of the lesson, Watch for innocent looking trees too close to the site.  We got settled and hooked up, took the kids out and fed them then decided it was time to eat.  Chuck and Margie had gone to Charleston for a concert and had eaten at Lambert's the night before so we called the shuttle and were taken right in and seated in a matter of a few minutes, while others were waiting in line to get in.  That is service!  Had a great dinner with enough leftovers for Sunday night dinner.  Jane had chicken strips that were huge and I had the shrimp dinner (30 big shrimp).  when we were done we just had our server page AJ (our driver) and we just stepped out into the waiting van and were on our way back.  When we got back to the coach, Chuck and Margie had just pulled up so we invited them in and had a nice visit then we went down to see their 5th wheel. After a bit they drove us back to the coach and we bid them good night and safe trip (they are leaving in the morning also).  We finally got the wi-fi set up so we could watch Mavericks (#1) vs Arizona (#8) hockey.  It didn't start until 9:05 our time so we were hoping for a quick game. Not to be - game went into 2 overtimes with Arizona finally winning!  Now it is back to Independence on Tuesday.  With the game ending about 1:00 it was time for bed!  We are all VERY tired.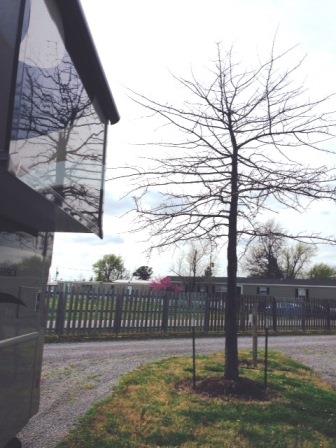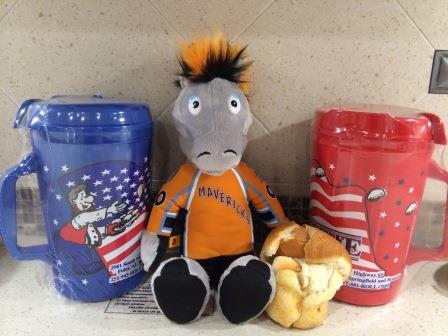 "Mac" caught a "Throwed Roll" and AJ gave us a couple of mugs

Sunday, April 13:

We kind of slept in this morning and didn't get going until 8:30.  Very windy again today, not quit as bad as yesterday, but still very windy.  Other than the wind it was a pretty uneventful day, except this diesel fuel thing. It seems as if every truck stop has their own way of doing things.  I think I will just stick with the car pumps that have diesel pumps.  It is slower, but less fuss AND cleaner.  I felt like Mr. Monk asking for a wipe for my hands each time I fueled up.  We stopped for the kids a couple of times and once for us at Steak and Shake in Memphis. VERY slow, took us about 30 minutes to get two hotdog's to go.  They were very busy and a little disorganized at the grill.  So, after a long tiring day we finally arrived at the new RV park just west of Jackson.  It is allot farther off the route than I thought it was and it isn't any better than Movieland.  The sites are very narrow and there is no grass for the dogs!  We got a confusing text from Teri back home saying that the generator had been running all day and that the transformer had caught fire.  Needless to say we quickly called her to make sure the house was okay.  It turns out that a transformer on a utility pole had caught fire and the power was out, so our generator had been running all day and they were concerned about it running out of fuel.  I told her that the generator runs on natural gas and it wouldn't run out of fuel and thanked her for calling.  That settled, we decided to hit the sack, the sooner we get up in the morning, the sooner we can get out of here.

Monday, April 14:

It rained very hard last night and was still very windy. When we got up at least the wind had died down, but it was still rainy.  The good thing was that it was not SNOWING like it was in Kansas City.  We got ready and got out of Springdale RV park for the first and last time.  I think we are going to re-route our trip so we can still stop in Sikeston and maybe go to Birmingham South again.  It isn't much farther and the campground is better than anything we have seen in Mississippi.  Might try it on the way home.  Since Mac (Mavericks mascot) decided to tag along with us, I let him do some of the driving to give me a break.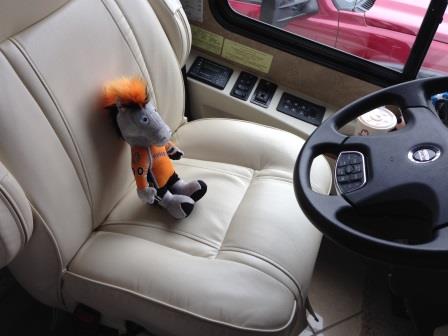 He had a little trouble reaching things, but we worked it out for him.  As we drove along we noticed that all the rivers and streams were either out of their banks or at the least very full.  There were flash flood warnings and advisories out for most of the state.  we stopped for gas andl unch at Love's/Arby's in Loxley, AL.  When we were the a very nice guy came over and admired the Disney perfs on the coach windows.  turns out he is a long time Disney collector and has some very rare items (a car from Mr Toad's Wild Ride) and a bunch of other very nice stuff.  His wife recently died and now it is timeto scale down his collection.  We exchanged names and addresses so he can contact us when he has a web site set up to sell some of his stuff.  From Loxley it was a short trip to Emerald Beach RV Park so we were there about1:30. We quickly set up what we needed, took the kids fora walk and then came in and crashed.  I got the Directv set up and then wecrashed for a while.  Jane went down to the beach, but it was still windy on the beach so she came back to the coach.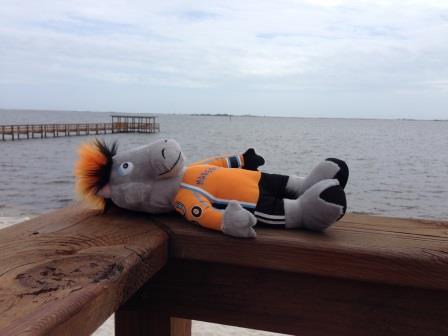 After a long day on the road, Mac just wanted to chill by the beach

Tuesday, April15 (Tax Day):

It rained hard all night and the wind off the Gulf was even buffeting the bottom of the coach.  We got going about 9:00, made a quick stop at McDonald's for breakfast and were on our way to Lake City Campground, which incidentally has no GPS location- never has.  I think we are looking for another place to stay, maybe one on higher ground!  We  (I) got off I-10 at the wrong exit, went a couple of miles up the road, turned around at the local fire station (talked to some of the firemen - nice guys) and finally made it to Lake City Campground - very appropriately named.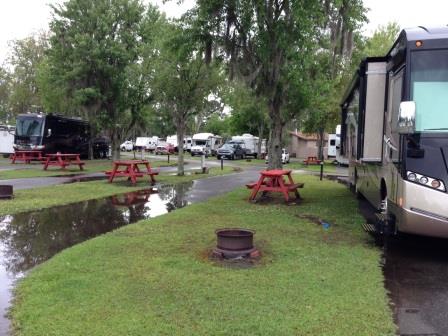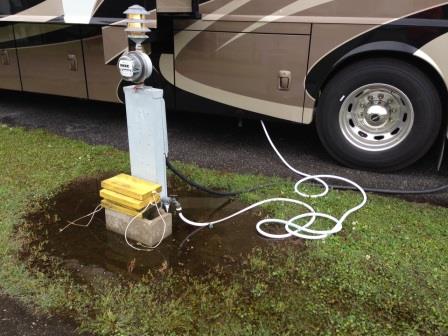 Lake City Campground - ours was one of the drier sites

This was kind of scary, that is the power tower sitting in 4" of water

We finally got the kids out, pottied, and dried off.  they were limited to high ground such as it was.  Tonight is the 6th game in the first round of CHL playoffs.  This is a must win for the Mavericks, they have only won 2 games and Arizona has won 3.  Tonight could be the end or one more chance to continue.  We set up the computer and were ready to watch at 10:00.  It's going to be a late night.  In the end - the Mavs lost in the 2nd overtime.  It was a great season, but what folks are going to remember is two new records - Mavs first time loosing in the first round of playoffs and the first time they lost to a lower ranking team.  Maybe next year!  After the game, it was off to bed.  Tomorrow it is on to Disney!

Wednesday, April 16:

We all slept good last night, it was a long tiring day yesterday.  Kids were up at 5:30, it is Disney Day, time to get up! So we did. The weather was better and looking promising.  We were on the road by 7:30, after feeding kids and walking kids.  Drive was great, no wind, no rain and light traffic.  We arrived on Disney property about 10:00 after a stop for breakfast (McDonald's) and a fuel top off.  We went directly to the Dolphin resort to pickup our rental car and visit with Melissa, the National Car rep.  Then it was off to THE FORT!  Checked in and were assigned to site 701 for the night then site 705 for the rest of the stay.  Hooked up power and water then took the kids for a long walk - no gators today.  Then we took the car to the front parking lot to catch a bus to Downtown Marketplace.  We did some initial shopping, got our annual passes renewed and went to Earl of Sandwich for dinner to go.  They are doing alot of work at Downtown to enlarge the place.  We will go backand take pictures on a less crowded day.  We realized that this is Easter break week so we will probably avoid some of the parks this week.  Went home via bus, saw some of the work being done on the parking garages, one of them is up 4 levels.  When we got home, watered the dogs and had dinner.  Then settled in for the night.

Thursday, April 17:

We were up early - kids were hungry!  Jane and I decided that since we had time to kill before we moved to site 705 we would go over to Whispering Canyon for breakfast with Chad.  We had a great breakfast and talked to Chad for a bit.  Then it was off to the "Trading Post" to spend some money.  We were going to go to Wal-Mart after breakfast, but decided to go back to our site to see if the guy in the crumby pickup camper had left 705 yet - he hadn't so we took bikes off the coach and disconnected water and sewer so we could move as soon as 705 was available.  Finally, about 11:30, he was gone.  We relocated in record time and started setting up X-Pens and lights.  We took a break for a while, it was starting to get warm, although many of the cast members were in long sleeves and cold weather clothes.  We took a walk to the Meadow Trading Post to get some supplies and a light bulb for the coach vanity.  Since the Arizona Sundogs are playing the Denver Cutthroats we had to find a fish to bury in the sand for luck.  We stopped by the Bike Barn to see if they had something we could borrow - they did.  We took a quick photo to send to our "adopted" Arizona player (he was our adopted son when he was with the Mavericks).  When we got back to the coach we had to finish up setting up lights and one last thing - our rain gauge had to be set out!  This sometimes chases rain away!  About 4:30 we went up to Trails End for dinner.  They have a fairly good dinner buffet and it was good.  On the way back to the coach we had to make a stop at the Settlement Trading Post just in case they had that special something.  They didn't, but Jane did manage to find something to buy.  Then we headed back to the coach to feed the kids.  I have decided not to mess with the satellite TV until morning, The new system might be frustrating! Watched a little over-the-air TV and then it was off to bed.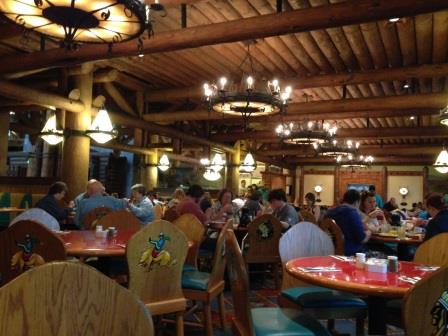 Breakfast at Whispering Canyon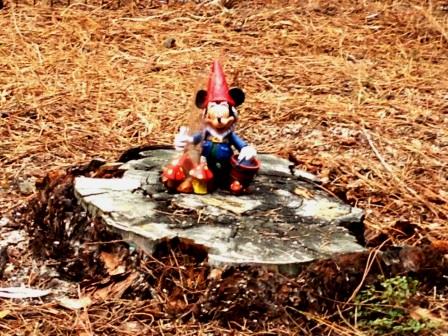 Friday, April 18:

we are starting to get into a routine, let kids out, feed them, and then get us some breakfast.  This will be the routine for the next couple of months so I will try not to repeat it every morning.  We are off to Epcot today to see our favorite Disney artist - David E. Doss.  He is at Epcot this week for the Flower and garden show.  We have many of his paintings at home (and in the coach).  He is done this trip on Sunday and since this weekend will be crazy busy in the parks we are going today.  We took the boat to Magic Kingdom (MK), then the ferry to Ticket and Transportation Center (TTC), and then caught the Epcot Monorail.  There is allot going on around the lake now, added docks for the ferries, and new Vacation Club suites at the Polynesian.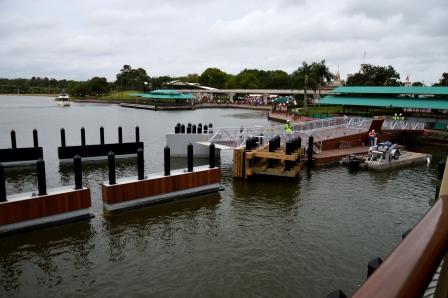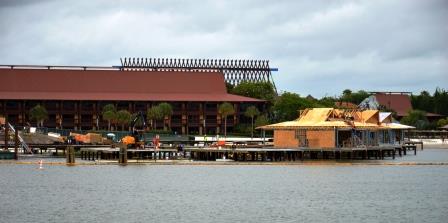 New ferry docks at MK and TTC - now ferries won't have to wait for an empty dock

New 2 bedroom Vacation Club suites on the lake - great view of fireworks!

When we arrived at Epcot we went straight to the Art of Disney store to see exactly where David was located.  It was starting to rain so we didn't want to be aimlessly wandering around looking for him.  Got our directions and headed out.  We were glad we didn't comeover on the weekend - lots of people here today.  Easter weekend and spring break for allot of kids!  We got to David's tent and he has some really good new pieces, so we broke the ice on major spending and bought one big one and one small one - we even have a place for the small one (this is kind of a rarity, we usually buy and worry about where to put them later).

After we left David, we stopped at a kiosk for a drink and pastry and a little break. The rain has held off for now, so we decided that since we were there we should take a run through MouseGear to see if the credit card was still good. It was!!!  We (Jane) made a few purchases for herself and some of the folks a home.  We headed back to the Fort, with a quick stop at one of the pin traders, via the monorail again. Then TTC and the boat back home.  When we got home the sky was really looking ominous, so we got the kids out and just as we were getting everyone in, it started raining - hard.  Perfect timing. We fixed some lunch and settled in for a while.  This morning I messed with the Directv for an hour on the phone with Directv and finally determined that BOTH of our Directv remotes were bad.  The agent I was on the phone with said that is rare, but it happens,  He fried his remote when it was too close to his cell phone!  They are sending two new remotes via FedEx. In the meantime, we have over the air local TV and Directv without remotes (changing channels at the box one channel at a time).  We basically killed time until the start of the Arizona vs Denver hockey game at 9:00.  It was still raining off and on so we read or did cross word puzzles.  We decided to go back to Epcot for the topiaries during the week when the weather is better.  Arizona lost the first game of the round two of the playoffs, they still have 6 games left (3 at home). Meanwhile, back in Independence, the Mavericks were having exit interviews and packing their stuff up. Time for bed. Tomorrow we will get the bikes out.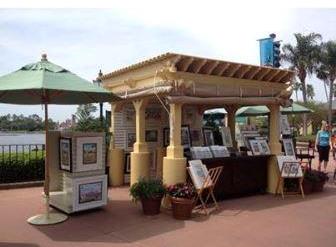 Saturday, April 19:

This morning it looked a little overcast so we had a leisurely breakfast and enjoyed the quiet and peacefulness.  We got the bikes out, made a couple of adjustments and went off for a ride around The Fort.  Went all the way to the outpost and back via a trip around the cabins.  We figured the trip was about 3 miles - good for a first ride.  I discovered my seat needs a little adjustment for future rides!  It felt good to get out and get some exercise.  After our ride and recovery we took the car over to the Grand Floridian to see the giant, decorated Easter Eggs.  This is something that they have done for the past 18 years.  It takes 19 Cast Members 3 weeks to create these giant egs.  Each egg is edible, weigh 9-12 pounds and stand16-20 inches tall.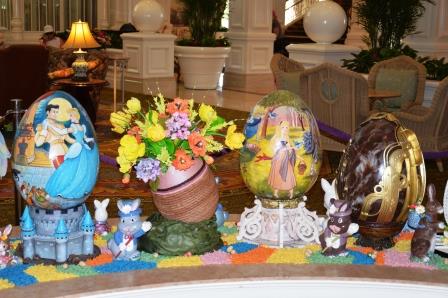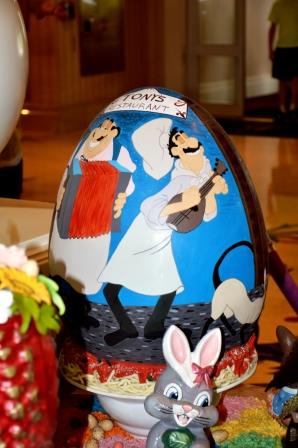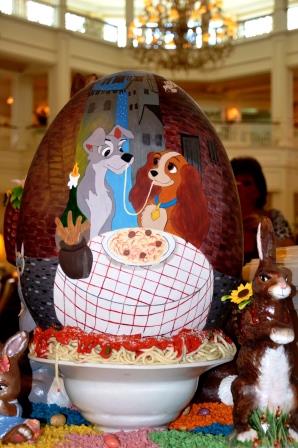 The Lady & Tramp egg was our favorite

We had lunch at Gasperilla's in the Grand Floridian, lunch wasn't so grand, just so-so.  Kind of disappointing considering the resort it was in.  After lunch we strolled around the resort grounds and looked at the view over the lake.  The Polynesian Vacation Club suites on the lake are going to be THE place to watch fireworks we think.  Also found the kids splash pool - they need one of these in adult size!  When we got back home there was a package for us at the Outpost so we stopped to pick it up.  It was from Directv, a new remote.  There was supposed to be two, but only one came.  When we got back to the coach I put the batteries (included) in to see if that fixed our problem - NO!  Now I guess it is the receiver.  I will have to change channels to old fashioned way, get up and go to the box to do it.  The good news is that the remote in the bedroom decided to start working, so to try it out we tried to record the F1 race at 2:00 am Sunday.

The rest of the afternoon we spent mostly enjoying the patio and the great weather.  The kids love being outside, except when it is rainy.  We decided to take our bikes down to trail's End for a drink before dinner.  We got our drinks and settled into a couple of rocking chairs and just watched the day go by.  watched the cruisers (big boats) come and go and just relaxed.  Came back and started the grill for a couple of burgers for dinner. Since the hockey game is late again (9:00) we are delaying dinner as long as we can.  Finally, it was time for hockey,  we are watching it on the computer and the video is fine, however the Denver announcers are the pits!  They don't even know their own team!  Lots of music (bad music) being played during even short breaks (time outs, etc).  These guys really make us appreciate our announcer, Bob Rennison.  Anyway, Arizona won, so now the series is tied 1-1 and they go to Arizona for the next 3 games, which are 10:00 games.  Well, after the game we all headed off to bed.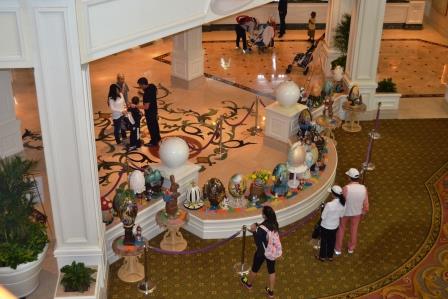 The eggs were all in the lobby area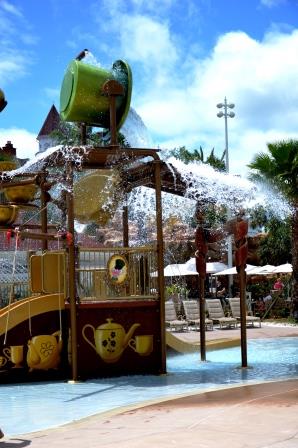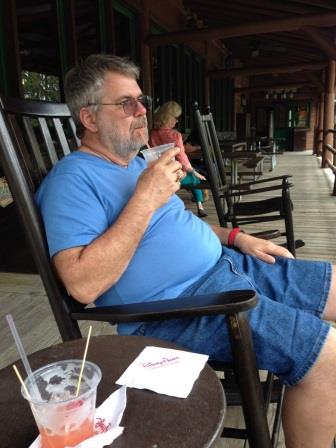 Sunday, April 20 (Easter):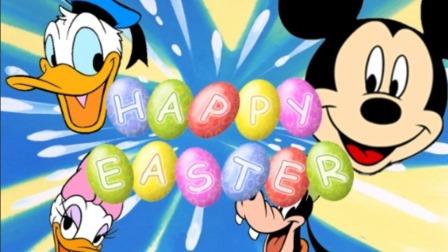 We went over to Whispering Canyon (at the Wilderness Lodge) for breakfast this morning.  As soon as we walked in Chad had our coffee and orange juice on the table - what service!  It was very busy, Sunday is checkin-checkout day so it is always the busiest day of the week.  We both had choc chip pancakes (2) and they were great as always. As we were paying our bill, Chad brought us a couple of Easter chocolates.  After breakfast we chatted with the "big boss" as Chad called her, Anne Marie. She has been with Disney for 14 years and started as a college intern.  We told her how much we like Chad and the great service he always provides.  After leaving W.C. we went to the gift shop, I got a light sweatshirt and a long sleeve tee and Jane had an Easter basket made for Stephanie, Hilda's daughter.  Hilda is our reservation agent here and she lives on property.  On the way home we dropped Stephanie's basket off and then back home to let the kids out.  They did their thing and promptly went back to sleep.  It is tough being a Disney dog!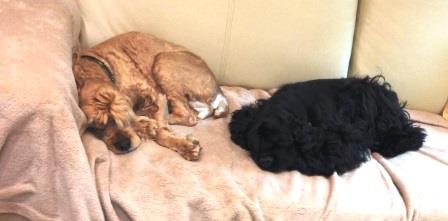 We thought we should try the washer and dryer today.  Alf 2 has a separate washer and dryer so at least we can be running a dry cycle while we do a second  washer load.  that might speed things up a bit on laundry day. We couldn't find anything about how much soap to put in, so we guessed.

We might have put in too much!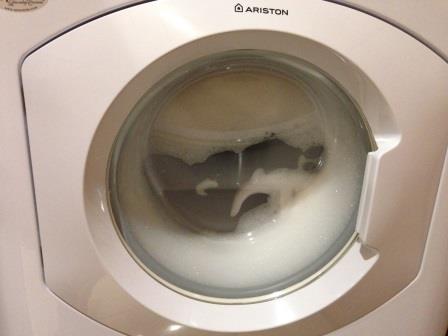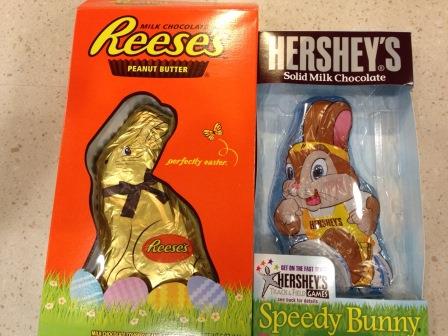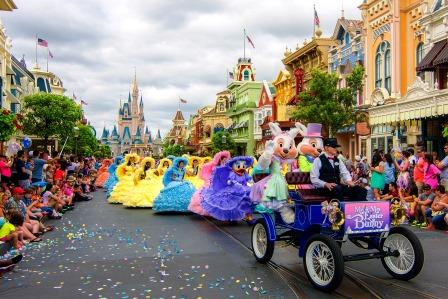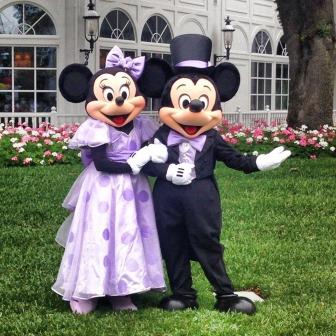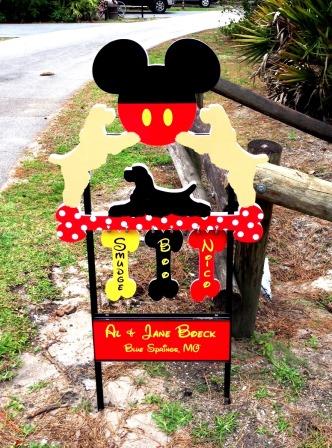 Easter Parade on Main Street - photo by WDW Shutterbug

Mickey and Minnie in their Easter best - photo by WDW Shutterbug

After we ran a rinse cycle in the washer we decided to go for it and do a load for real.  We put a load of towels in and watched the F1 race that we successfully recorded earlier.  The new washer has a multitude of settings, but I think we got it figured out.  The drier is another thing, we aren't sure it is any faster and it is noisier, but at least we can be doing a load of wash while doing a dry cycle.  When the race was over and the laundry was done it was past time to feed the kids and we were getting hungry too.  I also put out the sign we had made for our site.  Many people here have custom signs made telling who they are and where they are from.  Ours shows our loves, Disney and Cockers.  We ate in from our huge freezer and fed the kids.  After dinner we sat outside for a while, it was really nice out.  After a while Hilda called to see if we were home, she and Stephanie wanted to come down and see the new coach and for Stephanie to thank us for the Easter basket that Jane had made for her.  When they left we watched TV for a while and went to bed.  The weather is supposed to be nice tomorrow so we can take the kids for a long walk and go for a bike ride.  And maybe go shopping for some things at Wal-Mart.  We need ingredients for Rum Runners!

Our site sign - sign by Princess Mikki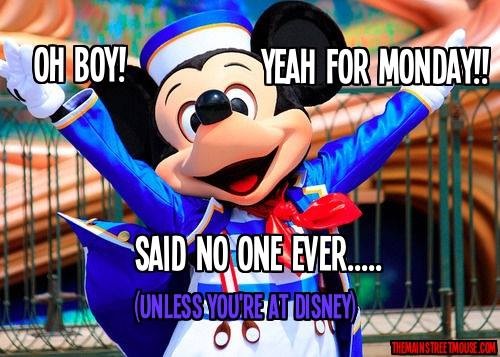 We got off to a late start today, someone slept in until 10:00!  We took the kids for a long walk, then it was off to Publix for a few groceries.  since it was on the way, we stopped at Panera's for a light lunch.  There is a new "Outlet" mall on the way that I am sure we will have to visit in the future.  Once we got to Publix we started shopping and our short list of things we needed started growing.  We didn't realize we "needed" so much.  We forgot about their deviled eggs, sweet tea, and the local brew.  When we got home we picked up a little bit and took a short nap.  I got the printer out and printed out our itinerary with dinning reservations and FastPass+ times.  Also discovered that we have to revise our September checkin time.  Also discovered we need printer ink.  I used what was in the coach at home and forgot to replace it.   I see a trip to Office Depot in the future.  It was then time for another bike ride and more exploring.  We discovered a funny little building on stilts (no camera, sorry).  This little building is about 12'x12' and about 12' off the ground.  No stairs, no ladders, no electrical and no mechanical going up to it.  Maybe it isn't finished yet.  I will check into what this is.  as previously happened, this ride ended up at trail's end and a Rum Runner.  I have to make a run to a liqueur store to get the fixin's.  In Florida you can't buy hard liqueur in grocery stores.  When we got back home we settled in for the night for some reading and a little TV.  Tomorrow is our first Magic Kingdom day!

Today is our first day in the parks - Magic Kingdom!  But first, a long walk for the kids and no gators yet.  I have it on good authority (Gary Cruise) that the structure I described yesterday is a bat habitat.  With so much water in and around The Fort there is potential for thousands of mosquitos, hence bats - natures mosquitos abetment program,  After our walk with the kids, we decided to go over to MK.  We took the bikes to the boat and then to MK.  It was mobbed!  We totally forgot that in some areas spring break is  AFTER Easter.  Jane wanted to stop at Starbuck's for a blueberry muffin and a drink.  We have FastPasses at Haunted Mansion for 2:30 so we decided to hit Pirates since the Disney app says there is only a 10 minute wait.  When we arrived at Pirates it was a 40 minute wait.  Very long line, but we waited anyway.  It was a beautiful day and the sun felt good as we walked over to Tom Sawyer's island after Pirates.  We haven't been to the island for a long time.  We went over and took some pictures from a different perspective.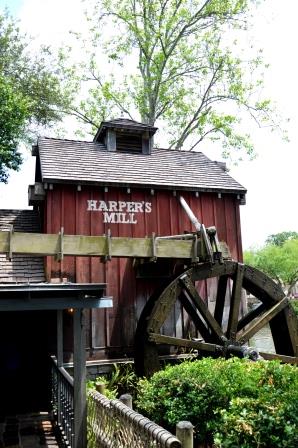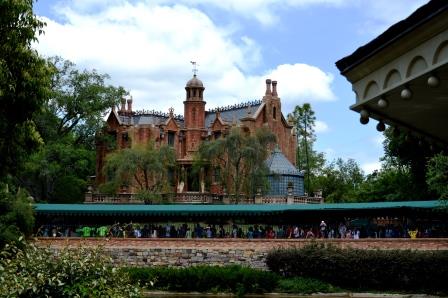 Haunted Mansion from Tom Sawyer's Island - note the line to get in.

Our "raft" trip to the island was delayed slightly to wait for the river boat to pass. We did a little exploring and found some interesting views of the rest of the park and some little details on the island, a really pretty little stream.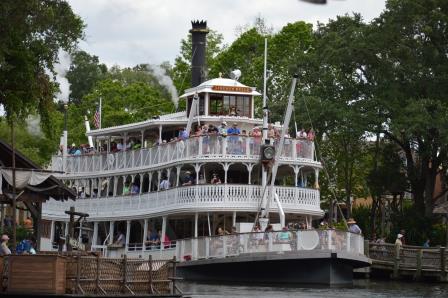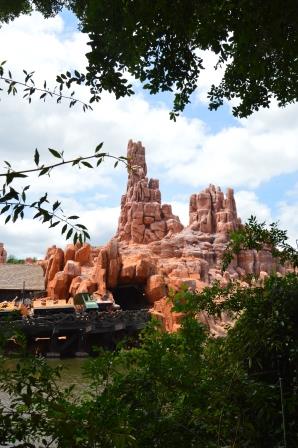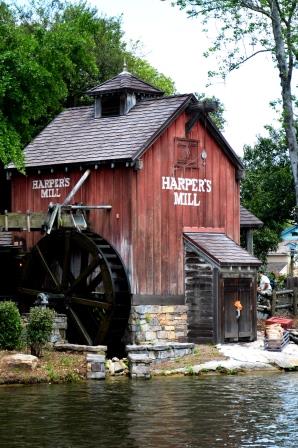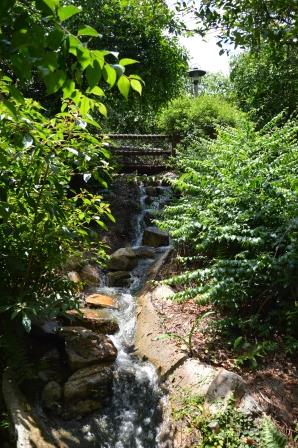 When we got off the island we went over to the Haunted Mansion.  Thank goodness for Fastpasses - the standby line was huge!  Fastpass line moved right along very quickly.  When we were leaving the Mansion we stopped for a minute at the "pet cemetery" to look at a couple of the tombstones, then proceeded over to Buzz Lightyear where I thought we had Fastpasses for 3:30 - I double checked and it was really 4:30, so we decided to go to the ice cream parlor for a Main Street Kitchen Sink. This is a miniature version of the Kitchen Sink at Beaches and Cream at the Beach Club Resort.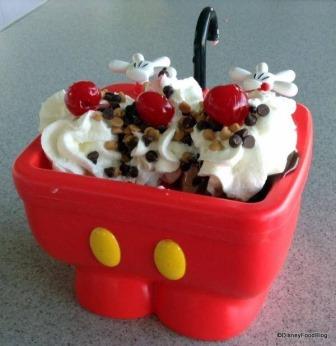 Main Street Kitchen Sink - you get to keep the sink!

The ice cream was great and the size was perfect for two people.  It was very nice sitting out on the patio.  They are doing some changes here too.  The moat is going to be partly filled in (we think) and more seating added for the patio area.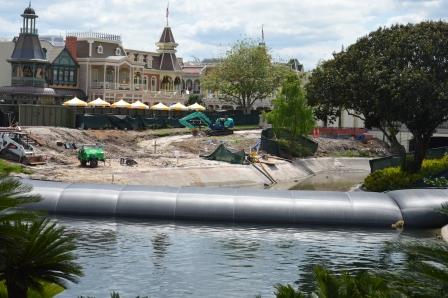 Construction outside the Plaza resturant

The Mill - from the "mainland"

After ice cream we debated whether to go back to Buzz Lightyear (and fight the throngs), go back to the Fort or go shopping.  Shopping won! Then back to the Fort.  We have decided to collect pressed pennies this trip.  There are hundreds of penny presses here at WDW so we are carrying lots of pennies and quarters (2 quarters for each pressed penny).  The press at the firehouse is rather unique.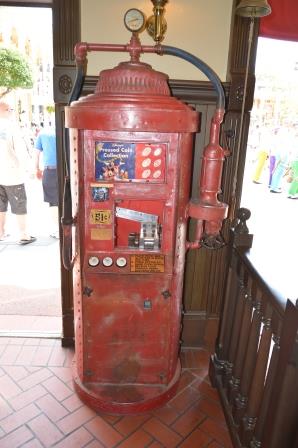 Shopping done, we proceeded to the boat dock and the ride home.  Time to feed the kids.  I think Disney is trying to make the boat rides more interesting.  When we were waiting for our Cruiser to MK a Launch came in and the "Captain" was singing the theme from one of the movies, Our Cruiser deckhands were dispensing lake trivia (if you rode up front)  Lots of trivia such as the history of Discovery Island and River Country.  They told us things about the Contemporary Resort and Wilderness Lodge.  It will be interesting to see how many different things the cast members can tell us.  When we got back to the Fort we did remember that we rode our bikes up, and decided that it might not be time enough to stop by for a Rum runner (RR).  Tomorrow I go to the store for ingredients!

Fed the kids and decided on hot dogs for dinner.  There is another Arizona-Denver hockey game at 9:30 tonight.  these games are really hard to watch since that is all you can do - watch.  Arizona has no color announcer so it is hard to keep your attention.  At 12:30 and in the 2nd overtime Denver finally won.  Tomorrow is another game at 9:30 again.  Another chance for Arizona. Time for bed - no plans for tomorrow.

Wednesday, April 23:

Today is just a relaxation day, no plans.  We took the kids on a long walk in the morning.  We have a major milestone in little Boo's journey, she can finally go down the coach steps by herself!  No more carrying her down to do her thing.  Yea!  We needed a couple of things for the coach so we took a little trip to Camping World in Kissimmee where we got most of the stuff on our list and made a quick stop at Wal-Mart on the way home for the rest of it.  On our way home we decided that lunch at Earl's was in order, to go if we couldn't find a place to park, eat at Earl's if we could - we did so we ate at Earl's.  As always, a great sandwich (wish we had an Earl's at home).  When we got home we thought maybe a nap was in order since it had been a late hockey night last night and it was going to be again tonight.  Jane and I were both sort of napping when Miss Boo made another discovery - toilet paper!  She had grabbed one end of the roll and pulled it from the bathroom all the way to the front of the coach, about 25'.  She was so proud of herself.  By now it was getting about time to send our "good luck" message to Matt and the Arizona Sundogs. So Jane made a little sign to send to them and we took it up to the beach for pictures.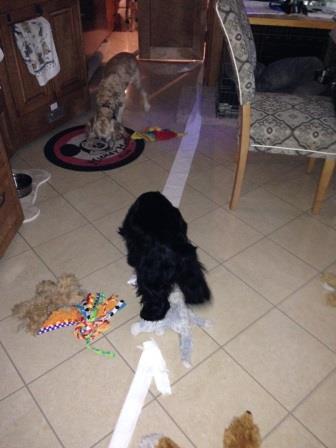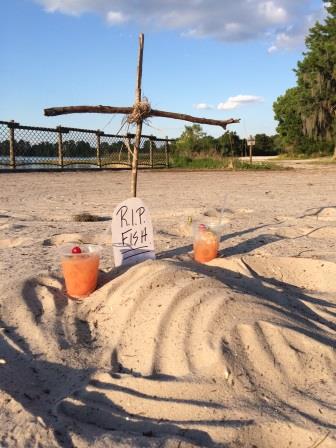 As long as we were up that way we stopped

at Trails End for RR again.  We needed

something to put in the picture to signify the

Sundogs win over the Denver Cutthroats

(the Fish in the photo).  The drinks were

exceptional  today!  We hope the photo and good luck wishes work tonight, Arizona needs a win tonight.  We rode back home for our dinner and to feed the kids.  We were going to do some grilling, but decided that would wait until tomorrow.  After dinner it was another wait for the hockey game at 9:30 so we watched a little TV until game time.

Side note about the quick service here at The Fort.  When we backed into our site (705), the parking director spotted me perfectly on the ground, but didn't notice the low hanging branches above.  They weren't big branches, but none the less a possible source of scratches in a strong wind.  So when we were at the front office we mentioned that if it was possible sometime could the tree guys trim back some of those branches.  We had ridden our bikes down to the front and by the time we got back to our site (about 1 mile) the tree guys were about 3/4 done trimming our branches - that is service.

It was finally time for hockey, 9:30, and it started out bad for Arizona and was down hill from there.  You've heard the expression "I went to a fight and a hockey game broke out"? Well that was what happened tonight.  Everyone was fighting.  About half way through the 2nd period my Internet service subscription expired.  Quick change over to my iphone hot spot in time to see the end of the game and more fighting.  In the end, Arizona ended up loosing.  Now it is back to Denver for a do or die game on Saturday.

Thursday, April 24:

I was up kind of early, thanks to the kids, so I got on the phone with Virgin Mobil to get my Internet straightened out.  After about an hour on the phone it was working again - hence the late post for yesterday.  We walked the kids - no gator's again.  After returning to the coach we took the bikes out for another exploration trip.  We went around to the "bat house" again so I could get a picture of it.  I asked a couple of Cast Members about it (seems there are two of these on Fort Wilderness property) and about all I could find out was that there are hundreds of bats living in each house and they come out between 4:00 and 6:00 in the morning.  I always thought that bats were nocturnal!  I guess not all bats are.  When we got back I had to do a little bike repair on both bikes,  my seat was loose and Jane's front brake needed some adjustment.  That done we had some lunch and discussed what to do next.  Jane decided to stay at the coach and do some laundry and I would go to Wal-Mart and the liquor store for RR fixing's.  Wal-Mart trip was a success - liquor store wasn't. I need a bigger liquor store!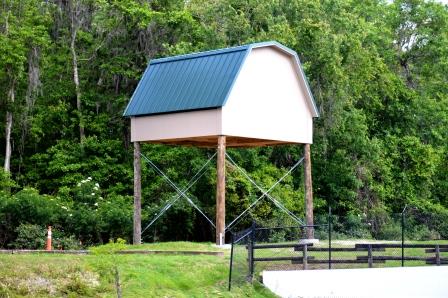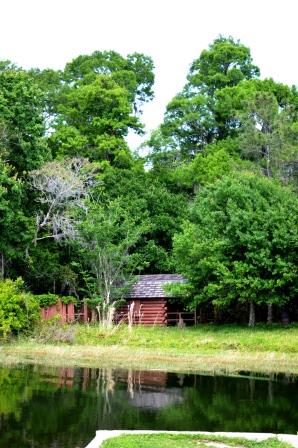 The original cabin - B4 Disney

Near the Bat House is the original cabin on the property.  It is believed that this was a hunting cabin belonging to the Raz family.  They originally

owned what is now Discovery Island in Bay Lake. I discovered that there is a "city" of Bay Lake here (population 47) that is managed by Disney and only Disney cast members live there.  I will have to look into this some more. 

At 4:00 it was time for yet another ride to Trails End before dinner.  I think we may have started a habit.  Rum Runners were great again!  When we got home we had a surprise waiting for us.  A wren had decided to make a nest in Jane's grooming supply tray.  Very nice nest, but not knowing when eggs hatch, she had to be relocated to a nearby bush. 

We had picked up a couple of chicken kabob's for the grill.  They have marinated all day and they were great.  We will definitely get these again!

It is going to be an early night tonight.  Getting up early to hit Earl's for breakfast and some early shopping.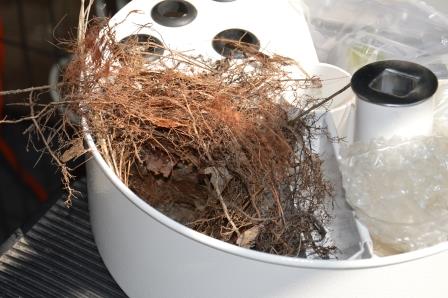 Wren home before relocation

Friday, April 25:

We decided that this morning we would go to Earl's for breakfast, so it was up early for 8:30 breakfast.  This is perfect so we can be there when the stores open to beat the shopping crowd.  There was even lots of parking places.  Breakfast was good and filling so we were ready to hit the stores.  While Jane shopped I wandered around and took some photos of the construction going on at DownTown Disney.  They are doubling the number of shops, adding a bridge or two, adding new boat docks and adding two 5 story parking garages.  They have made a lot of progress since December, but there is still allot to do.  The best vantage point for overall photos is from the balloon ride at Pleasure Island, so off I went to catch a ride.  There is construction going on at Pleasure Island also.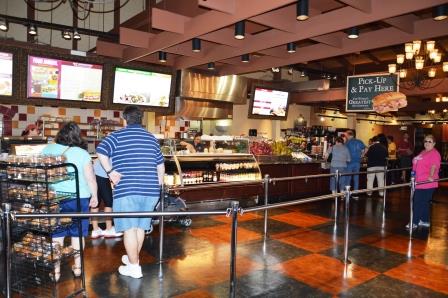 Earl's at breakfast - note there is NO LINE!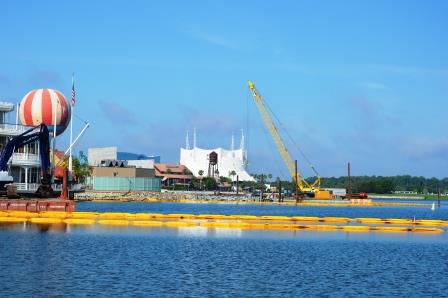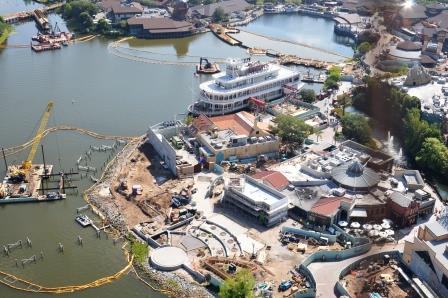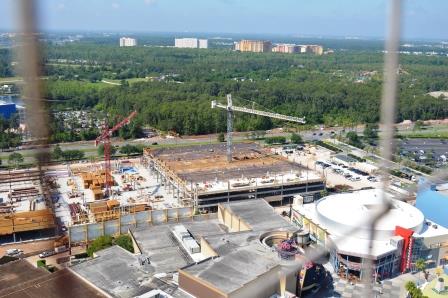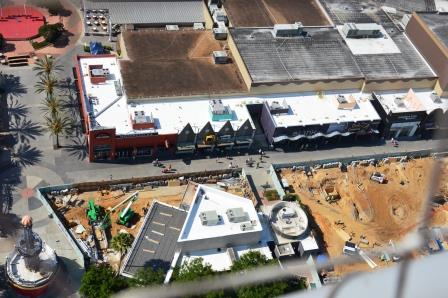 View across the water of some of the water front construction

View from the balloon - lots going on in the water and on land

One of the parking garages is up to the 4th floor level

Construction at Pleasure Island - new Starbuck's bottom center, unknown bottom right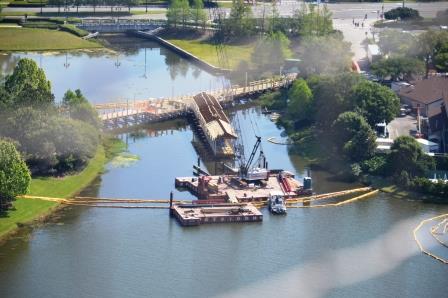 New boat dock and bridge connecting Saratoga Springs to downtown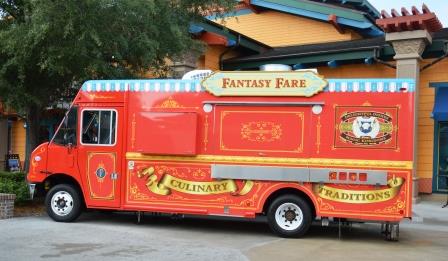 They have also added Food Trucks at various locations around Downtown and Pleasure Island.  I think there are going to be 6 when they are all in place.  These are just walk up and grab a snack places, but someof the menus looked pretty good.  We will have to give them a try!.

This is one of the more colorful Food Trucks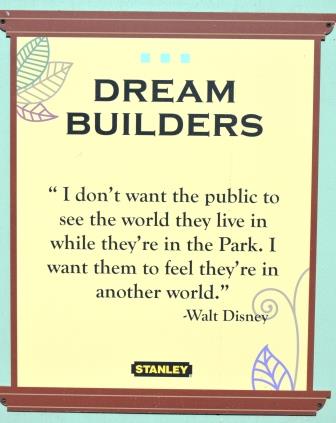 One of Walt's big issues was not having the park guests see the back stage areas of the park or see something that was not fitting with the local theme (no cowboys walking through Tomorrowland, etc) so you see signs like this around any area of construction or change in any of the parks.  Usually big walls are erected to keep guests eyes out of backstage areas to preserve "The Magic".

After our shopping we returned home for a little rest and to get out of the heat.  It is getting hot now, in the 90's so mid-day is assigned coach or pool time unless we have to be at one of the parks.  We started thinking about dinner and decided to see if we could get reservations at Beaches and Cream in the Beach Club Resort. Success!  Dinner is at 4:30.  We go to Beaches mostly for the ice cream, the food is good, but not the main reason we go.  After dinner (hot dogs and sundaes) we did a little shopping and were ready to go back to the coach.  One advantage to having a Tables in Wonderland dining card is that valet parking is free with a Tables receipt, especially now that valet parking is $20.  In only 5 eating events you can pay for the Tables card (the only thing that hasn't gone up in price - yet).  When we got home it was time to crash and get some sleep.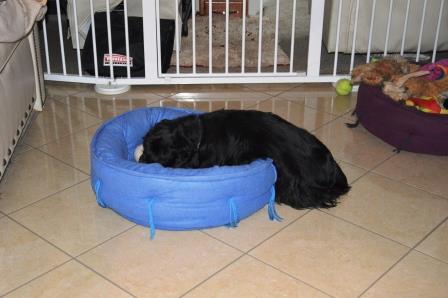 Boo was so tired she couldn't even get in her bed

Saturday, April 26:

Today were were late in getting started, we decided to do sausage and eggs on the grill.

We have a couple of Mickey pancake forms, we thought we would try them for scrambled eggs. One problem -the eggs are too thick to get done all the way through. So we had real scrambled scrambled eggs.  They don't seem to come out of the form very neatly.  After a slightly messy, but good, breakfast, we took the kids for a walk.  We had hoped that all the other dogs had been for their walks and people were in the parks. Boy were we wrong.  We met more dogs on the walk at noon than we ever have earlier in the day.  When we got back from the walk it was getting hot - good pool day.  We thought we would try the smaller pool by the cabins.  We took our bikes over and noticed the big pool was packed when we went by.  We were pleasantly surprised when we got to the little pool - very few people there. We stayed for about an hour then it started to get really hot (94 degrees).  We left and came home to cool off.  We had some prescriptions to pick up at Walgreen's and decided to have dinner at Gioradano's (a pizza place across from Walgreen's).  Pizza was the best we have had in Orlando.  We got home and watched some news and a little TV until the Arizona-Denver hockey game.  This is game 6 of the 2nd round of the CHL playoffs and Arizona has to win this to stay in it.  Long story short, officiating was horrible, Denver was on top of their game, Arizona was not.  Last game Denver hurt the Arizona goalie so they were playing with their backup goalie.  Anyway, Arizona lost and are out of the playoffs.  We sent our condolences to the Arizona players and we went to bed.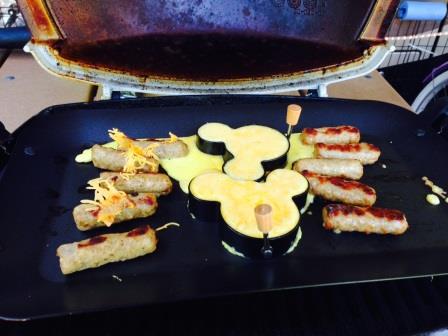 Sausage and eggs on the grill

Sunday, April 27:

Since it is Sunday we are just chillin' and doing some projects. But first, a walk for the kids.  We went our usual route along the canal.  It is a nice long walk, about the right length to give the kids some exercise, but not too long to overheat them in the heat.  We usually see lots of "friends" (squirrels) and a heron or two.  Today we had a surprise, a little (4' gator) on our side of the canal.  On our first trip to The Fort we were told to "just shoo them back into the canal".  We elected to just let him be, not wanting to create an issue with him.  We will just keep an eye out and let someone know he is there.  After our walk the kids decided to take a nap so we went shopping to Lowe's for a couple of towel bars for the coach.  There is a very nice shopping center not far from here that has EVERYTHING!  There is a PetSmart so we went in and got some stairs for the end of the bed for the kids and a few more toys.  then it was off to Lowe's.  We got our towel bars, some ant traps, and a bottle of Roundup for "our" Morning Glory that spreads everywhere.  While at the shopping center (The Exchange) we had lunch at Panera's (there is also a First Watch) then headed home.  We started putting towel bars up and discovered that the screws were too long, so it was off to find an Ace Hardware store for shorter screws.  I found one in Kissimmee (the Internet is a wonderful place), put the address in the GPS and off I went.  I got to the address and it was an abandoned orchid store, either the GPS or the web site was wrong.  I figured that I would go up the road a little way and ask someone where Ace was.  Before I could ask, I spotted it, got my screws and headed home.  Ace website had old address.  Got the first towel bar up, will do the second one tomorrow.  Dinner was leftover pizza (not as good leftover).  Then some TV and off to bed.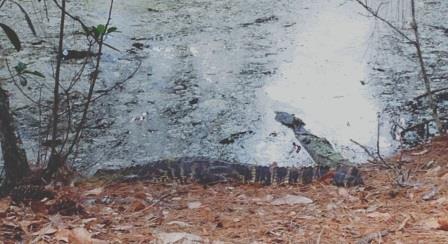 Our first gator - no name yet

Monday, April 28:

Today we got up sort of early, the plan was to find a Wells Fargo Bank, do some quick business and then go to play mini golf.  Great plan! We found a bank in Dr, Phillips a sort of "area" in Orlando.  It is in a real cute little shopping area and across the parking lot from the bank was a Panera's. It was off to Panera's with us.

While sitting in Panera's we looked around at the rest of the stores in the shopping area and spotted a Corona Cigar Store.  We went "just to look" after we were done at Panera's.  This is supposedly the largest cigar store in the world.  I believe it, it was huge.  They have a 79 page catalog!  I felt obligated to buy just a few cigars for those sunny afternoons on the patio.  We had also noticed a doggie bakery, so we walked on down there, too.  Very nice lady owns it and we had a long chat about dog foods and area vets.  By now it was afternoon and it was getting hot,but there was a light breeze that made it very comfortable, so as planned we were off to play some mini golf.  There are two courses here, a summer course and a winter course. We played the summer course first, all 18 holes.  Then, since we did so good we went over to the winter course and did another 18 holes.  We both got at least one hole in one on each course!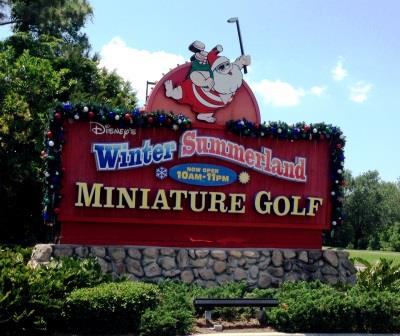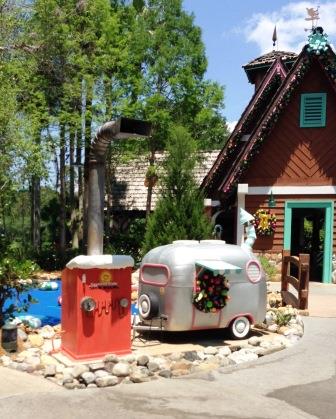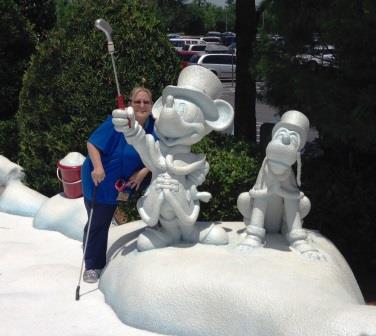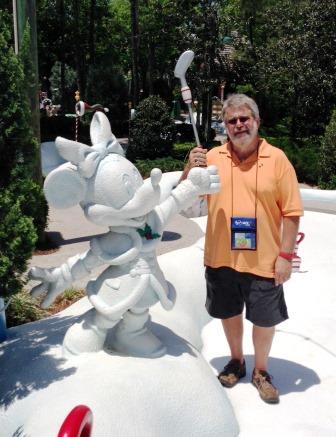 Snow machine and cute little trailer

Jane with Mickey and Pluto

When we were done, we decided that we would have to play the other mini golf course here, Fantasia Gardens.  it was about time to feed the kids so we headed home. The weather was still great, couldn't be better.  After feeding the kids, we just kind of lounged around and either read or watched a little TV.  You would think that after laying around all day the kids would be full of energy.  Wrong, they just wanted to sleep some more.  If fact, Boo couldn't decide if she wanted to sleep in her bed or on the floor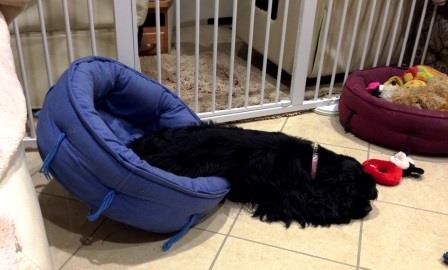 Yes, she is sound asleep! This time her butt is in the bed

Tuesday, April 29:

It is a Magic Kingdom kind of day!  We have FastPasses at Buzz Lightyear, Monsters, Inc., and It's a Small World.  We caught an early boat to MK and headed right to Buzz Lightyear.  It is an arcade game similar to Toy Story, so we had to give it a try.  On the way we passed Monsters, Inc and there was no line. We decided to do Monsters, Inc first and then go to Buzz's.  Monsters was good as always, with some real corny jokes.  After Monsters we went to Buzz Lightyear and used our FastPass.  We love being able to get FastPass's in advance from home now.  It eliminates going to a FastPass stands and not knowing when your Pass will be good.  We even get 4 choices of tome slots now.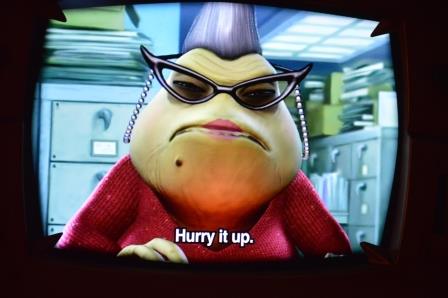 The friendly faceof Roz entering Monsters, Inc.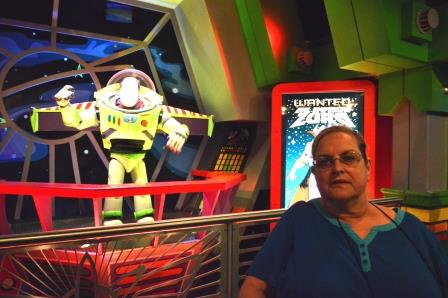 We were greeted by Buzz and started the ride.  It too is an arcade shooting gallery kind of ride - similar to Toy Story Mania.  Not nearly as much fun, for us, as Toy Story.  But we had to try it.  So, we will stick with Toy Story.  After the ride we went to Starbuck's for some sustainence and then over to eat in a quiet corner (yes, there are quiet places to eat at MK).  They are adding more seating and tables outside Casey's and the Plaza resturant.  In order to do this, they are having to modify the canal that runs around the central hub.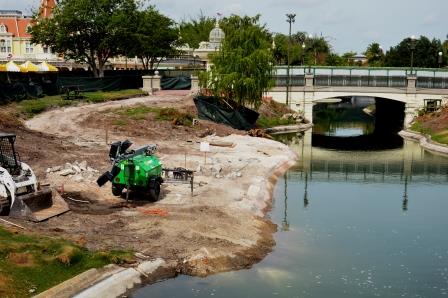 Much needed additional seating to come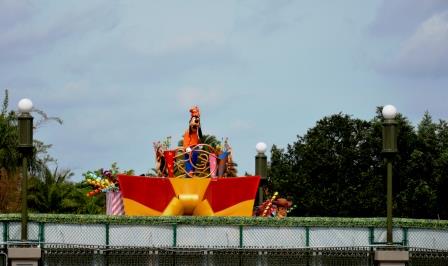 We were able to watch part of the morning parade while enjoying coffee and pastry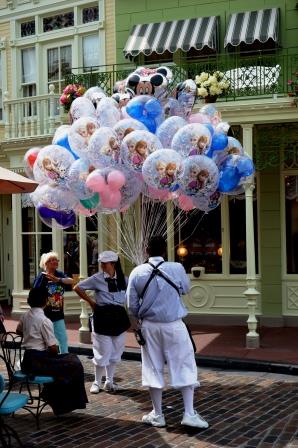 After a little relaxation, we strolled down Main Street and did a little shopping.  The movie Frozen is everywhere - even in the balloons the venders on the street have.  We went into the glass shop and the glass blower was just starting a demonstration.  It was very interesting, I have never really stood and watched the process before.  The furnace the blower is working in front of is 2400 degrees!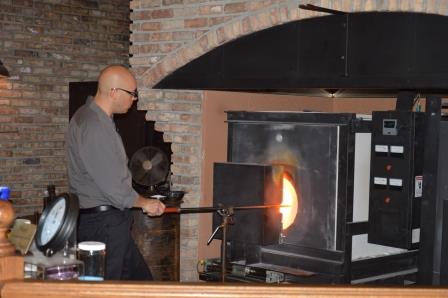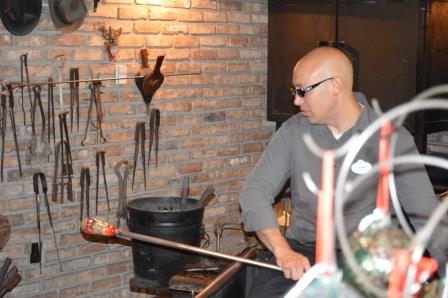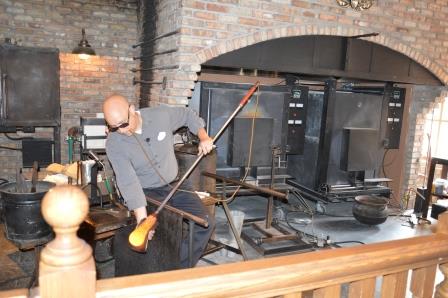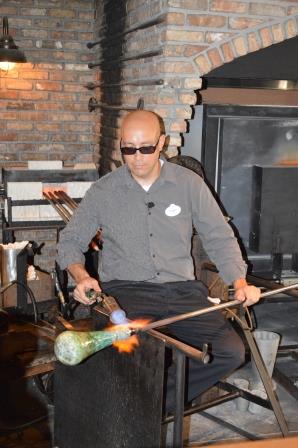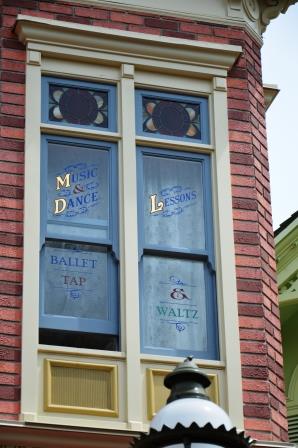 The glassblower was very interesting and you could buy the finished piece!

Something allot of people don't do on Main Street is look up at all the windows.  The windows on Main Street  all have some significance in Disney history.  Most are dedicated to past animators, designers or Imagineers and the particular window relates to what part of Disney history they had.  There is even a book just about the windows on Main Street. 

We caught a boat back to the Fort and relaxed in the cool coach for a while.  We didn't feel like cooking at home so I got a reservation at Trail's End for dinner.  We rode our bikes up had a drink and had a good dinner.  They have a real good buffet at night.  We rode our bikes home, let the kids out and then the rains came.  A quiet night with TV and then to bed.

One of the Main Street windows

Wednesday, April 30:

We have no plans for today, so we were a little slow to get started.  Some things we should do, but not this morning.  we decided to ride our bikes over to the Wilderness Lodge.  It is a nice ride through the woods and sometimes there are deer along the way.  Today, no deer.

We got to the Lodge about 11:30 and decided that since we were there we would stop and see Chad for some late breakfast.  They have a new (today) menu and one of the new items is Cajun Chad's Chocolate Chip Pancakes.  We thought this was pretty cool, so we had Chad autograph a menu for us (with Anne Marie's permission - she is the manager at Whispering Canyon.  we also got Jeff and Bridget's autograph.  Both of them have been at Whispering Canyon a long time.  It was looking dark and threatening by the time we rode back to The Fort so we let the dogs out before the rain.  And rain it did.  We just made it before it started.  The rest of the day was spent on indoor things.  Jane vacuumed up some of the woods that the kids had brought in.  I put up another towel bar on the bathroom door.

After that it started raining HARD.  the more we turned the TV volume up, the harder it rained.  Now, if you have never experienced a rain storm in an RV, a light rain is nice to sleep to.  A HARD rain is almost deafening!  The roof on ours is 6" thick, mostly insulation, and still the rain is very loud.  By the time it was time for bed, the rain had let up a little bit so sleep came easy.  Tomorrow is a busy day.

Since we have been riding our bikes around so much, we have had several comments on one feature we have - cup holders!  Very nice to have on hot, humid days.  A bottle of water fits very nicely in them.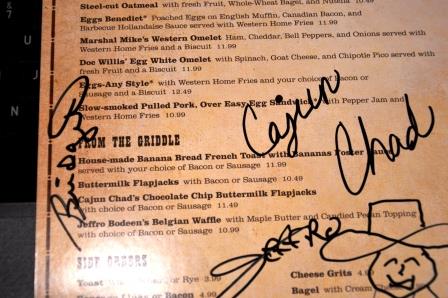 Chad, Jeff, and Bridget's autographed menu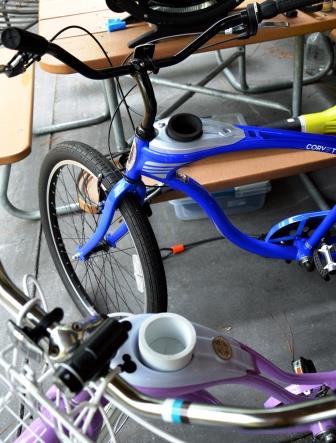 Thursday, May 1:

This is going to be a busy morning.  We are going to Downtown to meet an old friend from Blue Springs and DOG classes, Jennifer.  Jennifer and her family are visiting from North Carolina and met us for breakfast at Earl's.  She and her husband and two kids (twins) are here for a couple of days - first time at Disney!  We had a very nice visit and then they had to go and we had to go to the Art of Disney to purchase a print for Carol Cruise.  It is "Frozen" print and today is the first day it is available.  Cruise's won't be here until the 8th so we bought the print so that Carol gets one before they are gone.  After we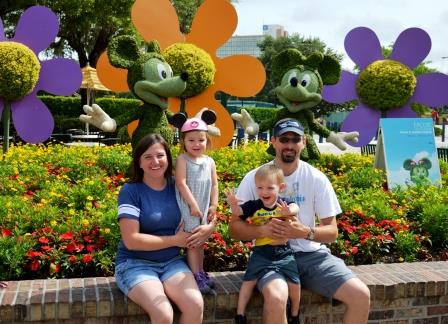 After we left Downtown, we drove to the Studio for our 11:30-12:30 FastPass at Toy Story Mania.  This is the first time we have driven to a park and riding the Tram to the entrance.  It wasn't too bad!  We don't have to pay to park and driving to a park can save some time.Toy Story is a much more fun interactive ride than Buzz Lightyear at MK.  We just made it in time for our FastPass time.  Jane beat me. . . . again! After Toy Story we went over to Stage 1 where a special merchandise venue has been set up - May 1 is the 25th anniversary of the opening of the Studio.  They have a bunch of special merchandise available only for the next 4 days, so we got in line to get some pins and a shirt.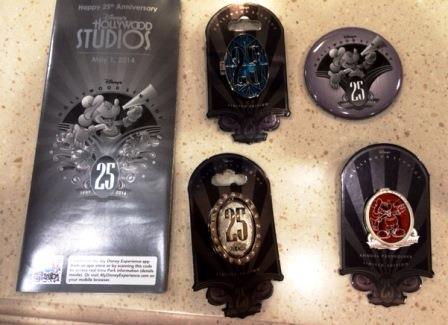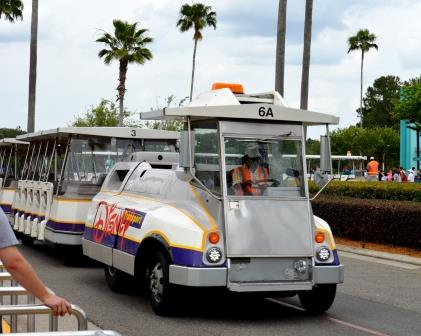 When we got our merchandise it was past lunch time so we stopped in at the Commissary for a burger and a special anniversary cupcake (we shared the cupcake).

The cupcake was great, it had a Nutella frosting with little Mickey

sprinkles.  After lunch Jane wanted to do some more shopping, I went

off to look for the Lady & Tramp penny press.  We have decided to

collect some pressed pennies - Lady & Tramp and Cars.

I found the press - it was out of order!  Go figure.  We caught the tram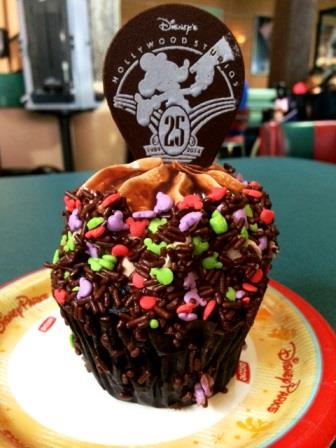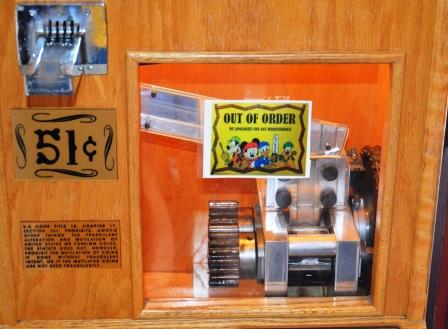 Special anniversary cupcake

Penny press - Out of Order

back to the car and headed home.  We stopped at the Art of Disney store at Downtown to pick up Carol's print and went back to the Fort to sit out the rain.  Watched so TV and went to bed.

Friday, May 2:

It rained hard again all night and it looks like it is going to be dark and stormy all day.  We decided that we would go to the grocery store and see if it cleared up later.  We had some basics to get so it was off to Publix.  We ended up getting more than was on the list - again.  It wasn't clearing up and we had lunch reservations at Beaches and Cream so we drove over to the Beachclub Resort to park. I am starting to get a summer cold (too much going in and out of air conditioned buildings I think)  Lunch was good, as usual.  They had 3 groups order their Kitchen Sink,lots of ice cream and toppings and a WHOLE CAN OF WHIPPED CREAM!  We had Fastpasses at Epcot, but it was still raining so we just came back to the coach and spent the rest of the day inside.  We really feel bad for families that come down here for only 4 or 5 days and then it rains the whole time they are here.  Not very much fun for anyone.  Anyway, it is supposed to be rainy again on Saturday, but then clear up and be nice starting Sunday through the rest of the week. I think we even went to bed early - me with Nyquil and Jane with two puppies (Boo is still sleeping in her crate at night).

Saturday, May 3

This morning dawned gray and dreary. Light rain is forecast for the whole day.  I am still on Dayquil and still not feeling great.  Looks like an inside day for me today.  I watched some TV, napped, and read a little bit.  Jane went to the Contemporary and shopped for a while.  We even ate in today. Very uneventful, boring day today.  The sun is supposed to make an appearance tomorrow  so we are eagerly waiting for that.  we had dinner, watched some N.C.I.S and went to bed.

Sunday, May 4:

Today was bright and sunny!  Finally!  We took the kids for a long walk, which they really enjoyed.  They finally got to stretch their legs.  We then took the boat to MK and then a launch to the Polynesian to see the waterfall in the lobby before they tear it out.  The Poly is going to get a major facelift, new lobby, new monorail station,new pool area, and new drive area.  We walked around the Poly and did a little shopping before leaving.

We took the little launch boat over from MK, but decided to take the monorail back to the Contemporary for lunch.  The monorail was packed!  I guess since the last couple of days it has rained everyone decided to make it to MK today.

Well, we got to the MK station and waited  a bit and notices that the express to TTC was just sitting on the opposite rail - full of people.  After a little bit, the express doors opened and everyone got off and came over to our train.  Apparently the express had a "propulsion" problem.  As we were finally leaving the station we noticed that a monorail service car had pulled up behind it.  We thought we would see a monorail tow truck, but not to be.  We got to the Contemporary and went out on one of the balconies to watch for the express being towed back to the garage.  They must have repaired in in the station because we never saw it leave behind a tow vehicle.  After waiting on the monorail for a long time, we finally gave up and went for lunch at the Contempo Cafe.

After lunch we took the boat from the Contemporary to the Fort and rode our bikes back to the coach.  The kids were very glad to see us, so we had some outside time with them.  About 5:00 we rode up to the Trail's End for our nightly  Rum Runner and then a ride around some of the loops to burn off some of those calories. When we got back to the coach it was just about time for Amazing Race to start.  We settled in for the evening with the kids and went to bed.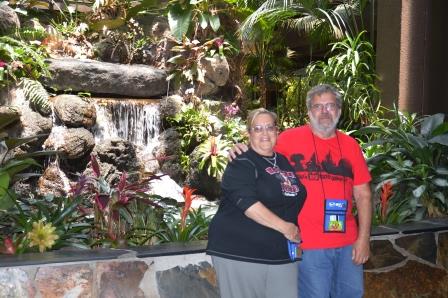 Here we are in front of the soon to be gone waterfall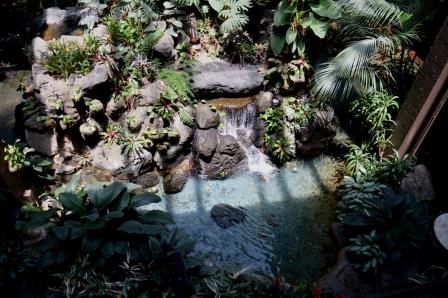 Waterfall from the 2nd level

Monday, May 5:

It is Cinco DeMayo, so we are staying away from Mexico at Epcot as it will be very crowded.  Instead, we went to 'Ohana's at the Polynesian for breakfast.  We have been to 'Ohana's many times for dinner, but never for breakfast.  It is a character breakfast with Goofy, Stitch and Mickey.  It is a typical "all you care to eat" breakfast at Disney (scrambled eggs, sausage, bacon, potatos and Mickey waffles).  It was a fun breakfast and we had pictures taken with the characters.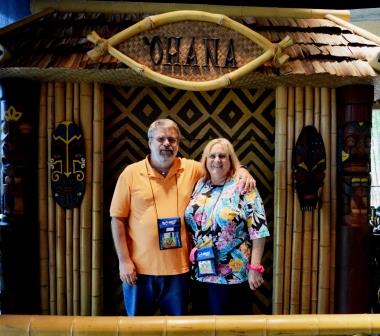 At the 'Ohana photo stand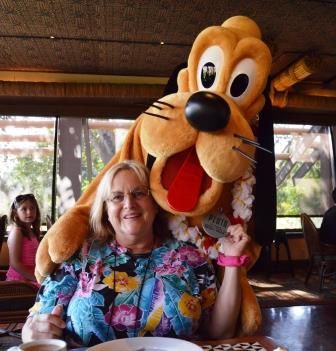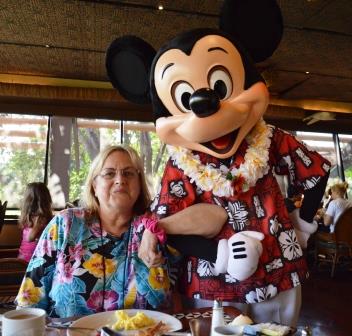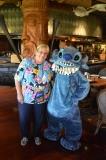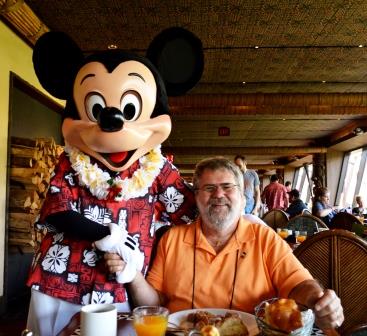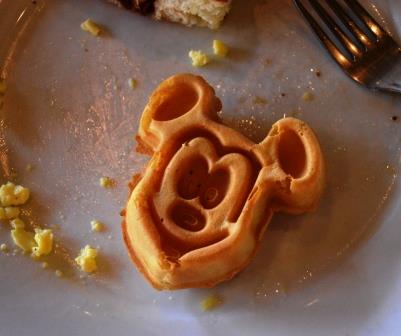 After breakfast we drove over to the Studio again

for a Fastpass at Toy Story (this is becoming our

favorite ride. It is allot more crowded today than it was

last week when it was cloudy and overcast.  Today,

it is sunny, warm without a cloud in the sky.  Our ride car seemed to have a "defective" shooter on Jane's side. She told one of the cas tmembers and they told us to stand on the side for a minute and we could ride again.  I don't know why she complained about it, she always beats me!  After beating me again on the second ride we headed to the Art of Disney

store for a little quality shopping. To show that it was very crowded I took a picture of the stroller parking area outside one of the kids shows.

It is getting hot and the crowd is growing so we

decided to pass on the Lights, Motors, Action show

today.  We can get that just about any time.  We

started to head out with a side trip to a little more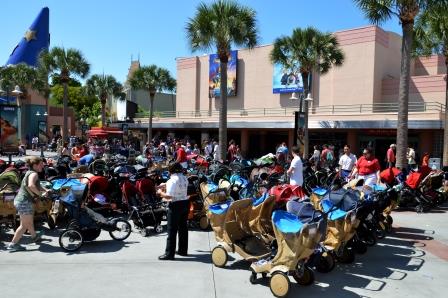 Stroller parking, the person in the dark slacks is a cast member acting as a parking director

shopping and a quick stop at Starring Rolls for some morning pastry for tomorrow morning.  We did find the Lady and Tramp penny press was working so we got one of us and one for a friend.  When we left the Studio parking lot we headed to Walgreen's for a quick stop and then back to the Fort.  When we got back the kids got some outside time even though it was getting very hot. Nico was doing some scratching around in the dirt, Smudge was laying in the hot sun, and Boo was chasing little lizards.  They were all in heaven!  We let them do their thing for a while and then made them go in to the air conditioning - too hot for puppies out here.  We went in an relaxed a little and then started doing a little tidying up - we are having a reunion of sorts on Tuesday.  A couple of girls (Angie and Joanne) we knew in the mid 80's through a Rick Springfield fan club are coming to visit.  Angie lives in Houston and is here with her mom for a high school reunion for her mom.  Joanne lives nearby and we have just never been able to sync our schedules.  So, Tuesday night will be full of reminiscing.  About 2:00 we got a call from Angie asking if we would like to go to MK with her.  she and her mom had been to Epcot in the morning and her mom was tired, but she was ready to go again.

We were both tired and passed on MK, but asked if they would like to go to dinner later.  They said no on dinner, but dessert would be nice.  So we agreed to meet at their resort (Riverside, just around the corner from us) about 7:30.  We had a very nice get together and about 3 hours flew by.  We just picked up where we had left off 30 years earlier, catching up with what each of us had been doing for the last 30 years.  Finally, about 10:30, we all were tired and had to head off to bed.  Tomorrow will be a fun day!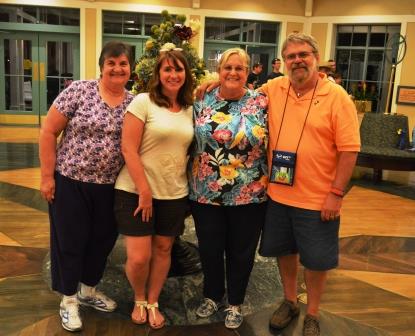 Angie's mom, Angie, Jane & Al

Tuesday, April 6:

Today is clean-up day in the coach.  We are meeting more old friends for dinner tonight so we are getting the coach all spiffed up and completeing the Disneyfying of the interior and exterior.  We swept it out and vacuumed it up.  Seems the kids have been bringing alot of the outside in.  I completed the know swap on the cabinets.  I am short 4 knobs to have ALL of them Disneyfied.  I think I will have a few more waiting when I get home.  We got the "climbing Mickey out and put himon the windshield to complete the exterior.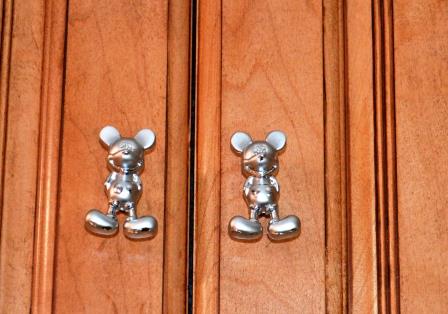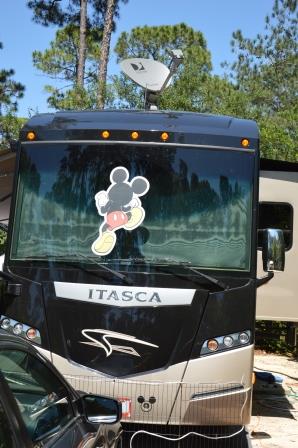 The rugs are clean, the floor is clean, we are set for company.

We are having dinner with Angie, and another girl from 30 years ago,

Joanne.  We are having dinner at Captain's Grill at the Yacht Club.

Joanne lives just north of Orlando so she is driving to the Fort and then

are driving over to Riverside to pick up Angie and then to Yacht Club.

Joanne arrived about 3:30 so we visited for a while before picking up Angie.

These girls, among others, were part of a fan club that Jane started for Rick Springfield, called Rick's Roos.  Back in the 80's he was a very big rock singer and had a huge following.  Long story short, the Roos had members from all over the country and one summer ('84) a bunch of us got together in Blue Springs and followed the Tour.  Some have kept in touch and others we have lost track of.  Anyway, that is how 30 years ago we met Angie and Joanne.  Dinner was great, and very relaxing.  After dinner we went by Riverside to pickup Angie's mom and then came back to the Fort in time to watch the Electric Light Parade and MK fireworks from the beach.   Another

of the girls, Char, was not able to be here, so we

let her know we were thinking of her at dinner.  Now,

we are thinking another more organized reunion may

have to be planned to get more of the Roos involved.

After fireworks, we all went back to the coach and did

a little more reminiscing.  Then  it was time for

everyone to head out, Joanne had to work in the

morning, Angie and her mom had a long tiring day at

Animal Kingdom.  We led  Joanne out of the Fort and

took Angie and her mom back to Riverside.  Then we

came back to the coach and kids and hit the sack, too.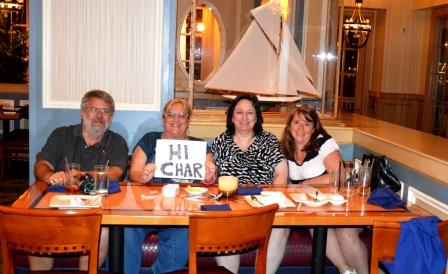 Al, Jane, Joanne and Angie

Wednesday. May 7:

We were up early to take Angie and her mom  to breakfast.  They have all morning to kill before their flight home.  Angie said she is going home "kicking and screaming".  She is as big a Disney freak as we are, or bigger.  We went to Whispering Canyon for breakfast and had a great time,  the place was crazy and everyone was in rare form.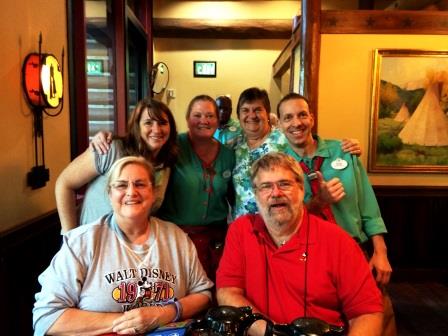 Back row: Angie, Bridgett, Angie's mom, Chad

Front row: Jane, Al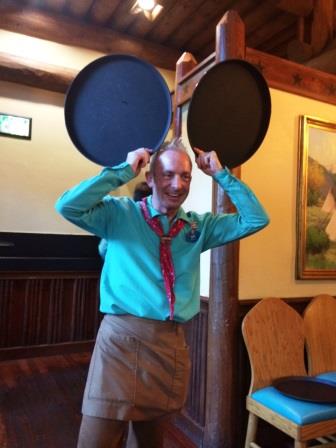 After breakfast a trip to the gift shop was in order!

Angie was already packed, but figured she could get

a couple of little things in her bag.  No purchases.  We

gave them a tour of the Lodge's grounds and found a

couple of hidden Mickey's.  Angie has been to both

Disneyland and WDW many times and has stayed in

most of the resorts here, but never in Art of Animation,

so we took a quick ride over there to show them.  It

was about time for them to be getting back to their

resort to catch the bus to the airport so we headed

back.  We dropped them off with promises to not wait

another 30 years to get together.  After dropping them off

we went back to the coach to relieve the kids.  We were originally going to go to the Theme Park Connection this afternoon, but it was too nice to be in, so we stayed home and enjoyed the beautiful weather.  We had purchased so beef kabobs at Publix and decided to grill them for dinner.  They were delicious!  After dinner we settled in for the night and made plans for Thursday.  We are going to Epcot for the Flower and Garden show and some shopping for a couple of little (3 years old) twins back home.  With plans made (big issue was how do we get to Epcot). We were off to bed.

Thursday, May 8:

This morning we decided to go to Epcot to see the flowers and topiaries.  We drove to the ourpost bus stop and didn'thave to wait long for a bus to Epcot. We were greeted at the entrance by Goofy and Daisy Duck.  Epcot is the site of the annual Flower and garden show and they bring out lots of topiaries and special flower beds that, once the show is over, are returned to grass.  We continued in and the topiaries continued.  They are all around the park and I only took pictures of a few of them.  The World Showcase (the part of Epcot with the country pavillions) was almost deserted so we enjoyed the lack of crowd.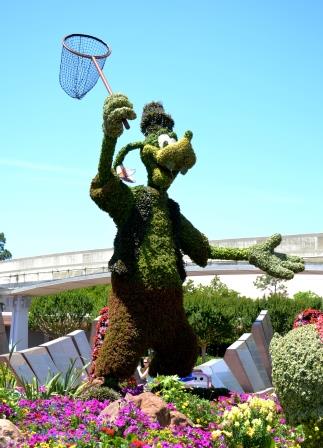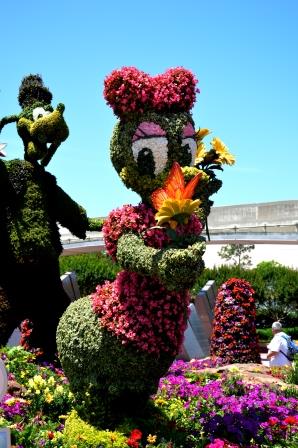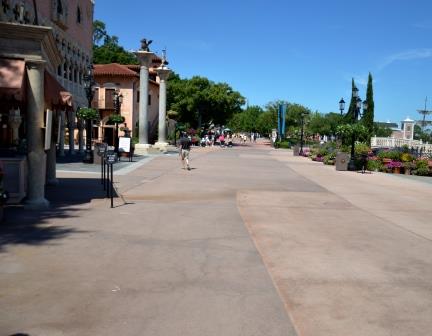 World Showcase - 11:30 am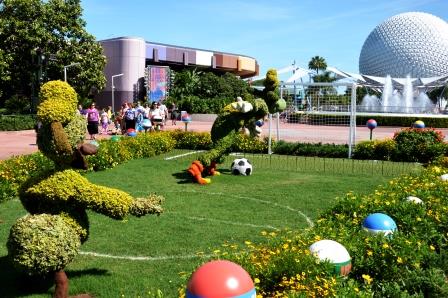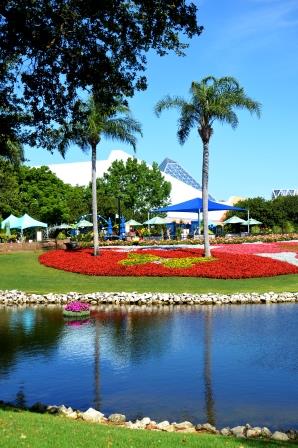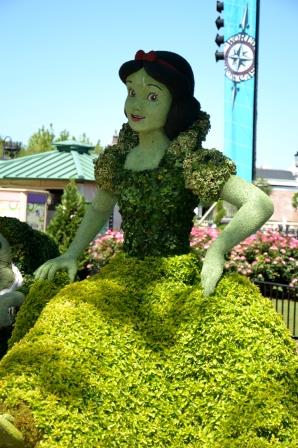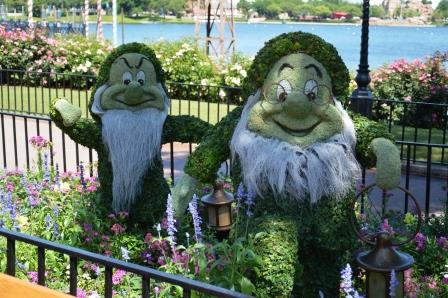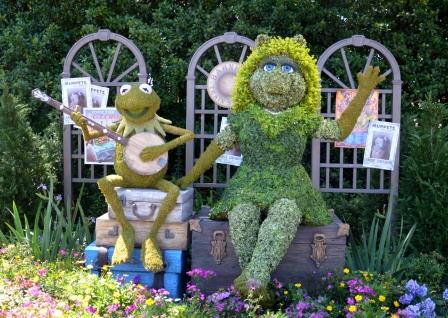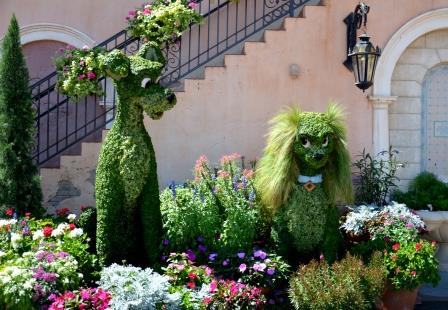 Lady & Tramp - our favorite topiary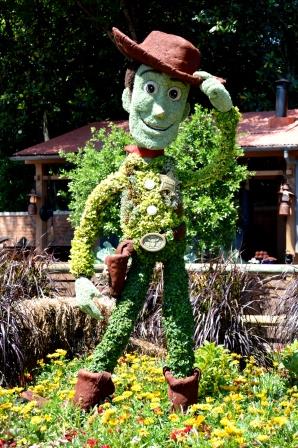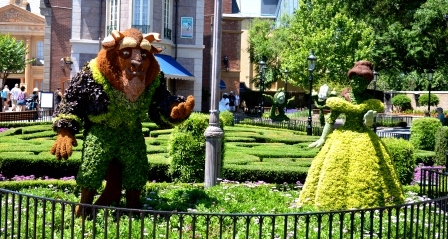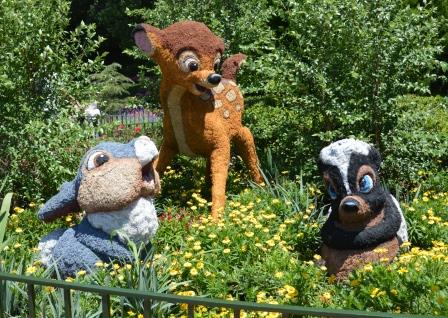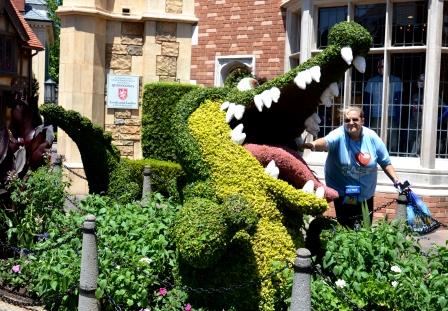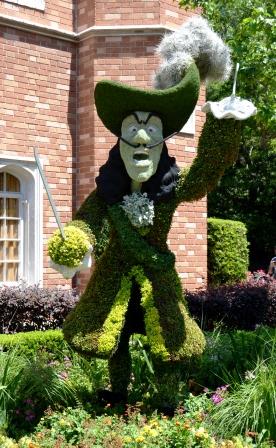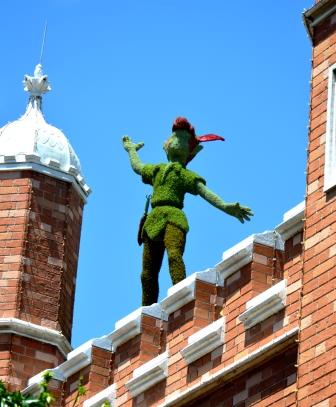 Topiaries are even on buildings!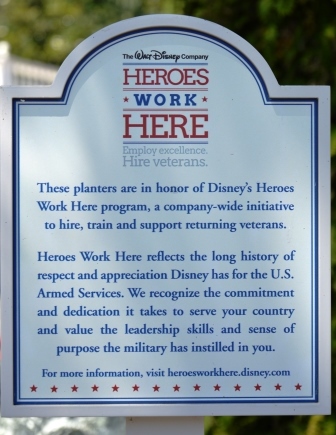 Heros sign in front of the American pavillion

When we left Epcot we caught a bus back to the Fort for a little rest and to feed the kids.  we are meeting Gary and Carol for dinner at Trail's End.  They are doing MK this afternoon and are going to take the boat over to

our dock and we will pick them up with the golf cart.  They called about 3:30 and said they were on the boat and on their way.  We met the boat just as it was pulling in.  We had a nice dinner (Trail's End has a very nice buffet at night) and got caught up on each others plans for fall and all the good pin trading events coming up.  We got so caught up in chatting that we didn't take the usual dinner

company photo.  We didn't

realize it until we had dropped

them off at their car (long story,

they had driven to the Fort this

morning and taken the boat to

MK).  After dropping them at their

car, we went home, let the kids out

and went to bed.  We were beat!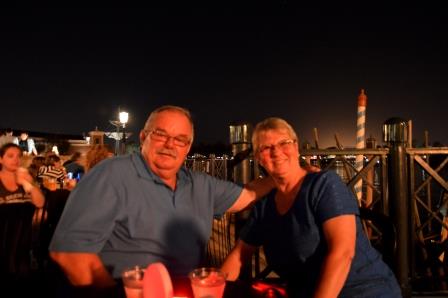 Gary & Carol (from last December)

Friday, May 9:

We got up sort of early and headed over to the Studio.  We had FastPasses and lunch reservations.  First, FastPasses to Toy Story, again (Jane beat me, again) then over to Sci-Fi theater for lunch.  Good lunch, same corny old movie clips from the '40's and early '50's, but still entertaining.  Then it was time for the Great Movie Ride.  We haven't done this for a while, so we did it again.  This is a fun sort of ride through movie history.  They have little dioramas from major movies from Hollywood history.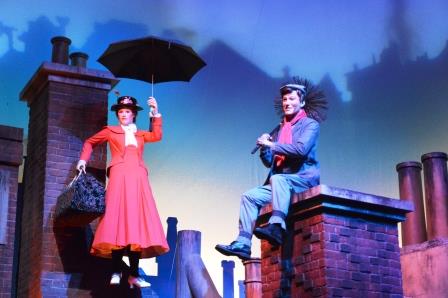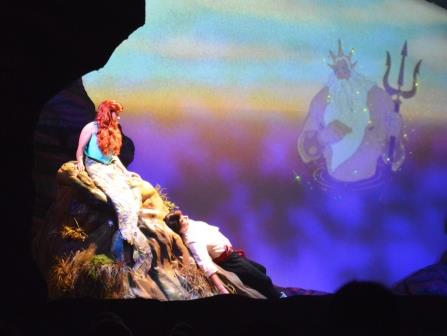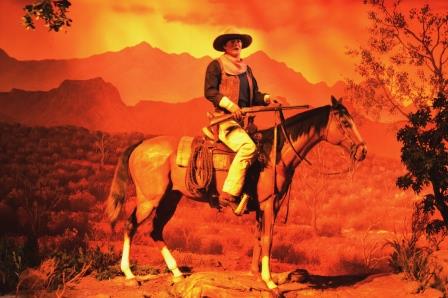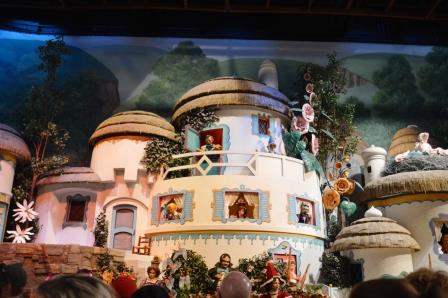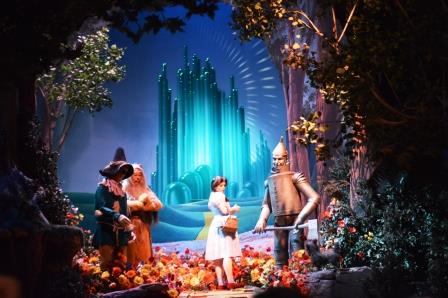 After the Movie Ride, we went over to The Voyages of the Little Mermaid.  We had never been to this show.  It is a combination of live action and animation magic.  It really is kind of cute.  The FastPass time window is only 10 minutes so we had to hurry. Normally FastPass time frames are about an hour with 5-10 minutes of "fudge" time.  Not this show.

After all our shows, we were on a quest for pressed penny machines with the Cars characters on them.  There is an app for our iPhones that tells you where they all are, what they have on them and even a map to show you where they are.  We found all of them, except one machine had been replaced with something else.  By now we were tired pups.  We started out for home when Hilda called and asked if we wanted to go to dinner.  Since we had just eaten we asked if we could do it later, say 6:30, and that was fine.  So we got home and rested for a little bit then picked Hilda and Stephanie up and went to the Alehouse for dinner.  Hilda is building a house and wanted some opinions on some of the plans and details.  We were happy to oblige.  After dinner Stephanie wanted to ride around the Fort in the golf cart.  We did see some pretty cool Mickey lights I might have to make.  Then it was time for bed.  The Blackhawks and Wild were playing hockey, but I don't think either one of us saw the end of the game.

Saturday, May 10:

We got up early to go to DownTown for some birthday shopping and a quick bite at Earl's.  We have a couple of kids with birthdays next week and we haven't been able to find the one thing we wanted to get, so today is our last chance for that.  Got something, still looking for that one thing, and went to UPS Store for shipping.  After that was taken care of we thought we would run up to the new Theme Park Connection.  TPC is basically a resale store where outdated, discontinued, items are traded and sold.  Some of it is great, some isn't.  We set Glenda (our original GPS) for TPC and off we went.  I kept thinking this isn't right, but continued on putting my trust in Glenda.  We ended up at the original location!  I could have sworn I put the new address in.  I guess I didn't or Glenda didn't take it.  We ended up with only a few pins for trading.  We set Glenda to return to the campground and she got us to a street I knew and we continued on our way, until Glenda messed up!  She told us to turn right on Sand Lake Road and as soon as I did she said "re-calculating" indicating a wrong turn.  We decided that Glenda had reached senility and needed to retire.  Anybody know of a retirement home for senile GPS units?  I guess next trip Glenda won't be coming along.  Fortunately, I had a good idea of where we were and how to get back to the campground.  When we did get back, we stopped for a package at the Meadow Trading Post and then went back to the coach to let the kids out and relax.  We watched F1 qualifying from Spain, it was full of crashes and mechanical incidents.  Very interesting series so far this season.  Our driver, Nico Rosberg, qualified in 2nd place so he has a good starting position tomorrow.  Then it was off to bed.

Sunday, May 11 (Mother's Day):

HAPPY MOTHER'S DAY to all the Mother's out there.  We got up early to take Jane to the Walk-in clinic at Walgreen's.  She hasn't felt good for a day or so, so we went to get some care.  Nurse Practioner said something is going around and Jane had a miner ear infection.  she wrote a prescription for some antibiotics and sent us on our way.  We got back to the Fort in time to get some breakfast at Trail's End.  They have a pretty good take out breakfast, may have to do that again.  We spent most of the rest of the day just relaxing.  We did watch the Spanish F1 race (Nico finished 2nd, 0.6 seconds behind 1st).  After the race we rested some more until about 4:00, then Jane wanted to get out so we went for a short bike ride then home for dinner and a little TV.  We did a little planning for Monday, made reservations at Restaurant Marrakech in Morocco at Epcot.  It is a place we have never eaten at so thought we would give it a try. That done, we went to bed.


HAPPY MOTHER'S DAY, LADIES