Sunday, June 17 (Father's Day) (127 days to Disney):

After a week of planning we have made and confirmed camp ground and dining reservations for our October trip. Our itinerary is:






October 22, leave Blue Springs and overnight at Duck Creek RV park in Paducah, KY





October 23, Over night at Birmingham South RV park in Birmingham, AL





October 24, Overnight at Emerald Beach RV park in Navarre, FL





October 25, Overnight at  in Lake City, FL





October 26, check into Walt Disney World Fort Wilderness Campground





November 15, Overnight at Emerald BeachRV Park





November 16, Overnight at Emerald Beach RV park





November 17, Overnight at Birmingham South RV park





November 18, Overnight at Duck Creek RV park





November 19, HOME
Dining reservations include:






October 28, Le Cellier at 1:00 (EPCOT - Canadian Pavilion)





October 30, Tony's at 1:05 (Magic Kingdom)





November 1, California Grill at 5:20 (Contemporary Resort)





November 4, Shutters at 5:00 (Caribbean Beach Resort)





November 6, Ohana at 5:00 (Polynesian Resort)





November 9, Whispering Canyon at 5:05 (Fort Wilderness Lodge Resort)





November 12, Cape May at 9:40 (Beach Club Resort)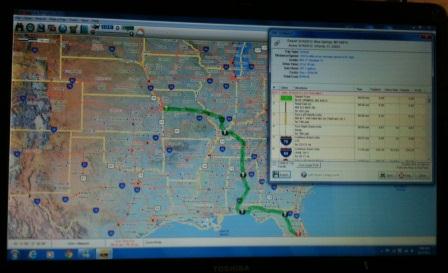 Let the planning begin!!!


Tuesday, October 23, 2012

Finally we are on the road.  A day later than planned, but on the road.  the Mavericks scheduled a Sponsor/Player meet and greet for last night so we stayed for that and had a good time meeting some of the players. we got up early this morning and hit the road about 7:30.  first stop - Paneras in Blue Springs - 1 mile from home!  It was cloudy and warm when we left home.  we ran into rain and wind when we had only gone about 75 miles.  Rained and windy most of the rest of the way to St. Louis.  we stopped for gas and to stretch our legs in Warrenton, MO at a Flying J there.  Very easy in out station.  Only on problem - the RV pumps don't have an awning over them.  Not so great  in the rain!  With my Flying J discount gas was only $3.15/gallon.  We are trying a new route this trip.  We are going to cut south on I-55 from St Louis and go to Sikeston.  Have a late lunch at Lambert's (Home of Throwed Rolls).

Then we will cross the Mississippi River into Kentucky and overnight at Duck Creek RV park.  We got to Lambert's just fine, about 3:00 and had a good filling lunch.  Lambert's is quite the place.  Very folksy, with good, home cooked food.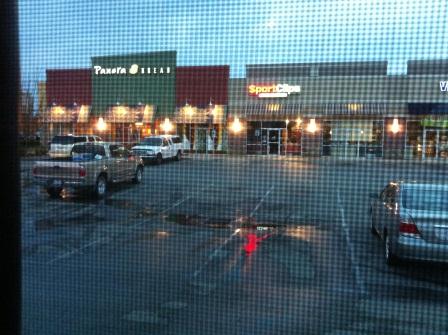 Panera's - Blue Springs (our first stop)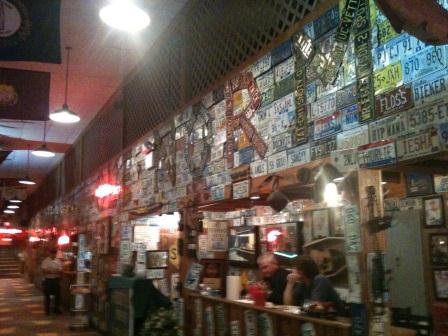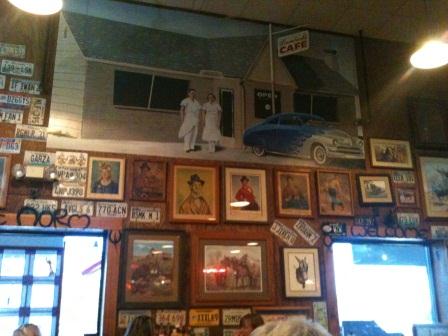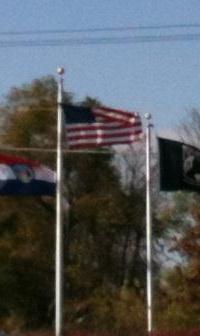 Lambert's - Throwed Rolls and license plates

After we ate we headed off to find U.S. route 60 to head to Paducah.  On the map this is listed as a truck route.  So thought this would be a good route to take.  Wrong!  The bridges (2 of them) crossing the Mississippi River are the narrowest bridges I have ever seen.  I swear that my driver's side mirror had some dirt brushed off of it from passing trucks. We decided not to come home this way!!!  We got into Paducah and got gas then headed off to Duck Creek RV Park for the night.  Got the TVs up and running and finally got the Wi-Fi working after about 40 minutes on the phone to India.  The folks at Duck Creek (Mike and Virginia) are a couple of the nicest people you could ever meet.  They have a great dog park and love dogs.  They recently lost their beloved Great Pyrenees, Max.  Max was a 13 year old rescue that was the sweetest dog.  He always got Christmas cookies from Nico and Smudge (they were Max's "secret Santa") and we always left cookies for Max whenever we stayed at Duck Creek.  Our boys know Duck Creek as "Maxies Place".  We left a sign on the fence around the dog park to honor Max.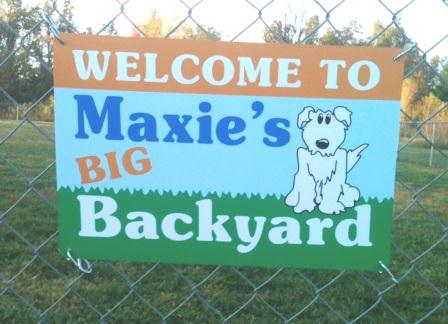 Wednesday, October 24, 2012

We were up fairly early, we took the boys to Maxie's Back Yard to run one more time.  Then back to the RV to disconnect water, electric and stow the satellite dish.  On the road about 8:30.  We planned on stopping in Nashville to visit Antique Archeology of "American Pickers" fame.  We try to watch the show  on the History channel every Monday.  Wow! what a place.  We saw allot of the things we have seen Mike and Frank get while they were on the road "pickin".

Antique Archeology is located in an old (1920's) automobile assembly plant.  That in itself is pretty cool.  There are several other businesses in the same building.  A.A. is a pretty busy place, a tourist attraction.  There was even a tour bus dropping off some tourists while we were there.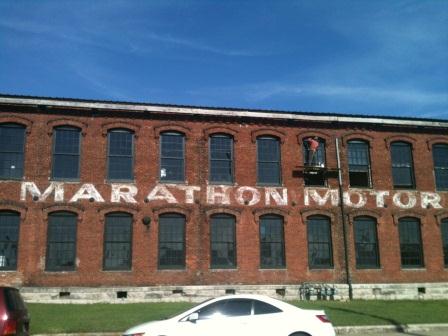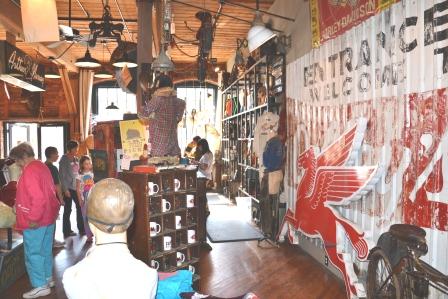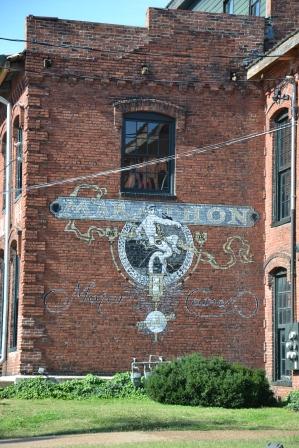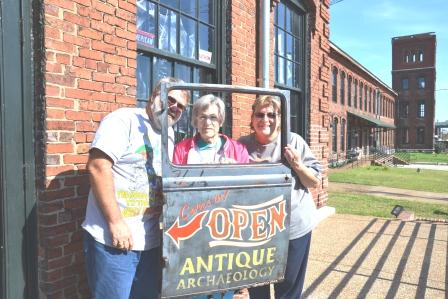 Home of Antique Archeology - Nashville

Interior - we saw the episode when the Mobile sign was purchased

We had to do this - very touristy

From Nashville we headed south to Birmingham, AL.  Shortly after crossing from Tennessee into Alabama we came to the Alabama welcome center.  Since Alabama has had a big part in the NASA space program they have a very fitting display at the welcome center.  We  continued south to Birmingham, our stay for the night.  I-65 through Birmingham has the roughest roads I have ever been on, wish there was a way around it, but alas, no such thing.  Pulled into Birmingham South RV Park about 3:30 and settled in.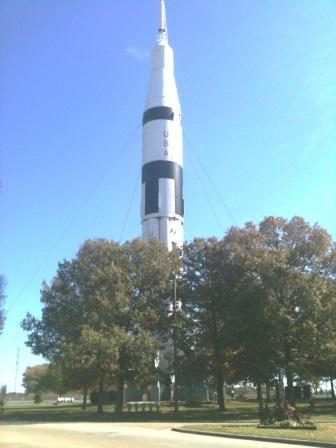 Alabama Welcome Center display

Thursday, October 25, 2012

Up about 6:00 (boys wanted to eat)  and eventually we were all up.  Had a leisurely breakfast and took the boys out for their "duties" before we take off.  Broke camp and were on the road to Emerald Beach, Navarre, Florida.  Really boring day ahead.

Highlight of the day was spotting an unmarked Alabama Highway Patrol cruiser - a 2012 metallic blue Mustang!  The next event was spotting the first palm tree at 11:42a.m.  I am not sure this really counts since they were obviously not native palms.  We got into Navarre about 1:00 and went to Publix for a few groceries.  Then it was off to Emerald Beach RV Park.  Jane hit the beach as soon as we were set up.  We decided this trip to front into the site rather than back in like we normally do.  The scenery is better looking out the windshield this way.  The boys love looking out the windshield.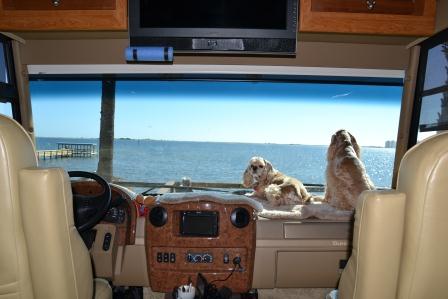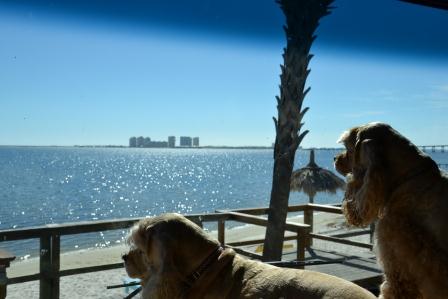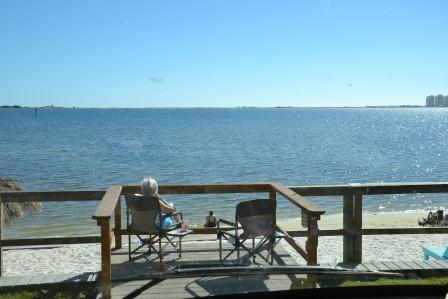 This is why we like Emerald Beach!

The Boys like the view too

The Boys on their "viewing platform"!

Friday, October 26, 2012

Another short day ahead - 300 miles.  Jane likes the beach allot ,check out time is 11:00 and check in time at Lake City (our destination today) is not until 4:00 so we decided to hang out in Navarre until check out time.  At about 10:30 we started stowing hoses and power cords and Jane (she had had enough sun - it is starting to get HOT!  Lotta, our DOG partner) called and said it was 30 degrees at home.  Come on heat!  We hit the road at about 11:00 and headed east to Lake City, Florida.  We think we will miss the fringes of "Sandy", glad we aren't heading north to New York!  Another uneventful day on the road.  We have been seeing allot of ads for a new McDonald's burger - the CBO so we thought that when we were hungry we would stop and try one.  Saw a McDonald's listed in Tallahassee and decided to go for the new burger.  After we were committed to exiting the interstate they had a sign that said McD's was 1.6 miles away. Since we were already off the Interstate we went ahead and find it. It was well hidden in front of what looked like an abandoned school in a not very attractive neighborhood.  We made two decisions; 1 - don't get the newburger again, and 2 - unless we can actually see a sign for gas, restaurants, etc. from the interstate we don't stop.  Topped up gas at Flying J before arriving at Lake City RV Park.  I was a little uncertain about Lake City because of the distance from WDW, but when we arrived it is a great place.  Big, level spaces and convenient hookups.  The only drawback is low water pressure.  I was told at check in not to use a water pressure regulator, a filter or a screen washer in my hose or We wouldn't have much pressure.  Even without those things there was a noticeable lack of pressure.  We fixed dinner and settled in for some TV until the hockey game came on.  Mavericks are in Arizona so game isn't on until 10:00 here.  Finally got the game and  discovered that the Mavericks feed was not working, and the Arizona feed was without audio!  This new group still has some issues. Mav's lost 2-3.  At 12:30 we hit the sack.  Tomorrow is M-I-C-K-E-Y day!

Saturday, October 27, 2012

Since we were up late watching hockey we all kind of slept in this morning.  The boys again were the instigators in our getting up!  Something about wanting to eat.  We were up and did our thing, unhooked and were on our way by 8:30.  We have about 3 hours this morning to WDW.  We have been watching weather reports about hurricane Sandy - hoping we don't have any problems related to that.  It looks like we will miss most of it.  Jane got a text from Gary (Canadian friend) that said site 705 (our favorite) is being used by someone else - 702 and 704 are available though.  We have been in 702 and it has no satellite reception and 704 is an unknown.  Then we got a call from Hilda, the lady in the park that we reserved with this time.  She told us the same thing, and would try to work something out with Disney.  She called back and said we could spend tonight in 704 and move to 710 in the morning.  This is a little complicated, the sites on one side of the loop (700) back up to allot of tall pine trees that block the satellite view so no TV.  The other side is far enough from the trees that the satellite can see over them.  So that is settled - 704 tonight and move in the morning.  While all this is going on, I noticed 5 convoys of 8-10 tree trimmer crews and trucks heading north, presumably in anticipation of Sandy making land fall.  Hmmmmm,  50 tree crews from Florida called to help - me thinks this is going to be a bad one.  We got on the Florida Turnpike about 10:30, this is the final leg of the trip, almost there.

Went under the "Welcome to Walt Disney World" sign about 11:00 and pulled up to the check in booth at 11:30.  Yea!

It is overcast and cool here, remnants of Sandy I think.  It was very windy and rainy here yesterday, but looks like it is going to clear up on Sunday.  We got to our site and hooked up water and electric only, since we are moving in the morning.  Just for grins we put the satellite dish up, just to see if we were clear.  While it was adjusting and looking for satellites we took dogs out for a walk along the canal to look for 'gators. None, might be too cool for them to be out today.  When we got back, the dish had found 2 out of three satellites - so we tried the TV and we had a picture.  I  will see about staying in 704 on my way back from getting a car.  Rental car place is at the Dolphin Hotel so I take a boat to the Magic Kingdom and a bus to the Dolphin and drive back to the Fort (Fort Wilderness Campground).  MK was mobbed, I took a quick run in to get some post cards and then to the buses.  Waited a long time for the Dolphin bus.  If I were staying at the Dolphin and paying what those folks are, I would be complaining about the bus service.  Anyway, got back to the campground, went down to get our golf cart and back "home".  Gary came by and "urged" us to get busy and get decorations up.  So, a quick beer and out to set up X-pens and decorations.  We got some up and decided to do the rest in the morning.  Thoughts turned to dinner, where to go.  Finally settled on Trail's End here at the Fort.  Not a fancy place, just good comfort food.  After dinner we went back to the RV to set up for another hockey game.  We really don't like these games with Arizona - they don't start until 10:00 local time!  This new CHL TV still doesn't have their act together, so we listened to the game from the Mavericks radio broadcast.  Mav's won in OT 4-3!.  Off to bed now.  Finish setting up in the morning and pictures tomorrow!

Sunday, October 28, 2012

Everyone slept in this morning, must be tired.  It is overcast and cool today, hope the weather clears up!  Going for lunch at Le Cellier today at the Canadian pavilion.  They have be best Cheddar Cheese soup and Chocolate Mousse.  We put a wheel chair in the car and drove down to the outpost bus stop to get a bus to EPCOT.  We arrived at EPCOT, purchased a 5 day park pass for Jane's mom and went in the park.  Jane wanted to stop in the "Art of Animation" store. David Doss was there signing pictures so Jane did a little shopping.  Her mom and I waited outside in the sun.  Sun felt really good since it had been so cool earlier.  Headed to LeCellier for lunch, we passed the Cranberry Bog on the way and talked to the woman tending the bog.  We learned about growing and harvesting cranberries.  Had a great lunch, and again it was too much food, but it is soooo good.  We brought a lot back to the RV for later.  After lunch we checked to see when Off Kilter, a Celtic rock band, was playing.  We only had to wait a few minutes for the show, so we stayed.  These guys are very good and put on a great show.  After the show we started back to the buses with a side trip to MouseGear, a great Disney store.  Again, Jane did most of the shopping and her mom and I waited outside in the sun and watched the fountain and people.  Jane finished and did very little damage to the visa account.  Got back to the Fort just in time to feed the kids and take a short break before we had to leave for Mickey's Not So Scary Halloween Party.  We left for the boat to Magic Kingdom and the party at 7:00.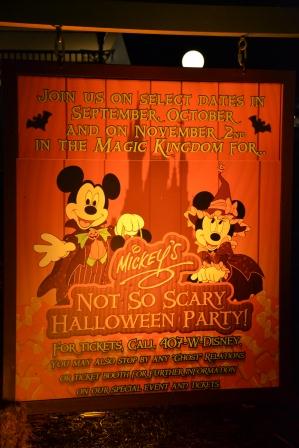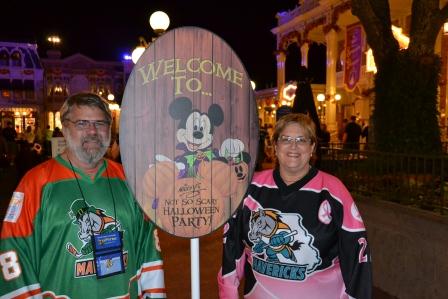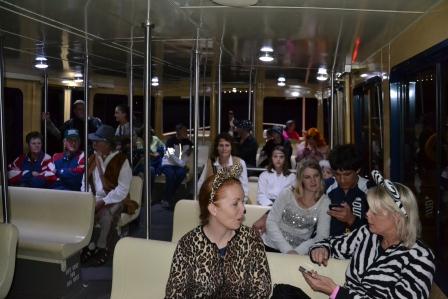 Costumed party goers on the boat

It is Halloween and we went as Mavericks!

We found a great place to watch the parade, shhhhhhh, it is now our secret place.  I held the spot and Jane toured the Emporium.  At 8:00 the parade star made his appearance - The Headless Horseman! He is like the Grand Marshall of the parade.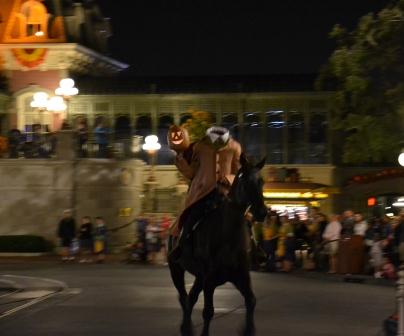 We waited and watched the crowd. There were a lot of very good costumes, lots of pirates and Disney characters.  One of the pirate groups included Hook, Peter Pan and the alligator.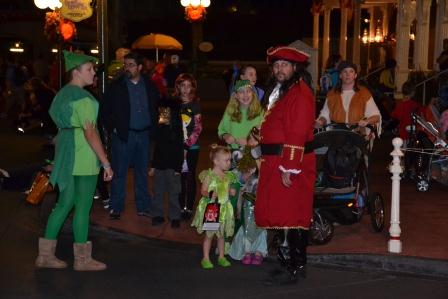 Soon it was time for the actual parade to start.  This is maybe the best nighttime parade that Disney puts on.  It's a little smokey for effect so pictures aren't real clear.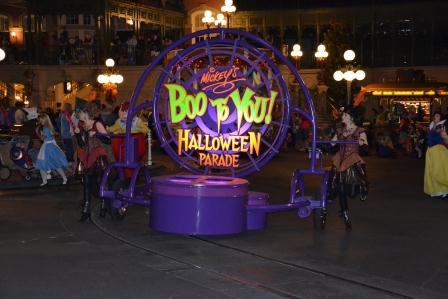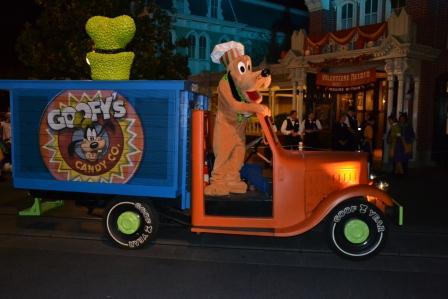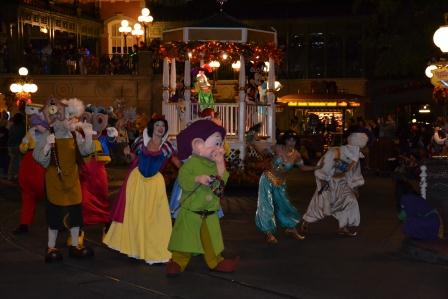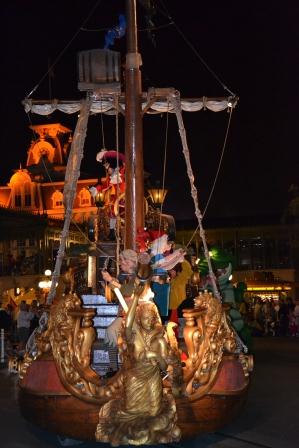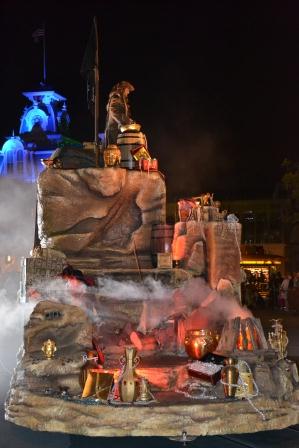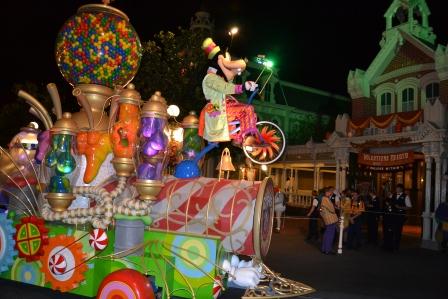 Some of the parade floats - not too shabby

After the parade, we both took a tour of the Emporium and looked for baby presents for a couple of friends back home.  After the Emporium we went across the street to check out some of the stores on that side.  While strolling the street we came across a street artist that did his art in water - not water color - just water.  He was very good. It was now time for the fireworks show.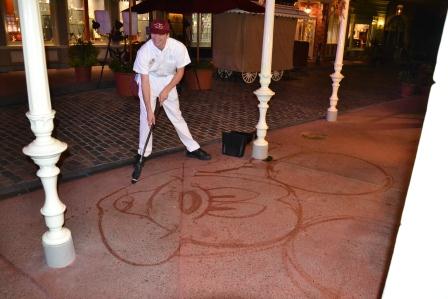 Mickey is drawn in just plain water!!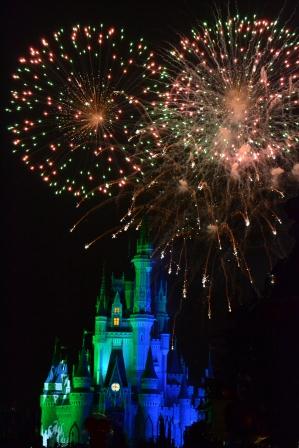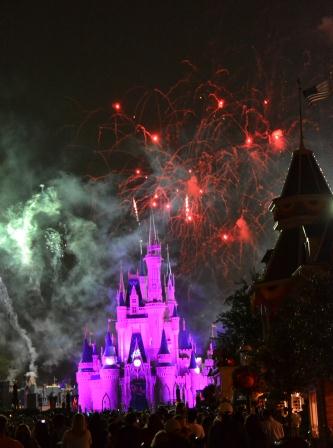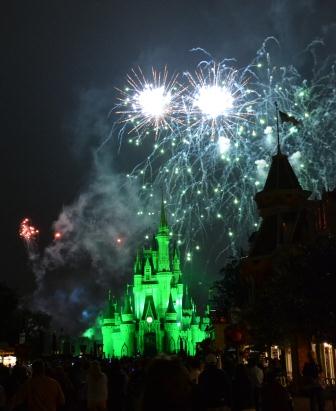 Can you see the face in the smoke?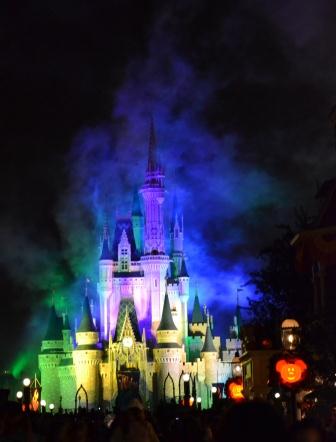 After fireworks it was time to head back to the RV and save the kids/grandma from each other.  Caught the first boat back and fixed a little supper since we hadn't eater before we left for the party.

Jane here:  Note to self:  No matter what you tell yourself you ALWAYS eat way too much at Le Cellier.  We eat there at least once or twice per trip  because the food is so good.  The place is so popular, reservations need to be made 180 days in advance (the maximum advance Disney allows.)  Those Canadians know how to cook!  Cheddar Cheese Beer Soup, Pretzel Bread, Macaroni and Cheese and Maple Creme Brulee.  Forget the wonderful filet.  It's still too much food but makes great leftovers  It's our favorite restaurant on property.

Monday, October 29, 2012

Again, everyone slept in until 7:30 (everyone except the boys, breakfast was on their mind's).  It is "errand day", prescriptions to fill, groceries to buy.  Went to Walgreen's for drugs, headed to Publix (love this store, thanks Carol) for some groceries and back to the Fort.  The car is making funny grinding noises in the front brakes so I will take it back and switch for another one.  We have lunch reservations at Whispering Canyon at Fort Wilderness Lodge so we went to the dock to catch the boat to the Lodge.  Boat ride is cold and windy today, should have worn something warmer.

Had lunch with Chad, our favorite Disney server.  They have changed the menu - no more bottomless skillet, but food is still very good.  Jane did a little shopping at the gift shop (I bought a shirt also).  Took boat back to the Fort and with renewed vigor we decided to do some more decorating around our site.  We have some lights and signs to put up plus and inflatable.  The biggest challenge is where to run power cords.  You can never have enough extension cords.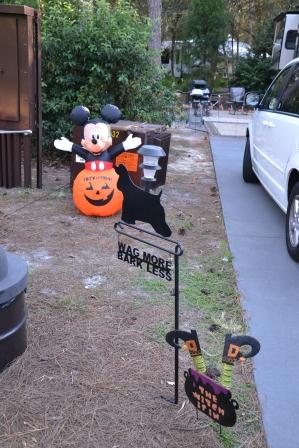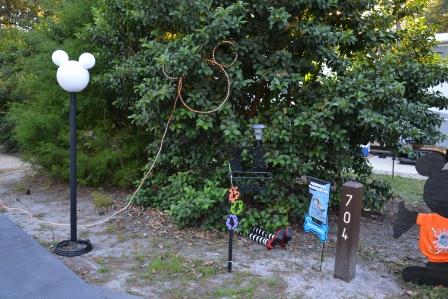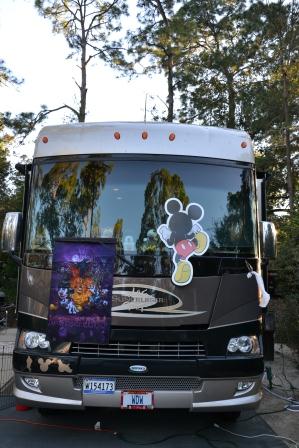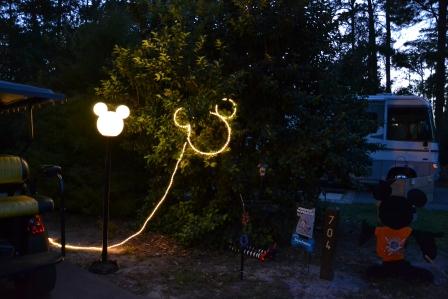 Our decorations pale in comparison to many others.  Jane thinks we are missing an inflatable, so we will check basement compartments today.  Some folks even tow big trailers for all their decorations.  Went in and had a little dinner and watched Sandy on New York TV.  This is a very devastating storm.

Tuesday, October 30, 2012

Today broke cool and windy, but sunny!  I took the car down to the Meadows Trading Post to get a paper and to pick-up a couple of purchases we had shipped back to the Fort.  We all went to Walgreen's to pick up drugs for Jane and her mom. On the way, sort of, we drove around the Carribbean Beach resort and then a tour of the Art of Annimation resort.  We thought we might have lunch there, but nothing appealedto anyone so we just walked around the Cars part and took some pictures.

After Art of Animation we went to Downtown Disney to do some shopping - surprise!  It was about lunch time so we thought we would do lunch at Earl's (Earl of Sandwich) - it was mobbed!  The line went all the way around and out a side door.  Shopping first, Jane and her mom went to the Art of Animation store and the Christmas store.  I went to the Toys store and the World of Disney store - way to crowded for me.  After a while the line at Earl's had dwindled to a normal line so we had lunch.  Jane wanted to do some more shopping, he mom and didn't, so the two us us went back to the RV while Jane shopped.  She will catch a bus to come back to the RV.  I was told to remember to register the dogs for the Halloween Dog Parade at 4:30.  I went to the Bike Barn and registered them and waited for Jane to get home.  At 4:00 she called and asked if I could come pick her up.  Don't think we are going to make the parade!

Gary and Carol (from Canada) had their dogs in the Parade and won third place.  Zak was the Headless Horseman and Blue was an aviator (both very cute).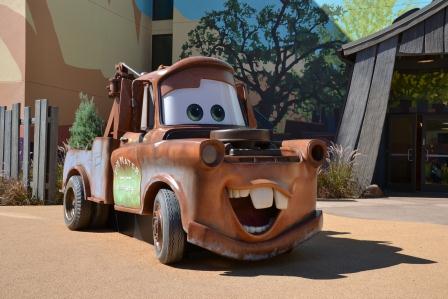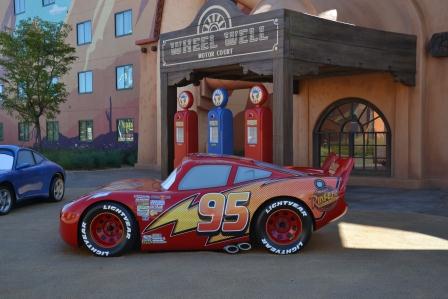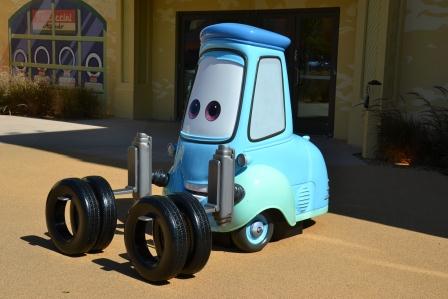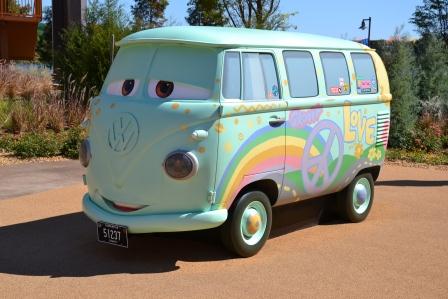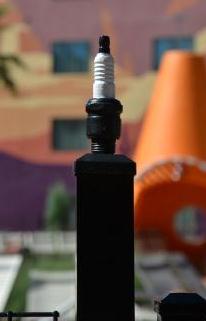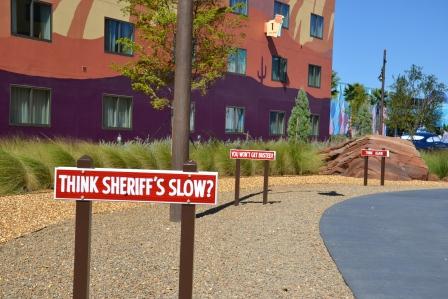 There are life-size characters from the Cars movie including Tow-Mater, Lightning McQueen and Luigi plus almost all the other characters from the movie.  The attention to detail is incredible, from the spark plugs topping the fence posts around the pool to the signs reminiscent of the old Burma-Shave signs - remember them?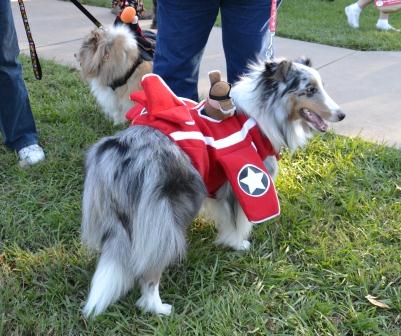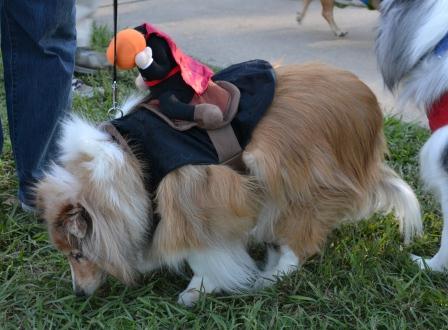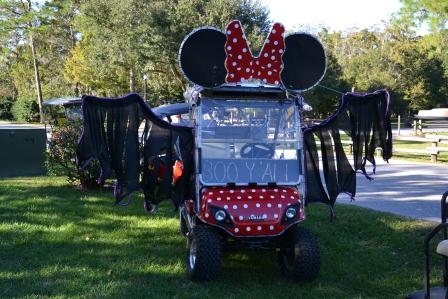 Zak - the Headless Horseman

The elusive Minnie golf cart was there also.

After the Parade we went back to the RV and settled in for the evening.  Watched some TV and I did some DOG business.  Before we left for this trip I got an additional package from Directv that allows us to get the 4 major TV networks on the satellite when we are away from home.  This is great, except the networks are broadcast from New York and all we have been able to get on the major networks is hurricane Sandy news!  Four days that is all they have had on - no regular programing.  These New York weather guys are worse than the Kansas City guys for breaking in and going on for hours (days).  Oh well, off to bed with us.

Wednesday, October 31, 2012 (Halloween!)

We are getting into the routine now.  Dogs wake us up, feed the dogs, walk the dogs (kind of seems like the dogs are running things here doesn't it). Yesterday Gary and Carol told us about Theme Park Connection, a surplus outlet for all things Disney.  We went up this morning to check it out.  They have everything from pins (got some) to resort lobby displays (boat from Yacht Club I think - $8000).  We did buy some pins and a ceramic dog bowl.  This is a place where stock will change from day today.  On the way back to the RV we stopped at a First Watch restaurant for some lunch.  We didn't know there were First Watch's in Orlando.  While there we noticed a Lowe's where I got some hooks for one of our signs.  After getting back to the RV we just crashed for a while.  At 5:00 there is a Halloween golf cart parade.  We took chairs out to the parade route and watched.  there must have been 80-100 decorated golf carts.  Some of them were moderately decorated, and a few were very elaborately decorated.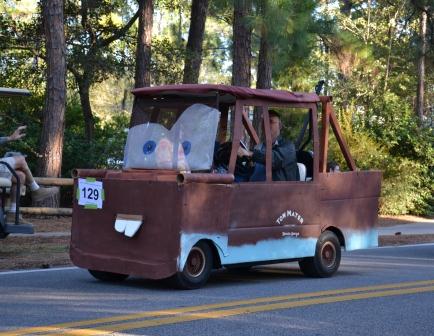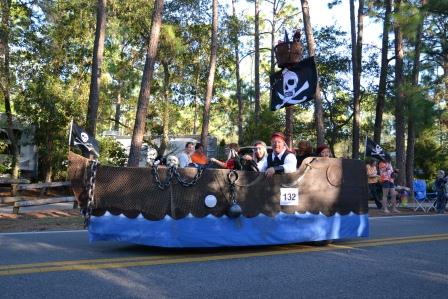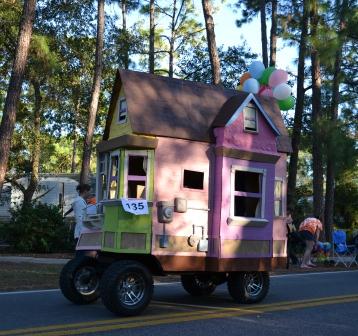 Pirate ship (Pirates of the Caribbean)

Cruella DeVille's car (101 Dalmatians)

These four were to me the most creative, and all made with just cardboard on a standard golf cart!

What would Halloween be without Trick or Treating, and what better place to do it than Walt Disney World?  Trick or Treating started at 7:00.  We had no idea what to expect in the way of kids.  We grossly under estimated the crowd! There were hundreds of kids, I think that kids came from other resorts to wander the roads of Fort Wilderness.  We ran out of candy early and one woman gave us hers since she wasn't "home" to give any out.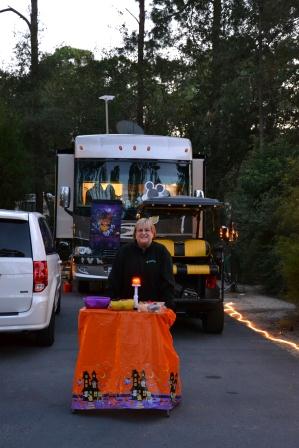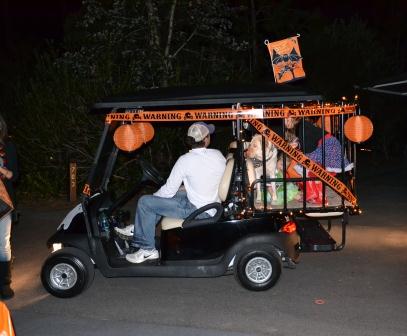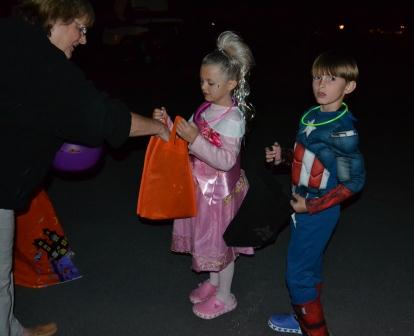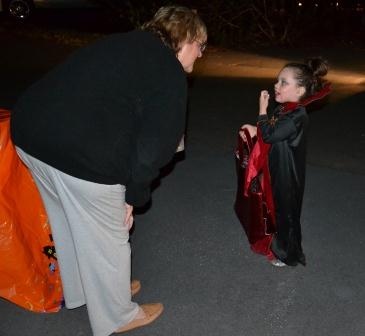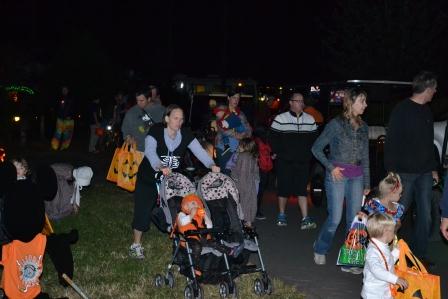 More Princesses & Super Heros

The crowd - we were not ready!

Thursday, November 1, 2012

Boys got me up early this morning, breakfast time!  Went down to the Meadows for a paper and when I got back we decided to do a park today.  Jane's mom didn't want to go, so we took the golf cart to the outpost bus stop and decided to take the first bus that came along - EPCOT it was.  We went over to the Chase Visa center and got a cup of coffee and talked to the hostess about the Chase reserved viewing area for Illuminations.  The Chase center is behind the Ghiradelli kiosk so on the way out we had to look at all the chocolate.  Ghiradelli has a contest for all the resort chefs to make a display out of chocolate.  They were all outstanding - and all made of chocolate!



































Even a tiny Cap'n Jack!!!
From the Chase center we were off to eat our way around the World Showcase with planned stops at Australia (shrimp on the Barbie), Mexico (shrimp taco), Scandinavia (Taste of Scandinavia), China (Mongolian beef), Cheese (cheese fondue), Germany (Apple Strudel), Italy (skipped this one), France (had a Napoleon here, skipped the food kiosk), Ireland and Canada were planned, but by this time we were full and decided to walk over to the Beach Club and MAYBE a stop at Beaches and Cream (old fashioned soda shop).  Skipped Beaches and Cream, took boat to the Studio and then a bus back to the Fort.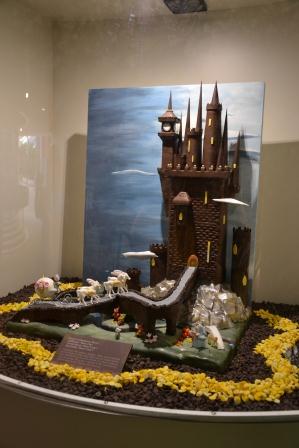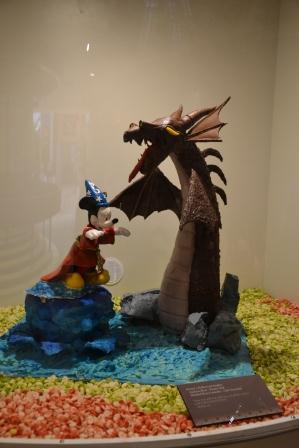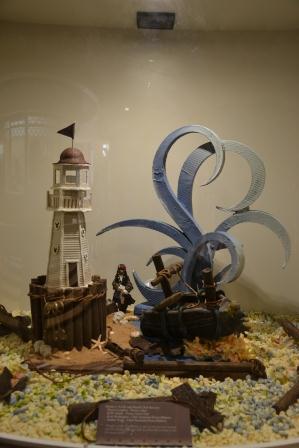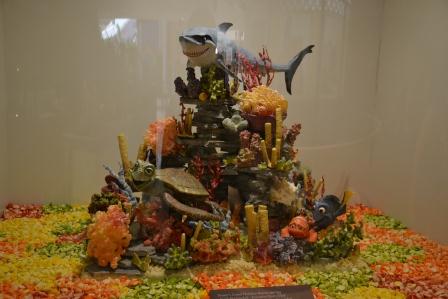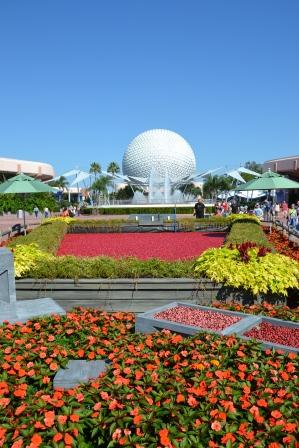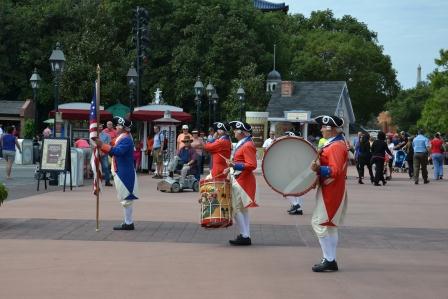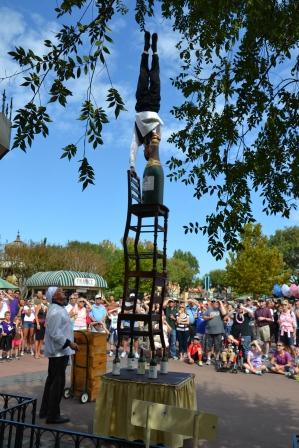 American Fife & Drum Corps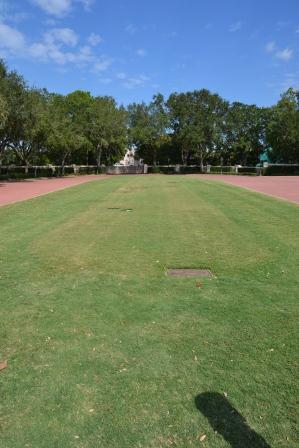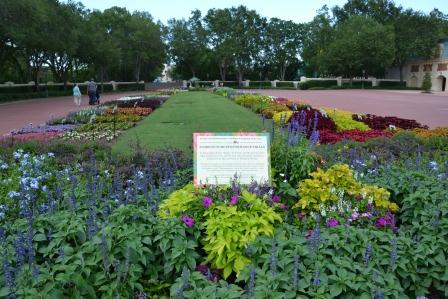 Garden plot at EPCOT 11-1-12

Garden plot at EPCOT 5-8-12.  This is all dug up and grass is planted until next Flower & Garden Festival

Back at the Fort we settled in for a night in.  Had burgers on the grill, a beer and watched a little TV.  Life is Good!

Friday, November 2, 2012

This morning we have reservations at Cape May in the Beach Club Resort for breakfast.  This is a character breakfast so there are a lot of kids.  It is a fun breakfast, at the table next to us was a family with three little girls that really exemplified the Disney Magic.  One of them in particular was so excited when she saw Donald, and Goofy, and Minnie.  Don't know what happened to Mickey though. It was a good breakfast buffet, we all had plenty (too much) to eat and had pictures with the characters.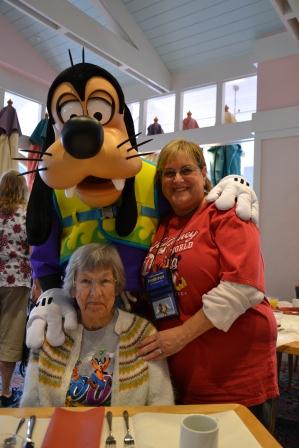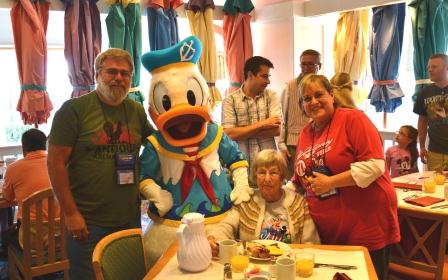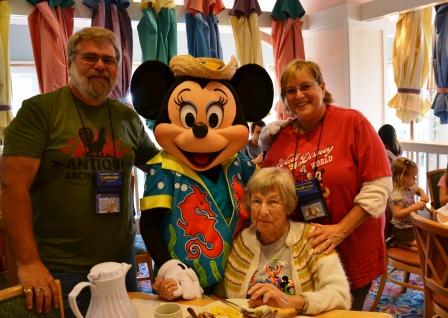 After breakfast we went off to Camping World for a few supplies and then back to the Fort.  It was a great day, sunny and clear so we decided to go down to the pool for a while.  It wasn't very crowded so it was very nice.  We stayed for about 90 minutes or so and went back to the RV.  There was a Mavericks hockey game at 8:00 and hopefully we can get it on the America One Sports web site.  We haven't had much luck with them yet!.  Game kept freezing so we listened to it on the Mavericks web site. Mavs lost!

Saturday, November 3, 2012

Light day today.  Went to the grocery store for some basics.  Made the obligatory stop at Panera's for some coffee and pastry.  Then it was back to the Fort and maybe some pool time.  When we got back to our site, Jane stepped out of the car and saw a snake in the brush.  This freaked her out, we have never seen a snake here.  So I chased it back into the brush and things were better - not good, but better.  After a little bit I went over to Magic Kingdom on the boat.  We are trying to find out what we need to do to get Passholder passes to get a preview of the new Fantasyland.  I also got a couple of shirts and sorcerer cards.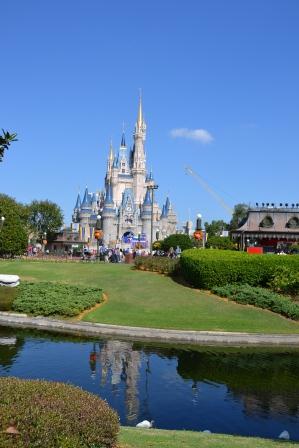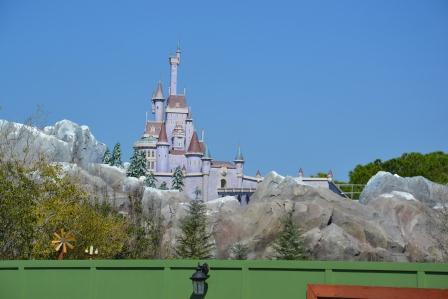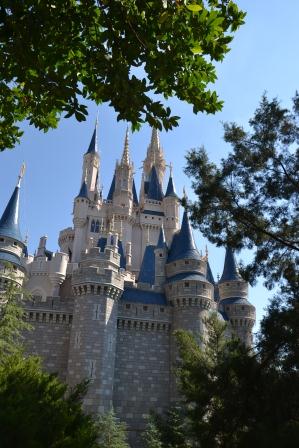 The Fairy Castle in the New Fantasyland

There is obviously more work to be done

I never get tired of photographing the Castle

When I got back to the RV we decided to go to the pool for a while.  Since it is Saturday the parks are full of "locals" so the smart guests don't go to the parks, but do other things like go to the pools. That means that on weekends the pools are crowded!  We stayed for about an hour then returned to the RV.  We are having dinner with Gary and Carol at Ragland Road in Pleasure Island at 6:00.  We decided to go over early and do some shopping before dinner since we have another hockey game tonight (Mavericks home opener).  Didn't get anything on our shopping trip, I went to get some cigars at Sousa's, but they didn't have what I was looking for.  Met Gary & Carol and had a good dinner.  The son of our banker (Joe) works at Ragland Road and we talked to him for a while.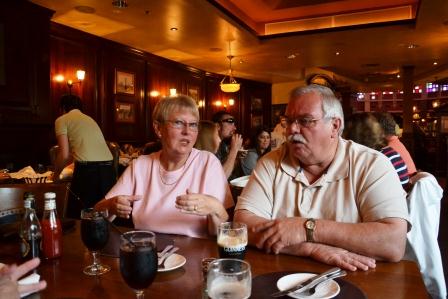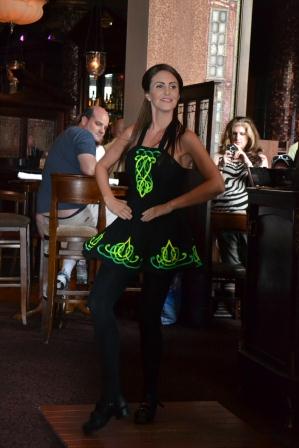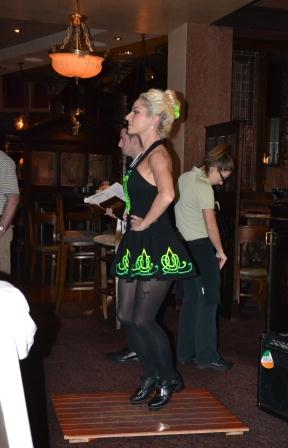 Carol & Gary (Canadian friends)

During dinner we were entertained by a couple of Irish dancers

After dinner we went back to the RV to hopefully watch the hockey game.  Surprise, we got the game and it only froze a couple of times - until the third period.  Finished up listening to the game on the Mavericks web site - again.  Mavs lost, again.  Then it was off to bed for everyone.

Sunday, November 4, 2012

Time changed today, but the dogs didn't get the message.  We got up and watched the F1 race from Abu Dubai.  Gary & Carol called and said if we could be at the entrance to the new Fantasyland, they had a couple of extra wristbands to get in, but we had to be there by 11:30.  So we finished watching the race and Gary called again and asked when we were going to get there - the tickets are only good from 8:30 to 11:30 - we ms-understood.  We got to the entrance in time, about 10:00 so we had a couple of hours to check things out.  When we checked in at the main entrance one of the cast members asked if we wanted passes to the 5:00 show, we naturally said yes. Gary & Carol gave us a tour (they had been there a time or two before).  We did the Ariel ride and the Belle interactive show.  Checked out the restaurants, Be Our Guest is a great resturant!  It is very big, with some very cool electronic gadgetry.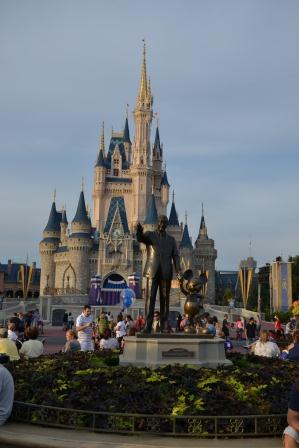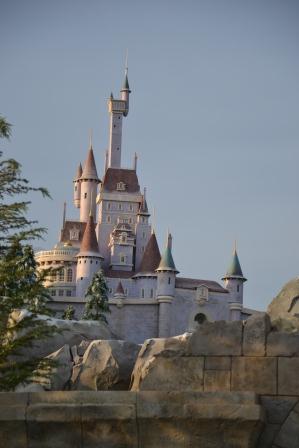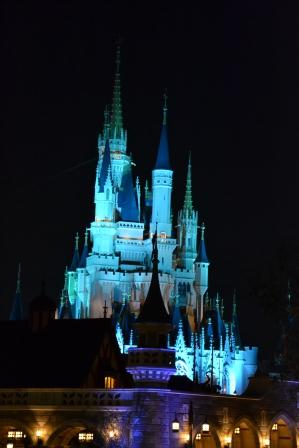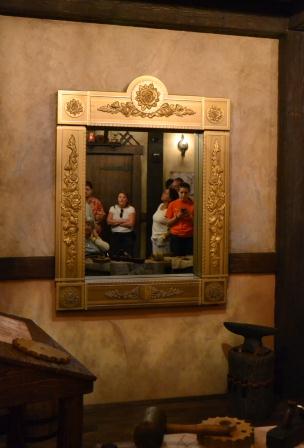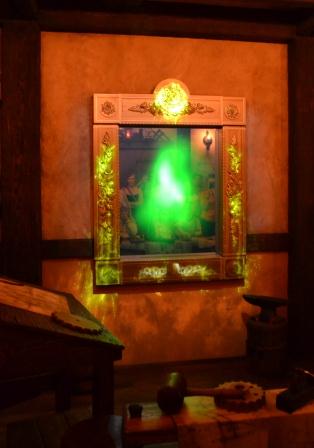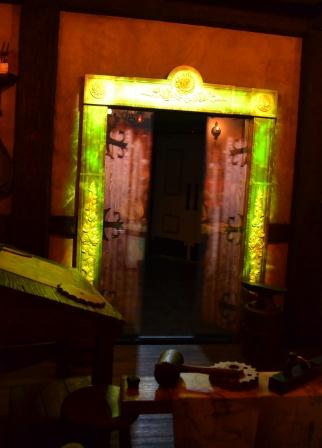 Belle's interactive show involves a "Magic" mirror that transforms into a portal to when Belle and the Beast met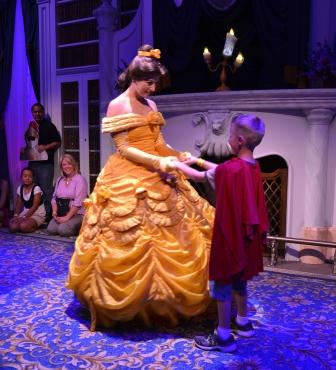 At the end of the show Belle & the "Beast" dance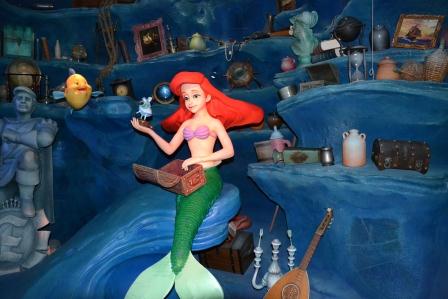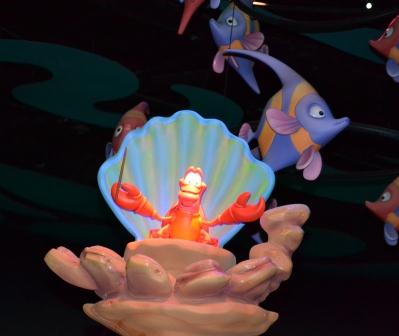 From Belle we went to visit Ariel - a fun ride "under the sea"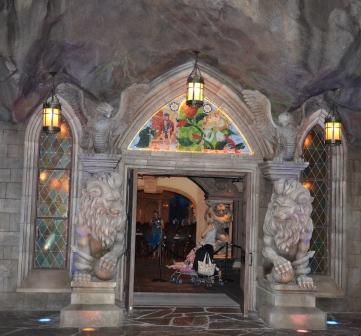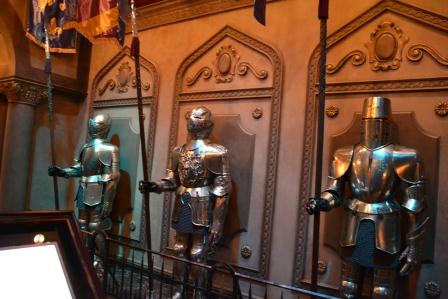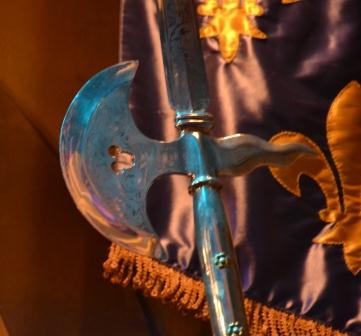 The entrance to Be Our Guest resturant

First thing you come to is the Armory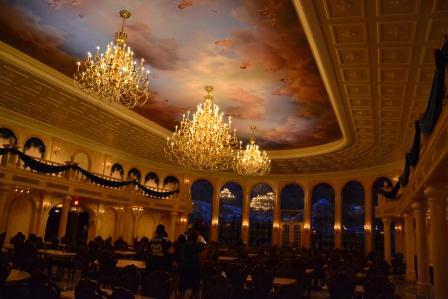 One of three dining rooms at Be Our Guest.  The ceiling is painted with dozens of cherubs - they are actually the children of Disney Imagineers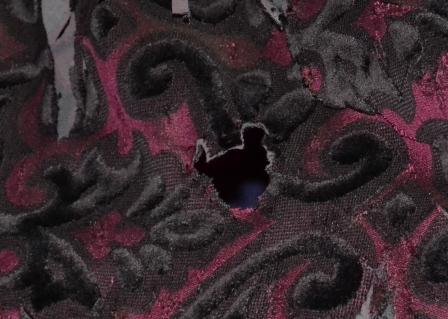 Another Hidden Mickey in a tapestry in another dining room

The "girls" and a Gargoyle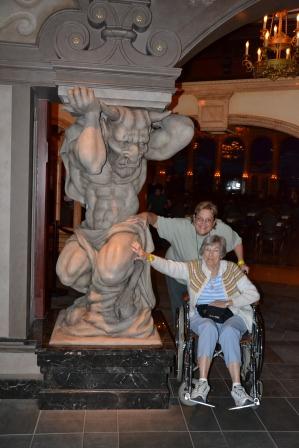 Monday, November 5, 2012

Well, today is a relaxing day, no plans until 4:00 when we go to the Hoop-De-Do Musical review here at The Fort.  We decided to do some laundry.  Yes, even on vacation we need to do laundry!  We went down to the pool for a while and came back and did some more laundry.  At 3:30 we went down to the Review and got in line for dinner.  The Review is a classic old west musical review with singing, dancing and corny jokes.  The food is good (fried chicken, barbeque ribs, cowboy beans, mashed potato's and corn.  Desert is strawberry shortcake.  A good meal of comfort food.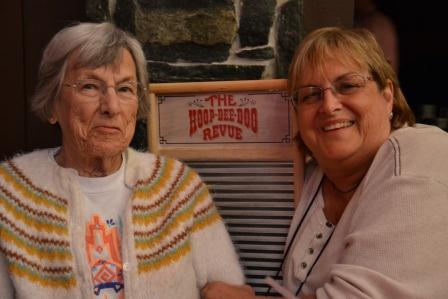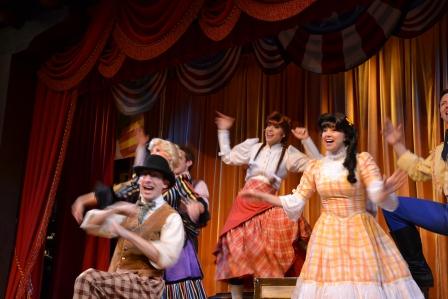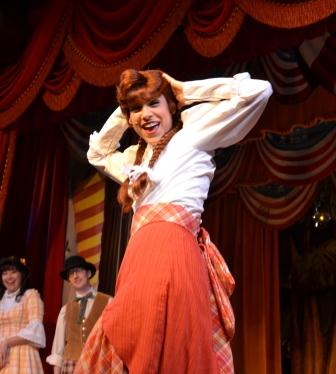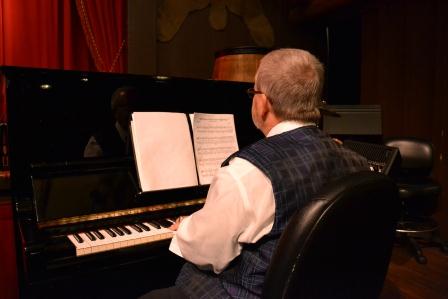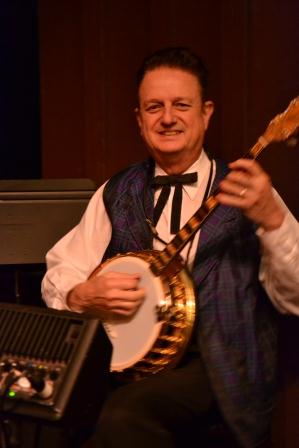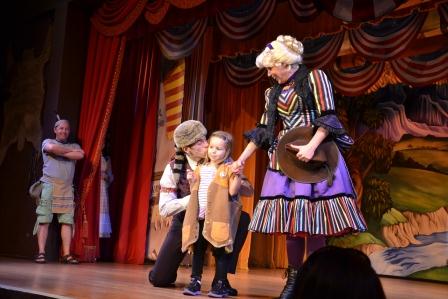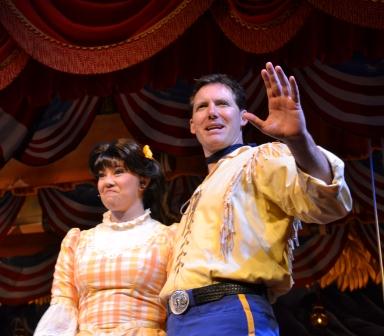 Jane & Mom at Hoop-De-Doo

She wanted her picture taken

Little girl from audience to help with the final number - a real cutie!

Tuesday, November 6, 2012 - Election Day in the U.S.

Delay in getting this posted - mouse died and I had to get batteries.  We started the day by saying good-bye to Gary & Carol, they are headed back to Canada and home.  We went on a quest, first to get some sustenance at Panera then to find  booze Jane's mom.  On the way out of the campground we ran across the Reedy Creek Fire Protection paramedics and their weekly Frisbee game.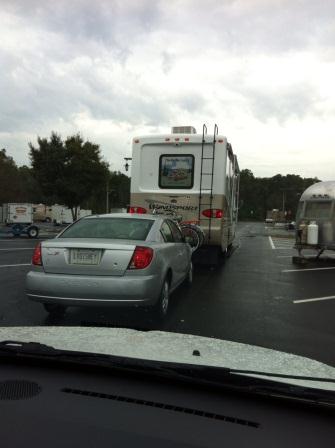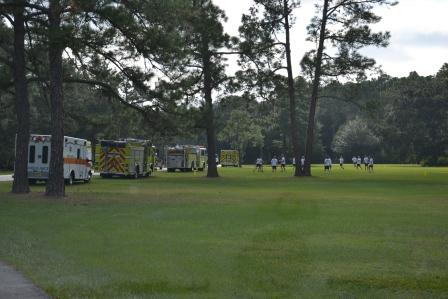 Gary & Carol headed north

Reedy Creek Fire Frisbee game.  At final count there were 4 ambulances and 3 fire trucks - who is protecting the Kingdom?

After we finally found the booze, we returned to the campground, got new "keys" (our original ones expire today).  The rest of the day was spent doing laundry, walking the dogs and some pool time.  We are scheduled for dinner at Ohana's at the Polynesian Resort at 5:00.  Almost too cool to take the boats over so we drove over.  Ohana's is a "all you care to eat" place where chicken, beef, pork and shrimp are served from skewers.  Also you get broccoli & noodles, chicken & dumplings, salad & bread.  You can ask for refills, but can't take any home.  For desert is a banana-coconut bread pudding ala mode that is awesome.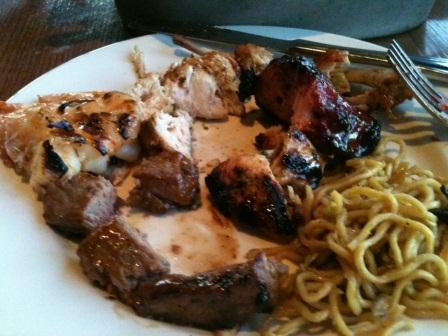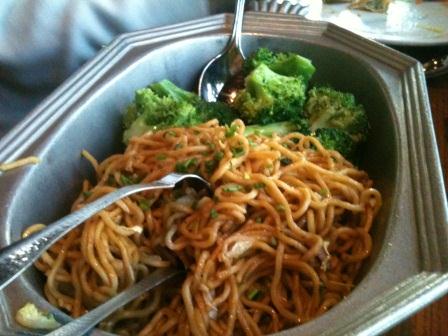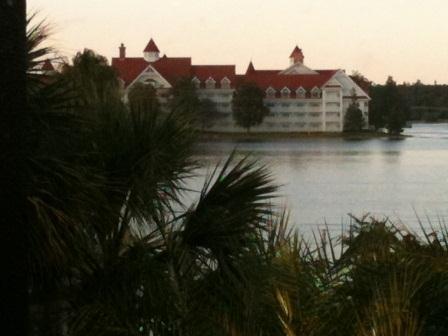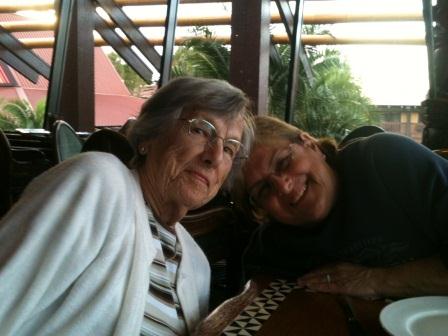 Some of the beef, chicken and pork (sorry, shrimp didn't last long enough for a photo)

After desert (we all shared one and we were too busy eating it to take pictures) we waddled back to the car and home.  When we got home, everyone changed into loose fitting clothes and settled in to watch TV and check on election results.

Wednesday, November 7, 2012

Got up this morning, had coffee, got paper and took dogs for a walk, then decided on what we were going to do today.  Decided to go to Animal Kingdom.  Tried to get Jane's mom to take the wheel chair, but she said she could walk.  When we got to A.K. park she asked how far it was to the Safari ride and we told her.  she was okay with that, but when we got to the Kilimanjaro Safari ride there was a 50 minute wait.  Should have done 2 things, Wheel chair and FASTPASS.  Ride was delayed because some of the animals decided to hang out on the road.  Things finally got moving and we got on a truck.  Katie was to be our safari guide.  It was a little cool so the animals would be a little more active.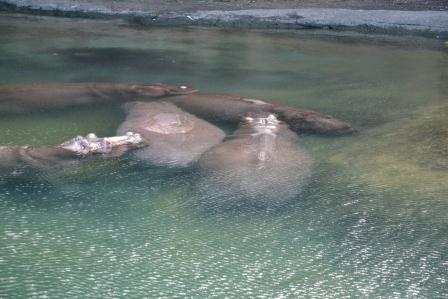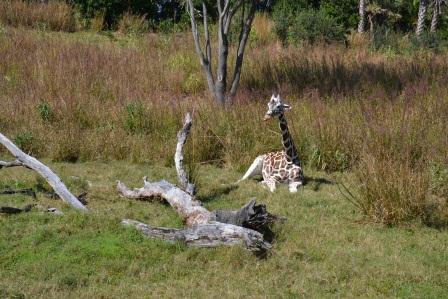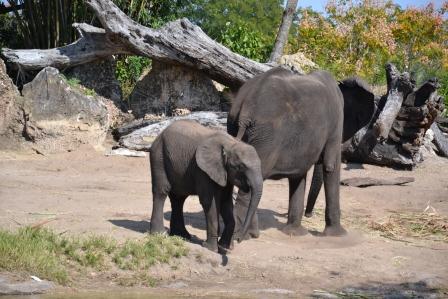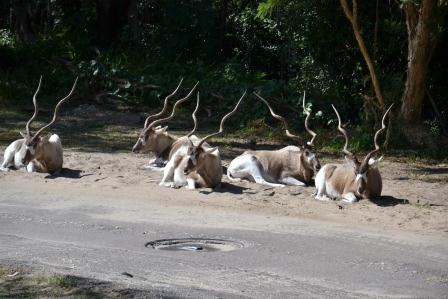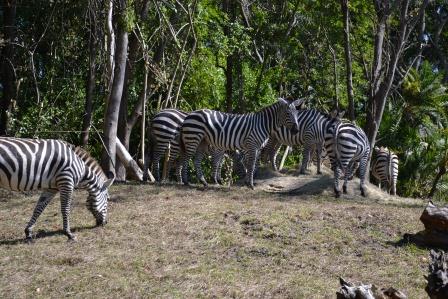 I think these guys were just waiting to block the road again

After the safari we decided that it was time to eat lunch.  We went to the Tusker House, but they were full up.  Grabbed some sandwiches at a counter  service place.  Then it was off the the Lion King show.  We got there just as it was starting. This is always a great show!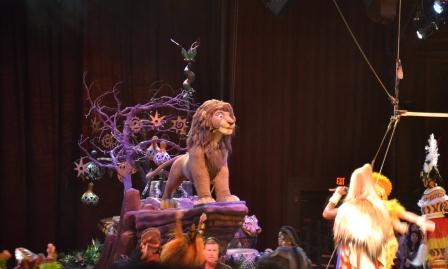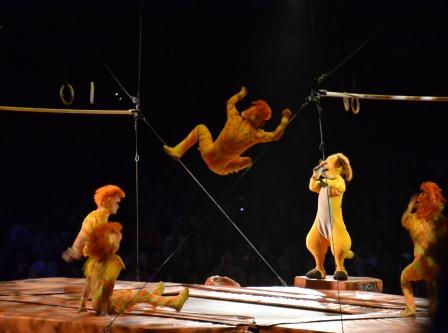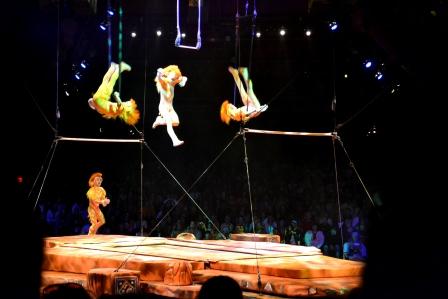 The "Monkeys" are very entertaining

Thursday, November 8, 2012

Another day with minimal plans.  We have breakfast reservations at Whispering Canyon in the Fort Wilderness Lodge and that is all that is planned.  It is going to be a little cool today, 68 for a high temp.  Drove over to the Lodge (I suggested taking the boat but was over-ruled).  Got a table in Chad's area and had a nice visit with him.  He has a 15 year old daughter that he is teaching to drive.  Chad has been at the Lodge for over 20 years, this is typical for Disney servers (not the number of years, but the fact that they stay at one place - some folks have estimated that servers at some of Disney's resorts can make in the neighborhood of $150,000 a year in tips).  Had a good breakfast, Jane had chocolate chip pancakes, her mom had a western omelet and I had a breakfast platter (scrambled eggs, sausage, bacon, biscuit & gravy, & a Mickey waffle), the platter replaced the old skillet.  Same food just served differently.  Lots of familiar faces, George the seater, Chad and David "Slim" another server.  I wish I had seen them building the Lodge - it is amazing.  Same architect that designed the Animal Kingdom Lodge.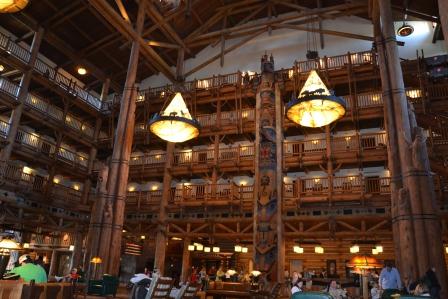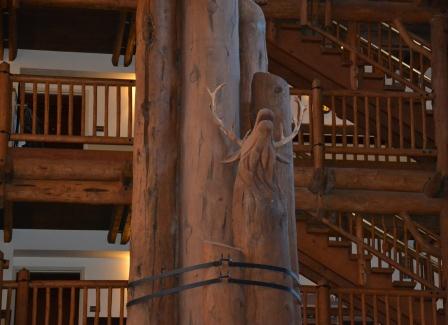 Interior of Fort Wilderness Lodge - Amazing!

All of the "columns" have carvings of woodland animals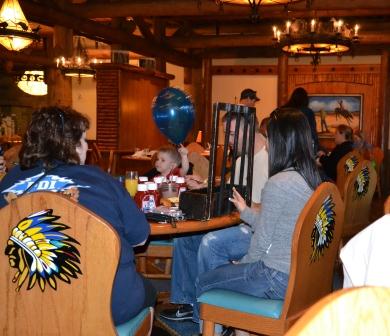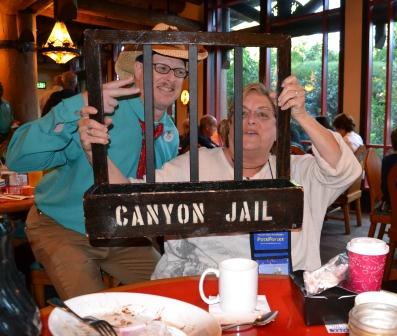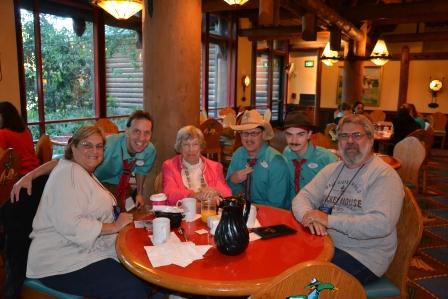 This lady by-passed the Ketchup procedure and George put her in jail

Jane squealed on her - George put her in jail for squealing

Jane, Chad, Iona, George, "Slim", and Me

After breakfast we went back to the RV and just relaxed, no laundry today.  Thought about what we would do the rest of the day.  A little too cool for the pool and a lake boat ride.  We took the dogs for a long walk today and started planning next years trips.  We had to calculate when the hockey season would be over (3 rounds of play-offs at about 2 weeks per round) and when the 2013-2014 season camps would start (early October).  Finally decided on some dates and Jane went down to Hilda (the local Disney travel agent) to book dates.  We are asking for site 704, our new favorite.  We have two spring blocks of dates, one if the Mavs go all the way to the finals and one if they don't.  You can only book 30 days at a time so we overlap dates and "refine" when the time comes.  We decided to go to a movie "Flight" with Denzel Washington at the AMC Dine-in theater at Downtown Disney. On the way out of the Fort we saw three young deer grazing by the road.  I liked the movie, Jane liked it, Iona didn't.  Food is good, but a little pricey. We got home, watched a little TV and went to bed.

Friday, November 9, 2012

First thing we went hunting for special Fort Wilderness Christmas pins.  Yes Carol, we did get you one. Then we went to Downtown Disney for some shopping and to see the Art Show.  It took us three trips to get there.  First attempt we for got phones,  second trip we got all the way to Downtown Disney and realized we hadn't set the RV ac to cool so Jane stayed to start shopping and I went back to RV to set ac. I finally made it to DD.  Jane said art show was kind of a bust so we went to Ghirradeli for some ice cream. Went back to RV to rest for tonight - it is Mickey's Very Merry Christmas Party night!  We took the boat to MK and found a good parade viewing spot (our "secret" spot) and waited for the parade to start.  While waiting Jane went shopping for Christmas Party shirts.  The lights went down and the parade started at 8:30.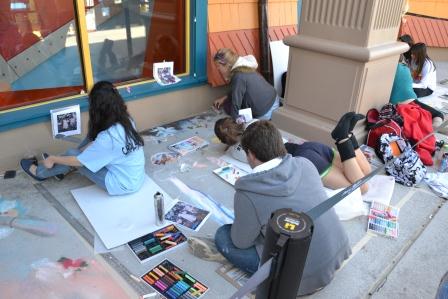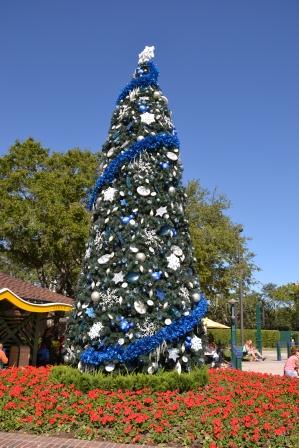 Downtown Disney Christmas Tree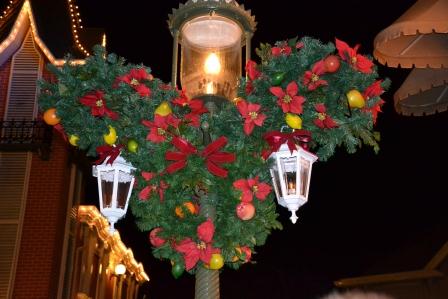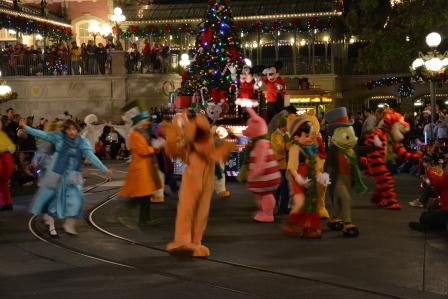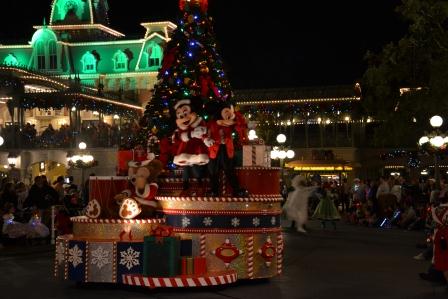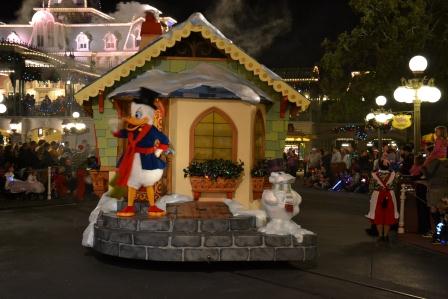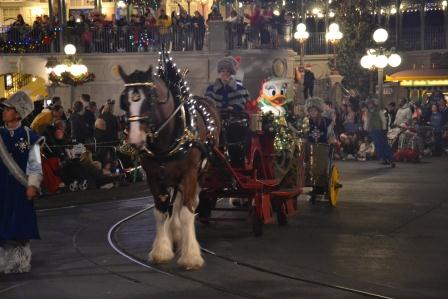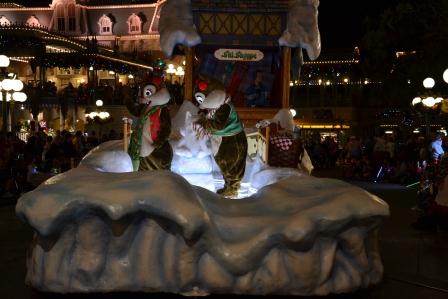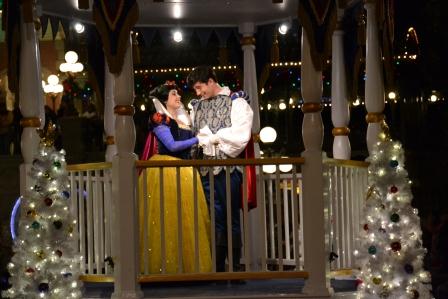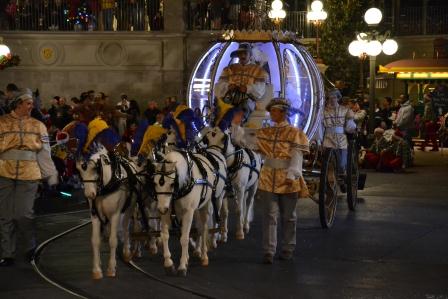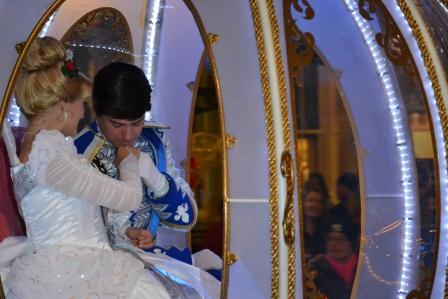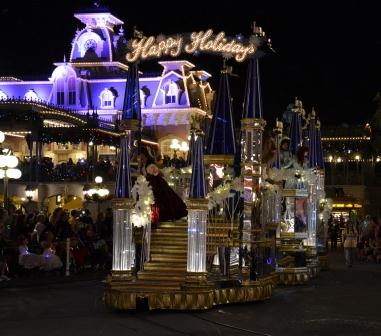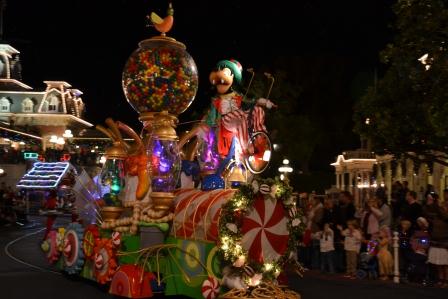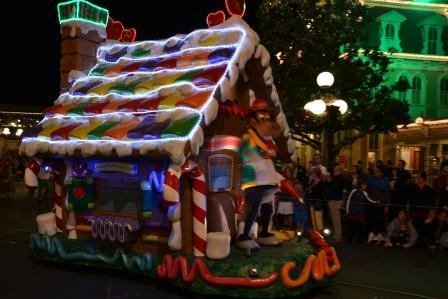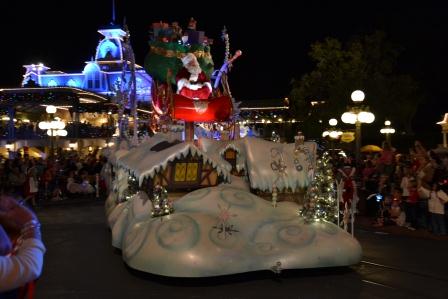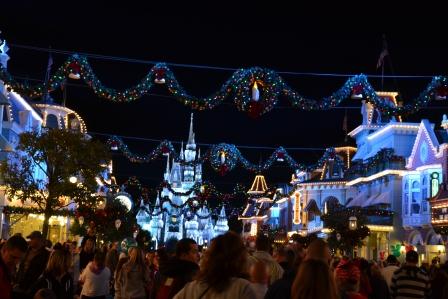 This float smelled like Peppermint!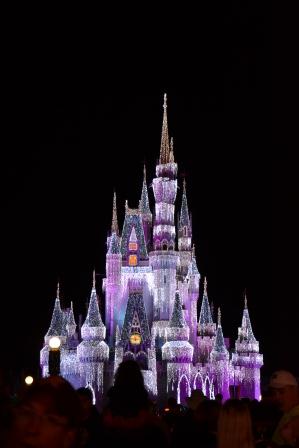 Main Street, Magic Kingdom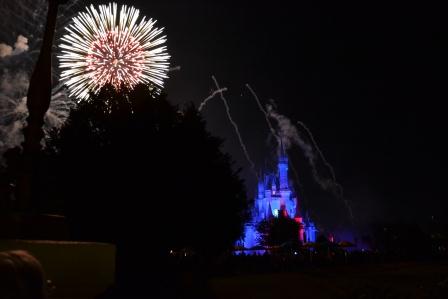 Fireworks over the Castle

After the parade, we headed to the boat and home.  We got home just in time to listen to the last 15 minutes of the Mavericks vs Bloomington Blaze hockey game at home.  We should have stayed at the Party!  Mavericks lost (again) 7-0.  Second shut out in 8 games.

Last year we had one shut out in 66 games.  Disappointing start to the season, guess we have to get home to help the boys out.

Saturday, November 10, 2012

Today was a catch up day, there were some things we wanted to do one more time before we leave.  We started out going back to the Theme Park Connection and  ended up buying a mid-size Pluto fig (figure).  From TPC we stopped at Lowe's for a couple more outdoor rugs for the RV and more rope lights.  Had lunch at McDonald's and then back to the RV to strategize about the up coming Maverick's player adoption auction.  We have two stand in bidders in the stands to bid for us, Lotta and Amber.  After the game (Mav's finally won one) the players are adopted by fans via an auction.  This is always fun!  The girls were ready and in position - let the bidding begin!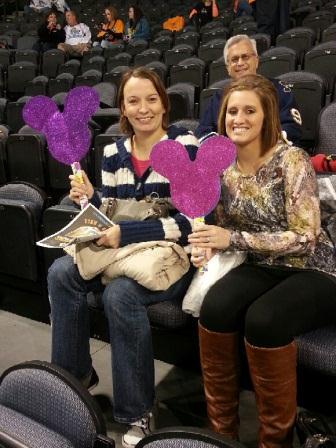 Lotta and Amber - ready to bid

(Kevin Murdock supervising)

The girls bid on and won Blake Forsythe and Matt McCready for us.  Jane was on the phone with them and telling them when to bid .  The girls had a ball spending our money!  Matt said he saw the purple Mickeys and was hoping that "Mickey" would win. Jane went to bed a happy girl.  The Mavs played the Bloomington Blaze again and won this time!

Sunday, November 11, 2012

Today is a day that Jane and I deemed "our together time".  There is a Concours car show in Winter Park today so we thought we would take that in.  Glenda (the GPS unit) found our way to the show.  There were cars from all over the U.S.  Cars of all ages and histories.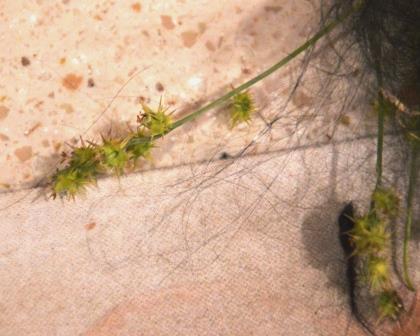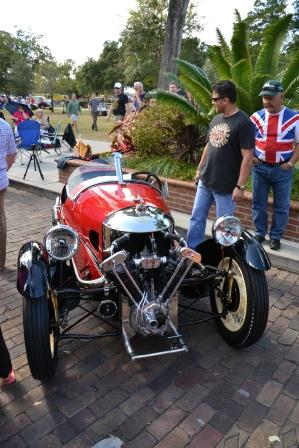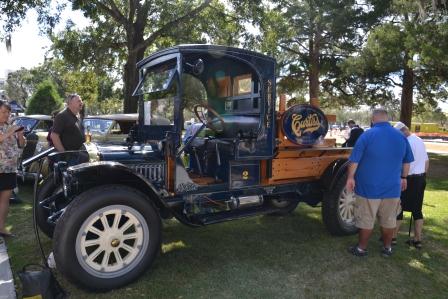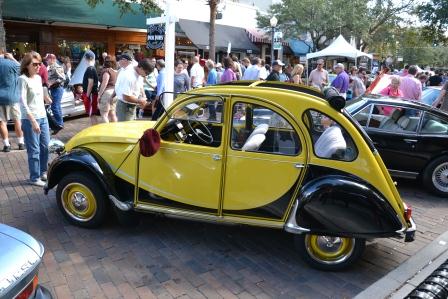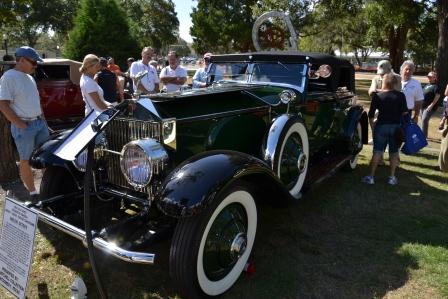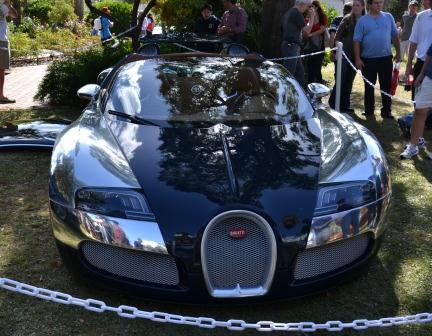 Rolls-Royce once owned by Marlene Dietrich

Bugatti - fastest production car in the world

My favorite - Austin-Healey 3000

On the way back to the RV we made a side trip to EPCOT for one more dose of Le Cellier's cheddar cheese soup!  Today is the last day of the Wine and Food Festival so it is our last chance without actually eating at LeCellier.  Jane made a quick run to MouseGear looking for some small drinking glasses.  From there we returned to the RV and thought about the hockey game at 5:00 and then dinner.  Dinner was fried egg sandwiches on the grill.  At 9:45 we watched the Electric Light Parade on the lake and then it was off to bed.

Monday, November 12, 2012

This morning we decided to go over to the bakery at the Boardwalk.

It was very quiet, and peaceful, a good relaxing morning.  Coffee was good,

pastry was good and there weren't many people around.  We went back to

the RV and since it was a nice day we rented a pontoon boat and rode around

the lakes (Bay Lake and Seven Seas Lagoon).  After an hour or so we went in

and mostly crashed until around 4:00.  Then we got in the car and drove

back to the Boardwalk for dinner at the ESPN Club.  Good food, and very filling

food.  We picked the ESPN Club for dinner because we are going to go see the

Osborne Family lights at the Studio tonight and we can take a boat from the

Boardwalk to the Studio.  On the way over, we had a short delay while an "event"

at the Studio dock was taken care of.  All we could tell was that there was an

ambulance at the dock before we got there.  The light show was awesome!!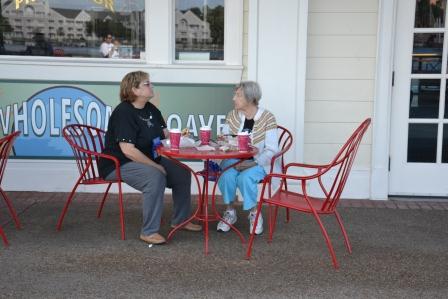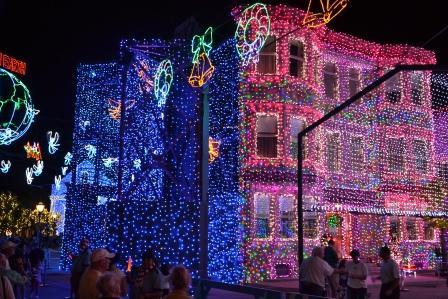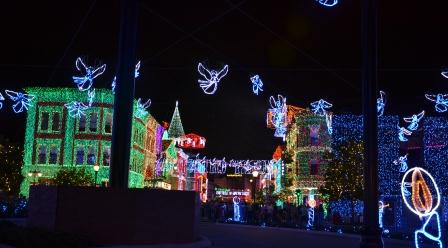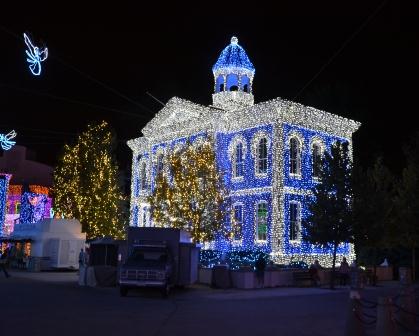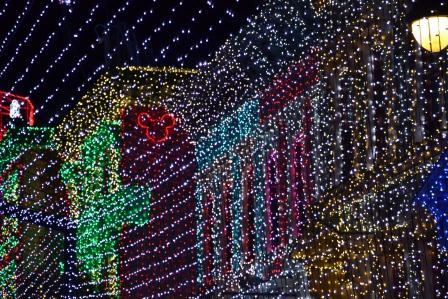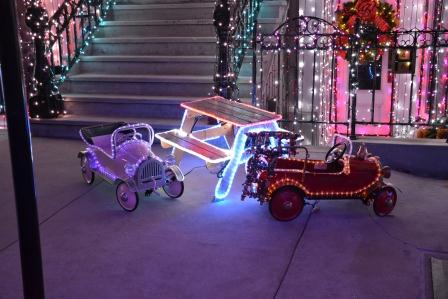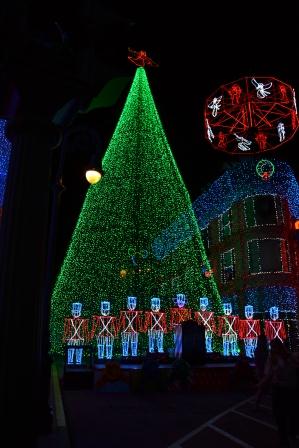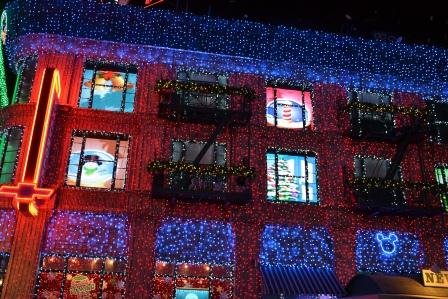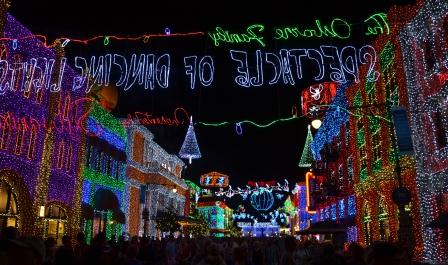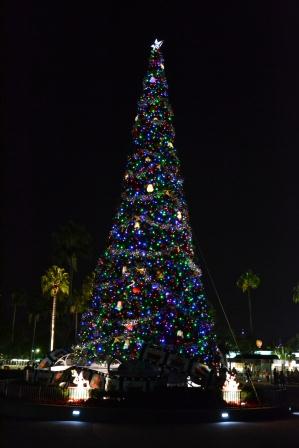 During the day we discovered that Jane's mom's park ticket had expired on Sunday (14 days after issue).  Jane talked to the very nice lady at the ticket booth and explained that we had gotten a 5 day pass and only used 3 of them.  We had two more park visits, one to see the lights and one more on Tuesday night at EPCOT for dinner at Coral Reef.  The ticket lady (and her supervisor) was very nice and issued two complimentary tickets at no charge.  Yes, Disney cast members do go out of their way to help out guests.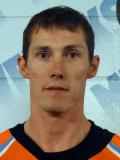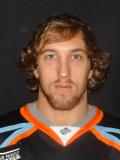 Blake Forsythe

(he and his wife are expecting)

Tuesday, November 13, 2012

This morning is a "tie-up-loose-ends-morning".  I went to Camping World to get a replacement reading light bulb and found a LED replacement for the incandescent original bulb.  If this works I am going to order 5 more and replace them all.  The original bulbs get so hot you can't touch them.  When I got back the girls were up and ready to go grocery shopping (via Panera's).  We got some basics for the trip home (hot dogs, buns, beer,etc).  When we got back  to the RV we took the boys out for a long walk.  We have seen turtles, otters, deer and one snake but no alligators this trip.  Kind of disappointing.  Tonight we are eating (seems like that is all we do here) at Coral Reef in EPCOT, a great seafood restaurant.  They have a 5.9 million gallon fish tank (typical swimming pool is only 20,000 gallons).  The tank has 7 sharks,a giant sea turtle and a huge variety of smaller fish.  We left the Fort about 5:00 (sunset) to catch a boat to MK then a monorail to the Ticket and Transportation Center to transfer to the EPCOT monorail and finally to EPCOT.

Sunset from the Fort Wilderness boat dock

After dinner we thought we would head back in the reverse order, monorail to TTC then to MK and the boat back to the Fort.  When we got to TTC we decided to take the Ferry across the lake to catch the boat back to the Fort.  We got to the ferry dock and when the ferry got there we were told that it was going out of service, something about problems with the steering. We would have to take the monorail back to MK!  Once back to MK we caught the first boat to the Fort and were home by 9:00.  Watched some TV and went to bed.  Tomorrow is pack up day.  Lights get taken down and stored, X-Pens get packed up and we get ready to head out Thursday morning.

Wednesday, November 14, 2012

Today is our last day at WDW, a sad day.  We had breakfast at Whispering Canyon and had a long chat with Chad.  He is so good, our favorite server at WDW.  Fort Wilderness Lodge had all new lobby furniture, very nice.  The Christmas tree is up in the lobby, Iona and I sat in the lobby while Jane did her part to boost Disney stock.  After breakfast we drove over to Downtown Disney and dropped Jane off so she could do some last minute shopping.  Her mom and I returned to the RV and I started taking lights and x-pens down and started packing the RV.  It is cloudy today, but very humid.  Jane got back to the Fort (by bus) and we took the car back to the Dolphin hotel.  Took the bus to MK and then the boat back to the Fort to finish packing.  Finished packing, cooked some brats on the grill and took showers.  Watched some TV and went to bed, tomorrow is a long day.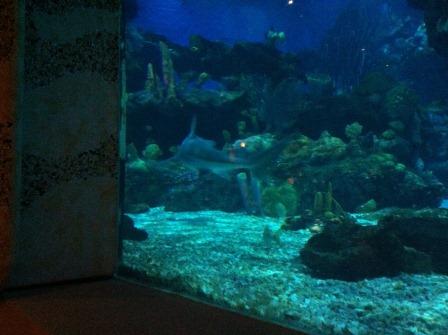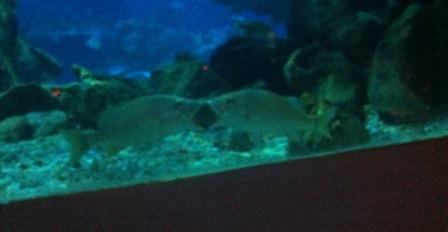 Don't know what these two are doing

but they did it alot - must be fun

Thursday, November 15, 2012

The plan today was to be up, dogs walked and ready to go by 8:00 a.m.  Jane left a wake up call for 6:00 a.m.  Well, at 6:00 it was still dark - too dark to walk the dogs or finish up loading and covering the cargo carrier on the back of the RV.  So, at 7:00 we took the dogs out for a final WDW walk and finished up packing.  Still have to stop for a USAToday. and some Mickey ice cream bars. 

Then it was on to the main office to check out (our reservation was until the 17th so we should get some money back). Discovered that Jane had put some of her Wednesday purchases on her room charge so anything we were going to get back was offset by charges.

Finally, we were on the road.  It is overcast with a very fine mist.  Not a great driving day!  Stopped for gas and breakfast in Wildwood

(McDonalds finally repaved their parking lot)  We passed a really nice intersection (exit 358) with two nice gas stations and a couple of nice restaurants.  It is a long day today, about 420 miles, so our stops are few and quick.  We got into Navarre, Florida (Emerald Beach RV park on the beach) at about 4:30 - it is still overcast and cold (63 degrees).  We had dinner, beer and watched some TV until 7:00. Then it was time for hockey!  Mavs are playing the Allen (TX) Americans, the number one team in the league. We couldn't get TV again so we listened to the game and THE MAVS WON!!!!  After the game we went to bed (actually some of the group went to bed before the end of the game).  Tomorrow is a rest day, a day on the beach.