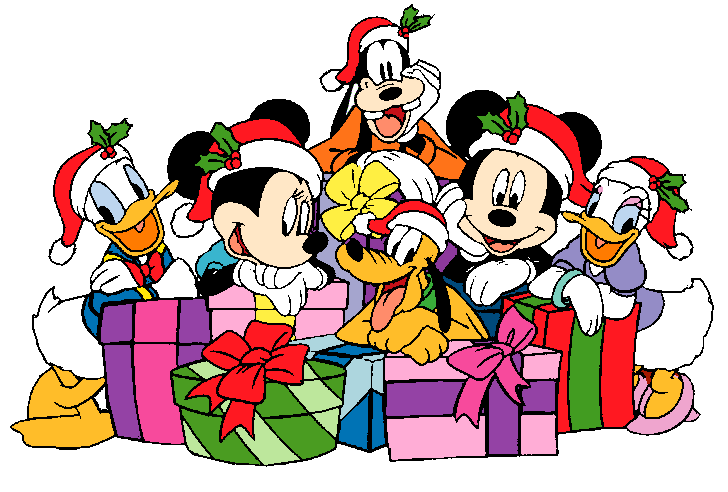 Our Third (and last) Disney trip of 2013 begins Sunday, December 1.  We've been watching the weather along the way for a week. A week ago, a series of severe storms threatened a cancellation (or delay) of this trip.  Then things looked better so we are making a run for it. Now, whether or not we can make it back home for Christmas is still up in the air.  This is Boo's first long trip in the motor home.  Hopefully she will do as well as she did on her trip to St. Charles, MO two weeks ago. 

Heading to "The Fort" for the season

Sunday, December 1:

We left Blue Springs at 7:20, a new record departure time!  And.... we haven't forgotten anything this time (at least we haven't discovered it yet).  The first 100 miles were cloaked in patchy, dense fog - what fun!  Things cleared up about Columbia, MO and it was clear sailing from there.  We stopped for gas in Warrenton and exercised the kids - they all needed it! Boo is getting the idea that when we stop she better do whatever needs doing.  Got through St Louis relatively easily.  Continued on and had to make a stop at a closed weigh station for Miss Boo to do a little more.  On our way again, next stop - Lambert's..Home of throwed rolls.  Only a short (20 minute) wait so we took the kids for a short walk and then back into the RV.  We went inside and were seated fairly quickly.  We found out that in the future all we have to do is check into the RV Park (Hinton in Sikeston), call Lambert's and they will come and pick us up, get us in the back door with no waiting.  What service!  Jane had the fried chicken and I had the shrimp dinner (28 jumbo shrimp (oxymoron?).  After dinner we stopped for gas and checked into the RV park.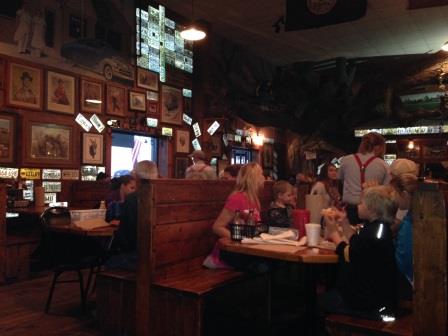 Inside Lambert's - very popular place

Roll thrower - this guy should play for the Chief's!!

These shrimps went home - half an order of 28 shrimp

Monday, December 2:

Boo and I were up early, didn't sleep much last night, don't know why.  After talking to the RV park manager yesterday about road conditions between here and Memphis I decided to try a new way.  I-55 in NE Arkansas is horrible, very rough!  So, we are going to go south from Sikeston a little way and cut over to Dyersburg, TN and then south to Memphis to rejoin I-55 to Canton, MS where we will spend the night at Movietown RV park. Pretty much an uneventful trip.  Highlight was going by the Unilever plant where they make Popsicles, Klondike bars and Good Humor ice cream products. Roads were good even though we did go through a lot of small towns with low speed limits and stop lights.  Finally got to the RV park and found a site.  This place is worth every cent of the $27 camping fee.  We are looking for another place to stop, maybe a little south of Jackson, MS.  We got set up and fixed some dinner for us and the kids.  After dinner we settled in for some TV and then off to bed.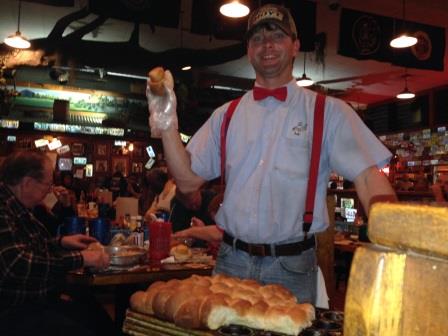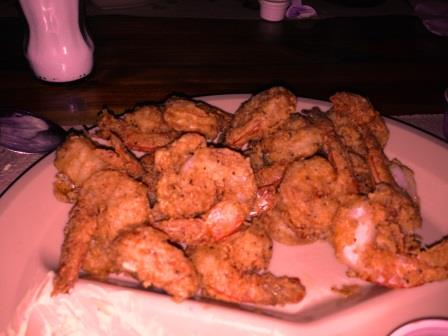 Tuesday, December 3:

We did manage to sleep a little latter this morning since it is a relatively short day (only 399 miles).  Roads were better than I remembered, multilane and divided.  We ran into some light showers for a while, but it eventually turned to just clouds and then as we entered Florida the sun came out, YEA!!  We also ran into some construction along the way.  There were signs telling everyone that the left lane was closed approximately 6 miles before hand, yet some folks waited until the very spot that the lane was closed to try to move over.  NOT HAPPENING THIS TIME!  We arrived at Emerald Beach RV park about 3:00 and took the kids for a walk to stretch their legs.  Boo is doing pretty good about doing her thing when we stop, but is is still a pretty distracting world out there.  When we got back from our walk it was time for the kids to eat.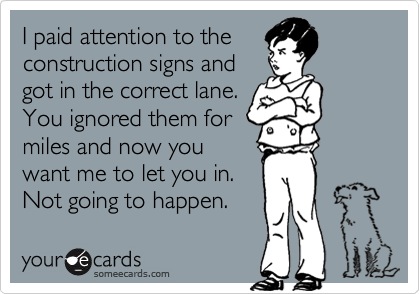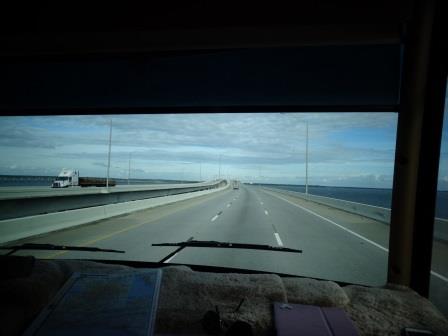 To get to Navarre and the RV park you have to cross this long bridge over the bay.  Now I am not a big fan of bridges in the first place and long bridges over water are even are less fun.  This bridge even has a warning sign before you get to it that says to "Check Your  Fuel Gauge Before Getting On Bridge".  I checked and double checked mine and we were good! On we go.  This bridge goes on forever and you can see a long way out into the Gulf.  I even spotted a tanker on the horizon.  After the kids ate we took them out again to see if they could do the rest of their business.  We also met a couple from Olathe, KS that are down here for a week.  They are leaving just in time to head back to the first winter storm in the Midwest!  Something we need to think about in a few weeks.

This bridge goes to the horizon!!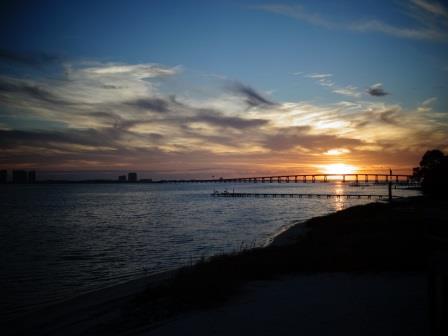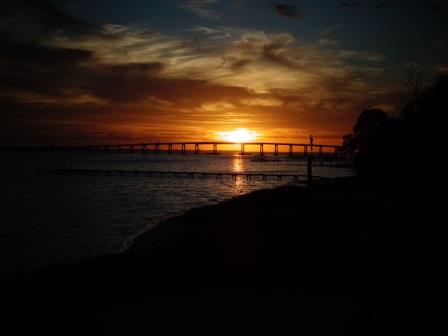 One of the things we love about Emerald Beach is the gorgeous sunsets - these are just two shots from tonight!!

Wednesday, December 4:

We got a late start this morning - we had to watch Sam Champion's last day on Good Morning America. We took the kids for a walk and on out onto the long pier.  Boo was so curious about the water, we were afraid she would jump in the Gulf! 

We finally got on the road about 9:00.  We ran into some scattered rain along the way and the Florida Highway Patrol along with various county sheriff's were out in force hiding in the median's and off the shoulders of I-10 and I-75. We both think that the Florida panhandle got about 200 miles longer this trip.  It seemed to take forever to get across the state! There wasn't much to break up the monotony of the drive, except maybe the prison work crews that we passed.  Boo was very good today.  The last couple of days she has cried and carried on when we put her back in her crate when we stop. Today, not a peep, she just curled up and took a nap.  When we stopped, she did her business without too much messing about.  We got into Ocala about 5:00 and quickly got set up and fed the kids and ourselves.  After dinner everyone went out and then we had some playtime before going to bed.  Today was a 359 mile day, but it seemed like 1000.  Tomorrow is 89 miles and we get into WDW!!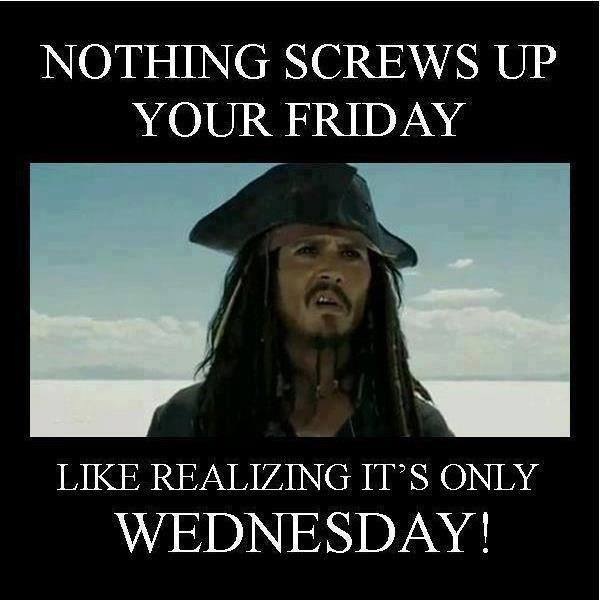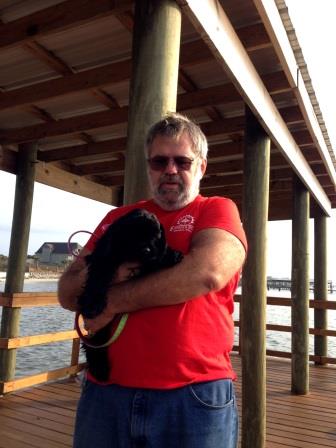 Jane with Nico, Boo & Smudge

Thursday, December 5:

We got up kind of early and we both showered (clean for Mickey).  We had talked about stopping for breakfast at Cracker Barrel that was just around the corner from the campground but decided instead to just hit the road and get to The Fort (Fort Wilderness.  We got a text from Gary and Carol (Canadian friends) that said the site across from them was empty and being cleaned.  We said we were on the way and to park something in the site.  We knew we were almost there when we got to the entrance arch - home again.  A few more miles and we turned into the Fort Wilderness drive way - Home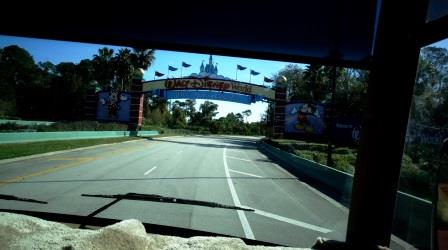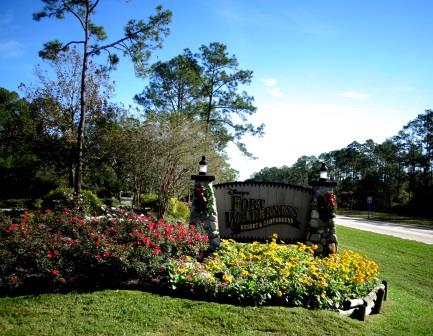 For several years the folks at Disney have been working on a replacement for the old pass card keys.  The solution is Magic Bands.  These bands are worn as bracelets and contain a microchip that has a ton of your information in it.  You use it to enter the parks, to charge purchases to your room (meals too), and you can order Fast Passes with it.  Ahhh, electronics.  Hope it works!  The check in cast member welcomed  us "back home" and gave us our Magic Bands and she gave Boo a "first Visit" button (photo tomorrow).  She also said the temperature forecast for today is 85 degrees and sunny - lots of warm sun. I think it is snowing at home!  After checking in we went to our site - 706 - and were greeted by Gary, Carol and Hilda.  We backed in and discovered a small problem - no satellite TV reception.  We pulled forward a little bit and it didn't appear to fix the issue.  We may have to move sites, but rightnow there aren't any available.  We took the kids for a half walk and then back to the RV, and then up Trails end for some lunch - we are both starved.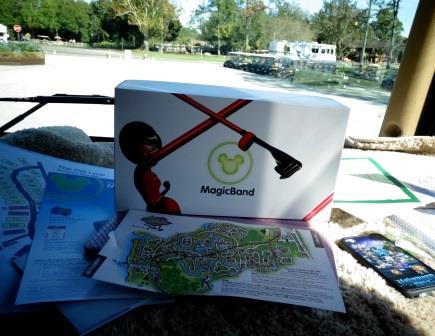 After lunch I went to pick up our rental car at the Dolphin resort.  This was done by taking the boat (it was packed) to Magic Kingdom and then a bus (it too was packed) to the Dolphin. Normally this isn't too big a deal, today it seemed that it would take forever.  There was an accident on the road leaving MK that tied traffic up for a long time. I finally got the Dolphin, got our car and made it back to the RV to finish setting  up.  I discovered more Disney Magic - we had TV reception!!  No need to move.  We got X-Pens set up for the kids and some of the Christmas inflatable's set up.  The original thought was that we would take a break and go to Earl's (Earl of Sandwich at Downtown Disney) for dinner.  However, we were both still full from our lunch, so we will wait for Earl's.  When it got too dark to set up inflatable's, we went inside and will finish up tomorrow.  Watched some TVand then off to bed.

Friday, December 6:

Our first full day and it is going to be a full one.  Another sunny day, with a little humidity.  We took the kids for a long walk thinking that we would tire Boo out - didn't work.  She did do all her business though.  Didn't see any wildlife either. We did see quite a few big turkeys yesterday, so we know there is wildlife here.  Maybe some deer in the evening.  We have some quick shopping to do so we went to Walgreen's and Wal-Mart early and then we went to Epcot for the afternoon/evening.   We drove over to Epcot via Beach Club so we could go into Epcot through the back gate.  One the way through Beach Club we saw some of their Christmas decorations, including this edible ginger bread house.  This carousel is about 6' tall and totally edible!!!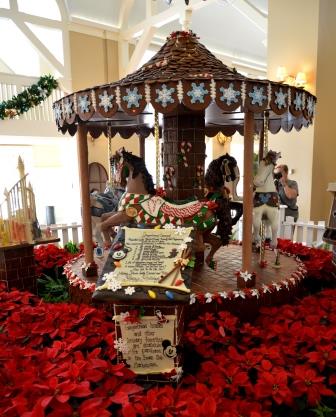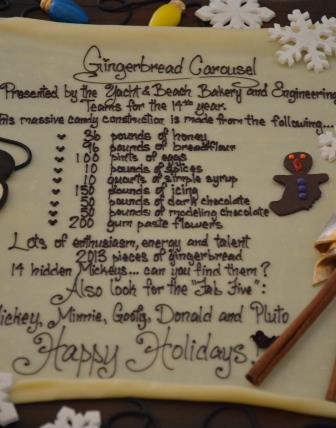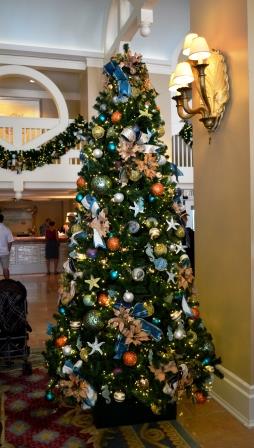 Beach Club Christmas Tree

We continued on to Epcot and Teppen Edo (Japan) for lunch.  This is part of

the Candlelight Processional package - a good meal and the show!  We love

Teppen Edo now, It is a show in itself.  The chefs prepare your meal right in

front of you on a big grill.  We were seated next to a really nice guy we talked with

and found out he and his family live not too far from where we lived in Chicago.  Turns out he is an Illinois Highway Patrol officer - Internal Affairs.  Interesting talking to him.  Food is always good at Teppen Edo and it is interesting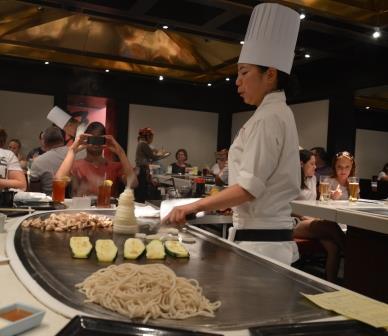 to see how the different chefs prepare things differently.  After lunch we had some time to kill before the Candlelight Processional so we walked around a little and saw that people were lining up already so I went over and got in line while Jane did a little shopping.  She thought about taking the boat across the lagoon to do some shopping at MouseGear, but when she saw how long the line was for the show, she stayed and waited in line with me.  We were finally allowed into the theater and the show started promptly at 5:00.  It was a great show.  The guest narrator was Whoopi Goldberg.  She was fantastic!  We have tried to see her here a couple of times, but each time she has had to cancel for various reasons.  Tonight she made up for all the previous disappointments.  She added her own personality to the narration and she was really getting into the music - she was great!!  After the show we headed straight back to the RV to rescue the kids.  It was a long time for Boo to go so we expected a wet crate pad - nope, she was good.  We think her bladder is twice as big as the boys'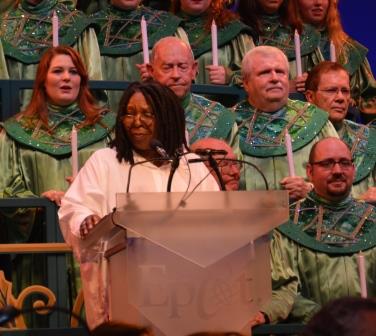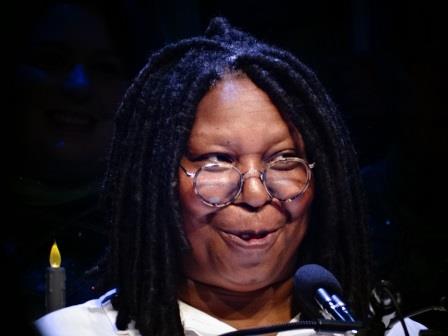 It was about time for Mavericks hockey (vs Wichita) so we hooked up the computer and were ready to go.  It wasn't too long before it started freezing and buffering.  We decided we would have to just keep track of things on Pointstreak since we couldn't really watch the game.  We had just decided to disconnect the computer when there was a knock at the door.  It was Gary (Canada) asking it we wanted to go with him and Carol to see the Christmas decorations.  So dogs were crated and off we went on the golf cart.  There are some fantastic site decorations, we will have to go back to some of them with a camera some night.  We went around most of the loops and were gone about an hour.  Gary seems to know everyone here and added allot of great narration to the tour - thanks Gary and Carol.  When we got back we let the kids out and they all did their business and were ready for bed.  It has been a busy day so tomorrow we will take it a little easy since it is the weekend (we don't do the parks on the weekends - too many locals).  I think I will start a page just for resort lobby decoration photos.  Good night.  Oh, Mavericks lost - 2-1.  There are going to have to be some changes, boys!

Saturday, December 7:

This morning we got up and Nico's ear is bothering him, still, so we called a local vet and they told us to come in to get some ear wash and we could see a Dr. Monday morning.  So off we went to find their office.  We tried to use the GPS feature on my phone and discovered that GPS girl didn't have a clue!  Finally found the vet, got the rinse and headed back.  There is a pin trading event at the Coronado Springs Resort at 1:00 so we decided to have lunch there and then do some pin trading.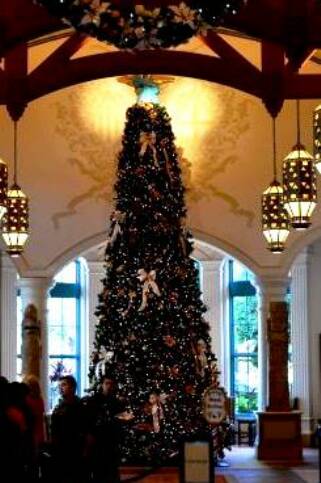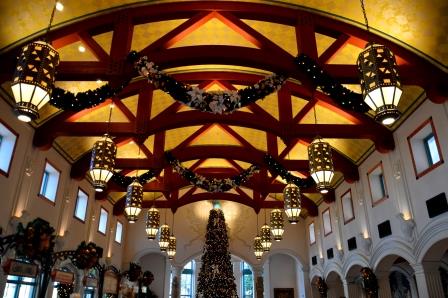 Coronado Springs Check-in Lobby

Jane found a bunch of pins she needed so she was a happy camper.  When we got back to The Fort we saw that there were at least 18 RV's lined up to check in.  This week is supposed to be a very slow time, but since Thanksgiving was so late this year it has been very busy - no empty sites in Loop 700.  Made a quick stop at the Meadows Trading Post just to see what was new and ended up with some new stuff and some ice cream bars and tee shirts.  We got back to the camp site and tried to take a quick nap.  About 5:30 Hilda called and said we had to come out to see the golf cart parade at 6:30.  So we fed the dogs (an hour late) and headed up to the corner to watch the parade at Hilda's.  Well, about 7:45 the parade started, about 75 decorated carts.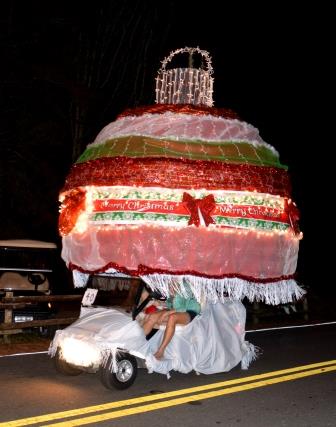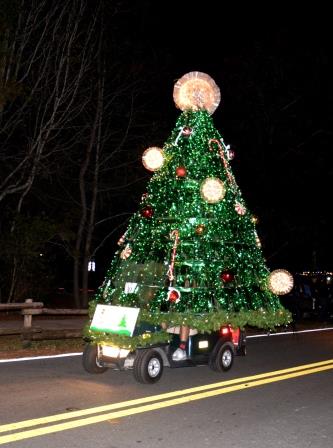 Some of the carts have some very fancy decorations on them. It is amazing the creativity of people to decorate these little golf carts.  Most of these carts are rented from Disney when people arrive at The Fort so they do not have allot of time to come up with these creations.The Halloween parade is especially amazing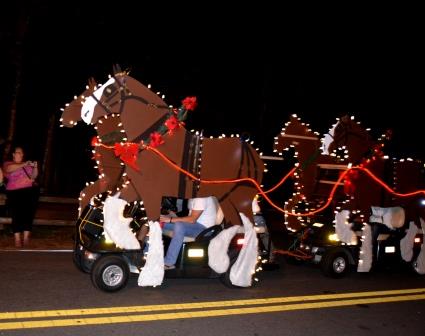 These folks must get a lot of presents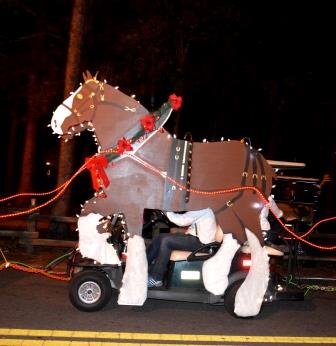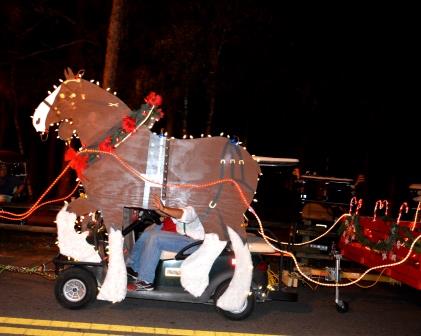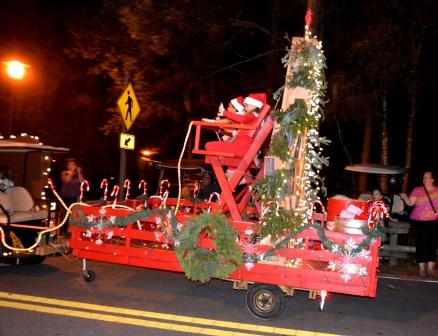 This is one unit (3 golf carts and a trailer) the trailer is carrying a small generator that powers everything

The parade was well worth the wait!  There were many really nice "floats" and it just shows how creative people can be.  After the parade we realized that we had not had dinner yet so we went home and had a quick bite to eat and tried to watch the hockey game (Mavericks vs Arizona).  We have "adopted" sons on both teams so we were rooting for both sons and hoping neither one got hurt.  In the end, the Mavericks won and we went to bed.

Sunday, December 8:

We got up late so missed breakfast at Whispering Canyon.  Settled for breakfast buffet at Trail's End.  Good buffet, lots of good "down home" cooking.  John and Betty are here, we haven't seen them for about two years, we keep missing them.  They are staying through March maybe.  We have thought about that, maybe coming down and staying for January-February.  We talked to Betty for a while and got caught up (John was still in bed).  When we got back from breakfast we did take that photo of Boo and her 1st visit pin.  It was afternoon when we got back from breakfast so we tried to decide what to do until tonight.  Tonight we have reservations for a special Epcot Illuminations show sponsored by All Ears (a group of non-Disney Disney addicts).  Our Canadian friends, Gary and Carol, got us into this event and promised it was a not-to-miss event.  We didn't have to be there until 8:45 so we thought that we might go to Downtown Disney for a while so we drove over to Port Orleans-French Quarter to catch a boat to Downtown.  While waiting for the boat we decided that since we were going to be out late tonight we should just go back to the RV and rest.  We did get photos of the French Quarter and Riverside Christmas trees on the way through.  We rested, napped and fed the dogs before we left for Epcot.  Our plan was to park at the Beach Club resort and walk into the back gate of Epcot.  When we got to Epcot we went to get something to eat at the food court at the French Pavilion.  It was packed!  We stayed though, since the food is good and the line was moving fairly quickly.  After dinner we still  had some time to kill before Illuminations so we took the last boat across the lagoon and went for a quick walk through MouseGear, and the Art of Disney store (where we did get a small Lady & Tramp painting).  We walked back around to the Italian pavilion to meet the All Ears group.  They had made arrangements for all of us (100+ folks) to watch the light show from a reserved area on the lake.  Great seats and they beat having to stand and save a spot for hours to see the show.  There was an awesome dessert bar with beverages included.  A fantastic viewing area with dessert.

We met several of the All Ears group from all over the country.  The Illuminations show was fantastic, we haven't seen it for a couple of years and the advancements in the technology are amazing.  After the show we were escorted to an additional surprise event - an exclusive after hours ride on Soarin'!  Soarin' is our favorite ride at Epcot (probably in the whole Disney World system).  After the ride we were treated to another surprise - photos with aviatrix Minnie!  Then we were escorted back to the International Gateway (back gate to Epcot) since the park was closed.  It is kind of eerie with no one there.  Then it was find the car and get back to save the kids.  Surprise - they were all good, then everyone went outside and then to bed.  We have to get up early to take NIco to the vet to check his ears.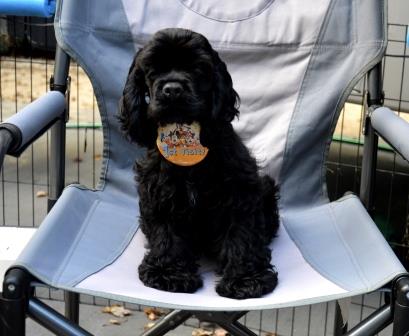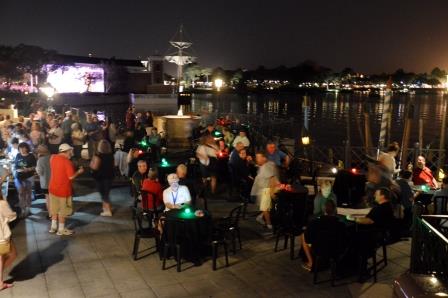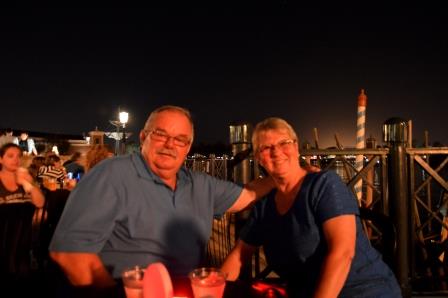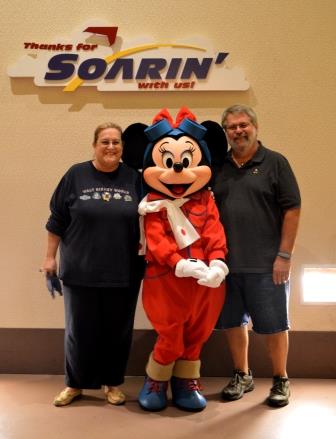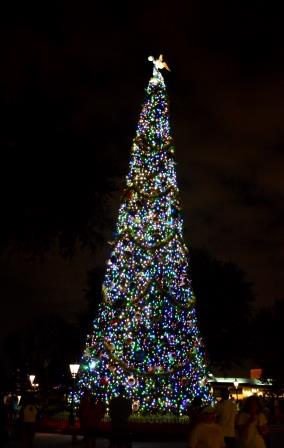 Small gathering of All Ears group

Jane, Aviatrix Minnie & Al

Monday, December 9:

Got up early to take Nico to vet to check his ears.  They have been bothering him for several weeks.  We took him to vet before we left and they gave him some ear drops, but we wanted to double check the progress.  Turns out he had some wax build up, but nothing unusual.  We got some ear wash and will do that twice a day and use the ear drops we have.  The vet was nice, but not like our vets at home that know the kids.  Came home and napped to make up for the early hour this morning.  We have reservations at LeCellier for lunch so we only napped for an hour or so then drove over to Beach Club again and walked to the back gate at Epcot (this is officially the International Gateway).  After lunch we walked around a little and came home.  LeCellier used to be our favorite place to eat, but the chef(s) keep messing with the menu and not necessarily for the better.  So, it has fallen from 1st to somewhere farther down the popularity list.  When we got home we let the kids play outside for a while and Boo found a new favorite toy.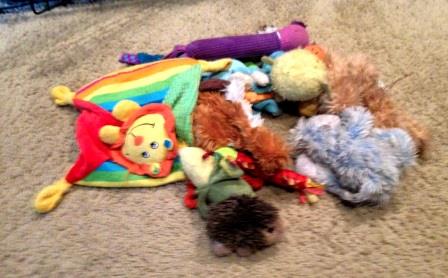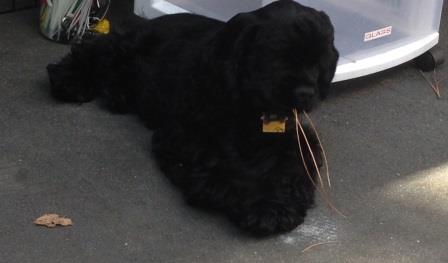 Over a dozen toys with squeeks for the kids

Boo would rather play with....................pine needles!

Gary called and invited us to dinner up at Trail's End and since it Carol's last night here, we said yes as long as we could pay.  We went to dinner about 5:30 and were seated in a nice quiet corner table until about a dozen teenage girls celebrating a birthday were seated across the aisle from us.  The quiet was ended!  We finished our meal and went back and visited with Gary and Carol for a while and then came home and went to bed early - it has been a long day.

Tuesday, December 10:

We didn't sleep in so late this morning, opting to go to Whispering Canyon for breakfast instead.  Chad (our favorite Disney cast member) was there and we spent some time catching up.  The restaurant manager, Darlene, even stopped by to say hi.  Had a great breakfast and then we were off to Downtown Disney for some long over due shopping.  As we pulled in looking for a parking place we saw Gary and he was just leaving.  He told us where he was parked and we took his spot as soon as he pulled out.  Nice to have friends at Disney! Thanks Gary.  The crowds were awful.  We took a quick run through the World of Disney, the kitchen store, the Christmas store and the Art of Disney store.  We had had enough of crazy shoppers and came back to the RV.  We are going to the Very Merry Christmas Party tonight so we decided to rest until about 5:00.  At 5:00 we took the boat to the Contemporary Resort where we had dinner at the Contemporary Cafe, then caught the Monorail to Magic Kingdom.  The Contemporary has a huge Christmas Tree outside and a Gingerbread Tree inside that is completely edible.  I would love to be one of the cast members that has to take it down - what fun!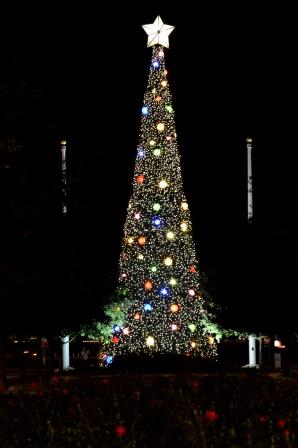 Contemporary Christmas Tree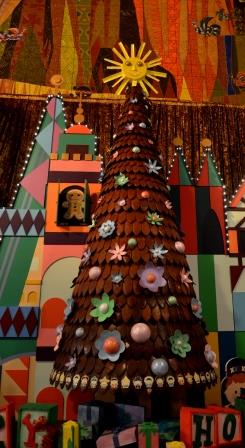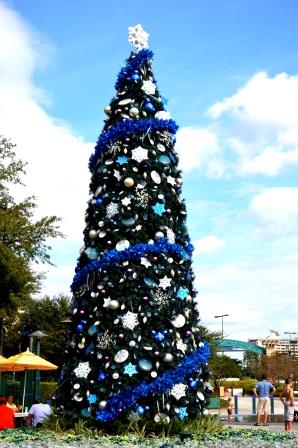 Downtown Disney Christmas Tree

The Christmas Party at Magic Kingdom is a special event that requires an additional ticket so the crowd that greeted us was a huge surprise.  It was like being there on a Saturday afternoon.  We looked for a good place to watch the parade from and settled in.  Fortunately it wasn't a long wait. This parade is a special holiday event that only runs during the Christmas Party.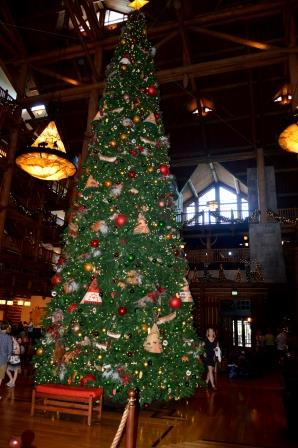 Wilderness Lodge Christmas Tree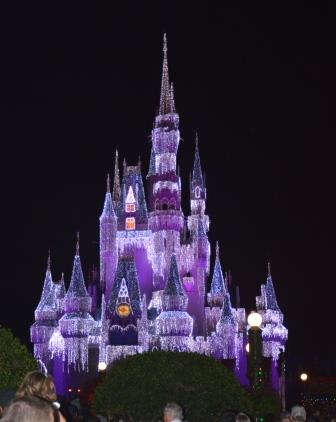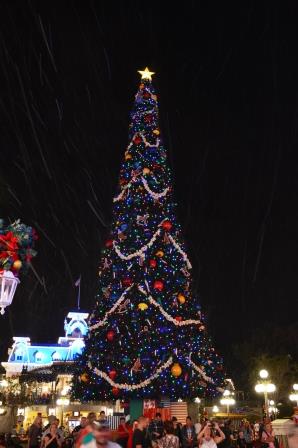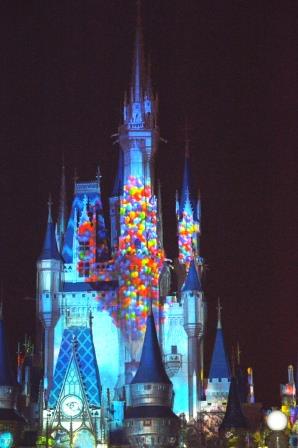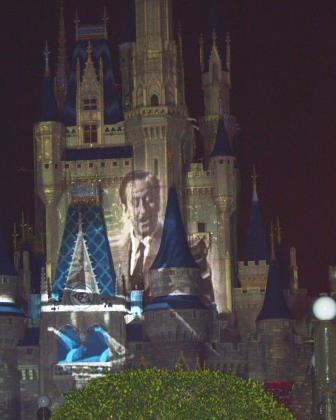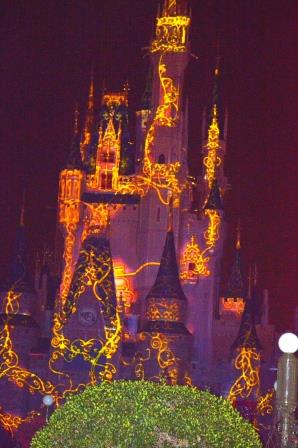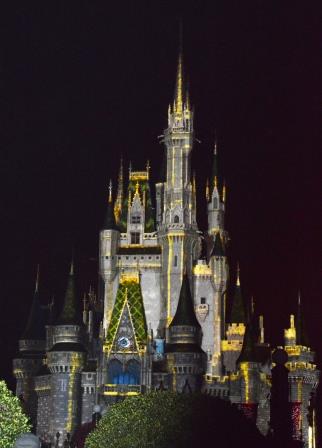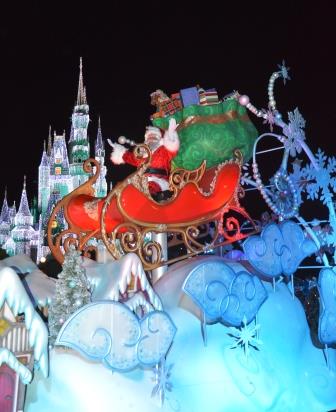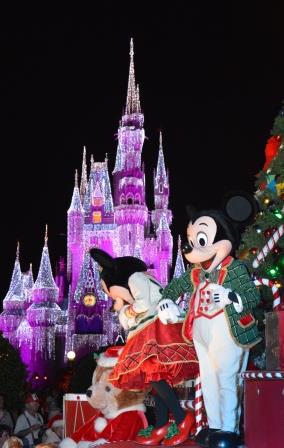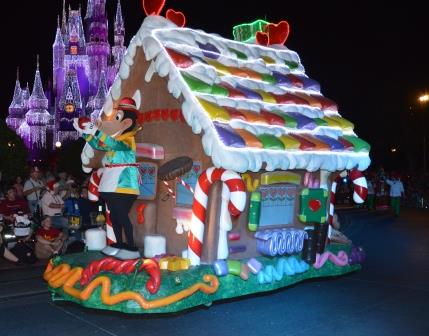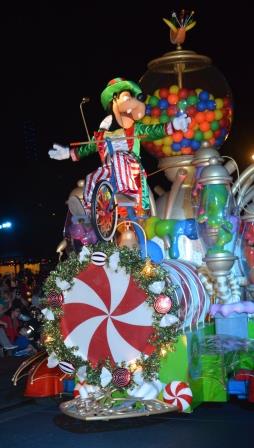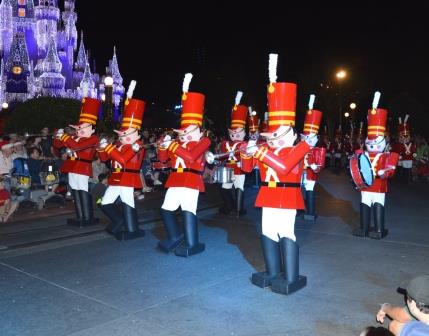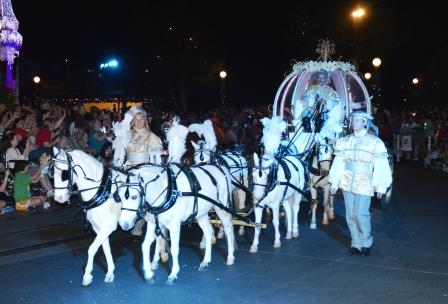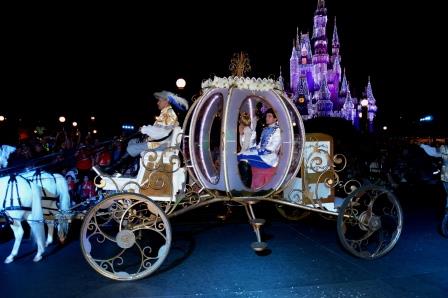 The Disney Imagineers do some incredible things with projected images on the Cinderella's Castle.  Yes, these are all projected images!

After the parade it was time for fireworks.  I read somewhere that disney spends about $50,000/night/park on fireworks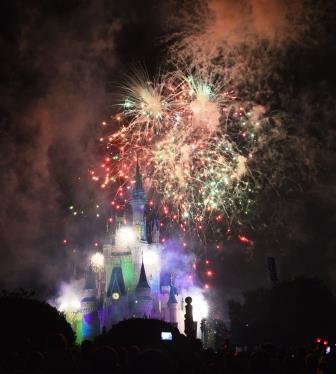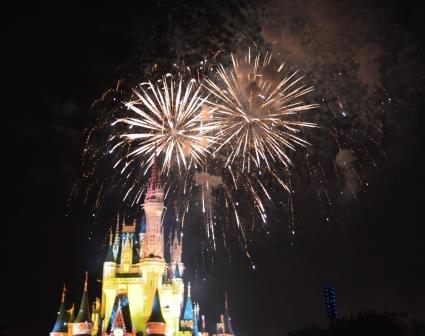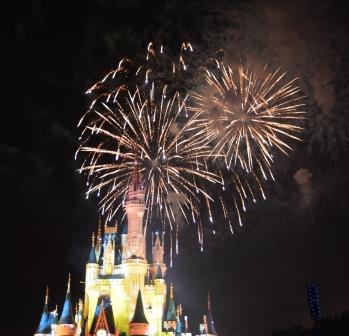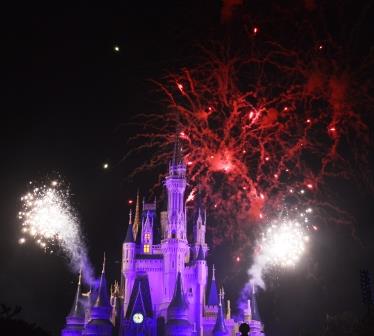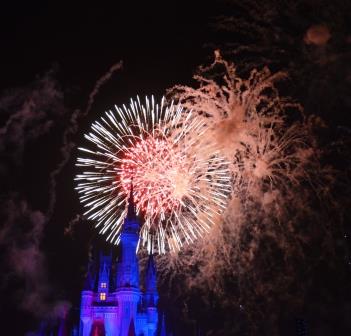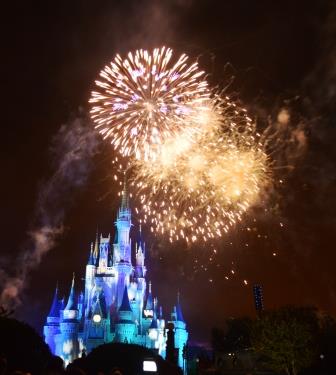 When the fireworks were over, it was about 10:00 and time to head to the boat and back to the RV.  The kids were glad to see us and go outside.  We stayed up for a while and then headed off to bed.

Wednesday, December 11:

Today was more of a catch-up day, laundry and grocery shopping. We have not been to the grocery store since we have been here so the refrigerator is pretty empty.  Also, laundry was piling up so Jane did laundry and I went to the grocery store and ended up forgetting the main thing I was going for - pumpkin for Boo.  We stayed in for lunch and made sandwiches then thought we would go over to the Studio to see the lights and decorations.  We saw Gary and he said he thought that the Studio was closed for a special group of Pop Warner folks.  We checked and sure enough it was closed so we will go another day.  We decided instead to go to Downtown Disney again and take the balloon up to take photos of the construction down there (downtown is undergoing MAJOR remodeling).  We drove over to the Riverside resort and took their boat to Downtown.  Unfortunately, by the time we got there it was getting too dark for good photos.  So it was off to Earl's for dinner.  Then we did a little shopping and found something that shows that our electronics have come full circle.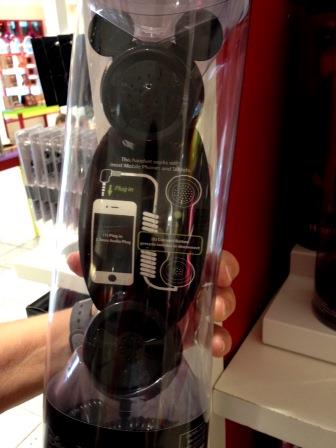 This is a full-size phone handset for your cell phone!  I guess it is for your desk, but doesn't it look a little crazy? A tiny little phone with a handset that is 5 times bigger than the phone itself.  We also did a little more "Christmas" shopping for some of the folks back home and for us.  That done we got the boat back to Riverside and then home.  Kids were glad to see us and get some playtime in. 

Thursday, December 12:

When we got up this morning the temp was only 55, time for long pants!  Gary is leaving today (Carol had to fly home Tuesday) so we went to breakfast with him and helped him hookup his tow car to the RV.  This was the first time in two weeks we had seen Gary in long pants.  Then the plan was to go to Animal Kingdom.  However, since it was cold (and late) we decided to go around to more of the resort lobbies until it warmed up.  We made it to 6 more before it was time to return to the RV to feed the kids.  We had dinner reservations at Ohana's at the Polynesian. The service wasn't up to par, maybe it was because we had later reservations and the wit staff was more tired than at the 5:00 times we have had before.  When we got home, the road (Cinnamon Fern Way) looked kind of dark with Gary and his decorations gone.  It was still a little chilly so we broke down and turned the heat on for a little while.  Then it was off to bed.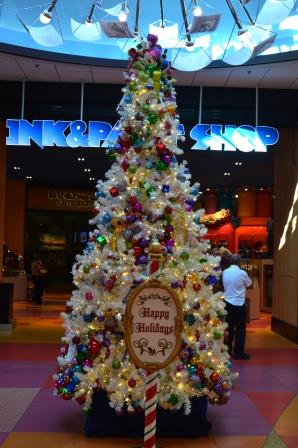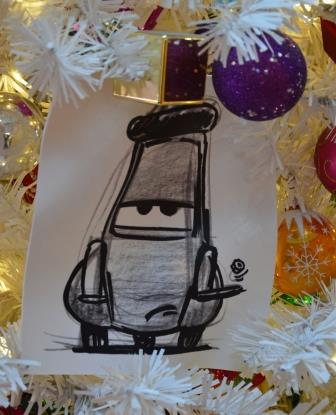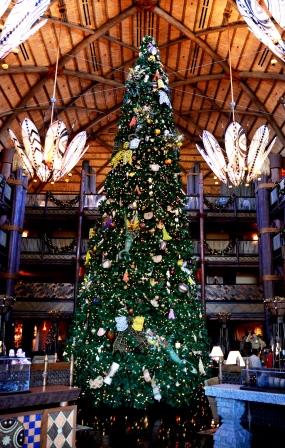 Animal Kingdom Lodge tree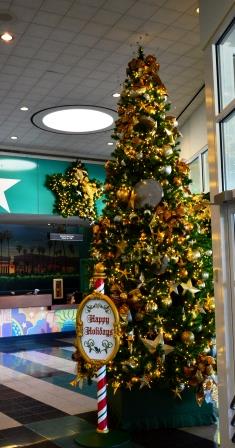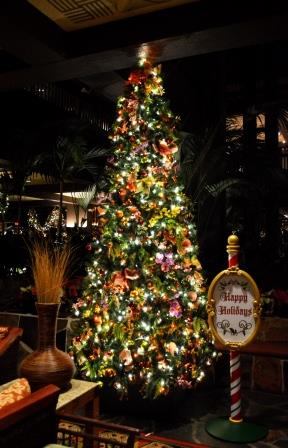 Friday, December 13:

We slept in a little bit this morning.  When we did get up it was warming, so it was back to short sleeves.  We have a few lobbies to do yet, so we planned a route.  But first, a walk for the dogs.  We haven't seen any 'gators this trip and we seem to recall that last December we didn't see any then either.  Maybe they go hibernate for the winter.  Once the kids were settled we set off for our lobby trek.  We were also going to take some pictures of the Downtown Disney remodel project from the balloon, however, it waswindy and the balloon wasn't flying so we will have to do that another day.  We did get pictures at Old Key West and Saratoga Springs before heading to Epcot resorts for lunch at Peaches & Cream at the Beach Club resort.  After lunch (hot dogs and hot fudge sundae for Jane and banana split for Al) we went to Yacht Club's lobby to see what they have.  Like trains, they have an awesome train set!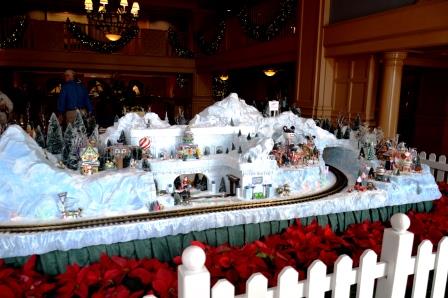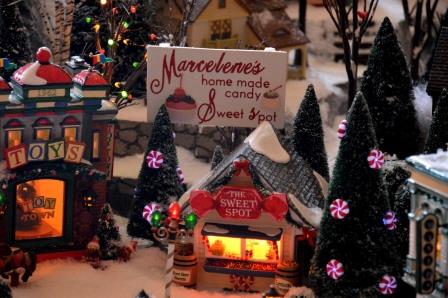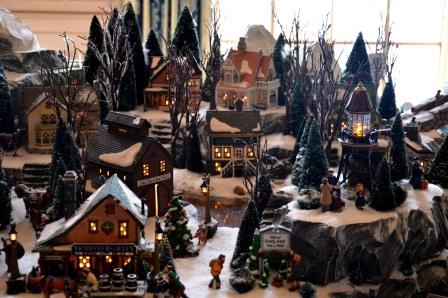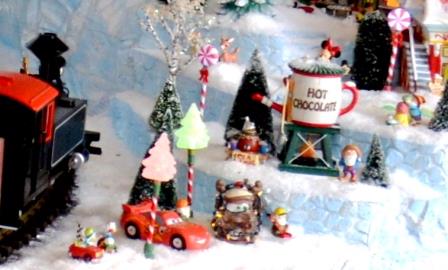 From Yacht Club we went across the lake to the Boardwalk for some shopping and the Boardwalk lobby.  The boat was full so we decided to just walk around the lake to the Boardwalk.  Jane did some shopping and we went to see the lobby.  Then it was time to feed the dogs and think about dinner for us.  On second thought, we were still full from lunch - skip dinner. There are some new folks on the block setting up lights and decorations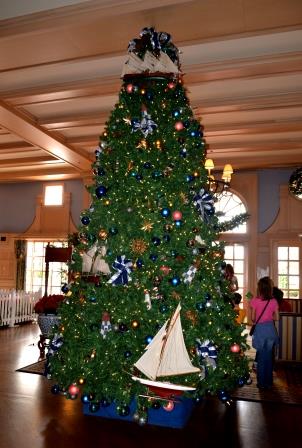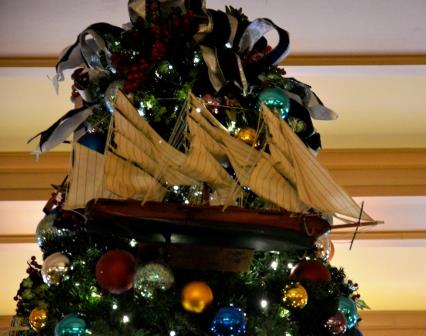 Saturday, December 14:

Since it is the weekend we won't be going to a park or Downtown for any length of time.  We got up andtook the kids for a long walk then came back to the RV and I was going to take a quick run to Downtown and a balloon ride for pictures.  But, the wind was up again so the balloon wouldn't be flying.

Well, we thought that this evening we would take the boat to the Contemporary, then the Monorail to the Polynesian for a Dole Whip and then on to the Grand Floridian for lobby pictures.  Jane has some mail to send from Magic Kingdom (they put a Disney postmark on it) and we could drop it off on the way back to The Fort.  Then the rain started so all plans were put on hold.  So we caught up on laundry and napped.  Maybe tomorrow the wind will die down and at least the balloon will be flying.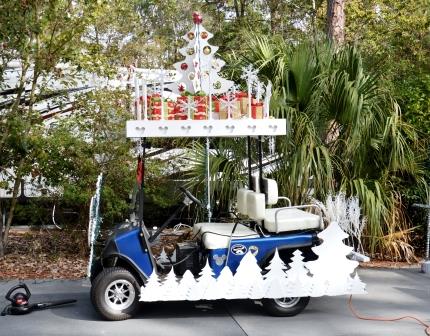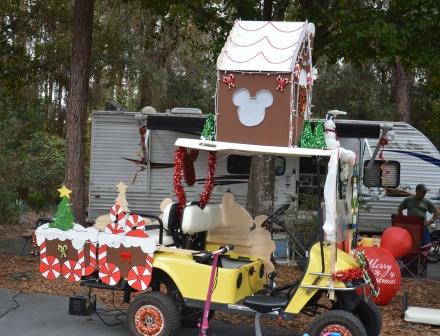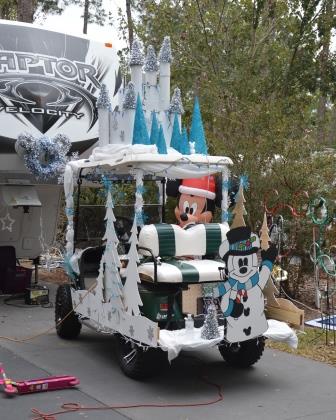 We did take some time in the afternoon (before the rain) to take some photos of the decorated golf cars in loop 700.

Some people take allot of time to decorate their carts (and haul it all down here).  The rain stopped, but looked ominous for the rest of the day.  Instead of going out for dinner we fired up the grill and had burgers and brats.  After dinner it rained a little more until bed time for everyone.  Finally everyone went to bed to the sound of rain on the roof.  Another first for Boo!

Sunday, December 15:

Got up to the sound of rain on the roof - still.  Rained hard last night for a short time but tapered off by the time we  were up.  Rain in the forecast all day and still chilly, too.  High today of only 70 degrees so we are seeing allot of jackets and sweatshirts.  Sun came out for a little bit so we decided to go over to the Grand Floridian for lobby photos and lunch.We took the boat to the Contemporary and caught the Monorail to the Grand Floridian.  It was cold on the boat  so the first thing we did was to buy a couple of sweatshirts - we may need them for the ride home!  Had a good lunch at the Grand Floridian Cafe and went by the full size Ginger Bread House!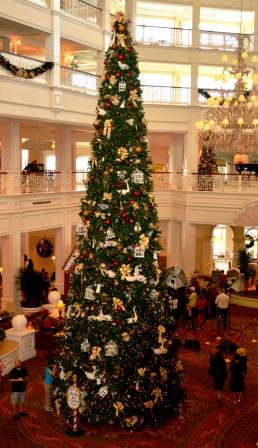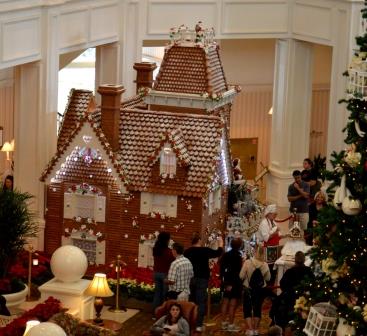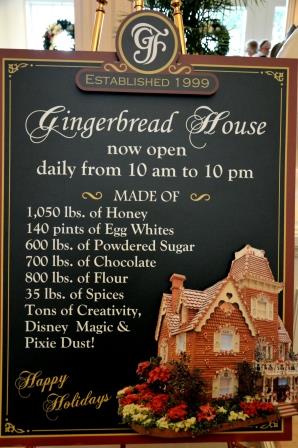 The Grand Floridian Christmas tree is huge, about three stories tall. I am not sure how they got it in here.  That would have been something to see.  The Ginger Bread house was next to the tree so the first floor lobby was pretty crowded.  There were photographers taking pictures at both places and linesvof people waiting to have their pictures taken in frontof both.  The Ginger Bread hous is entirely edible and could serve a ton of people, Nowif they only had a big bowl ofice cream to go with it.

Full size Ginger Bread house

Ingredient list in case you want to make one

After lunch and  a few more  photos we took the monorail to MK to catch the boat back to The Fort.  We got back to the RV to feed the kids and decided to take a golf cart around and take some pictures of some of the decorated sites. Some of the site decorations are just amazing.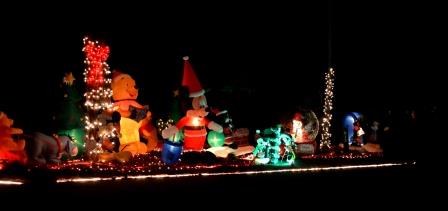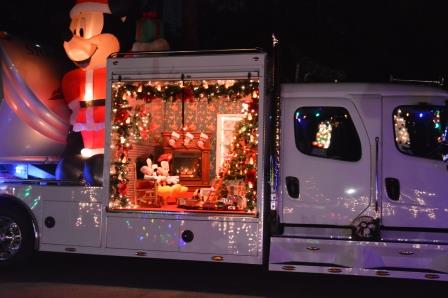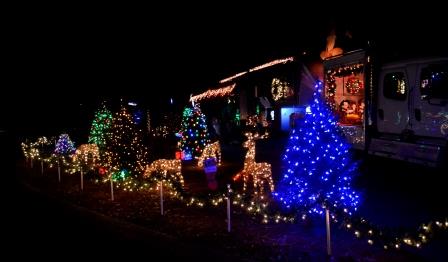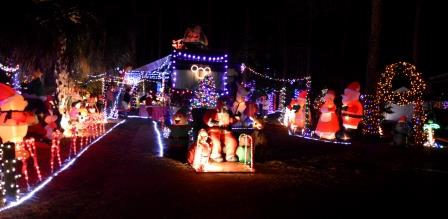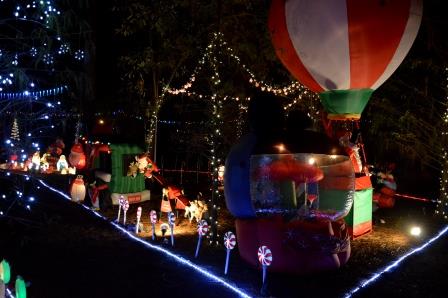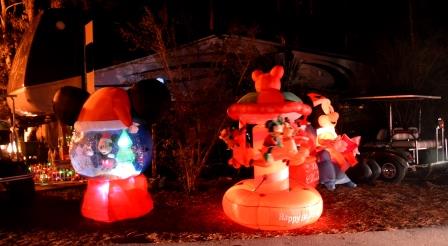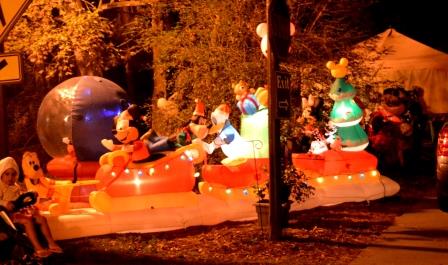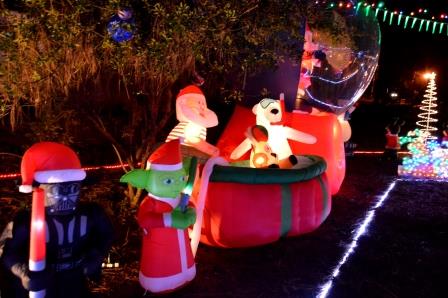 When we got back to the RV we were cold and it was getting late so we decided to just hit the sack.  So kids went out and then we all went to bed (with the heat on).

Monday, December 16:

Got up kindof early this morning to go to Downtown Disney before the crowd get there.  I still wanted to get some pictures of the progress of Disney Springs(the new name for Downtown).  The balloon (my aerial platform) has not been flying because of higher winds aloft for the last couple of days.  This whole project will double the size of Downtown Disney and is scheduled to be complete in2015.   White lines in the photos are the netting on the balloon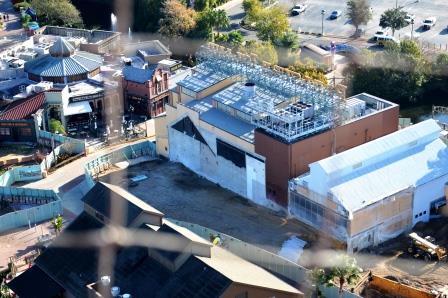 This is where Harley-Davidson was

The remains of Capt. Jack's resturant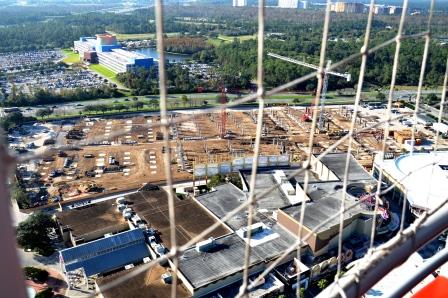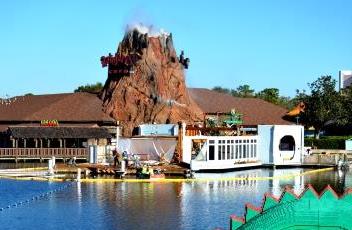 Because of the tight site they are literally takeing Capt. Jack's apart, not knocking it down.

I think this was a "green" site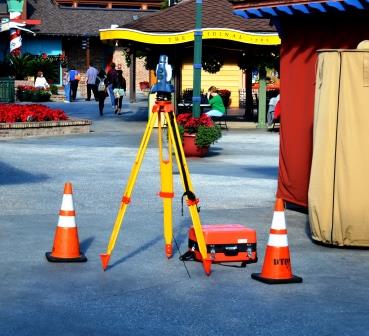 Surveying is going on in Downtown, even amongst the holiday shoppers

Columns for the 5 level parking garage are beginning to sprout

After we were done at Downtown it was time to return to The Fort.  Jane has been wanting to do some grooming on the kids.  The boys are very good with the clippers - Boo not so much.  She is okay if she has peanut butter to lick, but ends up getting as much on her as in her (but she manages to clean herself up pretty good.  We still haven't been to the Studio to see the Dancing Lights show on Streets of America.  We also have FastPass+'s for the Toy Story ride.  This is an arcade like shooting gallery-one of our favorites!  The first ride through Jane's "gun" wasn't working properly (I won), so they gave us another ride (she won).  Then it was off to see the lights.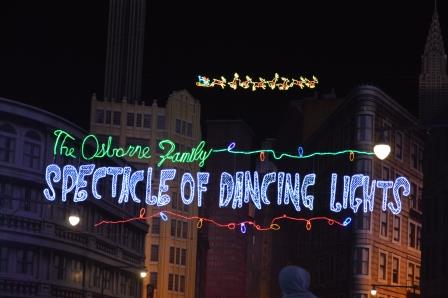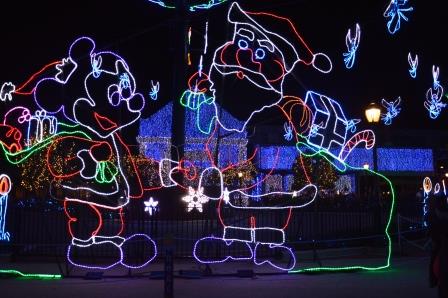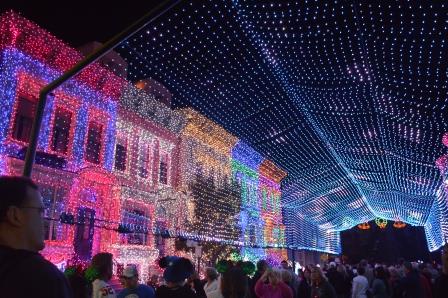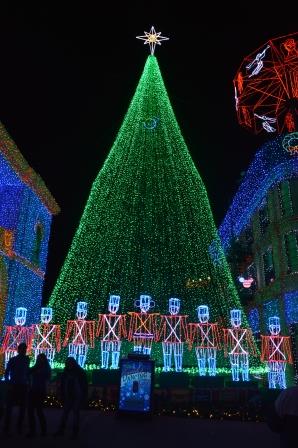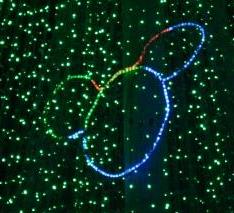 There are even hidden Mickey's in the lights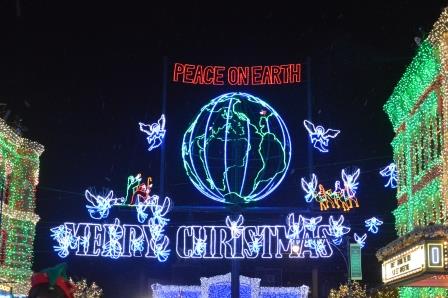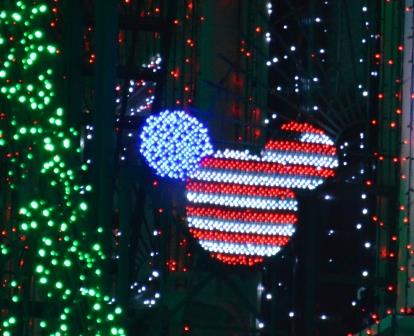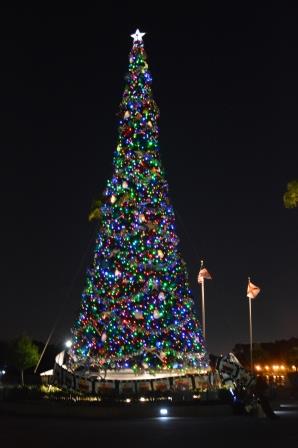 The Festival of Lights is very impressive!  They claim there is over

1,000,000 lights on these three blocks of display.  I believe it.  The only down side of this display is the thousand's of Disney guests that CROWD the streets. After our walking, bumping, stroll(?) through the streets we headed out to the buses and back home.

The kids were glad to see us and enjoyed a bit of a stretch outside before bed.  Tomorrow is our last day here so there will be alot of things to do.  Went to bed early so we can get going in the morning.

Tuesday, December 17:

We got up and drove over to Wilderness Lodge for breakfast with Chad.  Had great Chocolate chip pancakes and met Ann-Marie, the general manager of Whispering Canyon.  Also chatted with Bridget, who we haven't seen at all this trip.  After breakfast we took the boat over

to MK.  We haven't spent much time there yet, so we

wanted to at least do the three classic MK rides; Pirates,

Jungle (Jingle) Cruise, and Haunted Mansion.  Disney

has initiated a new system where you can schedule Fast

Passes and it works great.  We scheduled our rides and

had no problems.  The Jungle Cruise has been renamed

the Jingle Cruise for the holiday and much of the ride

has been "Christmasfied".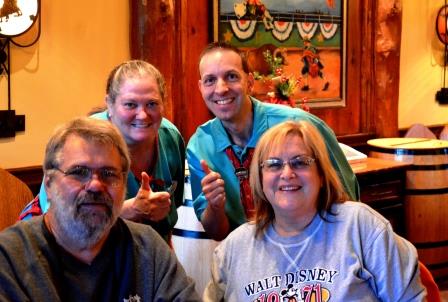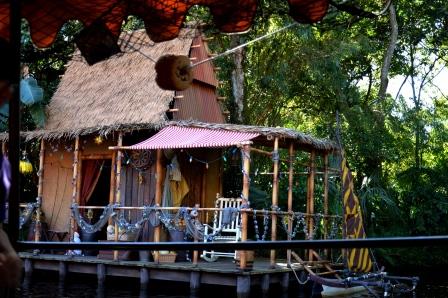 Christmasfied African Hut

After Jingle Cruise we walked over and caught the train to ride around the Kingdom to see what was done during the time the train was shut down.  Must have been mostly track work as we didn't see much different than last trip.  We got off the train back at Frontierland and went to our next Fastpass stop - Pirates of the Caribbean. Nothing new here, we hardly needed a Fastpass since there was no real line even in the regular line. We had some time until our next ride time so went back to Main Street and did a little shopping then it was off to Haunted Mansion. The crowd here was huge.  I have never seen the ride so packed.  They must have had a ride slow down and forgot to tell the cast members outside.  We didn't use our Fastpass here since the wait line was only 10 minutes and we were 15 minutes early for our Fastpass time.  When we finally got outwe had time left on the Fastpass so we could have gone again, but we both decided that we didn't want to face that crowd again.  We had reservations at Tony's for lunch so we went there and had a nice lunch.  Tony's is a Lady and the Tramp themed resturant so there is a lot of L & T decorations inside.  One of our favorites is the statue.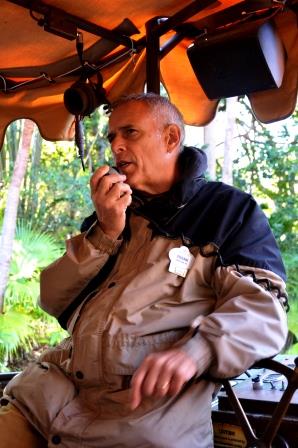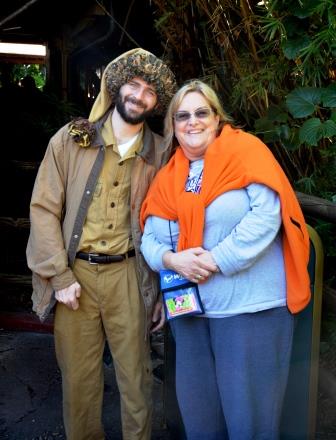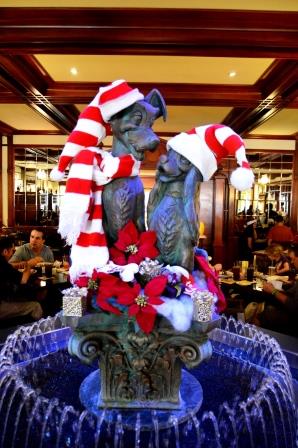 They also have several paintings and sketches of various characters from the movie.  The room is divided into specific character areas.  We happened to be sitting in the Lady corner so we had great views of the Lady paintings and drawings.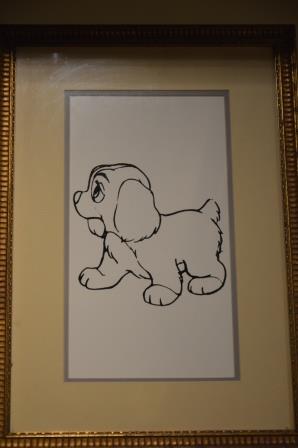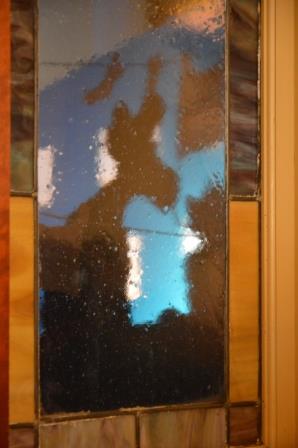 This one reminded us of Boo

There was this "window" looking out to a courtyard

Lady & Tramp ready for the holiday

After lunch we headed back to the RV, there was packing to do!  We got everything taken down and put  in about 90 minutes.  I went and got gas in the car and a lottery ticket - maybe we won't have to leave! 

We are ready to leave in the morning.  When we were done and enjoying a brew we got a text from Debbie back home saying the weather there this weekend included ice and snow.  We decided to wait another day here rather than get stuck somewhere else since:

The weather at home is frightful,

but here it's still delightful,

so we are going to stay,

another day, another day, another day!

That was pretty bad, sorry.  We have made arrangements to extend our stay and since we haven't made it to Animal Kingdom we made Fastpass reservations for the safari ride.  When life hands you lemons - make lemonade.  We will have to call a couple of campgrounds tomorrow and go to the grocery store in the afternoon butthat is a small price to pay for staying another day.  So, on a not so sad note - we were off to bed.

Wednesday, December 18 (BONUS DAY!):

We got up and made a lateish start to Animal Kingdom.  We had to get key cards extended and the car extended one day.  Tomorrow we have to start home.  We had Fastpasses for the safari ride at 10:50 then Festival of the Lion King and lunch at Yak and Yeti at 2:00.  We always do the safari ride, you never know which animals are going to be out and about.  They are most active early in the day, but since it was cool we were hoping some would be out.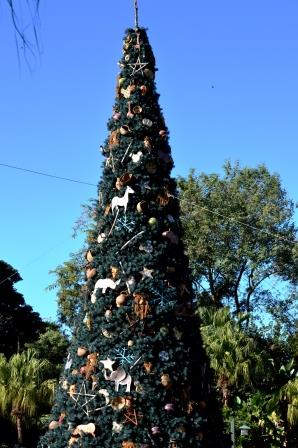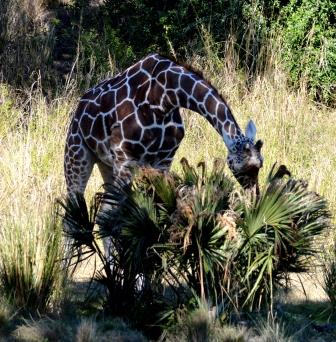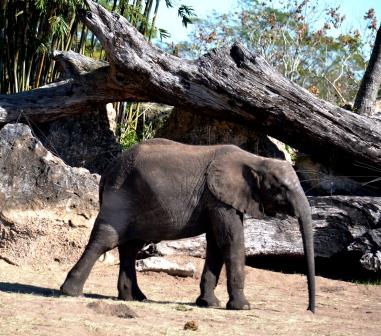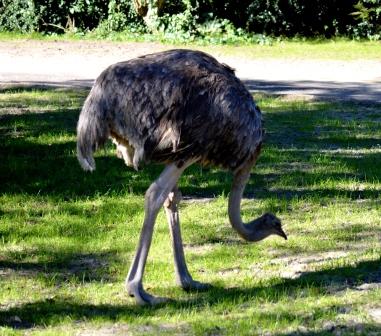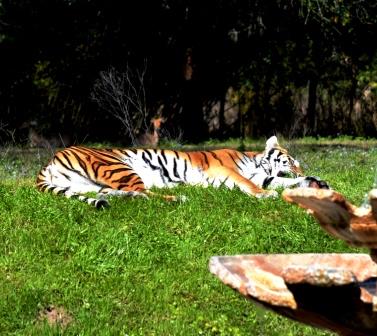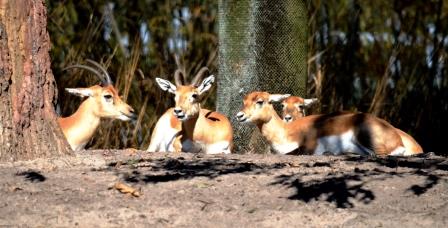 After the safari ride we split up, Jane went shopping and I went to take some more photos.  Soon it was time for the Festival of the Lion King show.  We want to make sure we see it one more time since it is scheduled to go on hiatus shortly.  We are hoping it will be re-located once the Avitar area is complete.  It was a great show as always! We walked back to Yak and Yeti for lunch and were about 45 minutes early for our scheduled reservation time, but thought that we would give it a try and see if we could get in early.  We were seated in no time and had a great lunch.  After we stuffed ourselves we made our way to the buses and home.  Since we had packed up yesterday we had time to take the kids for a long walk and then home for their supper.  There is a full moon and Boo is really wound up.  I hope it is just the moon.  Later, Jane went back to MK for some last minute shopping.  We got things put away inside and hit the sack.  Tomorrow is a long day.

Thursday, December 19 (A sad day):

We got up and finished packing exercise pens, took the kids for one last long walk and were on the way to the Dolphin Resort to turn the car in by 8:30.  On the road by 9:00, a long day ahead (453 miles).  The weather is good, the road is good but VERY boring.  There aren't even any billboards after you get on I-10 heading west.

At least on I-75 there are billboards every so often.  They are dominated by Cafe Risque and "My heart started beating at 18 days", but they are at least a diversion from the otherwise boring drive.  We arrived at Emerald Beach about 4:30, got set up and took the kids for a walk.  They were glad to get out of the coach and stretch. The short exercise stops they get don't quite do any more than let them relieve themselves.  It was a long, tiring day for the driver so he basically fell asleep early, but did wake up about 11:30 to take the kids out one last time.

We are spending a day here tomorrow to "recuperate" before heading north.

Friday, December 20:

Slept in this morning, everyone was exhausted.  Checked the weather for the rest of the trip.  Not looking good in Mississippi (the next leg to Canton) so we decided to stay here one more day and make a run for it on Sunday which will get us home on Tuesday evening.  Have to move sites, but at least we can stay here.  Hope the weather gets warmer! Just kind of relaxed today. Took kids for a couple of walks and Jane and I took a walk down the beach.  Watched a Mavericks game tonight - Mavs won!  Our "adopted"son got a goal and an assist.  One of our instructors and new owners got hit in the head with a puck during warmups and ended up going to the hospital and having a CAT scan. Haven't heard how he is yet.  On a sad note, we heard that a major Chicago personality of the 60's and 70's, Superjock Larry Lujack passed away on Wednesday.  If you were a teen in Chicago in the 60's or 70's you listened to Uncle Lar and Little Tommy.  A sad passing.  We will go to grocery store in the morning to stock up in case we end up getting stuck somewhere else on the way home.

Saturday, December 21:

Still in Navarre at Emerald Beach RV Park.  Checked weather this morning along the way, will probably stay here until Monday morning. We will get home Wednesday (Christmas day).  At least there shouldn't be any traffic.  They had freezing rain, sleet, ice and then snow today and into Sunday.  Hopefully roads will be clear Wednesday.

Highlight of the day was going to the grocery store.  We took the boys for a long walk and did some laundry.  Then we napped until the hockey game,  Mavs vs Tulsa.  I guess the team had a little trouble getting to Tulsa because of the ice and snow. Mavs won and we went to bed. 

Sunday, December 22:

Slept in again this morning.  Jane fixed bacon and eggs for a real breakfast.  We took the kids for a long walk and walked out to the end of the pier for a little while.  While there I noticed fins in the water - Dolphins!  There were three of them and they swam around pretty close to the pier for awhile then swam away.  Pretty cool. Naturally neither of us had a camera or even a phone with us to take pictures.  I took a bill that needed to be mailed up to the office and they said that last week there was a pod of about 30 dolphins around the end of the pier.  When I got back we took some photos of the kids for Christmas pictures.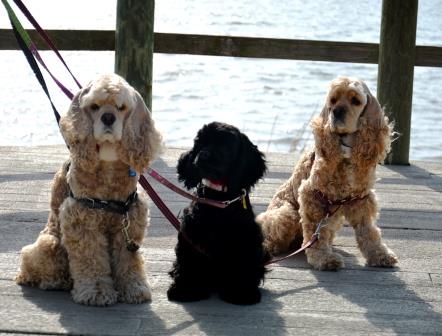 It was pretty foggy so everyone said it was going to rain this afternoon - and it did, a little.  I checked road conditions across Missouri and they are looking better so I guess we will make a run for it in the morning. I will turn the furnace on to keep the holding tanks warm so they don't freeze. We did learn one piece of bad news - Lambert's won't be open Tuesday when we get to Sikeston. Bummer.  I went out and took some December photos of the bay before it rained hard.  We watched a Tom Hanks marathon while it rained.  Took the kids for another walk and just as we were coming in with the last dog it started to rain hard so we decided to go to bed.  Tomorrow we are off to Canton Mississippi only 298 miles so we can sleep in a little.Not much in Canton to be in a hurry for!

The kids - black dogs are so hard to photograph!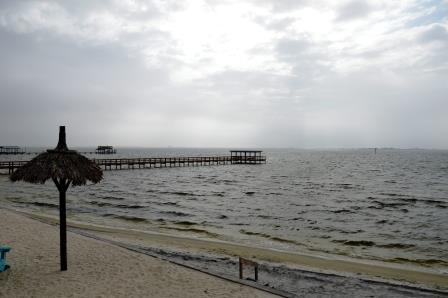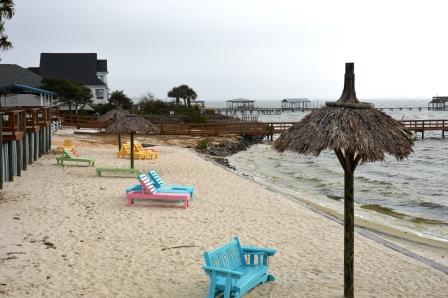 Emerald Beach in December

Monday, December 23:

We got up, fed the kids, took them for a walk and hit the road.  We left Emerald Beach about 9:00, we were not in a hurry to get to Movietown RV park as there really isn't much there other than a place to park.  Have to find another stopping place.  The day started off cloudy,but by mid-afternoon the sun came out and it was a pretty day.  We realized that we are in the heart of red-neck country when we saw signs outside fireworks stands that read "fireworks, the ultimate stocking stuffer".  We stopped for a late lunch at Cracker Barrel in Hattiesburg.  It was okay,but not Lambert's!!  Arrived at Movietown about 4:15 after getting gas.  We found a site and after a couple of attempts got fairly level.  Turned on the gas furnace to keep holding tanks warm, took the kids out and fed them.  After some play time, it was off to bed.

Tuesday, December 24 (Christmas Eve):

Kids wanted to go out at 4:30 (they have to get back on CST).  We were on the road by 8:30.  Decided to keep gas tank topped off just in case gas stations started closing early this afternoon.  Only have about 300 miles to go today.  Sure wish Lambert's was going to be open when we get to Sikeston.  You know you have been on the road too long when dumb things are funny way too long.  When passing thru Ripley (historic downtown Ripley), Tennessee we noticed a store called "Tomato World".  This was a rolling joke for a long time.  It was like Ripley left themselves wide open for jokes.  Apparently Ripley is the tomato capital of western TN.  Stopped for Christmas Eve dinner at Arby's just before pulling into Hinton RV Park in Sikeston (home of "closed on Christmas Eve" Lambert's).  it's not supposed to get as cold as originally forecast tonight so tanks should be good until we get home.  Took kids out one last time before bed time - not used to this cold yet.  Boo is proving to be a true Minnesota dog - she loves the cold!!

Tomorrow we head home - Christmas on the road, what fun.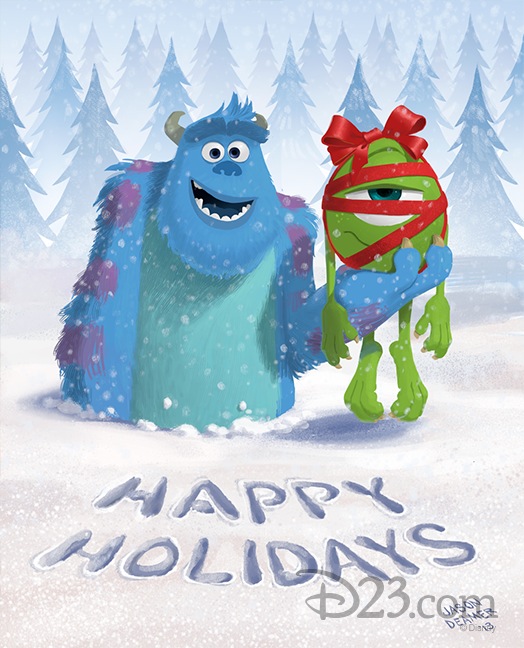 Wednesday, December 25 (Christmas day)

We were up early, just want to get home now.  Kids were walked, people were fed and coffeed and we were off.  A mere 350 miles to go today.  Weather is supposed to be good with no snow or rain.  We were hoping that McDonald's would be open if attached to a gas station - wrong.  We kept looking.  The only places open were sit down places and we just wanted to keep going and get home.  We stopped for gas and to walk the kids and were on our way once again.  About 80 miles from home the sun came out and warmed our return home.  Unfortunately, there were cars parked where I use to get into position to back Alf into the garage.  So, instead of backing in in one try it was more of a 30 point turn, but we got it in.  The tracks in the snow on the driveway look like some drunk was parking it.  Boo was wired and discovered that you can eat snow - what fun.  We were home safe and sound after a great trip, it may be awhile before we do a December trip again though.  On a slightly sad note, this may have been Alf's last trip with us.  A slightly bigger coach is on its way to Olathe this month and we are going to look at it when it comes in.  So Happy Holidays to everyone - only 114 days until the next Disney trip!