Wednesday, May 8:

Finally, it is time to go.  We are more than ready!!  Last week it was 75 degrees one day and then the next we had 2" of snow.  Got off to a good start at a hair after 8:00 a.m. (we are getting pretty good at loading and packing Alf).  At 8:05 Jane says she forgot her sunglasses.  So we turn around and go back to get them (this too has become a ritual with our trips - we always seem to forget something).  It was slightly sprinkling when we left, but we ran out of it pretty early.  Very nice day to be driving, sunny, light wind, and the dogs are laying down sleeping.  Stopped for gas in Warrenton, MO and then hit the road again.  We are using a new GPS system now.  The voice is Samantha and  she is getting the road names right (Glenda sometimes had some issues with pronunciations).  Sam is a good co-pilot, she warns of speed limit changes, construction areas, etc.  She is also a bit of a nag, chastising me for speeding ("speed warning") if my speed rises to 5mph over the posted speed limit.  Her graphics are better than Glenda's were.  There is just some adjustment to having a new "assistant" with me.  We stopped for lunch at McDonald's in Carlyle, Illinois and walked the dogs.  Continued on our way to Paducah, Kentucky with numerous construction zones, some in places where it was very much needed and some in places where it appears that the local government just had some extra money to spend.  Stopped for gas at Pilot (exit 3)in Paducah.  Ohio River is way out of it's banks!!!  We have seen a lot of fields where it is going to be a long time before anything can be planted - they were under several feet of water!!  Anyway, we pulled in to Duck Creek RV Park about 4:30 and checked in. It is kind of strange, Mike and Virginia sold it to another couple last winter and it just isn't the same.  Took the boys over to "Max's Big Back Yard" for a run.  I called Mike with some questions on the bowed psaltery and he said he would come over in a bit and help me out.  He stayed showed me a better way to hold the bow, rosin the bow and play.  He then did a fine tuning for me and we played a short duet of Twinkle, Twinkle, Little Star.  Mike then played several songs (he is MUCH better than I am). Mike said to practice about 30 minutes every day ( I will have time to do that). About 9:00 we all called it a night; Mike, Virginia, & Sophie (rescue Great Pyrenees) went home and we came inside for some dinner.


How does the saying go?  April showers bring May flowers?  Lately it has been more like April brings May sun, snow and rain.

Crazy weather, time to head south!!!!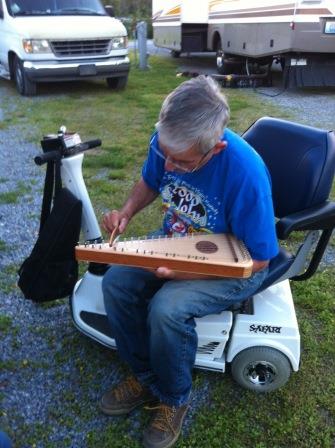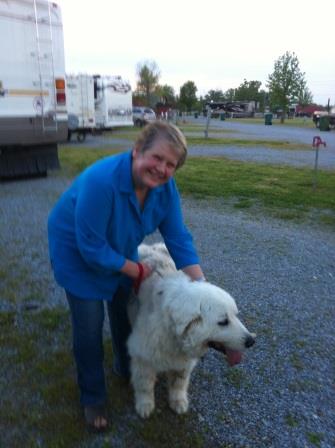 Mike Vessels and his Bowed Psaltery (Al is trying to learn this.

Virginia Vessels and Sophie

(Max's successor)

Thursday,May 9:

Thought we would get an early start, but waited  for Mike to bring over a song book for the Psaltery.  He was at the coach at 7:10 (as promised).  He also brought a dog cookie baker (it looks like a George Foreman grill).  We thanked him profusely and promised to practice the Psaltery in the next couple of months.  We will call him on the way back home. Hit the road about 7:30 and it is a beautiful day for driving!!  At Kentucky mile marker 29 we saw our first dead armadillo for this trip.  From then on we saw about one a mile - they must be dumber than 'possums.  Stopped for a little breakfast at McDonald's and after about 15 minutes we were on the road again. Passed by the American Pickers store in Nashville (will stop there on the way home).  Another quick stop for gas and to walk the dogs and we were on the way to Clanton, Al for the night via Birmingham.  Birmingham must have the worst roads in the country.  they have been working in the same spot for 4 years and no improvement.  We normally stop in Pelham, Al at Birmingham South RV Park, but we are trying Dandy RV Park in Clanton to see what it is like.  We are parked next to a couple that are returning home to Duluth, MN after being in Orlando (Disney) for 7 months.  What caught our eye was the sign on the back of the car they are towing and their license plates.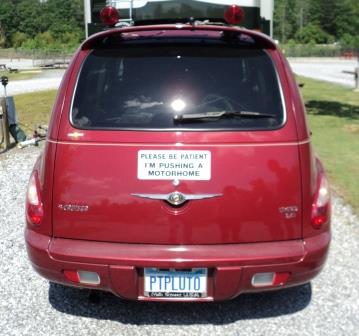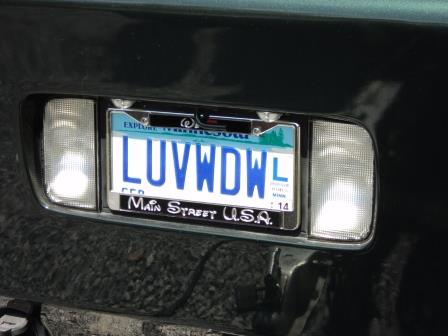 Tomorrow (Friday) we are off to Pensacola Beach.  The weather forecast for the weekend there is for thunderstorms Friday, Saturday and Sunday. Yippee!!! At least it isn't SNOW!!!!!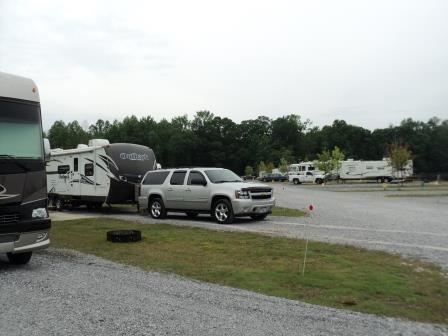 Dandy RV Park - Clanton, AL

Friday, May 10:

Short day today so we stayed until F1 practice was over (8:30 a.m.). Got on the road about 9:00 headed for Pensacola Beach for Friday afternoon, Saturday and Sunday morning.  Weather is nice, a little overcast, but nothing too bad.  Roads here are much better than yesterday.  Saw a sign for Lambert's (Home of the Throwed Rolls) in Foley, AL.  Spent the next 40 miles debating if it was worth going out of our way for.  Ultimately decided it wasn't.  Just as we turned off the interstate it started to rain - not hard just light showers.  Didn't slow us down much so we are on schedule to arrive at Pensacola Beach about 1:30 (just in time for lunch).  We got in and settled by 2:00 and decided to look for a place to eat lunch.  I went to the office and asked where a good place to eat was and they gave me a couple of menus for places in walking distance.  We decided on the Paradise Bar and Grill, just about a half block from the RV park.  There are a bunch of little places to eat in walking distance here, which is not the case at Emerald Beach RV Park (our regular stopping place).  Lunch was very good, we got a  pound of beer boiled shrimp and fried pickles.  Very good, we got an order of each to go for later.  Got back to Alf, got some chairs out and sat on the patio with the boys.  Spent a long time debating the pro's and con's of Emerald Beach (no restaurants in walking distance, but nice beach access) and Pendacola Beach (lots of restaurants near by, but no real beach).  Pensacola Beach is newer and a little nicer but has no real beach so we will continue this debate on our return trip when we stop at Emerald Beach.  Clouds started coming in and temps dropping so we decided to go in and watch some Stanley Cup Hockey (Capitals vs Rangers).  I also added to the "planning" page, adding some details and photos of my Honor Flight with Dad on May 1.

Saturday, May 11:

Our first day on the Gulf,and it rained!  We got up (the boys got us us up) and watched Qualifying for the Spanish Grand Prix and out favorite, Nico Rosberg, took pole position.   We had some breakfast and then walked the dogs, in the rain.  Just kind of chilled the rest of the morning waiting for the rain to stop.  Had our to go order of shrimp from yesterday for lunch - great shrimp.  Finally, about 2:00, it stopped raining, so we took a walk down the road to explore the "Neighborhood".  We found some cute tourist trap souvenir shops and a couple of restaurants.  We crossed the road to the Gulf side of the road and wend down to the beach.  Jane collected a bunch of shells for a "Fairy Garden" when we get home.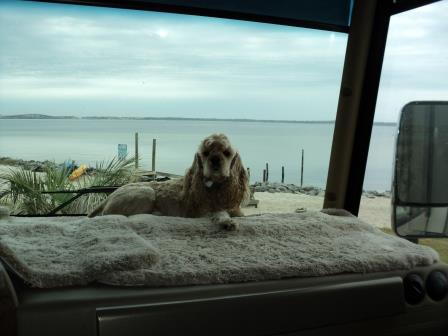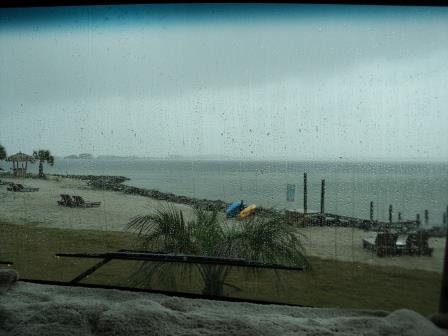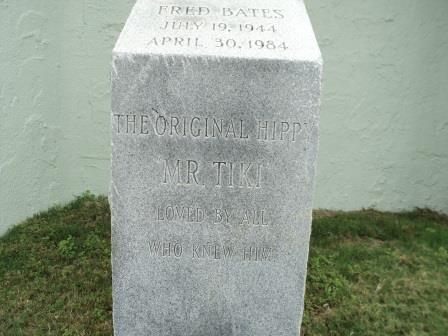 Smudge in his position on the dash

Morning rain - where is the sun???

Memorial to "The Original Hippy"

On our walk we discovered a memorial next to the sidewalk - it looked like a headstone - dedicated to a gentleman purported to be "the Original Hippy".  We may have to check this out sometime.  Pensacola Beach seems to be a stereotypical Florida beach community.

On our way back to the RV we stopped in at the Hilton hotel's bar for another Florida beach tradition - a Rum Runner.  It was a fair drink, not as good as the ones at Disney though. When we got back to the RV we took the boys out again.  The rain has stopped, but it is still overcast and dreary.  They say that it will be better tomorrow, when we leave for Lake City.  Maybe it will be nice until we have to leave and Jane can get some sun in. Planned on watching round 6 of the Stanley Cup - Islanders vs Penguins - and then dinner.  There was a pretty sunset after dinner.  Maybe that indicates a nice day tomorrow!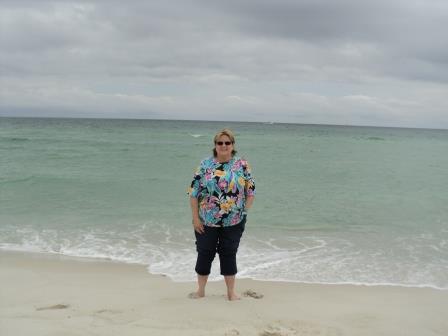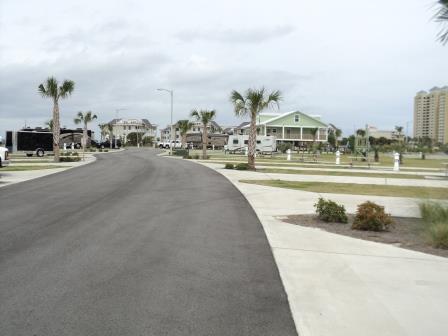 Jane standing in the Gulf of Mexico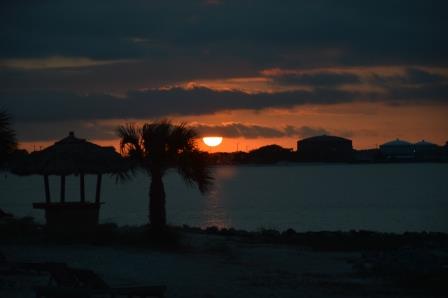 Sunday, May 12:

Dawn broke clear, and sunny!  sure, we are only here for a couple of hours today, then it is off to Lake City, FL.  We watched the F1 race until about 9:00 (Fernando Alonso/Ferrari won). We sat out in the grass for a while and soaked up some sun with the boys.  It was a bit on the windy side and by the time to leave it was real windy.  It was nice driving, except for the wind, sunny and clear.  The wind finally diminished  about half way to Lake City.  We talked about staying someplace on the west side of I-75 next time, but there isn't too much out that way.  Wouldn't you think that Florida would have a campground about every interstate exit - not so.  We will look at a couple of places south of  I-10 on I-75 between Lake City and Gainesville.  We are about 3 hours away from WDW so should be there by 11:00 tomorrow morning.  Hilda, the travel agent that lives in Fort Wilderness called and said that site 705 is empty and waiting for us.  Lake City RV Park is kind of bizarre.  None of the GPS systems can find it!!  The girl at the desk said that even if you can input their address, GPS will give you entirely wrong directions.  It is kind of a Bermuda Triangle in northern Florida.  We will probably be up early since it is "D" day!!!!

Monday, May 13 - "D" day!:

We were up early and ready to go.  Lake City is about 3 hours from WDW and we want to be there in time for lunch.  The day started out chilly and overcast.  At least it isn't snowing or raining.  It was a pretty uneventful trip except for the overturned truck on the ramp when we stopped to top off gas tank.  That was a real surprise, come around the bend and there is a semi and two big tow trucks on the shoulder of the ramp.  They could have at least put a trooper by the exit to get your attention that something was going on.  When we were about 50 miles from WDW the skies cleared and the sun came out - Yea!  We pulled into the campground about 11:00 and got our requested site - 705, we are home!  We got to our site and got set up (x-pens, rugs, slides out, etc).  and took the boys for a walk along the dog trail (no 'gators yet).  Then we were off to the boat to Magic Kingdom and then a bus to the Dolphin to get our car.  We met Hilda (our on site travel agent) and she said "no way, let me drive you over there".  So we took her up on it and were at the Dolphin in minutes.  Got the car and were off to Downtown Disney for lunch at The Earl of Sandwich.  Had a leisurely lunch and went to listen to one of the concerts that are given hourly.  We had learned that a niece of Amber White (a close friend from Blue Springs) was performing in one of the concerts.  I went ahead and got a couple of seats while Jane shopped along the way.  She got there just before the concert started (with here purchases).  She attends school in Florida and most of the concerts that day were performed by kids from Florida schools (two were from Canada).  After the concert were headed back to Alf and let the dogs out.  We started setting up the site with lights and signs.  We got about half done and decided to finish Tuesday.  It was starting to get dark and my porch light is burned out (trip to Camping World tomorrow).  Set the grill up and had a couple of Omaha Steak burgers - very good.  finished just in time to watch more Stanley Cup Hockey (Bruins vs Maple Leafs and Rangers vs Capitals) both games were game 7 of the series.  Bruins and Maple Leafs game was brutal - very rough!  Leafs were ahead going into the end of the third period, but somehow the Bruins tied it up and won in overtime.  After the game we (I) took the boys out (got to get that porch light fixed tomorrow) and went to bed.

Tuesday, May 14:

Getting back in the routine.  Up early (working on that), walked dogs, fed dogs,  dogs back tobed with Mom, Dad off to the Meadows trading post for a morning paper.  We have to go to Magic Kingdom to get Annual Passes renewed and our Tables in Wonderland card (20% off meals and all drinks).  We took our first of MANY boat trips to MK and it was so nice we rode up front outside.  Beautiful sunny day!!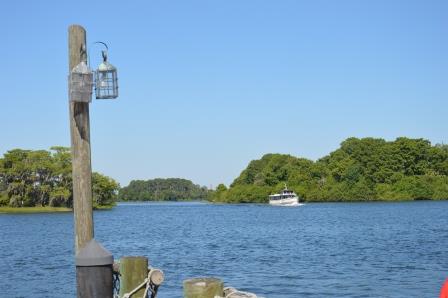 MK was mobbed, with the campground being almost deserted we didn't expect this big of a crowd.  Got in our first line to wait for Guest Relations and get our Passes.  Again, Disney lines seem to move along fairly quickly.  Got our Passes and decided to head back to the campground with a stop at Fort Wilderness Lodge to see if Chad was still there (he was talking about moving to another restaurant last November).  He was there, and Whispering Canyon was fairly empty so we decided to stay for breakfast.  After a nice breakfast with Chad, we (Jane) had to go shopping in the gift shop.  Did some serious damage to the Visa card (more points!).  After shopping we got the boat back to the campground and headed to Camping World for some light bulbs for the porch light.

When we got back to the campground we took the boys for a long walk and decided that maybe a nap was in order.  Later, we finished (almost) setting up lights around the site and thought about dinner.  After dinner it was time for a little TV (NCIS & hockey).  Then it was off to bed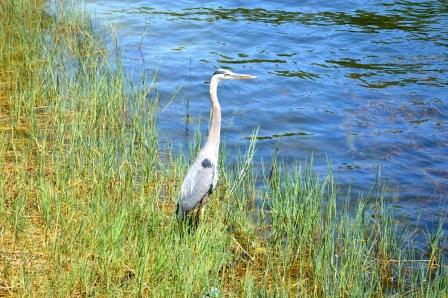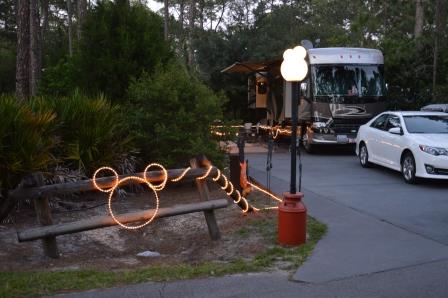 Heron at Fort Wilderness Lodge

Wednesday, May 15:

Got up early, thanks to the boys.  At least it is a nice day to be up early.  Walked and fed the boys and I went down to the Meadows for a paper.  Jane got up and got dressed so we decided to go to EPCOT (Every Person Comes Out Tired) before the Flower and Garden show is over.  Took the bus to EPCOT and hit a couple of stores and headed to World Showcase for most of the topiaries.  There were alot of the same ones that have been here in the past, but some cool new ones.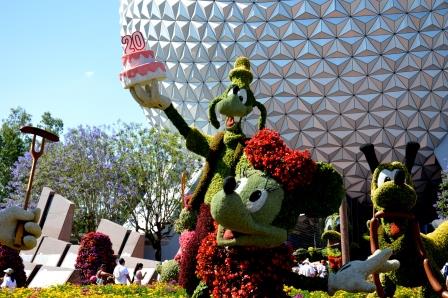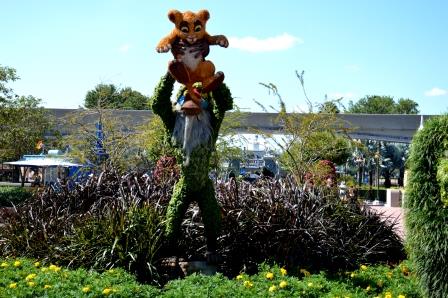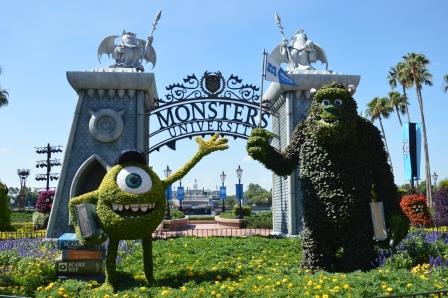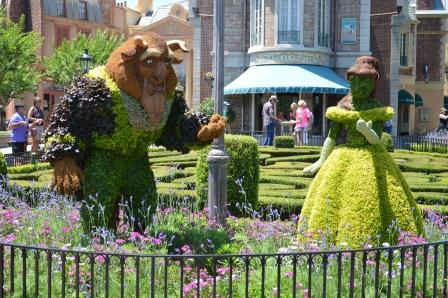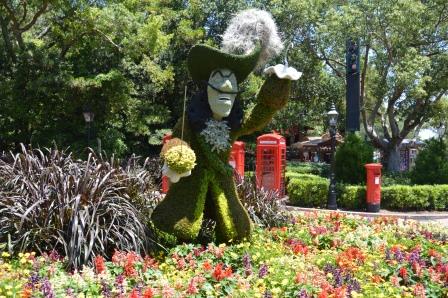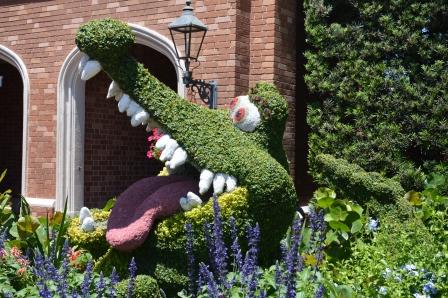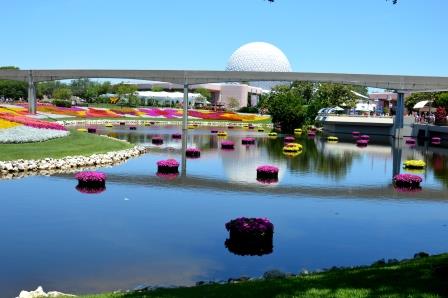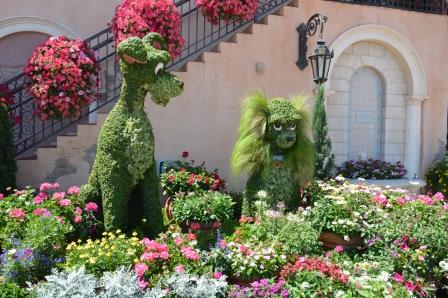 We stopped at the "new" French bakery/cafe for lunch.  They have expanded their menu from just bakery goods to include some great sandwiches.  After re-energizing we continued to the rest of World Showcase and into EPCOT proper.  The butterfly house was open and mobbed.  They need to have one way traffic in there!  Some beautiful butterflies and butterfly attracting plants.  Good information if you wanted to plant a butterfly garden.  Made our first mandatory stop at Mouse Gear (the big Disney store at EPCOT).  We had stopped at one of the little kiosks selling garden ornaments and had it all sent back to the Fort to be picked up tomorrow.  I think we got one of everything.  After Mouse Gear we caught a bus home and collapsed.  Sat out on the patio and started thinking about dinner.  Too many choices here.  We finally decided on the Turf Club at Saratoga Springs Resort.  We have eaten lunch there in the past, but never dinner.

Found out that they don't do lunch anymore and the dinner menu is pretty limited (6 items)  I had the salmon and Jane had the New York Strip steak- both were good  (but over priced).  Got desert to go and headed back to the boys.  Hockey again tonight - Blackhawks vs Red Wings (Blackhawks won- yea!).  Then it was off to bed.

Thursday, May 16:

Well, we have established a routine.  I will go over the morning ritual here and not bore you with it in future days.  The day starts out with one of the boys waking me up to go out.  We are trying to get this a little later each day (but it isn't working too well yet).  Then we (the boys and I) go back and have breakfast.  Then the boys go back to bed with Jane and I go to the Meadows to get a paper.  By the time I get back Jane is getting up and we decide what we want to do the rest of the day. So that is the routine every morning.  Today after all that we decided we should go to Publix (grocery store).  It just so happens that Panara's is along the way so a stop there is in order.  Got some groceries there and headed back to Alf.  After putting groceries away we just sat outside for a while and I got the grooming table so Jane could do a little trim job on the boys. They weren't very happy about that.  By then it was dinner time for the boys so they ate and after dinner we went for a long walk along the canal.  I always watch the water for wildlife and I spotted a log floating in the water, except it moved!  Our first gator spotting!  We are calling it Rickie and Rickie is a wee little gator maybe 2' long and very hard to see in the algae covered water.  Last November we didn't see any gators and were beginning to wonder if we would see any this trip.  Encouraged by the sighting we headed back to to Alf and some dinner for us. Decided on steaks on the grill and then some hockey (Rangers vs Bruins). Tomorrow it is up early and back to EPCOT to try and get in Soarin' and the new Test Track.

Friday, May 17:

We got up early this morning so we could be at EPCOT when it opened.  We wanted to get to "Soarin'" and Test Track early  to get in line.  We were at the front gate at 8:40.  They opened at 8:45 and most of the crowd splitand went two directions - one faction to Soarin and the other to TestTrack. We almost walked right on Soarin.  I have never seen a "0" wait time.  From Soarin we went right to Test Track and only had a 10 minute wait.  Some major changes to the "pr-ride" events where you actually "design your car.  It was interesting. The actual ride hasn't changed much.  After Test Track we went over to see Ellen DeGeneres and her Energy show.  We haven't done that for a while so it was good to see it again.  And it was a nice place to sit for about 30 minutes.  After Ellen, we went over to Radiator Springs to the 'Mater and Lightning McQueen topiaries.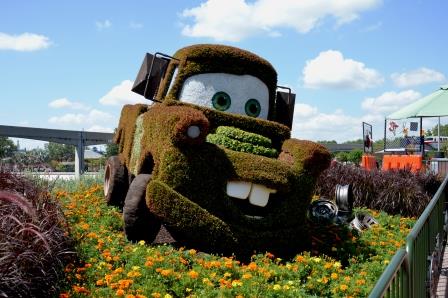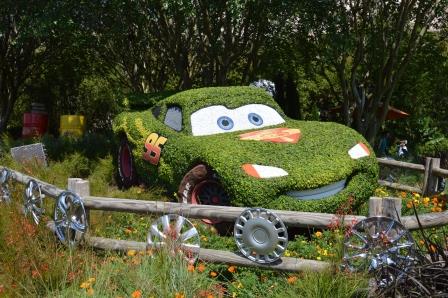 Along the way we also ran across some other friends, one of whom is responsible for ALL of this.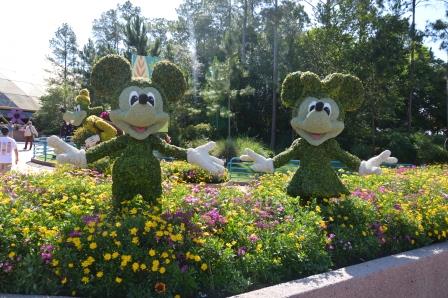 Lunch time! back to France since it was so good yesterday.  We decided that since some of the gardens will be gone Monday (Flower and Garden is over Sunday) we should take a couple of before and after pictures.  So I took one of the "lake" and flowers.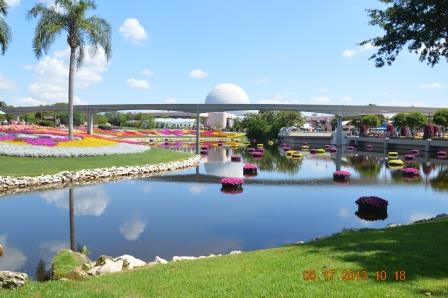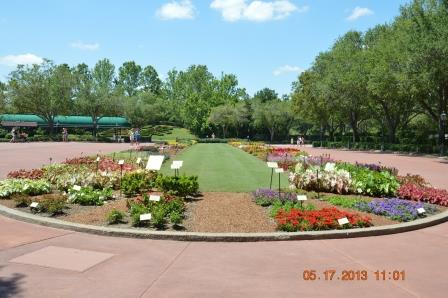 One the way back to the buses we spotted Peter Pan!  He was on

top of the Great Britian pavillion, we totally missed it yesterday.

We got to the Canadian Pavillion and decided to go to the

Circle-Vision "tour of Canada".  Beautiful photography, we will have to

do a tour of our own, maybe next year.  Did some shopping in

the Canada store and got some things that our Canadian hockey

players introduced us to.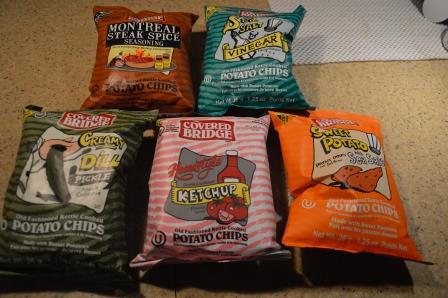 Okay, back to the bus and home.  At the bus stop we came across a mom helping a little girl pee in the bushes - classy!

Once home we took the boys out for a walk and then collapsed in Alf.  We took hamburger out of freezer for dinner and settled in for the night with yet another hockey game.  No plans for tomorrow - just Mama Melrose's for dinner.

Saturday, May 18:

This was supposed to be a relaxing, don't do much day.  We started out going through our Flower and Garden purchases and making sure nothing was broken, and it wasn't - until I started putting it in a "safe" place.  I dropped a stepping stone and cracked a corner!  We were going to go over to EPCOT to exchange a T-shirt that I got in the wrong size, so the plan was to go and get another stepping stone, too.  We have been taking the car to the Outpost and catching the bus from there.  Just for grins we stopped at the Meadows Trading Post to see if they had a stepping stone - and they did!  So I took it to the check out and told them my tale of woe and the castmember asked if I just wanted to exchange it for the broken one. Disney is easier than Wal-Mart to exchange things. So, with that done we were off to the Studio and Mama Melrose's for a late lunch.  Sorcerer Mickey greeted us at the entrance here.  The buckets the brooms are holding are "spilling" flowers into the garden, very clever.  It is Star Wars weekend at the Studio and we thought it would be mobbed.  Actually the crowds weren't too bad, I think the big Star Wars events were Friday night.  Lunch was good, don't know why we haven't eaten there before.  From the Studio we took the boat to EPCOT (back entrance) to exchange my shirt.  EPCOT was crowded - much more so than Friday (probably mostly locals).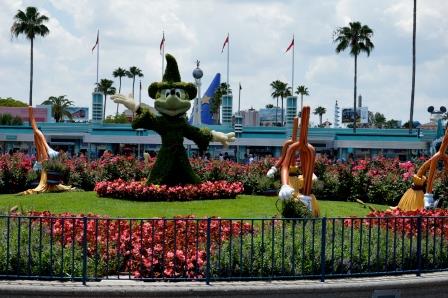 I got my shirt exchanged with no problem.  We decided to take the Monorail from EPCOT to the ticket & Transportation Center and then the ferry to Magic Kingdom and the boat back to the campground.  Just one thing - we left the car at the Outpost parking lot!  So after some cold beverage and rest time (hockey game - Blackhawks vs Red Wings - Blackhawks lost) I took the bus to get the car.

So, today we have used all the modes of transportation that Disney offers, bus, monorail and boat. Visited 2 1/2 parks, Studio, EPCOT and Magic Kingdom (we just changed boats at MK, didn't really visit the park).  We also took two surveys in two different parks about 30 minutes apart.  Very busy day, maybe tomorrow we can rest.

Sunday, May 19:

Jane is having trouble reading this on her iPad and suggested I go to a larger font. so here it is - 14 point font.  Now I have to clarify one thing.  The winning Powerball ticket was sold in Florida, and I promised allot of people allot of things if I won.  Well, this ticket did NOT win!  Sorry to you all, maybe next time.  Today was a truly do nothing day.  It started out overcast with a promise of rain.  It is going to be an indoor day with the dogs I think.  We popped a Disney movie (Lion King) in the DVD player (after 3 years we finally have learned to use the DVD player).  After the movie we started thinking about dinner.  We stayed in and had a chicken cordon bleu.  We have two Minsky's pizza in the freezer we are saving for a special dinner.  They just don't know what good pizza is here.  We checked in at home, DOG had a demonstration event today and most of the crew had not set one up before.  The weather forecast was for rain (severe thunderstorms, actually).  They said that things ran well until the organizers shut it down because of a tornado warning.  After dinner it was time for............................more Stanley Cup hockey, Pittsburgh vs Ottawa.  Tomorrow we will go to Magic Kingdom and do Main Street.  Since we are here for a while we aren't in any hurry to do anything.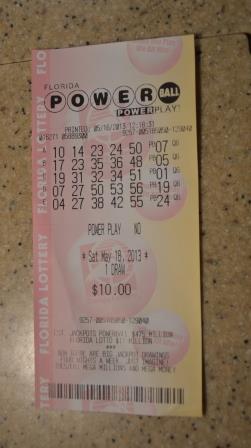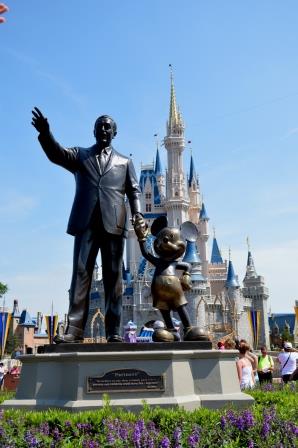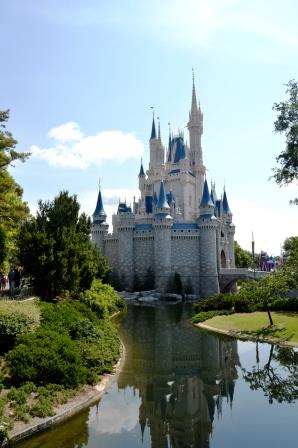 Today is our first day in Magic Kingdom.  We rode the boat over since it is such a nice day, forecast is for rain so we came over early.  We split up - Jane to do some general shopping, me to get a couple of movies and take some photos.  I found the movie "Brave", but not "Little Mermaid".  Had to take photos of the two icons of Magic Kingdom - the Partners statue and the Castle.  I wandered around Main Street for a while and made my way down the train station.  I stopped by the glass blower and watched a cast member create the computer file to make those cool little Plexiglas cubes with "photos" in them.  He then explained how the software drove two intersecting lasers to create a photo out of millions of little air bubbles.

I had made my way down to the train station and it was about time to meet Jane for lunch, so to decided to ride the horse drawn street car down to our meeting place.  Casey's was the agreed on place for lunch.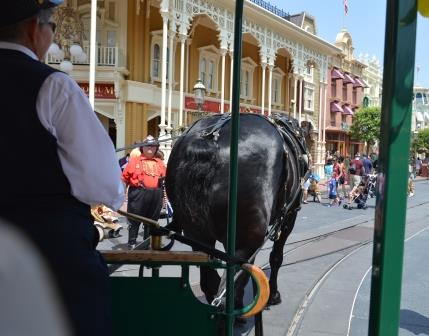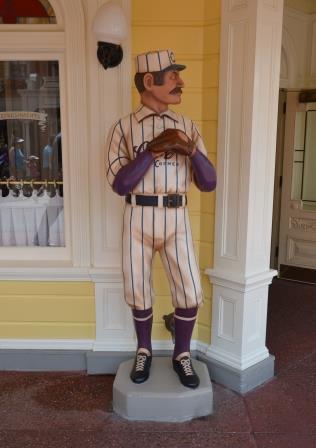 Casey' has GREAT hot dogs! The best we have had in a long time.  Jane had a chili cheese and I had a Chicago dog (close, but not as good as real Vienna Chicago dogs from Peeps in Chicago).  After lunch we headed back to the camp ground (it was starting to cloud up and we wanted to get the boys out before it rained).  Got off the boat and it was starting to sprinkle.  Got the boys out just in time! Just as we were getting back to Alf it really started raining.  We had sloppy Joe's and watched more hockey (Blackhawks vs Red Wings, Blackhawks lost).

Outside Casey's

(Hot Dogs were great, Gary)

After a little bit, during the thunderstorm, it even hailed a little.  We haven't seen it rain this hard here for a longtime.  I guess we can have a day or so of rain as long as we get more days of sun than rain.  Nico does not like the thunder, lightning or the sound of hail on the roof.  He is going from window to window almost in a state of panic.  Smudge is sleeping through it all.  Things finally settled down and everyone relaxed.  After seeing the news about Moore, OK I thing we are all a little nervous about thunderstorms. Stayed up a little bit after the game to get the boys (Nico) settled down and then went to bed.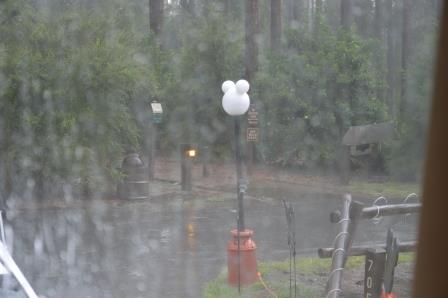 Rain through the windshield

Tuesday, May 21:

Today is a shopping day!  We went to Downtown Disney to get breakfast at the Earl of Sandwich.  We have never had breakfast there (didn't even realize they had breakfast until a little while ago).  We got a parking place right in front (love that there is no one here - yet).  the "Main Entrance" to Downtown Disney has a really cool fountain that Jane would like to have.  Breakfast was good, typical fast food menu, but better.  Even the ducks go to Earl's for breakfast.  Daddy duck was chasing the sparrows off so his kids could get the tourist's crumbs - teach them young!

The plan was to go from here to Bed, Bath and Beyond for a few things, but it is clouding up and starting to sprinkle so we decided to stay close to home and shop at Downtown Disney.  We went to the Art of Disney and got a print for the "Master Bath" door.  From Art of Disney we went over to the Christmas store to return one thing we got last fall and to do what?  More shopping!  After a trip to the car with several bags of purchases (anybody want a Disney shopping bag?) we met at the World of Disney - claims to be the largest Disney store in the World.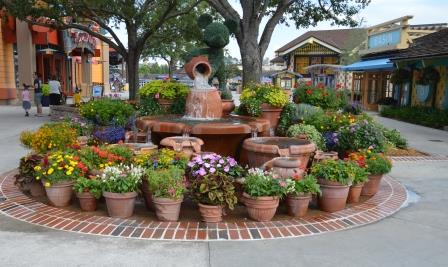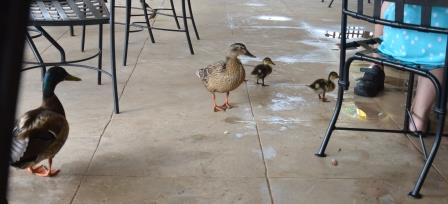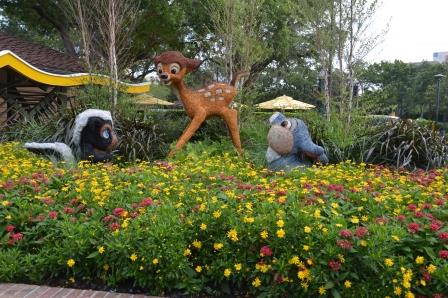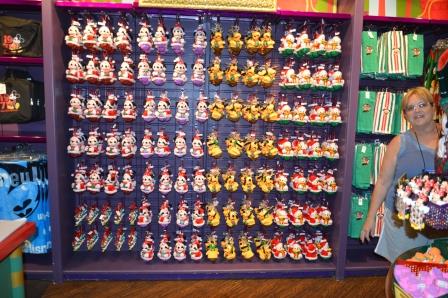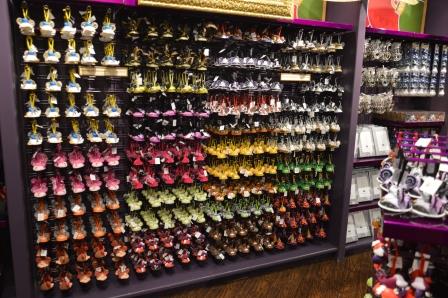 Jane at one of her favorite Disney stores - Christmas                             This store has literally thousands of Christmas ornaments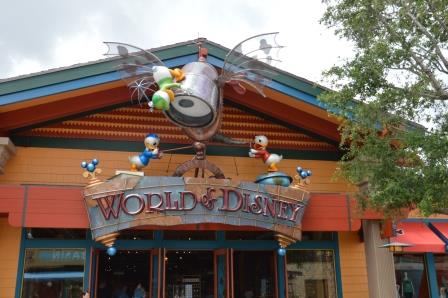 I am convinced that the World of Disney was developed in conjunction with Disney and Visa.  It is always a disaster to go in there (more Disney Visa reward points).

I ended up getting 4 shirts and Jane resisted and didn't get too much - I think she is holding off for later trips.

We got done shopping just as it was starting to rain so went home to let the boys out before it rained hard.  We fixed a light lunch and crashed for a few hours. At 6:30 there is more.................................HOCKEY! Rangers vs Bruins (Bruins won!) At this rate the Stanley Cup winner will be determined the day before training camps open in October.  We would like to see the the Blackhawks vs the Bruins for the Cup (Blackhawks winning, of course).  After the game, it was time for bed.  Tomorrow, Bed, Bath and Beyond (maybe).

Wednesday, May 22:

Today was supposed to be a little shopping in town and lunch at the Japanese pavilion at EPCOT.  We got a late start and were on our way to Bed, Bath & Beyond and after looking at the sky decided to skip B,B, & B and just go to lunch.  Our next decision was how to get there.  We could take the bus to EPCOT, but that would let us out at the front of the park and we needed to be at the back of the park.  We decided to take a bus to the Studio and then a boat to the back of EPCOT.  Just as the bus was arriving at the Studio we saw the boat just leaving, so we decided to take the short walk to EPCOT. We cut through the big pool at the Boardwalk resort and were soon at the back entrance of EPCOT.  We walked around World Showcase and in a matter of a few minutes we arrived at Japan, ready to eat.  This is one of those Japanese resturants where your meal is prepared at your table.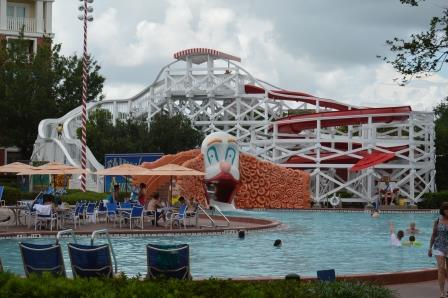 Part of the big pool at Boardwalk resort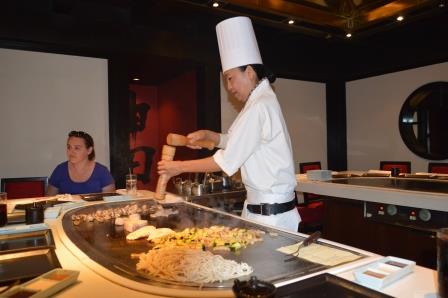 The meal was good, I had swordfish and Jane had a steak.  The chef was very entertaining and chatted with us while she cooked.  After lunch we were going to walk off some of the meal and go to Beaches and Cream at the Beach Club resort.  We were too full to think about ice cream so we went into MouseGear again to do a little more shopping and then we will head home.  It is always fun to think about all the ways you can "get home" if you know the Disney transportation system.  From EPCOT  we could simply take a bus back to the Fort, we could take the Monorail to TTC and a ferry across Seven Seas Lagoon and take a cruiser to the Fort, we could take the Monorail to TTC and transfer to the Magic Kingdom Monorail and take a cruiser to the Fort or we could walk to the back of EPCOT, take a boat to the Studio and a bus back to the Fort.  We elected to simply take the bus.  It looked like rain and we wanted to get the boys out before the rain.  After the boys went out we fixed dinner and got ready to watch more hockey.  Tonight it is the Penguins vs Ottawa (Penguins won 7-3)and off to bed.

Thursday, May 23:

This morning we decided to get an early start and do Animal Kingdom.  we caught the bus and arrived about 45 minutes after the park opened.  We went straight back to Kilimanjaro Safaris, there was a 25 minute wait all ready.  Disney has designed their wait lines so that the line keeps moving so a 25 minute wait isn't too bad. we got a safari truck with a very informative driver and we ended up sitting right behind him.  It was a beautiful day and still fairly early so most of the animals were still awake and moving about.  I love the safari tours, there is always allot to take pictures of.  Here are a few that I took: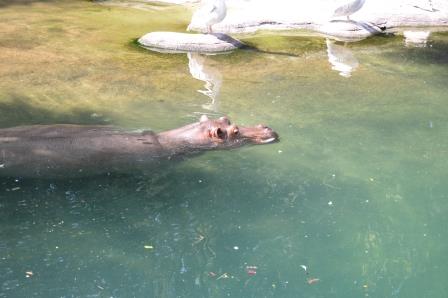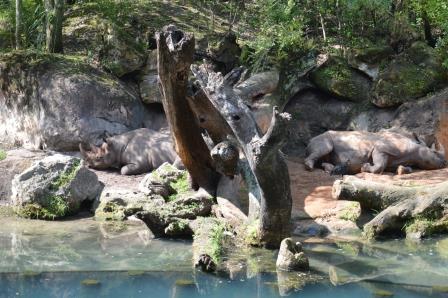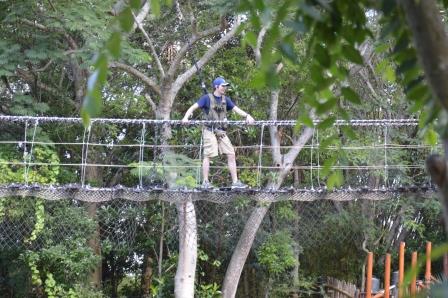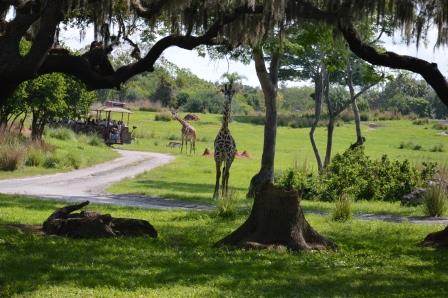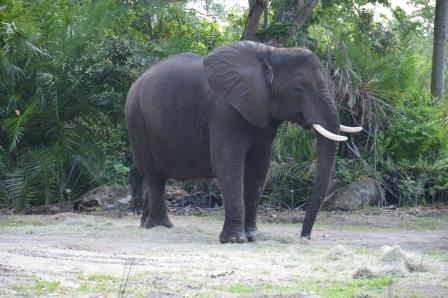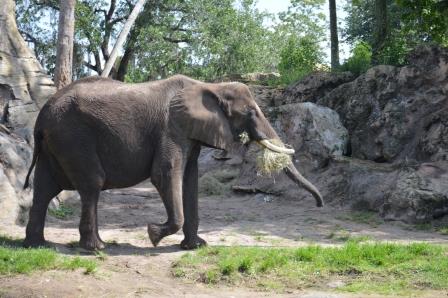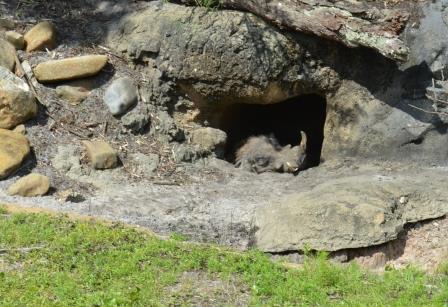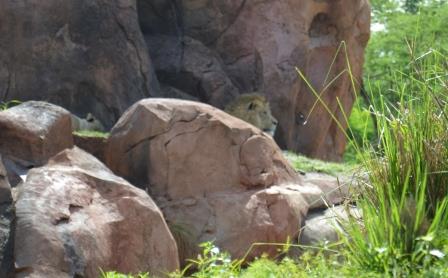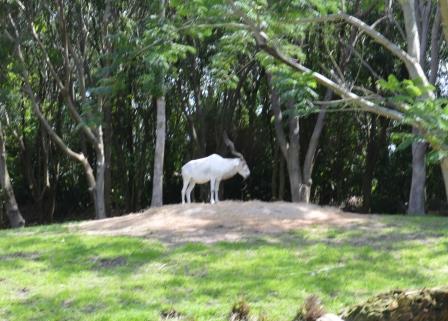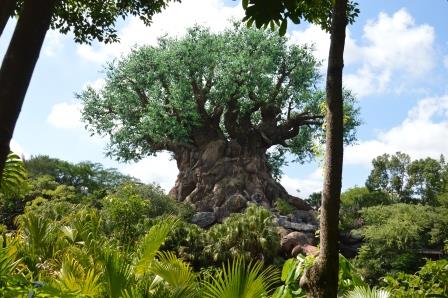 The African Trek goes over the Crocs

Mama elephant with lunch "to go"

King (and Queen) of Beasts

Very rare antelope (only 300 left in the world, Disney has 8)

Tree of life - man-made from oil platform and concrete

After the safari ride we headed over to Kali River Rapids for a quick ride down the Kali River.  It was hot so we were okay with getting a little wet.  We got to the entrance and noticed people getting off that weren't even damp. The ride was fast but too short.  However, we were soaked right away, everyone in our raft was soaked to the bone.  The ride in Disneyland is longer!

since we were soaked, we decided it best to leave and try to get dry.  Lunch at Earl's sounded great, but how to get there?  Bus to Animal Kingdom Lodge, then to downtown Disney? Bus to the Fort and drive to Downtown Disney?  We decided that we would go back to the Fort and I would go to Earl's and get sandwiches to go.  Jane stayed with the boys and I went to get lunch.  After lunch we watched F1 practice from Monaco, our favorite, Nico Rosberg had fastest time in practice for whatever that is worth.  After practice it was time for a nap to get ready for tonight's hockey game - Blackhawks vs Redwings.  We think that tomorrow the campground will start to fill up.  It has been pretty quiet so far, but it is only at about 20%-30% capacity.  We will see in the morning how many folks come in.  Full campsites mean full parks - too many folks but good for stock prices.

Friday, May 24:

Today is grocery day, another run to Publix, but first a stop at the Disney pet kennel for some pictures.  One of these might show up at home.  There are about 9 of these panels along the front of the kennel.  They appear to be black and white animation cels from the movie Lady & the Tramp.  There are a few on the opposite side of the entrance that show some of the scenes that feature cats.  The one at the end (bottom photo) may end up at home (or on an Alf window).  On our way again, now to Pleasure Island and the Lego store.  Pleasure Island is mostly restaurants, novelty shops, Disney Quest, & Circ de Solei.  So, many of the places were not open yet (there was a line to get into Disney Quest).  We got our walk in going the length of Pleasure Island and back.  We stopped at the Lego store on the way back to the car.  this place is amazing - someone actually gets paid to create these "statues".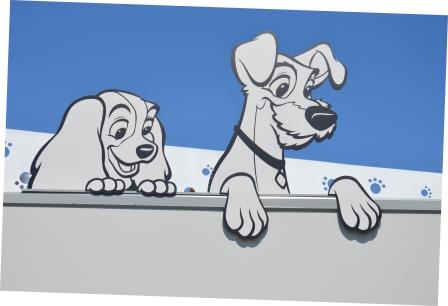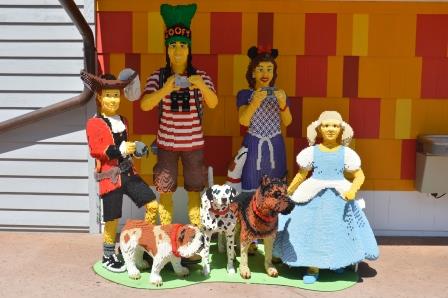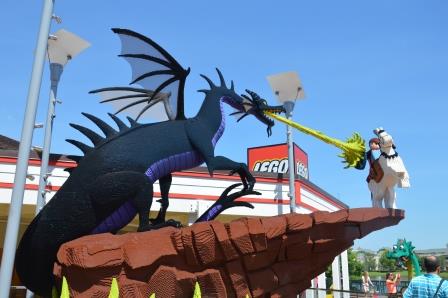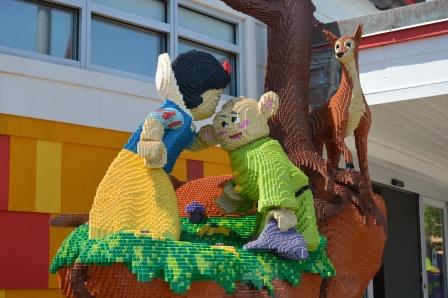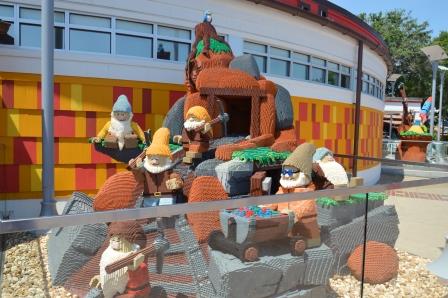 Yes, these are all made from Legos!!  Pretty impressive.  They do not sell kits for these!

Once again we are on our way to Publix, this time with a stop at Panera's for lunch.  After lunch we finally made it to Publix for groceries. We forgot the list of ingredients for "Elizabeth Cookies so there will be one more quick trip for cookie fixins.  We are going to try to make a half or quarter batch of cookies in Alf.  when we got home we quickly unloaded groceries and took the boys for a long walk.  On Wednesday the campground was nearly empty, but it is starting to fill for the weekend.  Planned on having tacos for dinner.  We are trying to eat more at home than in the past and seem to be doing pretty good at it.  After dinner it was time for.....hockey!

Tonight Magic Kingdom is open all night - good place to not be at.  One report said that at 11:00 PM there was a 30 minute wait just to get in the park!

Saturday, May 25:

Today we woke up and decided that since it is a holiday weekend we would stay out of the parks, between the locals and the new arrivals the parks will be mobbed.  so we stayed home and watched F1 qualifying and then mostly relaxed and stayed with the dogs.  Thought about going to the pool early, but that didn't happen.  We will try to do the pool in the mornings when everyone is in the parks and then go to the parks when everyone is at the pool.  Took the boys for a couple of long walks and sat in the sun.  We are anticipating tonight's dinner - pizza!  Not just any pizza, but Minsky's pizza from home. Thanks to Amber White and Becky Wescott for the pizzas.  In Orlando they just don't know what good pizza is, so we ordered two "Take and Bake" pizzas from Minsky's before we left home, froze them and baked them here.  We need to do a little more experimenting on baking times, but we will get it.

After dinner it was hockey... Rangers vs Bruins (Rangers won).  Then it was take the boys out and hit the sack.  Tomorrow we are going to make some Elizabeth Cookies!

Sunday, May 26:

After the last couple of days, there isn't an empty site in our loop and possibly the whole campground (700+ sites).  The place is packed.  Today is full of sports.  At 7:30 a.m. the Gran Prix of Monaco started.  Our favorite driver, Nico Rosburg, had the pole and led the entire race. His first win this year.  30 years ago, his father Kiki Rosburg won here also.  Shortly after the end of the F1 race it was time for the Indy 500 pre-race festivities.  I am not a huge fan of Indy racing (mostly just turning left in cars that are mostly identical), so I went out to sit in the sun until it got too hot.  We had forgotten a few things at the grocery store the other day so I said I would go on a quick trip to Publix.  Upon my return home I vowed to never go off Disney property on a weekend!!!  Orlando traffic is crazy!  We fixed dinner in again and got ready for hockey, Kings vs Sharks (sharks won).  My prediction is that the final Stanley Cup championship will be the Boston Bruins vs the Detroit Redwings.  We did not get cookies made today, so it will be tomorrow morning.  We actually have to go "out" tomorrow - dinner reservations at Paridiso 37 at Pleasure Island  in Downtown Disney. Several days ago, when it was raining everyday, we putout our Mickey rain gauge and it hasn't rained since.  In the future this is the first thing to be unpacked.  We urge anyone coming to WDW to immediately purchase one and set it out.  Also, while we were sitting out in the heat we discovered a photo taken just 2 months ago at home - we can live with the heat!!!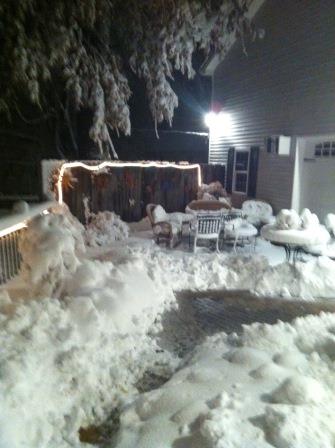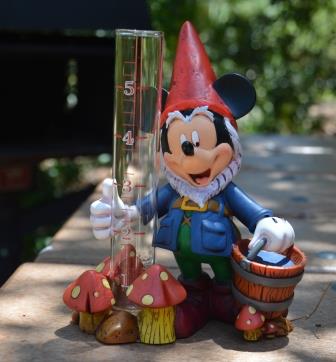 Our "Lucky" rain gage - empty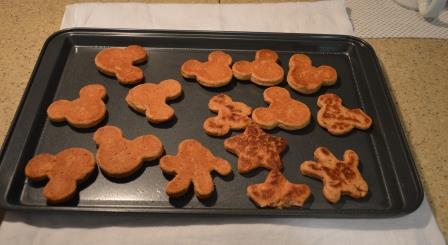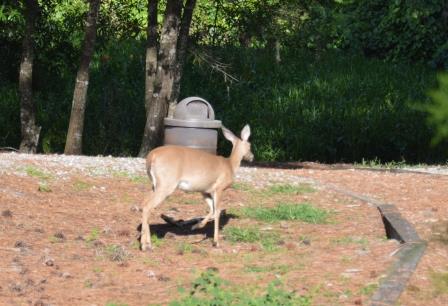 Monday, May 27 (Memorial Day):

The boys decided they needed to go out early this morning.  When it was time to take the boys for a walk, I noticed that several people were crowded around the entrance to the dog path.  I thought maybe an alligator had come up out of the creek and was on the path.  After looking closer it was a lone deer dining on the greens growing on the dog path.  Eventually, it just casually wandered off into the brush.

We don't have any plans today. Just going to Paridiso 37 for dinner at 4:00.  Yes, we are going to brave the masses at Pleasure Island. Since we didn't do any cookie baking yesterday, I got started early and make a 1/4 batch (just trying to get them better).  Well, a 1/4 batch only makes about 15 cookies, but they are getting better.  they are still a little soft so I sent an email to the Master, Elizabeth, to see what I should try to make them a little better.  She told me that the Peanut Butter cookies are the hardest to make crunchy since the peanut butter is so moist .

I baked some in our convection oven and some in a little "Dog Cookie Baker" that Mike and Virginia from Paducah gave us a couple of weeks ago.  Both came out good, the boys are eating them anyway. After cookies were made it was time for some sun.  It is a beautiful day, no clouds, light breeze, no humidity and most folks are in the parks so it is very peaceful. Since the boys had been doing their "business" on a couple of the mats we have out, we decided to pull them up and hose them off on the driveway.  So I got the hoses out and put on my Speedo's and got to work.  It only took about 45 minutes and they were good as new (sort of).  About 3:00 we started getting ready to go to dinner.  We have never eaten at Paridiso 37 (Jane has a plan to try some new places this trip).  It was very good, we decided that we would add it to our "places to eat" list.  After dinner we came home to settle in for more hockey, Blackhawks vs Red Wings (Blackhawks won in the 3rd period).  Then it was lights out at about 11:30.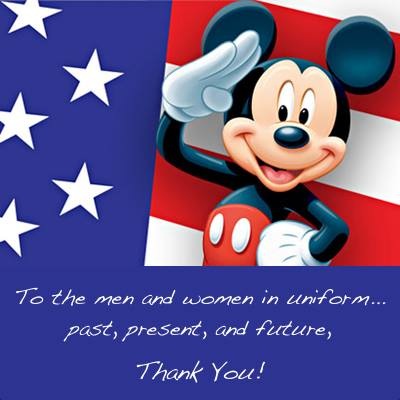 Oh, about those Speedo's, I know what you are thinking - not a pretty sight, right? Well rest assured I didn't gross out any of the wildlife.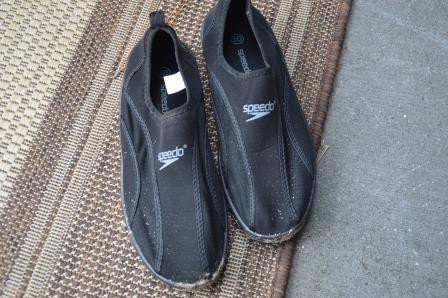 Tuesday, May 28:

We got up this morning and decided to go over to the Contempo Cafe at the Contemporary Resort.  We walked down to the Settlement and caught the "clockwise boat" to the Contemporary.  It was a beautiful morning, low humidity, light breeze and not to hot yet. We thought about just renting a couple of boats after breakfast or just going to the pool.  We had never eaten at the Cafe and didn't know what to expect. It was good, Jane had  French Toast and I had an Adult Breakfast Platter (scrambled eggs, sausage, potatoes).  Our original plan (yesterday) was to go to Bed, Bath and Beyond today to pick up a couple of things.  We decided to cancel that and just go to the pool for a while.  So when we got back from a good breakfast we took the boys for a walk and then we were off to the pool.  About an hour was all we could take - the sun was brutal!  We got a couple of drinks (diet Coke) and fixed some lunch. I had put my phone on the charger and noticed that it was real hot.  We just thought that maybe the battery was bad and we could just go get a new one.  I found an Apple Store at the Florida Mall so we hoped in the car and headed to the Mall.  Finally found the Apple store and were greeted at the door by an associate.  I told him my problem and he said "you did make an appointment didn't you?" we said no and he said we would have to make an appointment.  So we are going back tomorrow, this time with an appointment!  When we got back to the campground the weather was looking threatening so we took the boys for a short walk and came back and had dinner.  Tonight = hockey (Kings vs Sharks - don't really care who wins this series).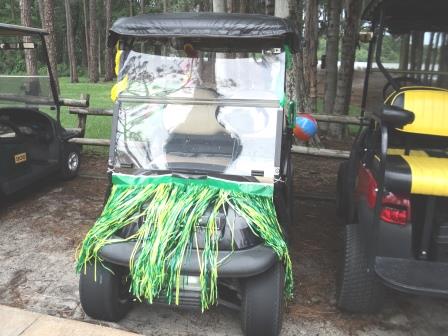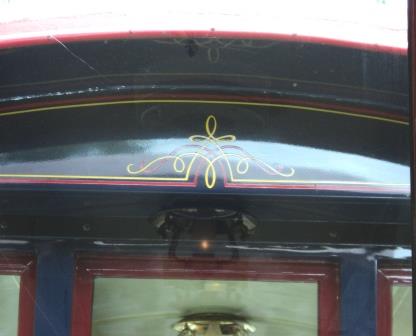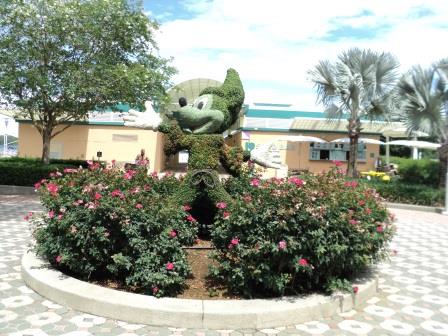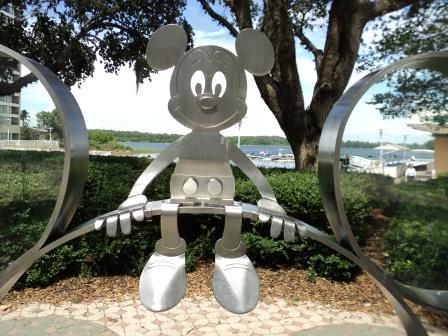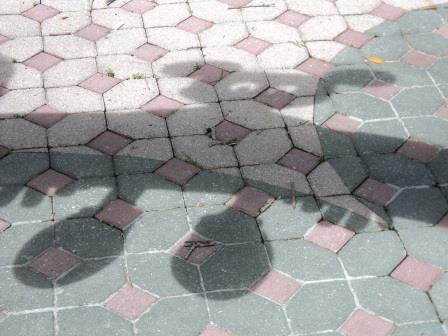 This morning we were supposed to go back to the Apple store to get my phone looked at and Jane's ipad looked at.  It was raining very hard so we rescheduled Apple.  After a while it had pretty much stopped raining so we thought we would go over to Magic Kingdom and try to get lunch at Be Our Guest (a new restaurant in Fantasyland based on Beauty and the Beast).  So we went down to catch a boat and saw this decorated golf cart.  Yes, people do decorate their golf carts!  Well, our idea of lunch was great, our timing sucked! It was a little after lunch time but it was raining so everyone decided that as long as they were getting out of the rain they might as well get something to eat.  The line at Be Our Guest was way too long to wait for, and it was starting to rain again.  We headed for another restaurant and ended up at the Harbor House.  We both had the fried shrimp platter with broccoli.  It was surprisingly good.  We decided that since people were not leaving and it was mobbed (note to self, parks get very crowded after Memorial Day).  On our way out of the park we decided to ride the train around the park since we hadn't done that yet

We noticed the detail Disney has put into their rail cars by adding

pin stripping on the cars.  FYI the Disney locomotives are all former working locomotives, mostly from South America.  They have all been converted to run on vegetable oil!  after the train ride we decided to take the monorail to the TTC and watch for the Iron Man monorail.  Disney almost always has one of the monorails decorated to promote an upcoming event or movie - it is now the Iron Man movie.   A friend from home said her son would like to see a photo of it.  We haven't seen the Iron Man monorail for awhile so we thought that maybe it was on the EPCOT line.  We got to the TTC and asked a conductor if it was running, the reply "not today", so we headed back to the campground via a stop at the Contemporary resort (just for a change).  When we left the Contemporary to go to the campground boat we ran into another topiary and a unique sculpture (Jane asked how we could do that in the backyard)

Sorcerer Mickey at the Contemporary

Once we were finally back to Alf we took the boys for a short walk and settled in for the night.  Tonight is game 7 of the Blackhawk vs Red Wings series.  Blackhawks have to win this to continue on in the quest for the Stanley Cup. Blackhawks won in overtime!!!

Thursday, May 30:

This morning we had some confusion with dining reservations.  Jane's phone is changing reservation time by an hour.  We think it is related to time zone changes. We have reservations at 50's Prime Time at the Studio for a late lunch so we left a little early so we could stop at Guest Relations to verify our reservations. Tia was our service person and we went through all our reservations and got them all verified.  When we were done we talked to Tia about our plans for the day and she asked if we were going to do the Toy Story ride.  We said we would like to but you can never get on because the lines were so long.  So she gave us 2 unlimited Fast Passes to it!  We thanked her profusely and went on to lunch.  50's PrimeTime is like going back to the 50's at meal time.  Servers nag you to eat your veggies, elbows off the table, etc. just like mom used to do.  It is decorated like a 50's kitchen and has old black and white TV's scattered around.  The TV's are showing clips of old TV shows (Mickey Mouse Club, Topper, My Little Margie, I Married Joan, & clips of Walt at the opening of Disneyland).  Food is good (like mom used to make).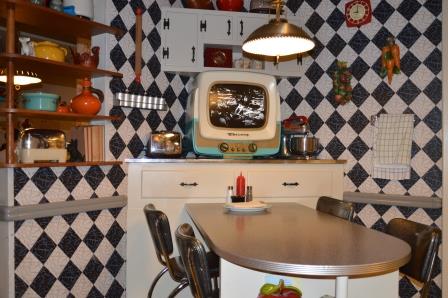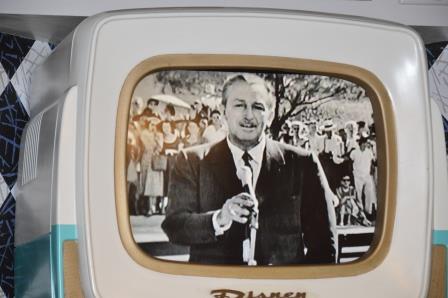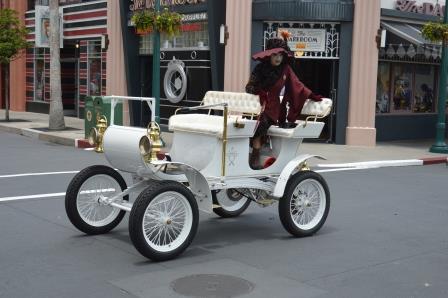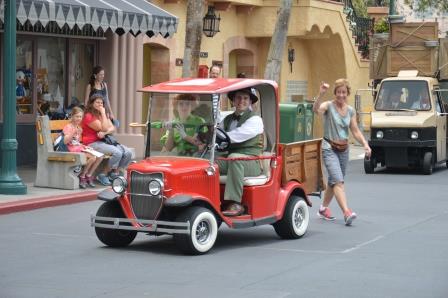 Typical "table" at 50's Prime Time

Anyone remember "Spin & Marty"?

Walt Disney at opening of Disneyland

Some fun vehicles at the Studio

After lunch we were off to Toy Story!  We went right in, around the crowd, with our special Fast Passes.  It is quite the fun place.  Basically it is an arcade shooting gallery.  I can see why it is so popular.  We used our first passes to see what it was all about and turned around and got right on a second time.  I think we will be back early Monday or Tuesday, get a Fast Pass, and wait in line for more rides.  This might be our new favorite Disney ride.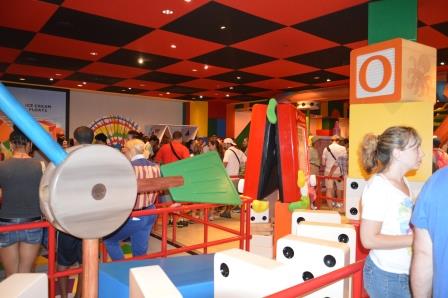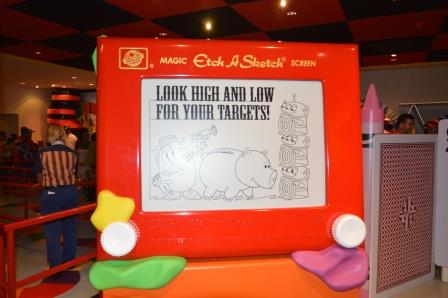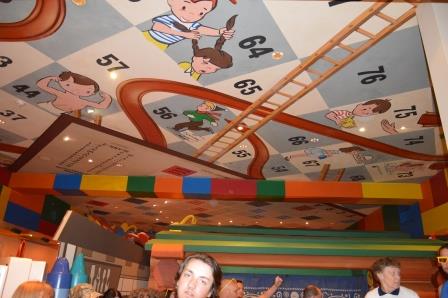 We rode twice thanks to Tia, my scores were worse the 2nd time, Jane's were better.  Have to try again next week.  We now see why this ride is so popular.  After Toy Story we decided that our lunches had settled enough that we could handle some dessert.  So it was off to Beaches and Cream at the Beach Club Resort (just a short boat ride to Beach Club).  One the way we noticed an awesome mural on one of the buildings advertising Pirates of the Caribbean. The boat ride was very nice, it wasn't raining and there was a nice breeze.  We arrived at the Beach Club dock and went into the Yacht Club Resort to visit the gift shop and then proceeded to Beaches and Cream for ice cream.  We each had sundaes, this has to be the best ice cream on property.  While we were there 3 (yes 3) "Kitchen Sinks" were ordered.  Normally these would feed at least 4-5 people - they are HUGE!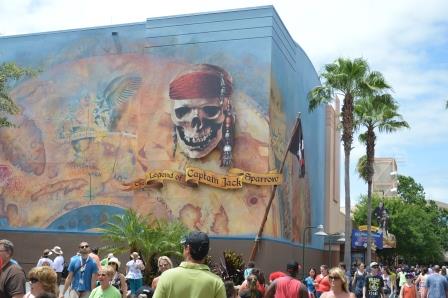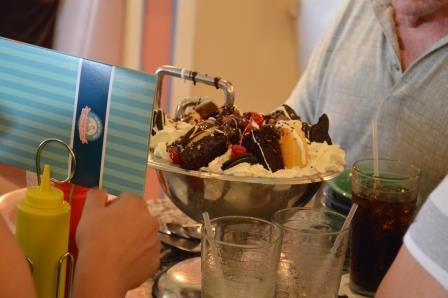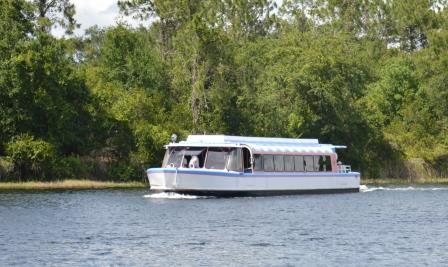 After dessert we realized that it was getting late and the kids haven't  been out for a while.  So we grabbed a cab rather than take Disney transport back to the campground.  We took the boys for a short walk before the next rain.  there was not hockey on TV tonight so we decided to watch "Senna", a documentary movie about the career of Ayrton Senna (race driver that was killed in '95 at the height of his career).  After the movie it was time for bed.  Tomorrow we go back to the Apple Store - this time with an appointment!

Friday, May 31:

Today we are up and ready to go back to the Apple Store.  We got there a little early so we did some window shopping.  The Apple Store is located in the Florida Mall, this has to be the most confusing mall ever built.  Got in at our appointed time and Jimmy was our service rep.  He checked my phone and found it to be okay and he went through Jane's iPad and found some things, but nothing major wrong with it.  We left the mall and headed to Theme Park Connection.  This is a place that sells "surplus" from the theme parks.  Once in a while we can find something, but most of it is kind of junky.  We didn't stay long here and headed back to the campground.  Hilda (travel agent that lives at Fort Wilderness) told us about a restaurant off property, so we thought we would try it. We made a quick stop at Walgreen's and then went to Miller's Ale House.  Food was very good (we will be back).  When we got back to the campground it looked like rain(again) so we got the boys out and just as they got to the bottom of the RV steps it let loose.  More rain, so it was a quick potty stop for the boys.  I saw on the local news that normal rain fall in May is 1.75 inches, we have had about 5.5 inches so far.  Tomorrow is the official start of hurricane season that lasts until November 1.  Tomorrow we may head out to Polk City to visit a residential RV community - more tomorrow.

Saturday, June 1:

This is a day with several significant factors. It is the opening day of the 2013 Hurricane Season, it is National I Don't Feel Like Doing (Anything) Day, and it is the first day of Gay Pride weekend at Disney.

We felt like we should celebrate at least a couple of these. So we decided to stay home with the boys and not do anything.  We did kind of review hurricane preparedness things and we stayed out of the parks, it was the weekend after all).  We took the boys for a long walk, on the way to the dog walk path we met the folks across the road from us.  They are from Orlando!  We have met several people from within 30 miles of here that just come for the weekend (several times a year).  We thought about going to the pool, we cooked hamburger and salmon on the grill and then we watched the NHL West Division Championship series (Blackhawks vs LA Kings, Blackhawks won!!).  Then we watched the NHL East Division series(Pittsburgh vs Boston, Boston won).  We would like to see the Blackhawks vs Bruins in the finals for the Stanley Cup.

Sunday, June 2:

We got up this morning and decided to go over to The Art of Animation for breakfast.  We haven't been over there since the final buildings were completed.  Breakfast was good (omletes for both of us).  After breakfast we did a little shopping then went out to look at the buildings that we hadn't seen previously (Lion King, Finding Nemo and Little Mermaid).  All of their buildings are very themed from the movies they are representing.  The decorating is fantastic!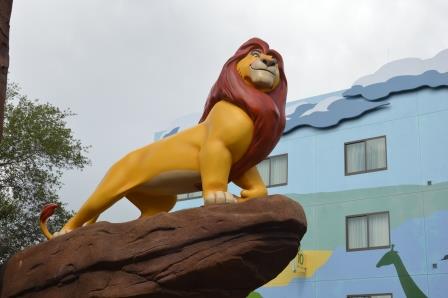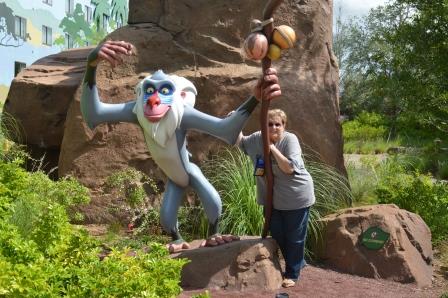 Some "Lion King" decorating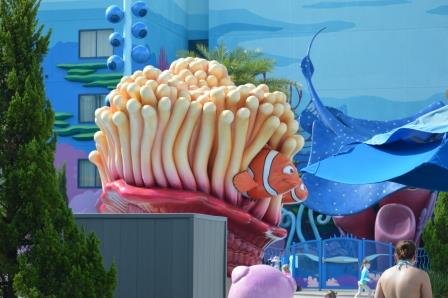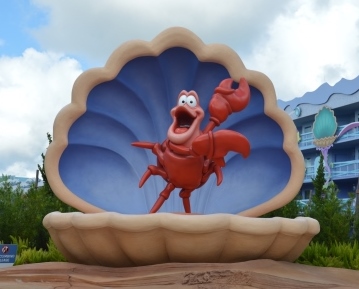 Entrance to one of the "Little Mermaid" buildings

Some "finding Nemo" sculptures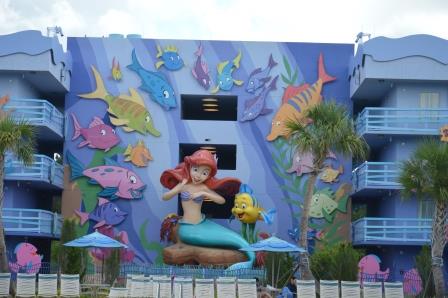 After we left Art of Animation and on our way back to the Fort we stopped in at "old Port Royal" at the Caribbean Beach resort.  This is where we stayed the first few times at WDW.  They have redone their pool area and their food court.  I would recommend it to anyone looking for a moderate resort.  We continued home to take the dogs for a long walk before the afternoon rains.  They are calling for heavy rain this afternoon after 1:00 so we want to be ready.  Rain never did come!  After short (very short) naps we took the bus over to the Studio for dinner at the Sci-Fi diner.  This is a really cool restaurant where the booths are replicas of 50's cars (mostly '55 & '57 Chevy's).  While you eat they show clips of really bad 50's horror films and corny cartoons, just like you were in a drive-in theater.  Sci-Fi has to have the best burgers on property.  After dinner we

walked around the Studio for a little bit.  We came across R2-D2, a remote controlled animatronics.  It still wasn't raining, but we headed back to Alf to try and catch the Blackhawks vs Kings game.  Blackhawks won again!  I must have gotten bitten by something, my middle finger (not THAT finger) is kind of itchy and a little swollen.  Took a couple of Benadril and off to bed.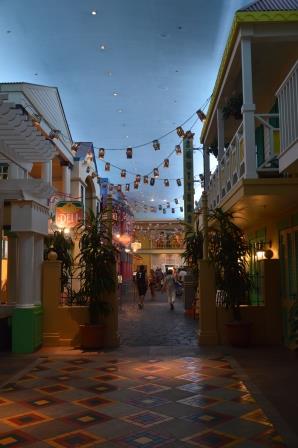 Food court at Caribbean Beach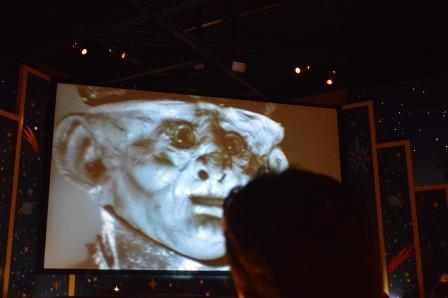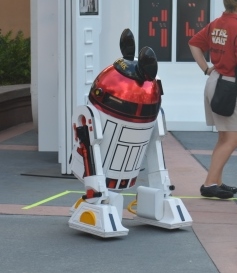 Scene from "drive-in" movie

Monday, June 3:

Got up this morning and finger still itchy and swollen, so I took a couple more Benydril.  We are off to Polk City this morning.  There is an air museum there, Fantasy of Flight and a RV community.  The RV community is a place where you can buy a lot and just put a pad on it or anything up to a house.  We found the air museum - closed.  Their hours are Thursday through Sunday.  Guess we will come back.  Got to the RV community and it was very nice, however Polk City leaves a lot to be desired.  No grocery store, drug store, etc.  We decided that it was a little far out for us.  We went back to the RV via Earl's for a take out lunch and then back to the kids.  My finger was still bothering me so we decided to go to Walgreen's walk in clinic for a look see.  The nurse there looked at it and said I needed to go to the ER for stronger antibiotics than she had.  So we were off to the Celebration Hospital, where Jane spent sometime 2 years ago.  We got there about 3:00 p.m.  This is supposed to be a "fast track" ER.  Four hours later, after I had a tetanus shot, X-rays of my finger and prescription for 2 antibiotics (one of  which makes your skin real sensitive to the sun ) we were out of there.  We think I got bitten by some bug, maybe a spider.  I dropped Jane off at the RV to feed and water the dogs while I went to Walgreen's to my drugs.  I got home just in time to see the Penguins vs Bruins hockey game.  Bruins won.  Then it was off to bed.  Today was pretty much a waste.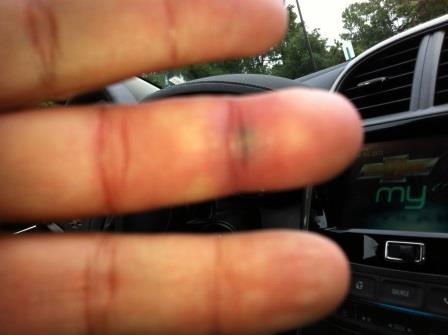 Swollen, infected middle finger

Tuesday, June 4:

Finger doing much better today.  We decided to get the boat over to MK this morning early and do some of our favorite rides before it gets too crowded.  Everyone had the same thought.  Every boat, ferry, bus and monorail was full and arrived at the same time.  We caught the train right away and rode around to Frontierland.  There we got off and walked over to Pirates of the Caribbean, there was no line!  This is a favorite ride, yes it is dated and needs revamping (we think the sound track is new), but it is a classic.  From Pirates we went to Jungle Cruise and got a Fast Pass for 10:30 and went to the Haunted Mansion.  This is another Disney classic ride, an oldie but goodie.  After Haunted Mansion we went back to Jungle Cruise to get our Fast Pass time.  The boat drive rmust have been new, he sounded like he was just reading from a script.  Very flat narration.  After the Cruise we went back to the Frontierland train station and boarded the train for a short trip to the new Fantasyland.  This is still a work in progress.  Most of itis done upas a traveling circus, very cute.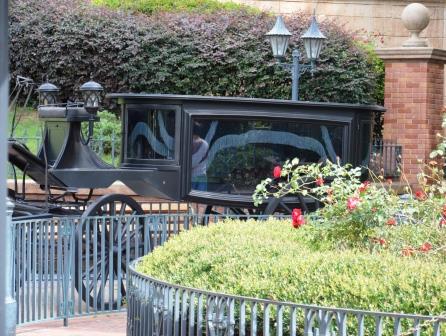 Horse-drawn hearse at Haunted Mansion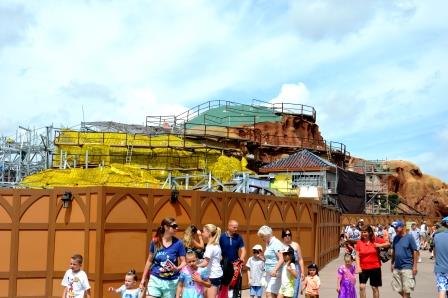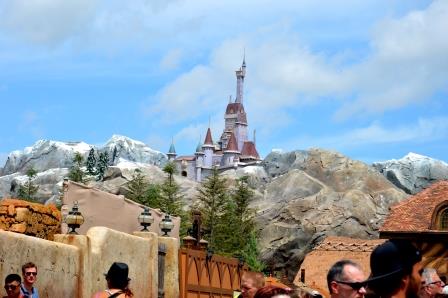 We wandered through Fantasyland and stopped at Gaston's Tavern for a cold drink (the heat and humidity are both pretty high today). Feeling a little bit better and refreshed we headed over tothe Monsters Inc show.  On the way we saw the remote, interactive trash can.  This is a remotely controlled trash can that actually talks to people.  If you look closely you can usually spot the controller.

The new castle in the new Fantasyland

This will be the Runaway Mine Car ride when it is done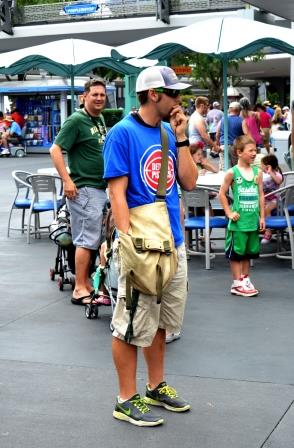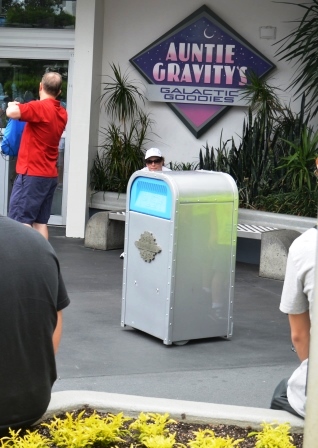 Talking trash can and its handler

After Monsters inc we decided to head to the boat and back to the Fort.  We got back to the RV and let the dogs out (looks like rain again).  We settled in for a while and cooled off with a cold drink.  After a short nap I got up and went down to the Meadow Trading Post for some milk.   It is time to make more cookies for the boys!  They were eager to help in the whole process and eagerly awaited a taste test.  they didn't understand that the cookies had to cool before they can be eaten.  Finally they could have one and the cookies passed the taste test!  We fixed brats and beans on the grill and got ready for tonight's hockey game - Hawks vs Kings.  Game doesn't start until 9:00 EST.  Maybe another short nap before the game.  Hawks lost!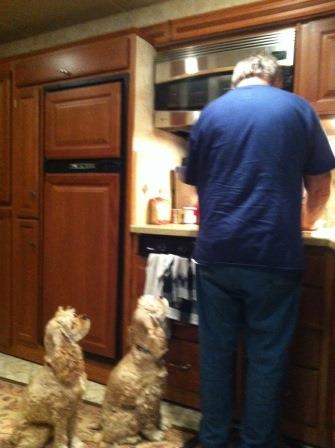 The boys supervising cookie making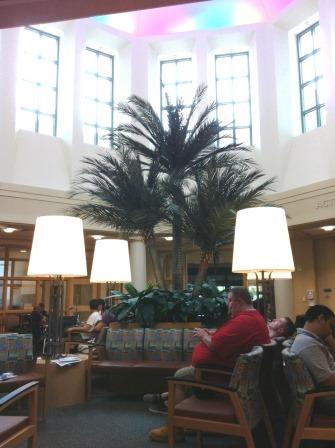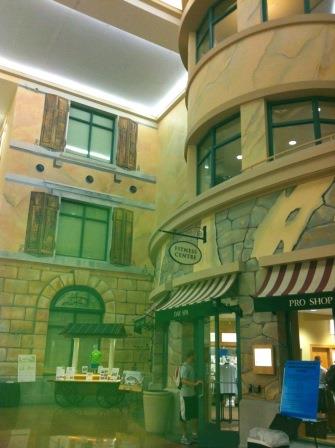 Celebration Hospital:  waiting room & fitness center

Wednesday, June 5:

We got up this morning to more cloudy, drizzly weather.  There is a Tropical Storm (TS) brewing in the Gulf that is heading our way.  We stayed  in and got caught up on laundry.  we are going to figure out this dryer someday.  We have tried a number of things and finally decided that we would just take shirts out of the washer after the final spin cycle and hang them up.  They actually look pretty good.  So it was a pretty lazy day.  We have food and drink so we are ready for the storm.  We have never been here for a TS so we don't know what to expect.  We did go out to dinner at Ohana's at the Polynesian Resort.  They fire grill skewers of chicken, pork, steak and shrimp.  The chicken is actually the best, the shrimp is a close 2nd.  It is an all you can eat dinner followed by an awesome bread pudding.  After an awesome dinner we went home to watch another hockey game, Bruins vs Penguins.  Bruins won in 2 overtime periods (that is almost 120 minutes of playing, everyone looked exhausted).  Game ended at midnight, and no one had left the arena!!!

Looking forward to tomorrow when TS Andrea makes land fall, forecast is for 4" to 6" of rain.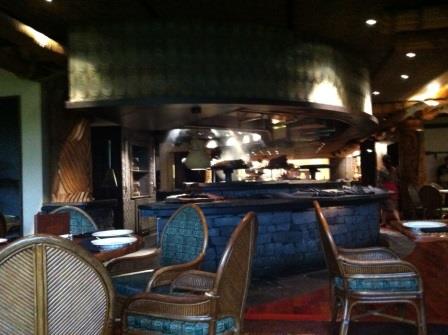 Thursday, June 6:

Andrea is here!  It rained all night and the forecast is for heavy rain all day.  May have to pop a movie in the DVD player.  It rained all day, everyone has cabin fever already.  I ventured out between downpours and went to the Meadow Trading Post to get a couple of newspapers and magazines.  Took the boys for a short walk and made it back just in time for the hourly downpour.  Smudge is happily watching the world from the dash.  Nico and Smudge are curled up napping with Mom.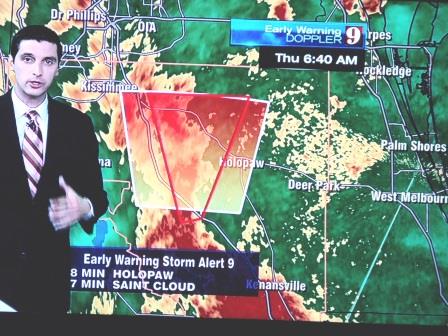 The morning weather radar - welcome Andrea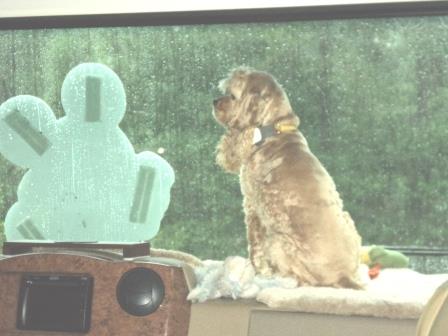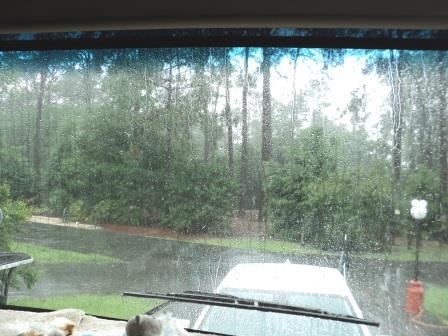 Smudge monitoring the weather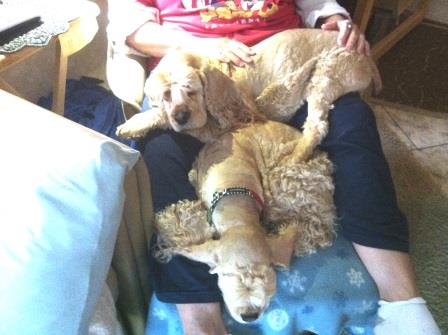 The boys napping with Mom

After napping we started thinking about some dinner.  We got reservations at Captain's Grill at the Yacht Club Resort.  We drove over during a lull in the rain and had a very nice dinner.  Captain's Grill has changed their menu and it is a little more upscale than it has been in the past.  After dinner we walked over to the Beach Club's little store just to see what they had.  Ended up buying a couple of shirts, Fritos and dip.  It was just starting to rain when we left the Yacht Club and we thought we could make it back to Alf before the downpour returned.  We got in, put the awning out for the dogs, got them out and in just as the rains returned.  We settled in for the night to watch the Blackhawks vs the Kings.

Blackhawks won!!! They are now 3-1 in the series.  One more win and they go to the championship!!!!

Friday, June 7:

This morning it wasn't raining when we got up so we decided to go over to Downtown Disney and do some shopping and picture taking.  The folks at Disney are planning to totally redo Downtown Disney by adding a parking garage and doubling the number of shops.  The surveyors have started staking things out so I took alot of photos of the area as it is today.  I will take more in future trips.  Jane did some shopping so we decided to meet at Earl's for lunch.  We decided that we would also get sandwiches for dinner!  It looked like rain again so we stayed in for the afternoon and watched F1 practice from Montreal.  At 8:00 it was time for hockey - Bruins and Penguins.  Bruins won and clinched the East Division title.  On to the Stanley Cup finals.  Tomorrow night we will see if they go against the Blackhawks.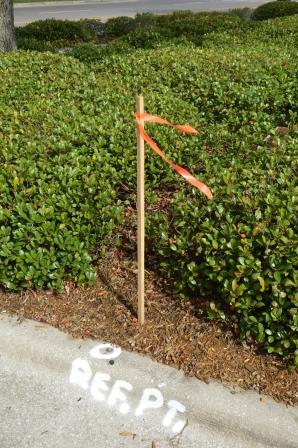 The first survey stake!

Let the construction begin!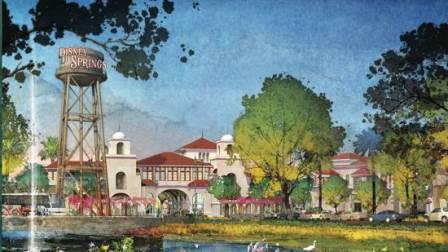 Architect's rendering of the new Downtown Disney

Saturday, June 8:

Once again the day dawned bright and sunny.  However, it didn't last long.  We had thought about going back to Polk City to the aviation museum, but decided that we didn't want to be wandering around an airport in the rain.  so we stayed home and got hooked on a "Hot In Cleveland" marathon on TVLand until F1 qualifying.  It was raining in Montreal, too.  We made reservations at Trail's End for dinner (it was starting to rain (again) so we decided to stay close.  Well, it not only rained, but it poured!!! So we decided to cancel reservations and stay in.  Tonight we will see if the Blackhawks can beat the Kiings and join the Bruins in the Stanley Cup Championship