We planned a mini-trip to do severfal things: Winnebago plant, Pickers in Iowa & Jane's Mom and Aunt in Illinois

Iowa-Illinois - August 2013

Wednesday, August 7:

We left home at about 8:30 a.m. headed for Clear Lake, Iowa. It was overcast and a bit rainy.  things were going fine until we got to about MM 80, then things slowed down, something about pigs.

This accident had I-35 southbound closed for about 10 miles before

the accident.  The rest of the trip was fairly uneventful.  We got to

Clear Lake about 3:15 and went straight to the Surf Ballroom.  This

is the last place Buddy Holly, Ritchie Valens and "The Big Bopper"

played before they died in a plane crash on Feb 2, 1959.  We had

just seen the Buddy Holly show at the New Theater Restaurant at

home.  We arrived at the Surf just before closing so we took a quick

look around and took some photos (and bought some souvenirs)

before they closed.  The Surf still does several "dance parties" a

year.  It was kind of spooky being there and seeing it pretty much the

same as it was in 1959.

This little piggy went to market - NOT!

(I think all the pigs survived in this accident)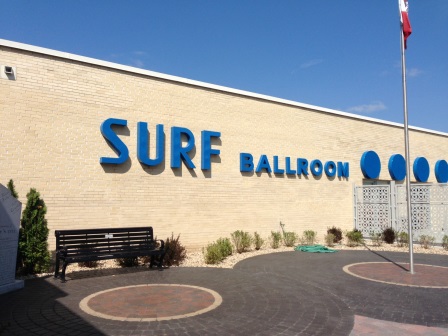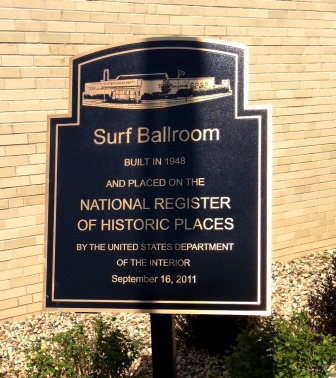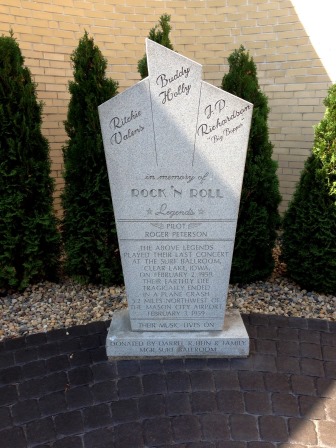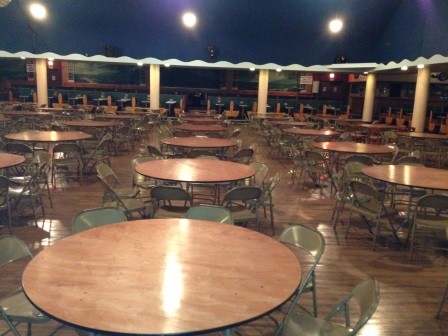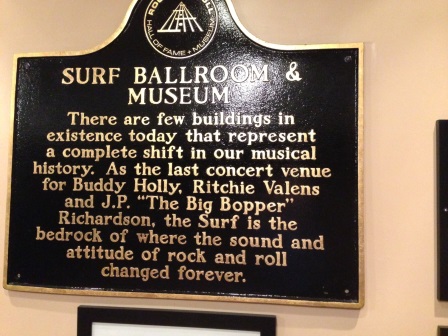 After a quick stop in the gift shop, they closed up the Surf for the day.  We headed to the campground (Oakwood RV Park) for the night.  It is a nice campground, but nothing special.  We have discovered that Clear Lake is a virtual Black Hole for electronic communication - can't even make a cell phone call.  Got settled, took care of the dogs, watched some TV and went to bed

Thursday, August 8:

We got up early today, headed to Forest City, Iowa to go on a tour through the Winnebago plant (Alf's birthplace).  Got there about 8:00 and looked around, took the boys out and checked in for the 9:00 tour.

Unfortunately, no cameras in the plant, but I did take a couple in the museum.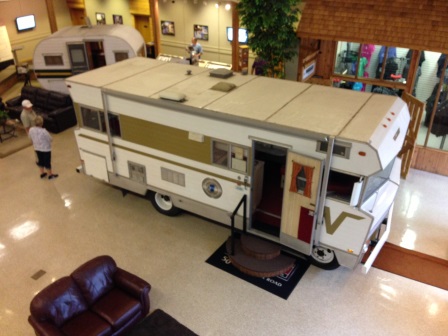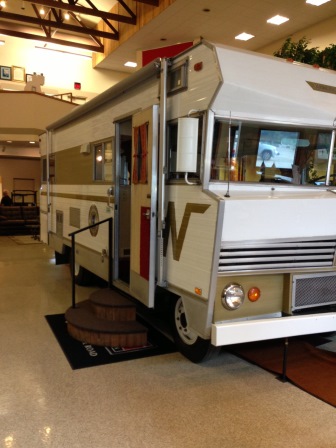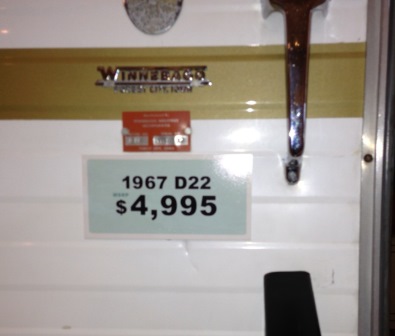 One of the original Winnebago motor homes - things have changed!

This has REALLY changed!!!!!

After the plant tour we headed back to Clear Lake and a more leisurely visit to the Surf.  We spent about an hour

there this time, it is a fascinating place that kind of draws you in.  When we left the Surf we headed to Waterloo for the night at a new KOA.  This is a really fun campground, they have RV sites and some fun cabins to rent and a swimming beach on a nice small lake.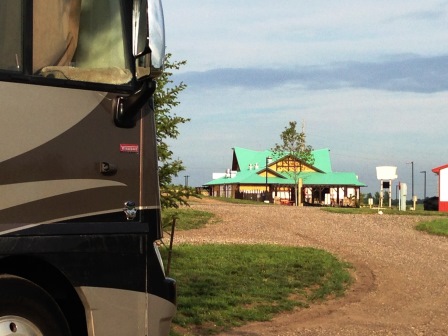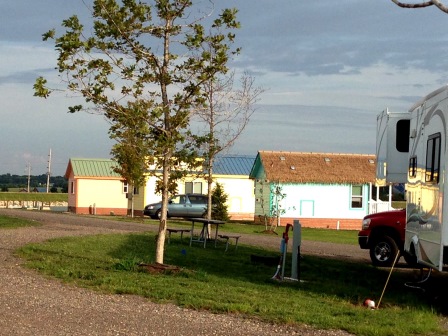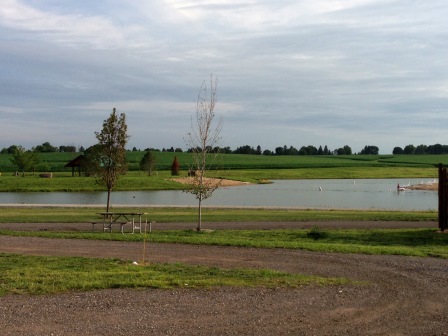 Friday, August 9:

Woke up this morning to no Directv -major crisis!  We are so spoiled with our electronics!  Made some calls with no resolution to the problem, so we pulled up stakes and headed to Pekin, Illinois to meet with Cole Ruwe, one of our adopted Mavericks hockey players that is now going to play for the Peoria Rivermen.  The original plan was to stop in at the Le Claire, Iowa store of American Pickers.  After looking at sat. photos of their store and parking, we decided maybe it would be too tight for a 37' motor home.  On the way to Pekin, IL to meet Cole we stopped in Rock Island, Il to check out a campground that is close to the Quad Cities hockey rink (we dumped tanks and filled with water while there) and then continued on our way. We arrived in Pekin about 2:30 and met Cole.  He looks happy with life in Pekin, he is going to be a Dad in October and he is real anxious about that.  After a while, his "better half" Sara arrived

and we all got caught up. 

It was eventually time to move on and head to Minonk, IL

for a visit with Jane's Mom and aunt.  I have to park in a

driveway that  is about 9' wide (Alf is 8'-6" wide).  This drive

was designed for horse and buggies, I always seem to be able

to do this in one shot and not even get on the grass.  Jane's

aunt was watching and she thought sure I would be all over

the place - fooled her. 

After walking and feeding

the dogs we got in the car

and headed to Capone's

resturant for dinner.  The story

goes that in his day, Al Capone

would come to this area to hide

out when the heat was on in

Chicago.  After dinner we returned

home and played some cards.

We were all tired so it was

off to bed with everyone.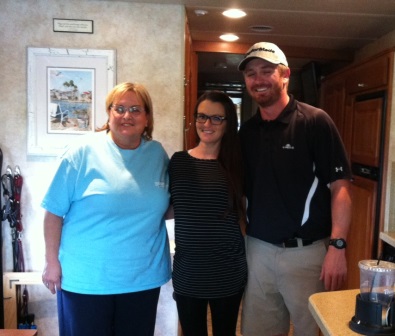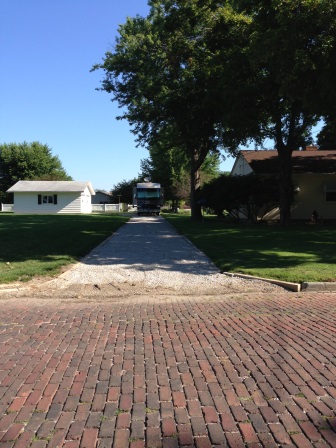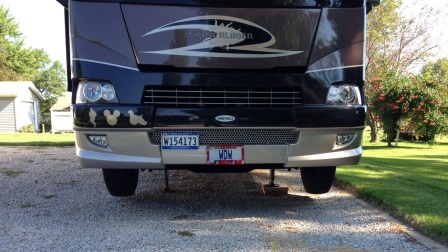 Drive looks level - but it isn't

Saturday, August 10:

We kind of slept in in the morning, had some breakfast and tended

to the boys.  We went over to the house to plan on the day's

events.  We decided to go to El Paso (Illinois) to visit the cemetery where

Jane's family is buried.  This is a neat OLD cemetery with some of the graves dating back to the mid 1800's.

After the cemetery we drove around town for a bit and went to a "antique mall".  Normally it is just allot of junk

that the locals have collected and set out to sell.  This time there was allot of good Disney stuff.  We bought a very nice Mickey Mouse cookie jar and canister set, and another cookie jar, and some other little stuff.  We

sent some pictures of some of the things we didn't buy to our friends, Gary and Carol, in Canada.  When we left we stopped at McDonalds for some lunch and then back to Minonk.  We played some cards, and then it was time for dinner.  It was off to Caponi's - again. After dinner it was back to the house and more cards until about 9:30 and bedtime.  Directv is fixed so we watched some TV before actually going to bed.

Sunday, August 11:

We slept in again, easy to do in the very quiet countryside. Had some breakfast and went over to the house.

The girls wanted to play more cards so we played a game of cards.  Afterwards they wanted to go for a ride

around Normal, Illinois.  We went to Normal through the corn fields and then a quick ride through Normal.  After touring Normal we went to Lacon, Illinois for lunch.  In the country towns are farther apart than in the 'burbs so lunch trips can be longer than we are used to.  Normal to Lacon was about an hour drive, something we don't normally do.  Lunch was good (great corn fritters). After lunch we went back to the house and played more cards until everyone was yawning and ready for bed.  We retired to Alf for a good nights sleep.

Monday, August 12:

Today is going home day.  We got up early and got Alf ready for the road.  Put things away and generally straightened up.  We went over to the house and said our good-byes and hit the road.  Since we had been running  the generator allot we stopped for gas and then we were on our way home.  We stopped at Panera's in Springfield for a quick breakfast and then were were on our way.  Weather was good until about 2:00, then we ran into some very light showers that lasted for about 15 minutes.  We thought we had dodged the rain storms that were forecast.  No such luck, about 30 minutes later it started to pour!  Rained so hard we thought about pulling off - if there had been a place to pull off to.  Rain lasted about 20 minutes and then cleared up.  We were about an hour from home and started thinking about what to have for dinner - PIZZA! So when we turned off the interstate we called Minsky's and ordered a pizza to go.  We stopped at the Minsky's in Independence (also owned by our friends), picked up pizza and headed home.  There is nothing better after a long day on the road than a good pizza.  This could become a tradition!  When we got home and put Alf away we crashed with a pizza and beer.  Thought about everything that has to be done before we leave for Florida in 11 days. Lots to do so we hit the sack for a good nights sleep before tackling our chores.