Day 1 - September 17, 2011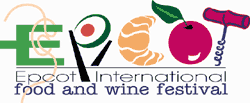 Up early, 5:30 ready to go.  Got on the road at 6:50 a.m.  Before we had gone 3 blocks Jane said "Oh, s*%$#, I forgot my sunglasses" so back home we went.  On the road, take two, at 7:15. made our required stop at Panera's for coffee, and pastry.  It is rainy and cold.  We got to Booneville (about 80 miles) and saw a sign for Love's truck stop with $3.33/gallon gas.  We had to stop and top off the tank with cheap gas.  I love the trip so far.!  Turned on the radio and Sirius said "trial subscription expired".  Bummer, it is going to be FM or CD's until I can get that taken care of.  Got to Warrenton, MO and  Flying J had gas for $3.13/gallon, had to stop again and top off.  Loving this trip!!!  Nico is real restless, don't know why.  Stopped to see if he had to potty, no dice.  Rain stopped in St Louis and it got sunny, but still cool.  After several stops for Nico we finally gave him a Benadryl to see if that would settle him down.  Nope, still restless. Got to Paducah where we are stopping for the night at Duck Creek RV park.  Got  gas before we pulled in for the night - $3.49/gallon, still not too bad.  Got the TV dish set up and "No Signal" was displayed on the screen.  Okay, now two phone calls were in order, one to Sirius Radio and one to Directv.  Finally got radio and TV going again!!!!  Life is good.  Duck Creek RV Park is nice, we stayed here on the way home from our last trip to WDW.  Very nice people (they have 5 dogs), and a fenced dog park.  We gave the owners a bag of Elizabeth Cookies for their dogs.  The boys love it here! Everyone had dinner and are now very happy. Tomorrow it is off to Columbus, GA.

Day 2 - September 18, 2011

Up bright and early (well, early anyway) and on the road by 7:30 again.  Beautiful day, sunny  & clear.  Roads are great.  Life is good.  Nico better today, settled in and sleeping.  Stopped at the Golden Arches for a hearty breakfast (coffee & egg mcmuffin for me cappacino and big breakfast for Jane).  Gassed up for $3.31 at Pilot -love these gas prices.  Glenda (GPS unit) tried to steer us to Columbus via Atlanta (wrong).  We made a command decission and took a correct route out of Nashville - I-65 south to Birmingham.  When we crossed into Alabama the first rest area had a Titan rocket on display.  Pretty impressive!!!  Got to Birmingham in good time and on the way through Birmingham we managed to get a cracked windshield - bummer and the day was going so well.  Hope to be able to get it fixed at least tempoarily in Columbus, GA & replaced in Orlando.  Got into Columbus about 6:30 local time - very long day - too long.  I called the insurance company about the windshield.  The girl was very helpful.  I also made an email inquiry about a quote for the windshield repair.  Tomorrow it is off to see THE MOUSE.

Day 3 - September 19, 2011

Got a late start this morning.  Since Columbus is kind of off the beaten path it took a while to get back to the interstate (I-75).  We finally got to I-75 and found a long area of road work.  I really hate those concrete barriers on the right side, they look so hard and immovable in these construction zones.  It was a pretty uneventful day.  We did get a call from an Orlando glass company and they said that they had a windshield in stock and could install it at the Campground on Tuesday-WOW that is service.  I still have to get a claim number from the insurance company.  I will call them when we get into the campsite tonight.

We made the mandatory stop at the Official Florida Welcome Center for orange juice.  I had to get a map of Orlando since Glenda couldn't find any satellites today. Don't know what her problem is.  Today seems real long even though it is the shortest leg.  Maybe because we didn't get started until late and spent so much time on 2 lane roads getting to I-75.  We finally got to Orlando and tried to come in the back way to the campgrounds, but got all turned around.  Finally got here and checked in.  We asked for a site in loop 700 and got it- site 702.  It is across from our original site - 705.  Got in and hooked up, took the boys out to find Fred, the five foot alligator we saw in May.  The dogs seem to remember the place and the routine.  Came back to Alf, fed the boys and had a drink.  I am going to have to look into breaking this trip up into more even legs!!.  Tomorrow we get our car and pick up Rod & Joni DeMoss (our builder) at the airport.  They will be here for a week.  It is really tired now so off to bed with us..

Satellite TV issues today.  Called Directv and we think we just need to change locations - so we are now in site 708.  Very humid this morning.  Took dogs out and fed them.  Went to Meadows for paper and forgot correct change.  Since they don't open until 8:00 I went back to get change and went to Settlement with correct change for the paper machine.  Saw an Armadillo behind Alf, need to take a picture next time.  We took the boat to MK and then the bus to Dolphin Resort to pick up car.  Then went to airport to pick up Rod and Joni.  We waited in the rain for their flight.  They landed and the rain stopped.  We got them checked into Pop Century and came back to the campgrounds for snacks and drinks.  Dinner at the Grand Floridian Cafe.  Jane, Joni, & Rod ordered the sirloin *the best cut of steak on property".  It was so tough they sent it back!!!  After dinner we took monorail to MK for the Halloween Party.  Took some pictures, watched parade and stayed for fireworks.  Rod and Joni very tired so we called it a night.  After spending some time with the boys we hit the sack about 12:30.

Day 4 - September 20, 2011

Day 5 - September 21, 2011

Strong sulphur smell in coach the last couple of days - not sewer and coming from kitchen area.  Checked batteries, one coach battery very warm.  Called "The RV Guy" to see if he could come out and replace it.  He can be here about 11:00!!  Great, we are supposed to meet Rod and Joni at noon.  Battery replaced ($200) and on our way to meet Rod and Joni at 12:00 at the Studio. They wanted to see Toy Story, it was sold out for the rest of the day.  Went down to the Back Lot Tour, it is closed for renovation. We got lunch at the ABC Commissary. Rod wanted to do Star Tours, but no one else did.  So........girls went shopping and Rod and I went to Tower of Terror.  It seemed shorter than before to us.  Met girls at 50's Prime Time Diner for dinner.  It had started to rain when we came out and it was getting time to feed the dogs so we went back to Alf and Rod and Joni stayed at the Studio for a while longer.  Still raining at 8:00 and no one wanted to stand in rain to watch fireworks so everyone called it a day.  Meeting tomorrow for breakfast at Whispering Canyon - anyone need ketchup?

Lake Pines RV Park - Columbus, Georgia

Souvenier of Birmingham, Al. - $500

Rocket in Alabama rest area

Fort Wilderness - home for 3 weeks

Day 8 - September 24, 2011

Rained all night, but stopped before dogs had to go out.  Took the dogs for a long walk to the end of the dog path.  Saw our first 'gator this trip. We think it is Fred's daughter.  We were told by a cast member that Fred got a little adventurous and wandered into one of the campsites so he was relocated.  His daughter is only about 2-3 feet long.  Have to take camera on dog walks and see if I can get a photo.  Took car and picked up Rod and Joni for breakfast at Whispering Canyon Cafe at Wilderness Lodge.  We got a table with our favorite server - Chad.  Had a great breakfast and a lot of fun with the cast.  From there we took bus to Animal Kingdom (yes we left the car at Wilderness Lodge).  Went right to the safari ride and did a little shopping then to the Lion King show.  Everyone enjoyed the show, but Joni was feeling a little "off", so we all took our respective buses back to our rooms (we got car first).  After a few hours we picked them up and went for dinner at the California Grill at the Contemporary Resort (15th floor).  Great view of the Magic Kingdom and Bay Lake resorts.  Dinner was great and leisurely.  After dinner, more shopping.  Found a Mickey & Minnie statue that is perfect for the kitchen at home.  Getting late and starting to rain again so we called it a day.  Tomorrow - Downtown Disney or Blizzard Beach depending on the weather.

Rod, Jane,Chad, Al & Joni (note abundance of ketchup)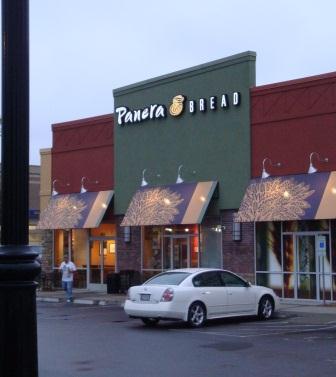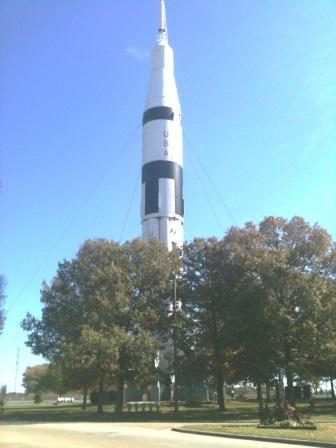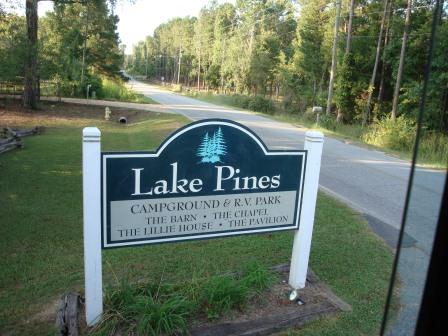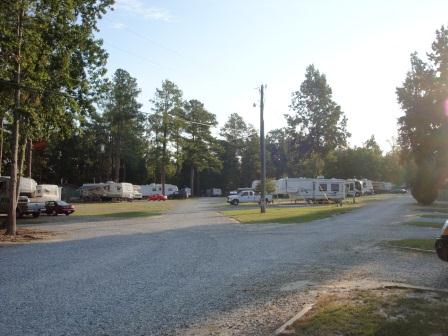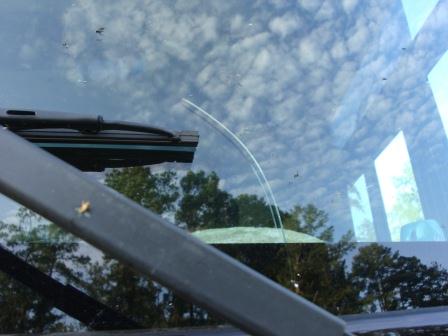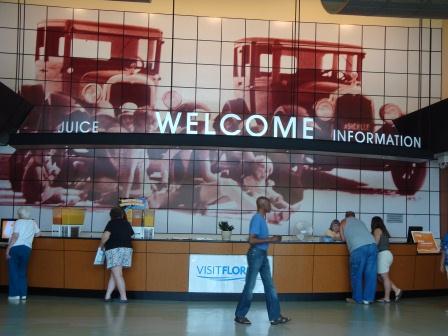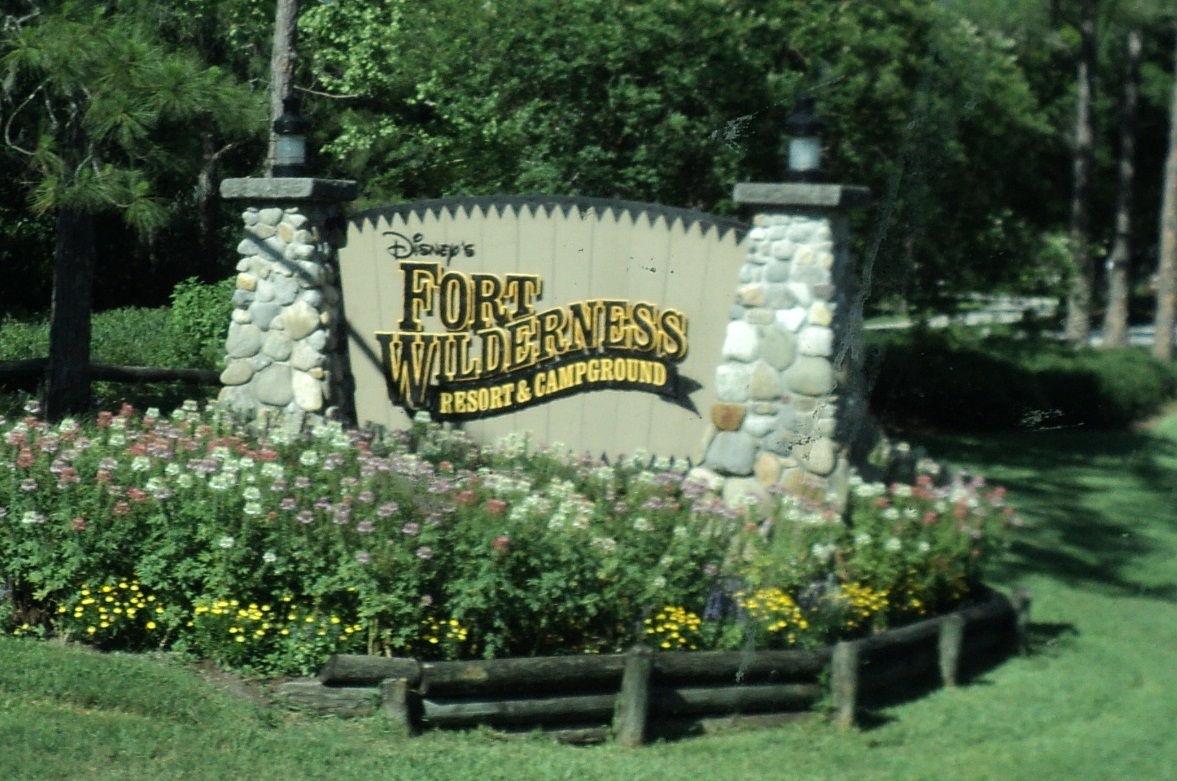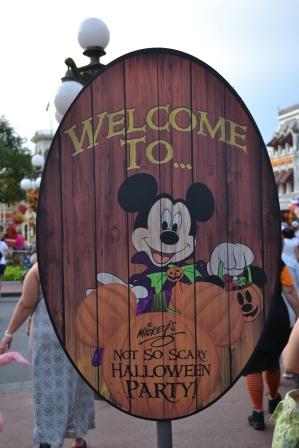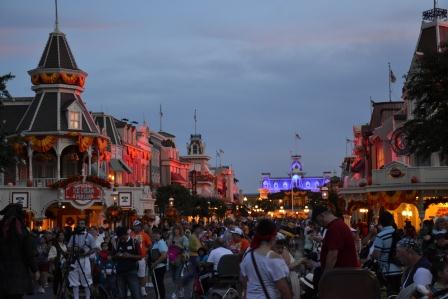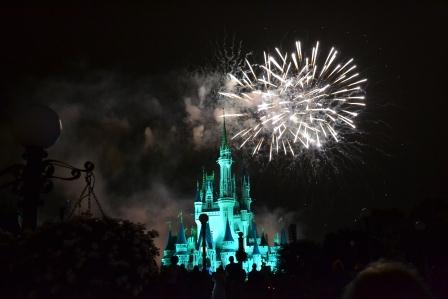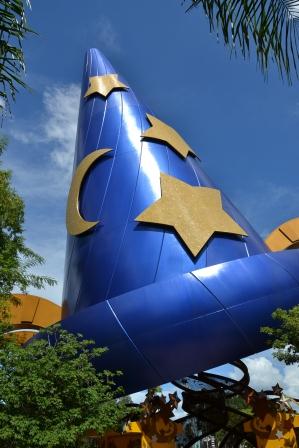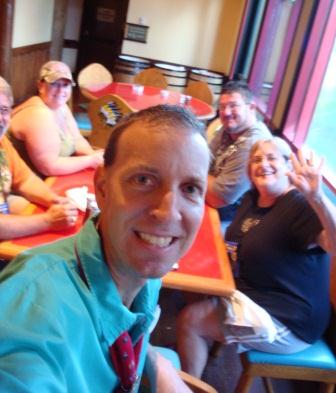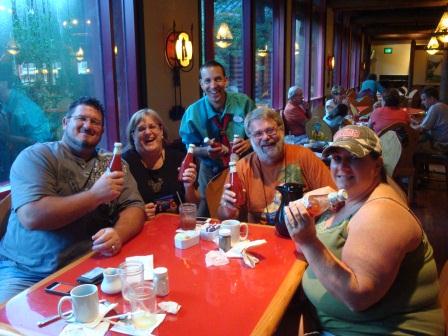 Day 6 - September 22, 2011

Got up, fed dogs, got paper (same old routine). Took dogs for long walk and saw Fredricka again, this time I had camera with me.  Met Rod and Joni at MK and did Haunted Mansion, Jungle Cruise, Pirates of the Carribean.  Had lunch at Colonial Harbor House then went over to Tomorrowland and did Monsters, Inc (I was the audience "Sully"), Stitches Great Escape and Buzz Lightyear.  Got caught in a parade and saw the happiest cast member - a "street cleaner" dancing with his broom.  Went back to campground to rest and cool off for a while. Then we drove over to Animal Kingdom Lodge for dinner at Boma - Joni's favorite. It started to rain after dinner so we took R & J back to their resort and we came home and called it a night.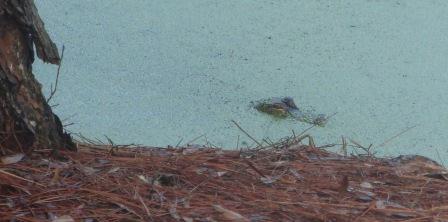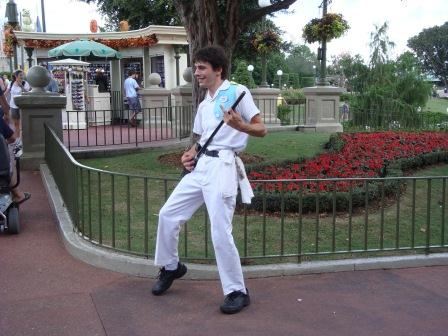 Picked up R & J and  off to EPCOT via Beach Club Resort (we park there and walk into the back of EPCOT).  It is still hot and humid so it may be a short day.  Girls headed off to Soarin' and Rod and I went to Test Track hoping to get back to Soarin' in time to ride.  Didn't happen!!  Went to LeCellier for lunch.  Ate way too much, but it is so good!  I finished with a Chocolate Moose, great desert.  Jane and I went back to campground while R & J did a little more at EPCOT.  Picked up R & J and went to Downtown Disney for a while.  We went through the bigger shops, it looked like rain so we headed off to Beach Club for desert at Beaches and Cream.  We thought about a Kitchen Sink, and came to our senses and ordered Root Beer Floats and Sundaes.  Not raining yet so we sat on the porch and just chatted.  Then back to resorts and turned in for the night.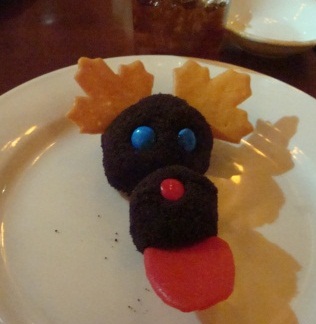 Day 9 - September 25, 2011

Joni wanted some pool time and the weather is good this morning so we picked them up and went to the campground pool.  It isn't too crowded in the morning (kids are at parks).  Had breakfast at Trail's End and hit the pool.  Stayed until about 2:00, pool is starting to get crowded so we went back to Alf and relaxed.  Watched a couple of Indiana Jones movies and just chilled.  Had reservations at Ragland Road for 8:45 so we headed over to Pleasure Island to shop and eat.  Rod and I bought some cigars at Sosa's, Joni bought some art workat one of the shops and had the artist sign them.  It was still a couple of hours before our reservations so we decided to try Fulton's Crab House for dinner.  Food was average and service sucked.  At least we can say we tried it.  After dinner we were all tired so we took them back to Pop Century and we came home and spent some time with the kids.  Tomorrow is the last day for Rod & Joni so they are going to try and get a couple of rides in that they didn't get to.

Day 7 - September 23, 2011

Day 10 - September 26, 2011

Boys got up early and wanted breakfast.  I told them to go back to sleep - and they did!  Rod & Joni decided not to go to parks as Rod's hip was bothering him.  Picked them up about 11:00 and came back to campground for a little while, then took boat to MK for lunch at Tony's.  Walked into Tony's and noticed that the beautiful Lady & Tramp statue was gone - out for refurbishment.  Lunch was good, as always.  Took boat back to campground and just visited for a few hours before taking  them to airport.  Heavy rain on the way to the airport, but it pretty much stopped before we got there.  Dropped them off just before the rain started again.  Rained most of the night - again.  Weather forecast is saying a major cold front is coming through late this week - temps low to mid 80's.  Windshield is supposed to be replaced tomorrow.  Should be interesting.

Day 11 - September 27, 2011

No plans for today, except to stay home with the dogs.& wait for the windshield. About 10:00 Daniel (windshield guy) called to say the windshield he had has a flaw in it and he would have to get another one.  Meanwhile we just kicked back and finished setting up the "patio".  Daniel called and said he had another windshield and said that if we came to his shop he could install it this afternoon.  I told him I couldn't do that and we set up an appointment for tomorrow morning at 9:30.  It is a beautiful day, lower temps, lower humidity, and not raining.  I went down to the Meadow trading post and got some groceries for dinner AND a rain gauge.  We thought that it has rained so much we should at least know how much it has rained.  Took the boys for a long walk along the canal and saw Fredricka again, she is not as brave as Fred was - yet.  Fixed burgers on the grill and sat out on the patio for a while.  We noticed one of the pine trees had a funny fork in it - I thought it looked like a Dr. Suess tree.  Came in and made some dinner reservations and another reservation for the Halloween Party at MK.  Did some laundry and watched some TV and went to bed.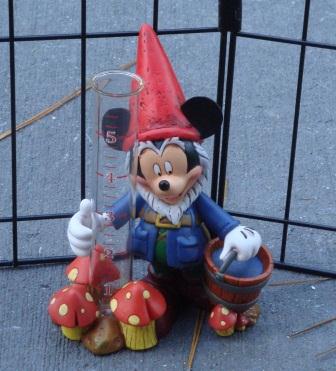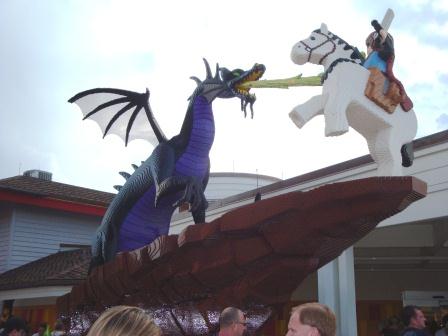 Lego Dragon at Downtown Disney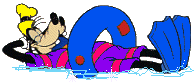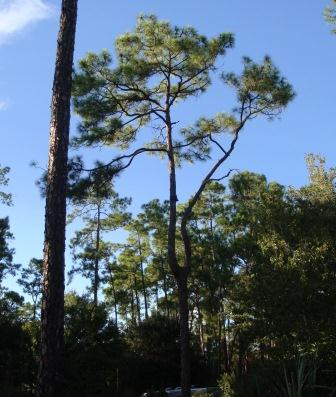 Day 12 - September 28, 2011

Today is finally windshield day!!!  I went down to the Meadows trading Post for newspaper and took some pictures.  Came back to wait for windshield guys.  They showed up about 11:00 (Daniel said it would be about 9:30).  Two guys to do the job.  Took them about 2 hours.  They had obviously done this before.  One of the guys said he really liked replacing windshields on newer coaches - no rust to deal with.  They looked like they knew what they were doing and were very concientious about getting things clean and sealed.  When they were done and gone we decided to go over to the Disney Outlet Store.  It was kind of disappointing, but we did manage to buy a couple of shirts each.  Stopped at the Market Place for dinner.  Started with dessert at Ghiradeli's for sundaes.  Walked off dessert by doing some shopping at "The Art of Disney", the Christmas Store (again), and the "World of Dsiney". We are now ready for dinner so we went over to Earl Of Sandwich and got sandwiches to take home.  When we got back we took dogs for a long walk, didn't see Fredricka, just a big turtle.  Good night  on TV so we will eat and stay in until fireworks - if it doesn't rain.  didn't rain hard, but wewere too tired to go down to beach to watch fireworks - maybe tomorrow night.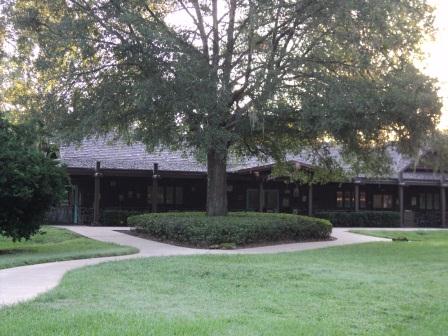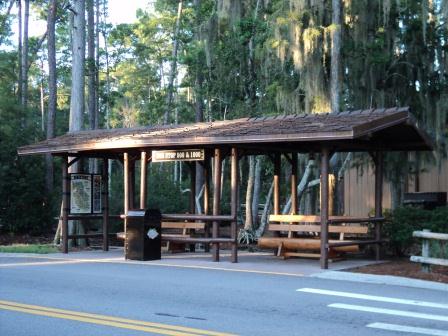 Typical Campground Bus Stop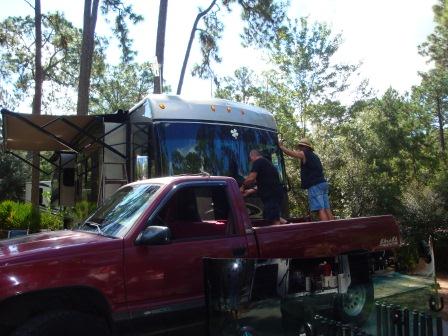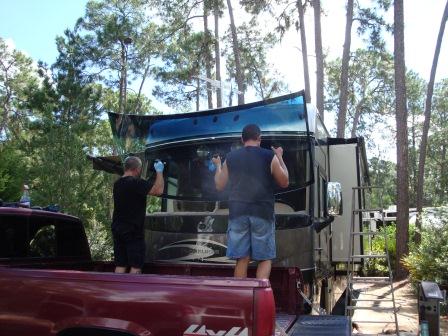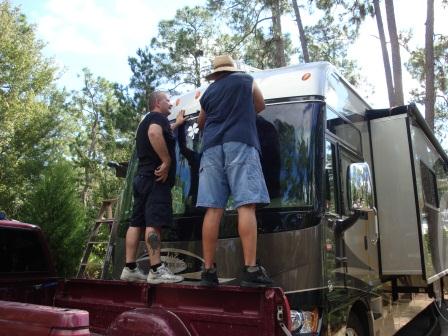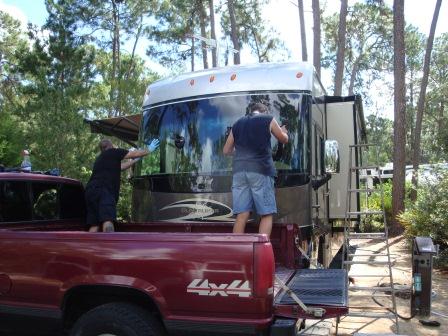 Preping to remove old windshield

Final fitting and sealing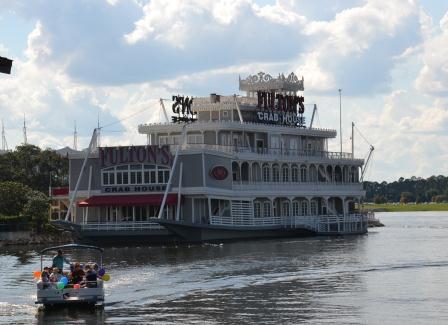 Day 13 - September 29, 2011

Got up, walked dogs and planned the day.  I went up to the Settlement Trading Post for a change (usually go to Meadows) and took some pictures. Decided to go to Camping World and needed to go to grocery store, so we did that in the morning.  Got a new sewer hose at CW and Jane found some lights for the camp site.  Missed the day clock so we might have to go back.  Went to Winn-Dixie for groceries.  They have started a discount gas program similar to Price Chopper at home so we signed up.  We spotted a Fuddruckers on the way to the grocery store so we went back for lunch to go.  We each got a big hot dog and took it back to RV.  Plan was to go to pool in the afternoon, but weather was so good there was a crowd at the pool.  We took the boat to Wilderness Lodge instead to do some shopping and return a shirt.  By the time we got back to campground it had started to cloud up and look like rain so decided to do pool first thing Friday morning.  Put out new lights and made a impromtu Mickey outline in rope lights on the driveway.  Tomorrow is pool,  Whispering Canyon for lunch and Epcot for the start of the Food and Wine Fest (the reason we are here this time).  The first week we were here it rained everyday so we bought a rain gauge, this week not a drop of rain.  Go figure.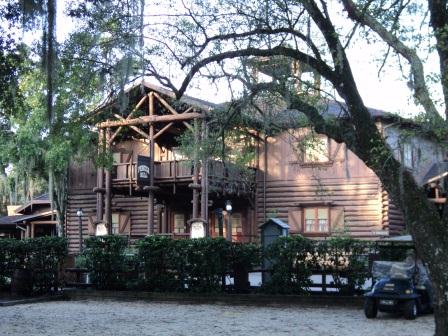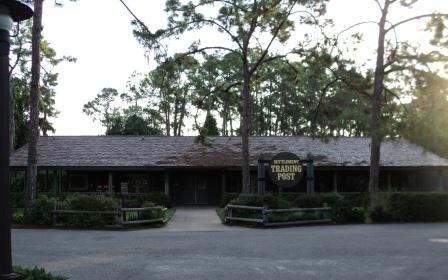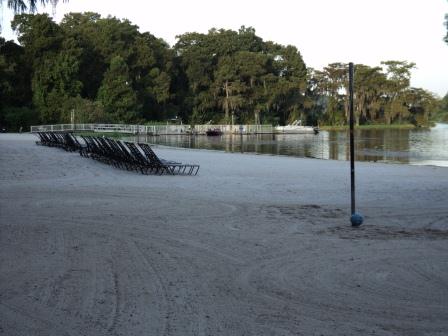 Camground beach - no swimming, there's critters in the water

Day 14 - September 30, 2011

We decided to go to the pool this morning.  The weather is great, warm and sunny!  Forecast is for "Fall" to begin over the weekend with lows in the upper 50's and highs in the low to mid 80's and NO RAIN.  Sure glad we got that rain gauge!  About 11:30 we went back to RV to change for lunch at Whispering Canyon.  After lunch we got car and drove over to Beach Club Resort to sneak in the back gate to EPCOT.  The guy at the front gate said we couldn't park there unless we were going to Beach Club because of the Wine and Food Festival.  We told him we were going for lunch at Beach Club and he said "just a couple of hours".  EPCOT was mobbed, this is the first day for Wine and Food so it was crazy.  We decided to go to Mouse Gear (favorite Mickey store) and then go to Beaches and Cream for dessert.  We would come back to Wine and Food Monday and maybe it wouldn't be so crowded.  Went back to RV to make a plan for Monday.  It is going to be very crowded every where this weekend.  There is a half marathon Saturday night, the Wine and Food Fest and Saturday is the 40th anniversary of Magic Kingdom - lot's of folks will be here.  For the last 2 weeks the 800 loop (next to us) has been empty!  This morning there was one small camper in it.  Tonight it was totally full (40 sites).  Took boys for a long walk and hit the sack.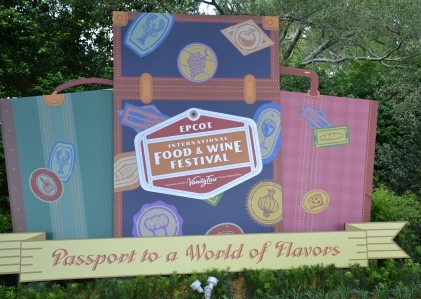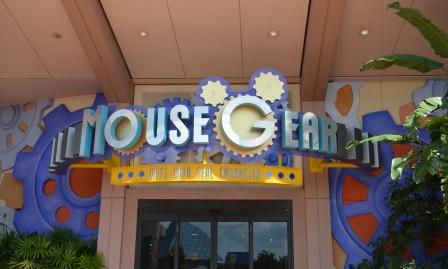 Empty your pockets all ye who enter

Today is the Magic Kingdom's 40th birthday!  A few Fun Facts about this anniversary.  In 1971 admission to MK was $6.00, today it is $85.00.  In 1971 parking was $0.50,today it is $14.00. In 1971 Walt Disney World employed 5,500 people, today they employ 80,000!  In 1971 it cost 400 Million dollars to build, today the newest Disney Cruise ship cost 800 Million dollars to build. One of the TV stations interviewed a guy that on opening day was sweeping streets in Frontierland - today he is manager of all the WDW resorts!  Our plan was to be at the park opening early, first boat to MK was at 8:00 & we were on it. Jane started having an anxiety attack just thinking about the crowds.  When the boat got to Contemporary Resort, she decided to go back to the campground and let me do the park.  At 8:30 the entrance to MK was packed.  They predicted 48,000 people today and I think they were all there at 8:00. Finally they opened the gates a few minutes early and the rush was on.  There were special 40th anniversary tee shirts made and we each wanted one.  I headed straight for the Emporium - they were sold out!  I headed for the Diamond Horseshoe where they had more - sold out!  Went to Sir Mickey's - sold out!  So no tee shirts.  Took some pictures and listened to some of the speeches at the Castle and decided to head back and see if I could get tee's at Contemporary.  Took Monorail and found some tee's in small & medium, but they did have special 40th anniversary resort pins, I got two. I called Jane and told her what I had and she suggested that I try the Polynesian to see if they had anything.  So back on the monorail for a short trip to the next stop.  Polynesian had pins, I got two there.  On the monorail again, this time to the Grand Floridian, no pins.  Only the original resorts and Magic Kingdom had them.  I thought that G.F. was one of the originals, guess not.  Took monorail back to Contemporary and boat over to Wilderness Lodge, just in case.  No pins.  Took  boat back to Fort Wilderness.  While I was taking the monorail tour, Jane went to the Meadows and Settlement trading posts to see what they had - no tee's, but they did have special resort pins so she got two.  Along the way one of the clerks said the tee's were available on line, so when I got back to the RV we fired up the computer to order a couple.  It is now 12:13 - tee's are sold out online!  Went to the pool for a while - to drown our sorrows I guess.  It was very crowded - everyone was back from the park!  After about 45 minutes we had enough and went back to RV for lunch.  Fixed burgers on the grill.  We had dinner reservations at the Bistro in France at EPCOT.  We took the car up to the parking lot in front so it would be there when we got back.  Took bus to EPCOT and shopped our way back to France with a short stop at the Australia kiosk for shrimp on the Barbie and another short stop at the Canadian Kiosk for some cheese soup.  Stopped briefly at the Off Kilter stage to watch them perform.  They have changed some of the performers!  Added a fiddle player and the bag piper isn't there!  Continued on to France and went to the pastry shop for breakfast pastry.  Dinner was good - expensive even by Disney standards.  When we were done with dinner the park was closed so we decided to walk over to Beach Club and get a cab back to the camp ground.  Took dogs out, watched some TV and went to bed.  Tomorrow we should go back Camping World to get a day clock, and to Winn-Dixie for some basic going home supplies.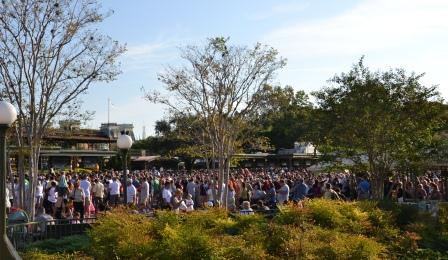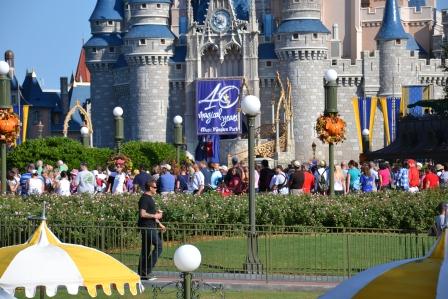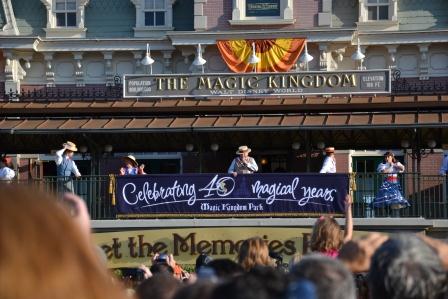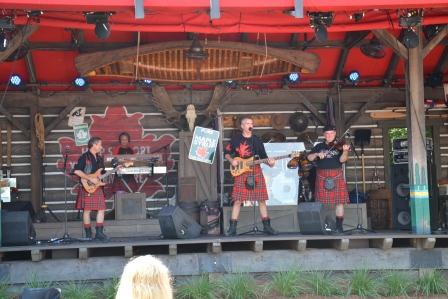 Off Kilter at Canada Pavillion - EPCOT

Well, we are starting the wind down process.  Time to do things we haven't and to eat at favorite places one more time (until December).  It was a kind of planning morning.  When to go to Winn-Dixie,  where to eat, what shopping needs to be done, etc.  We wanted to get pictures of the fantastic Halloween decorations so I went and rented a golf cart for a day.  We rode around all the loops and it seems that about 3 or 4 loops are "the decorators".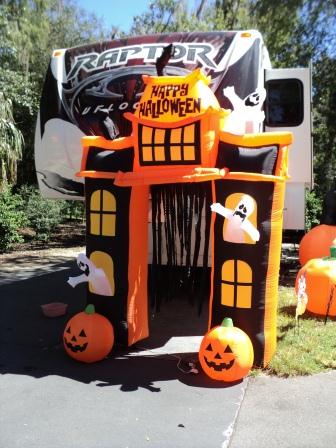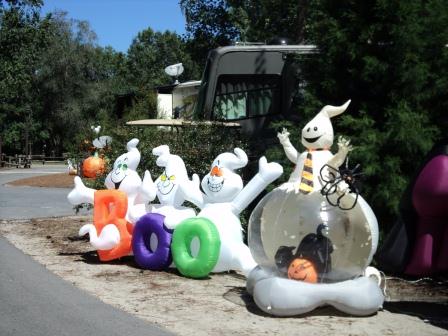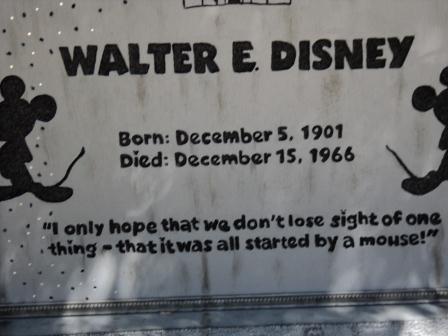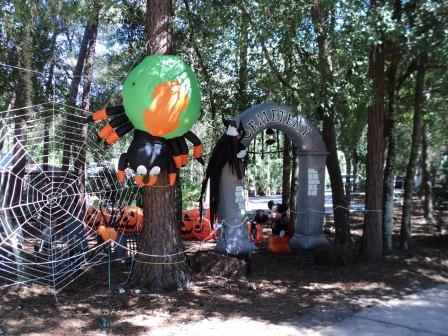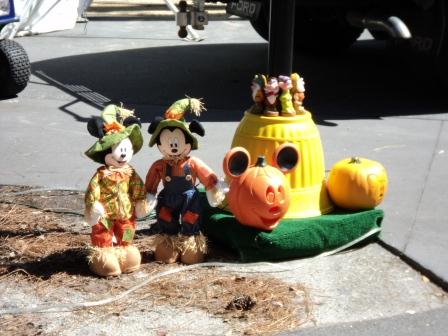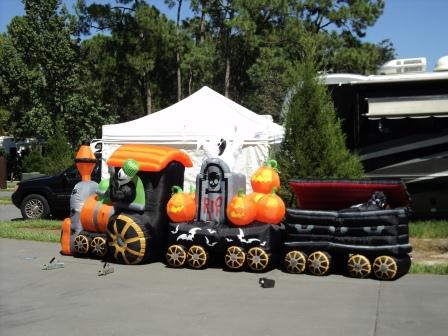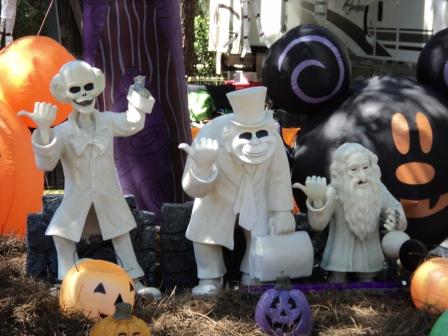 There are some really creative folks here, can't wait for Christmas!  Yes, we are coming back for the Christmas decorations.  Along the way we also saw some very cute and creative signs - not Halloween.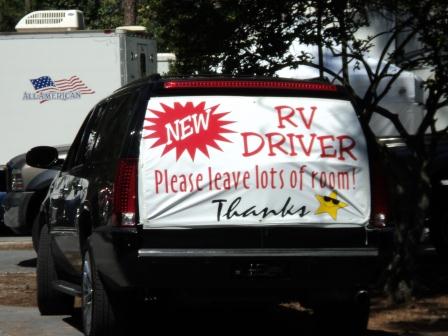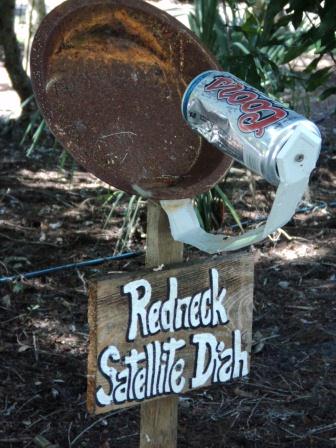 We came back to RV for some lunch (snack) of Fritos and salsa - very nourishing!  We have tickets for the Halloween Party at Magic Kingdom tonight so we got a boat to the park about 6:30.  They close the park to the public at 5:00 and reopen at 7:00 for people with special "after hours" tickets (and wrist bands).  It is great because the tickets are limited to a specific number of people so the crowds are lower.  We headed staight to the Haunted Mansion.  We found that they have added some special things for Halloween, one of which is a special "greeter" on the way in.  From there we headed to the Jungle Cruise (closed, but they had trick or treat candy there instead).  On to Pirates of the Carribbean.  It is really nice here with no crowd! Stopped for a Dole Whip for a pick me up.  Decided to do a little shopping on the way to the train station to watch fireworks. There were some things that we didn't buy on previous trips, I thought we had it all.  Fireworks were great!  We took a moonlight cruise back to the campground.  Tomorrow it is Disney Market Place for some things for the folks at home and a trip to Winn-Dixie - after lunch with Chad at Whispering Canyon.

Maybe this should be included with all new RV's (especially Class A and trailers)

Some people make the best of what they have, and have fun with it.  This was in front of a tent camper..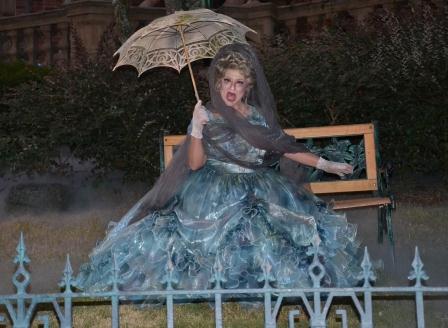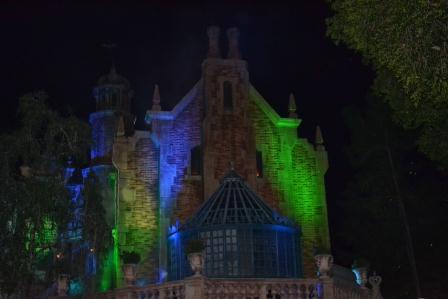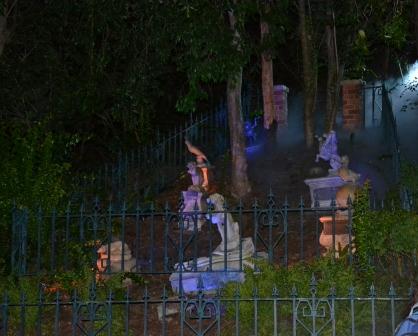 Greeter at Haunted Mansion

Lighting effects on the Haunted Mansion

Pet Cemetary at Haunted Mansion

Another lazy day, walked dogs and just relaxed in the morning. We decided to go to Disney Market Place for some last minute shopping (the most expensive kind of shopping), then go to Winn-Dixie for trip home groceries and then to Whispering Canyon for a last lunch with Chad (until December). We ate too much at lunch so a long walk with the dogs seemed like a good idea, and maybe a nap.  Went over to EPCOT to do a tour of the Wine and Food Festival.  Still too full from lunch for anything to look real good so we didn't eat too much there.  We did make an exception for Canada, they that the wonderful Beer Cheese Soup that we couldn't pass up.  Along the way we did stop at the pastry shop in France (something for breakfast). Got home early and crashed.  The campgrounds here are a study in extremes as far as camping ranging from tent campers to the extremes in motor homes.  There was a pickup truck with tent campers next to a 45' Prevost motor hom and some interesting variations of 5th wheel trailers.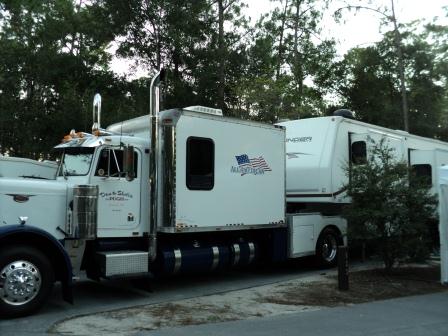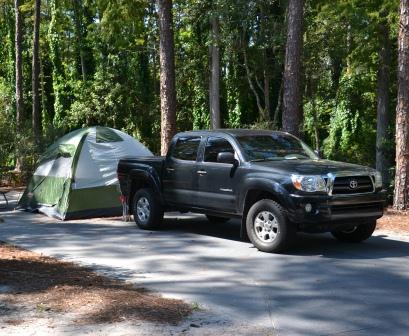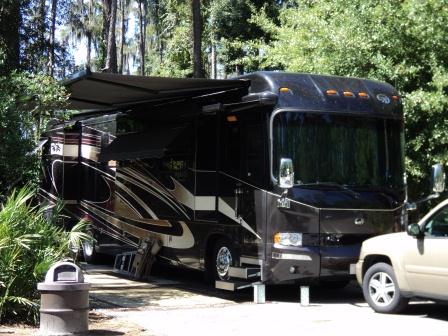 Tent campers next to .........

45' Prevost motorhome (base price $650,000)

Interesting 5th wheel puller - overkill?

Tomorrow is our last day here so much of it will be prepping for the return trip.  Checking the motor home (tires, oil, water, etc).  Putting dog pens away and cleaning up in general.  Kind of a bitter sweet day, sad to go, but we will be back in December.  Good to get home and the real world?

Last Day................ We went to Market Place to do some last minute shopping and exchanging. Not to much damage this time.  Went to Earl of Sandwich for lunch and also got sandwiches for lunch on the road.  Got back to RV and it was still early so we went down to the pool for about an hour and a half.  Came back to RV and started to put things away and make sure RV is ready for travel (checked tires, oil, etc).  Put xpens away and stowed the grill and some of our purchases in the "basement".  We took car back to Dolphin then went to Yachtsman's Steak House for dinner and had our favorite server, Oscar.  He was very nice and threw in some special treats for us.  When we were done we went to the gift shop to try to exchange a ceramic pumpkin we had bought and sent to the resort.  It had arrived broken.  The gift shop at Yacht Club and Beach Club didn't have any.  When we got back to Campgrounds we stopped at the Meadows Trading Post thinking they had some.  No dice! I took the boat to MK to exchange it and they were sold out!  A very nice manager, Jim, found out that another store, Heritage House, had one and he walked to it to get a new pumpkin.  All's well that ends well and it was a lovely evening for a boat ride.  While I was doing all this Jane was putting things away in the RV.  Tomorrow morning we leave, hopefully early, for Columbus, Georgia.

Up early and completed putting things away for the trip home.  We took the boys on a long walk, saw Fredricka and said so long until December.  Left the campground right at 8:00 and we let Glenda (the GPS girl) guide us out of Disney and into the real world.  Rush hour traffic, road work and misc. delays.  Pretty much an uneventful trip,weather is good and traffic is light (once we got out of Orlando).  We got gas on the tollway ($3.41/gallon).  We stopped at McDonalds for lunch, our first "fast-food" in 3 weeks - back to the real world.  Dogs were pretty good, we did give Nico a Benedryl before we left.  Glenda continued to guide us on our way to Columbus, GA.  We got into Lake Pines RV Park about 4:00 and immediately took the boys for a walk, a much needed walk. Decided to review our route to Paducah and decided to go a different way from the way we came down here.  We are going to try going up and around Atlanta.  A pretty mundaine day really.  Tomorrow promises to be much the same, but longer.

We were up, packed and out of Columbus, GA by 7:30.  It is going to be a long day, lots of miles to cover.  We decided to go to Paducah via Atlanta.  It is a little longer, but much better driving since its mostly interstate highways.  Jane has been looking at the map and thinks that in the spring we should go from Paducah to Orlando via Charleston, South Carolina.  Might be a fun trip.  We have noticed that the trees are starting to change color the farther Northwest go.  We have learned some things this trip:

- Don't buy breakfast cereal at either of the Campgrounds trading posts.  They have small boxes that only serve about     3 and a half adult size breakfasts.

- Don't stop at the McDonalds in Hogansville, GA.  Very small parking lot that is very difficult to maneuver a big RV in.

- I love Love's truck stops and their 6' long windshield cleaners

- Never 2ND guess your GPS - it is usually right.

We got into Paducah at 3:30, and let the dogs run in the dog park.  Duck Creek has a very nice fenced in dog park.  They also have a couple of the nicest owners we have run across.  We always leave their dogs a bag of Elizabeth cookies.  Had dinner, watched some TV and hit the sack.  Tomorrow is the final leg home.

Slept in a little today, it is a relatively short day (400 miles).  Let kids go run in the dog park for a little while.  Another sunny day - great for driving!  Stopped at Love's for gas - $3.09/gallon.  So far this has been a very boring day,  pretty, but boring.  the trees along I-64 in Illinois are really pretty. Crossed into Missouri at St. Louis and the roads went to hell. Very rough, especially the ones around Busch Stadium.  Got farther out of St. Louis and the roads got better - for a while.  Onto I-70 and again very rough bumpy roads.  Nico started panicking, we think that the rough roads have him upset.  The first day down he was really panicky (in Missouri) and we are just now figuring out that maybe it is the roads.

I wonder if we can get to Orlando from the west side of Missouri with out going through Missouri.  Almost as soon as we got on I-70 the winds picked up.  Strong wind from the south all the way across the state.  We finally got home about 3:30 and decided that a pizza was in order.  Nothing on the RV has to come off tonight!  So we ordered our pizza, popped a beer and settled in for the night!

Today is clean up and put away day.  We have to get all the Disney packages out of Alf since he is going in for service and a weighing on Monday.  Washed all the bugs off the front - thorough washing will come latter.  It is amazing how many bugs you can kill with a 12'-6"x8'-6" fly swatter going 65 miles an hour!  That all done, we start planning for the next trip in November - stay tuned.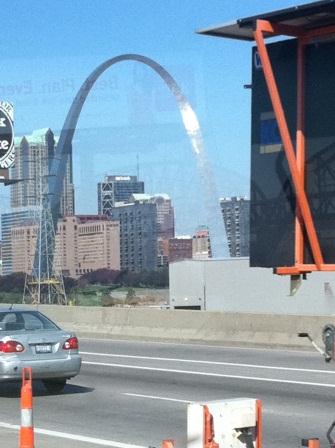 St. Louis Arch - "Gateway to the West", or more appropriately "Gateway to Rough Roads".  Note orange construction signs!