Sunday, August 18:

Well, we are 4 days from departure, and Alf needs a bath badly.  So I spent most of the day (5 hours) washing and draining/filling the fresh water tank. I finally got all the bugs off the windshield (it is an awesome bug killer).  It is kind of interesting the different colors that bug splatter comes in.  I have stowed a bottle of bug remover in anticipation of the onslaught of Love Bugs we always encounter.  This week we will be loading all the necessary things, food, clothes, maps, etc., and getting ready.  We are taking a new route this time.  we are going south through eastern Missouri and into Mississippi and then cutting over to Florida.  Jane's Grandma always said "you should never go the same way twice" so we are making a change.  Tomorrow Alf gets a new graphic for one of the windows, gas tank gets filled and holding tanks (black and gray) get emptied.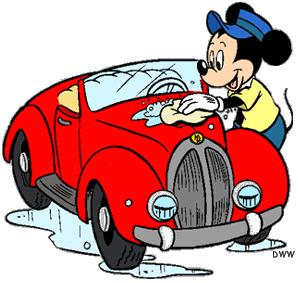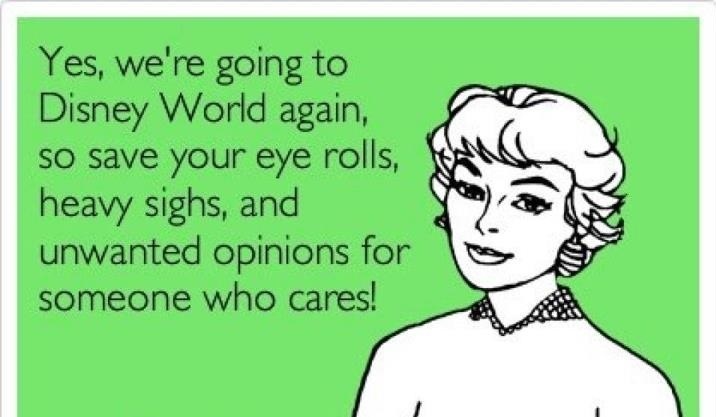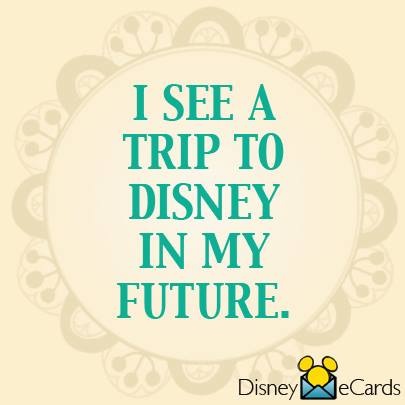 Monday, August 19:

After some breakfast I took Alf over to our local sign maker, Vital Signs, and had a new graphic applied.  It looks great.  It is on the rear bathroom window to provide some privacy and not have to mess with the mini blinds that are there now.  After I was done there I went and emptied waste tanks, got some gas and did a little pre-trip shopping at Wal-Mart.

When I got home, Alf stayed in the driveway for a bit while I put some things away and checked air pressure in tires, oil level in generator and engine. Then I tackled some "nose art" the boys had left on the windshield.  Later, it was time to replace some light bulbs and generally check everything out.  Tomorrow, we start stowing things in their proper place.  3 days to go.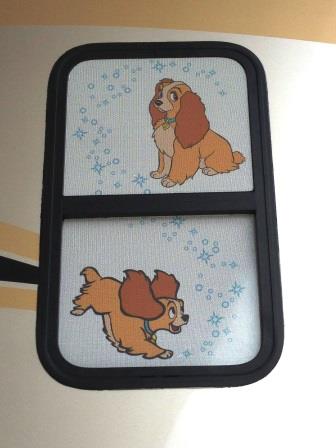 Thursday, August 22:

Almost done packing, loading, checking lists, etc.  Picked up Minsky's pizzas tonight and had dinner with Amber.  Just some final putting away in Alf and we are ready to go in the morning.  Next stop, Sikeston, MO. dinner at Lambert's (Home of "Throwed Rolls").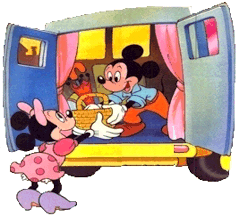 Friday, August 23:







We got out early- 7:30 a.m. - a new record.  We made our requisite stop at Panera's






for pastry and coffee, then it was on to I-70 eastbound!  We are spending the night






in Sikeston, MO after a late lunch (early dinner - lunner?) at Lambert's Cafe, home






of "Throwed Rolls".  The traffic was light and the weather was nice.  We did come






across one hold up - the longest, widest oversize load I have ever seen. It had a






police escort and escort car in front and a pusher truck and two escort vehicles in the






rear (one with spare tires) and a police car acting as a "blocker" bringing up the rear.






We got into Sikeston about 2:30 and went straight (actually we went left) to Lambert's






for lunner.  They looked
very busy, but we got seated right away.  Food is

always good and we planned on taking some home

for a late snack.  When we left it had started to rain

so we headed to the campground to get the boys

out before it rained harder.  We got in, set up, took

the boys out and THEN it poured for about 20-30

minutes and then started clearing up. We fed the

dogs and they were happy.  Smudge manned his

lookout post guarding the homestead, and napping

while we watched some TV before turning in for

the night.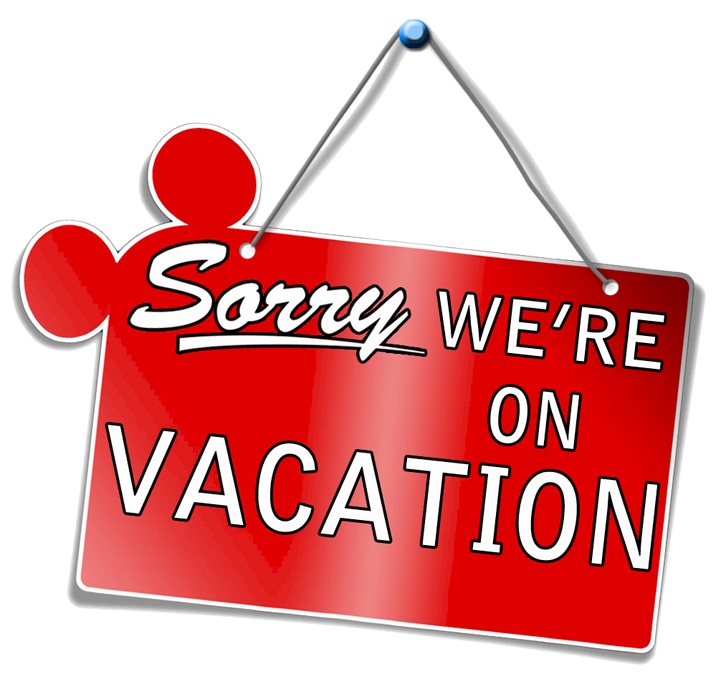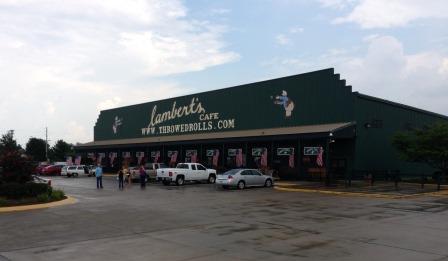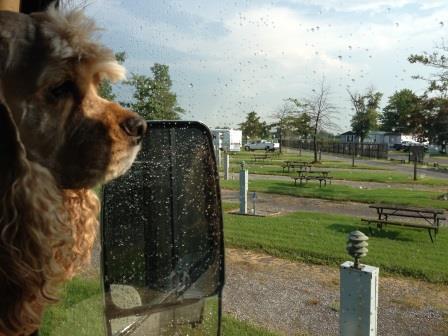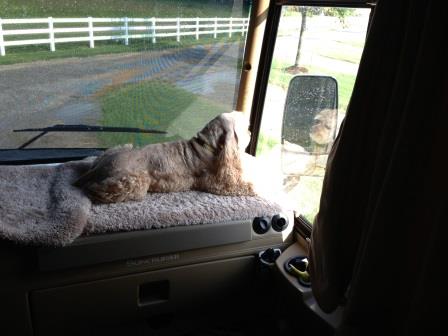 Saturday, August 24:

Got on the road at about 8:00 this morning and stopped right away for gas (top off tank) and then hit the road.  We are headed for Canton, MS this afternoon.  We made several unplanned stops today, mostly potty stops for the boys (ALL the boys).  The highlights of the day were surviving I-55 in Arkansas with fillings and coach intact (VERY rough road), and passing the Oscar Meyer Weinermobile going north.  We arrived at Movieland RV Park about 2:00 and found the office closed.  Sign on the door said "leave your money in an envelope and take the first unoccupied pull-thru site".  So we did.  Got things hooked up, the Satellite dish up, and the dogs walked and then we settled in.  We had leftover Lambert's for dinner.  I looked to see how Tom (the GPS guy) was going to take us to Navarre tomorrow.  Glad I did, he was going to take us about 100 miles out of the way (staying on I-55 to the Gulf Coast).  I changed one setting and cut 100 miles off the trip.

We watched the F1 practice that we recorded last night.  Then switched over to our standby show, NCIS and it was a marathon.  Watched that until bed time.

Sunday, August 25:

We got a late start this morning, the F1 race from Belgium was on when we got up so we watched it.  Got on the road about 9:00 am and headed for Emerald Beach RV Park in Navarre, Florida.  The weather was good and the roads were only fair.  We were on the Interstate until Jackson, MS and then we turned onto MS-49, a mostly good road, with some rough stretches.  Tom (the GPS guy)  had us second guessing him a couple of times, but he was always right.  When we got into Mobile, AL one of our exits had a warning sign saying "no hazardous materials in the tunnel".. Tunnel!!!  Alf has never been in a tunnel!  It was a long tunnel under some buildings, I think.  When we emerged from the tunnel we were almost immediately on a long bridge.  Now, if you know me,  you know I am not a big fan of long bridges.  As soon as we were on the bridge we could see the battleship, U.S.S. ALABAMA.  We went a little farther and Tom directed us onto route 281 South.  It was a nice 2-lane road and went on for about 5 miles and then a toll booth appeared!  It is a 2-lane road with a toll booth!  We shortly found that the toll wasn't for the road it was for the long bridge.  It seemed that this bridge went on forever.  I was glad to get off it.  We finally got to Navarre and stopped at Publix for a few groceries. Apparently Sunday is grocery shopping day in Navarre.  Normally I let Jane out and I go find a place to park and wait for her.  No place to park today, so I just sat in front of the store (sort of blocking traffic).  After we were done at Publix we went to Emerald Beach RV Park and checked in.

It turned out that I had a credit there from some reservations that had been canceled earlier.  We have a site with a view of the bay, got the boys out and walked, then into the coach for dinner - just before the rain started. It rained most of the night, but it is supposed to be nice Monday,  We'll see.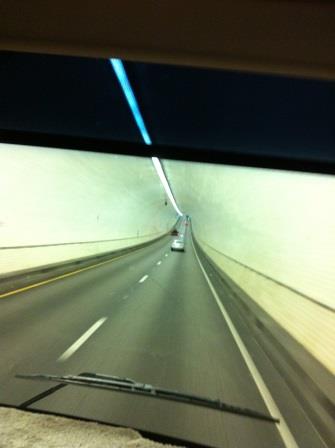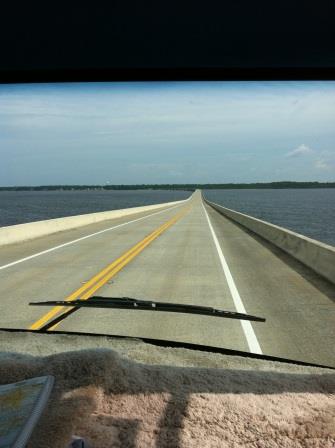 Monday, August 26:

We woke up to a bright, sunny day!  We had our breakfast and coffee then took the boys out and went to sit on the deck by the beach.  A towboat went across the bay (why are they called towboats when they push?).  It promised to be a beautiful day with no rain in the forecast.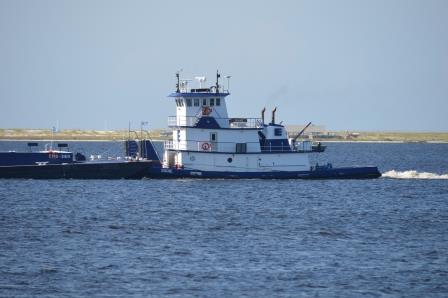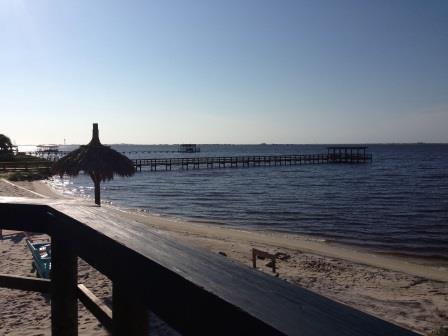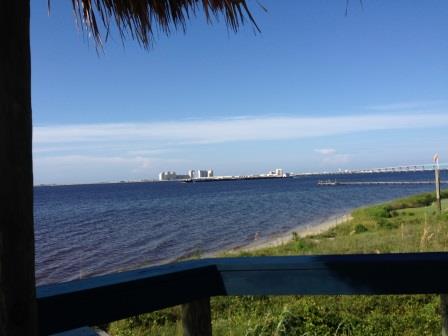 Emerald Beach - looking East

Emerald Beach- looking West

After we woke up we went down to the beach for some sun.  It was hot but the sun felt good so we got sunburned.  We came back to the coach for some lunch and rest.  After a little rest and cooling off, we went back to the beach for more sun.  This may be the only sun we get in the next 6 weeks (hope not).  We came back to ALF and cleaned up and took a nap.  Then it was up to take care of the boys (supper and walk) and to think about our dinner.  We are trying to figure out travel dates for next April so we can make reservations here.  Tomorrow we go as far as Ocala, FL to be closer to WDW so we can get to the Fort early Wednesday.

Tuesday, August 27:

We woke up to a beautiful day!  Fed the boys, and went down to the deck by the beach for one last look before we left.  We decided to let "Tom" do the navigating totally today.  He took us East for a few miles, then North through a few little towns and lots of morning traffic.  We were mostly going through the bombing range at Eglin Air Force Base.  When I was working, I worked on a bunch of projects at Eglin, mostly support facilities for the F-35 Joint Strike Fighter.  Finally, after about an hour, we got to I-10 and headed East.  We normally stop the night before Disney at Lake City Campground, but this time we are going to spend the night in Ocala which is about 90 miles from WDW.  While going South on I-75 we saw the campground and thought it would be a piece of cake to get there.  "Tom" got us off the interstate and to the first turn okay, but missed telling us about the second turn, so we drove around a while and ended up in a shopping mall.  I gave in and called the campground to get directions.  They told me how to get there and we made another attempt and finally arrived at the campground, checked in and got set up.  We took the boys out and fed them then had some dinner ourselves.  Settled in for some TV before going to bed.  While we were watching TV Jane was reading some emails and read that the new California Grill(on top of the Contemporary Resort) was accepting reservations.  We thought what the heck and gave it a try.  We got in!! We got 9:00 reservations so that after dinner we could watch fireworks from the restaurant (14th floor, should be a great view).  After that we went to bed, tomorrow is D-day!!!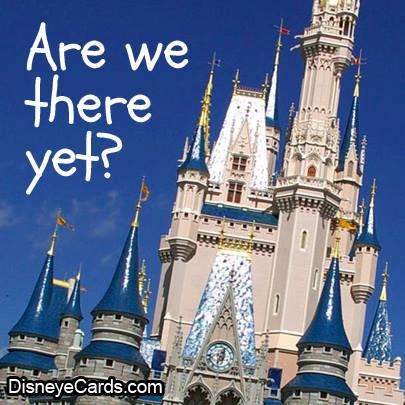 Wednesday, August 28:

We all woke up early, 5:00, and since we were all up we decided to go ahead

and head to WDW.  the plan was to stop and get gas once we got to WDW. 

The driver forgot that part of the plan so we only had between a half and a

quarter tank of gas.  We got in about 9:00 and were told that we could have

OUR site, 705, Thank You, Hilda.  We got to the site, parked, and started hooking

up - power first then sewer.  After a few minutes Jane poked her head out and

said she didn't have any power inside.  I checked all connections and determined

that the power post was dead.  We started the generator again and called the

office for some maintenance.  They said that they would put a rush on it. While we

waited for the repair guy, Jane went up to Trail's End and got us some breakfast

to go and brought it back to ALF. After a few minutes Danny arrived to fix it.

He decided that one phase of the 50 amp breaker was not working so he went

back to get a new one. He returned shortly and had the problem fixed in no time.  After we got re-connected we decided to take ALF over and get a full tank of gas and pick up the rental car at the same time.  We disconnected everything again and headed out to get gas and a car.  We noticed that there aren't many folks here now, place is pretty empty.  We got gas and the car and returned to the Fort and finally got everything hooked up one more time.  Now life is good.  We put up some lights and x-pens for the boys.  It is hot today, but it isn't raining!!!  About 4:00 we fed the boys, took them for a walk, and went to Downtown Disney to get some early dinner at Earl's.  While we were there we (Jane) decided we needed to so some shopping.  We went to World of Disney, The Christmas Store, and the Art of Disney.  We did some major shopping and added a bunch or points to our Visa card.  As we were leaving we noticed that the crowd was growing and people were waiting for our parking place.  When we got home we decided to call it a day and just crashed.  The boys are happy so all and all it was a good day,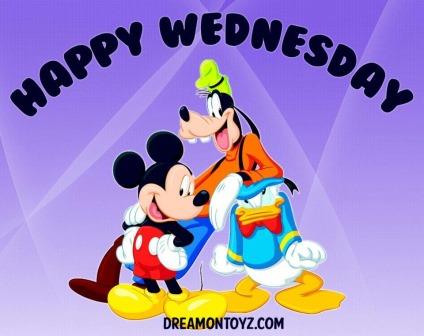 Thursday, August 29:

Another beautiful day, slight chance of rain in the forecast, but right now it is clear skies.  I checked our Disney stock this morning and good news - since we arrived Disney stock is up!  I wonder if there is a correlation.  We decided to take a boat over to Wilderness Lodge for breakfast with Chad (our favorite cast member).  Then the plan was to go over to Magic Kingdom and get some dinner reservations confirmed.  It is a long story, but at some point we made dinner reservations by phone and those reservations were made and canceled by the Disney operator.  So we wanted to make sure we had them.  We arrived at MK and the place is in full Halloween mode.  Orange everywhere!!!  We went to Guest Relations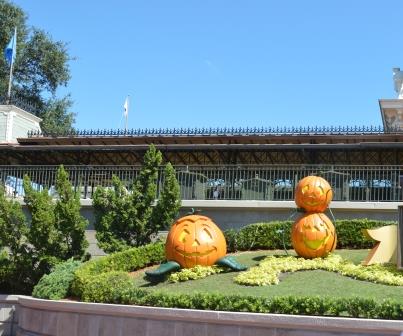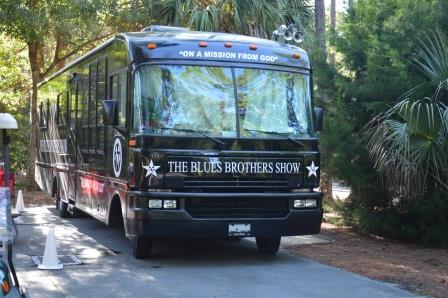 The Blues Brothers are here, too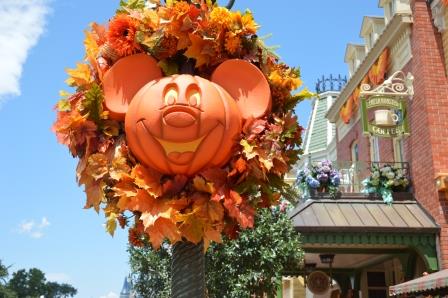 where Jonathan was the Cast Member to wait on us.  We told him our problem and he proceeded to track down our missing reservations.  Some were missing entirely, some were under the wrong name (Xboeck, Doeck, boeck). He was printing out confirmation information as he went so he made lots

of trips to a printer in the process.  After what seemed like several hours, but in reality was only one, we had all

our reservations in order.  We thanked Jonathan profusely and went on our way.  On our way out he and one of the girls that had been assisting him gave us two Fast Passes and a coupon for two ice cream bars "for all our trouble".

We should have been giving them things.  It was Jonathan's birthday, we should have taken him to lunch!!  By now it was time to let the dogs out and since we had Fast Passes we should use them.  So instead of both of us going back to the coach, Jane elected me to go back and tend to the dogs while she shopped (I don't remember getting a vote).

I just missed the first boat back, so waited and talked to some of the boat crew waiting on the dock.  I learned things like the ferries are the hardest to "drive" because of a 4-5 second delay in control response time.  I got back to the Fort, took care of the boys, and got back to MK in about an hour.  We then went to use our Fast Passes at Pirates of the Caribbean and Haunted Mansion.  It was getting hot so we decided to head back to the Fort and think about something for dinner.  On the way to the boat we passed one of the numerous balloon venders and saw a photo op. 













We stopped to get our ice cream bar and to watch the crowd from the












porch at Tony's on Main Street.  We had a nice boat ride back and got












back to the coach to the relief of the boys.  They went out, we fed them












and they were happy.  We ate in, got our reservations transferred to a












calendar and checked email before hitting the sack.  Tomorrow we have












to do some grocery shopping so we don't have to go out to the "REAL"












world on the Labor Day weekend.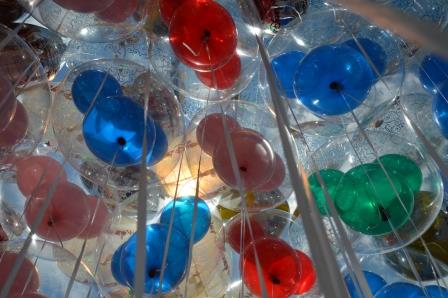 Friday, August 30:

I think we are back in the routine.  Got up, let dogs out, fed dogs, dogs went back to bed, I went for a paper.

When Jane got up we finally went grocery shopping!  We went to Publix the new "back way". It might be a little longer, but it is a whole lot faster.  We bought about $150 in "necessities". When we got home we unloaded and put things away and waited at the coach for about an hour until it was time to leave for EPCOT & lunch at LeCellier.  We try to take different methods to get around WDW and to come up with new ways.

Today we thought of the following ways to get to EPCOT without using the car.

1. Bus to EPCOT

2. Boat to MK, then Monorail to TTC (ticket & transportation center), then monorail to EPCOT

3. Boat to MK, then ferry to TTC, and monorail to EPCOT

4. Boat to Contemporary Resort, then monorail to TTC, then monorail to EPCOT

5. Boat to MK, then bus to Beach Club Resort and walk in back gate of EPCOT

6. Bus to Studio, then boat to back gate of EPCOT

Today we elected to do #5.  After about 90 minutes we arrived at LeCellier for lunch.  There was a group just leaving mumbling that they didn't know they had to have reservations - ROOKIES! We had a good lunch and went up to the gift shop to look for hockey shirts for some folks back home.  From there we went to MouseGear for some shopping.  Jane shopped, I took a quick run through the store and then went back outside and took some pictures of the fountain in front.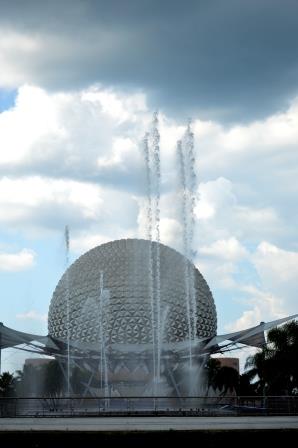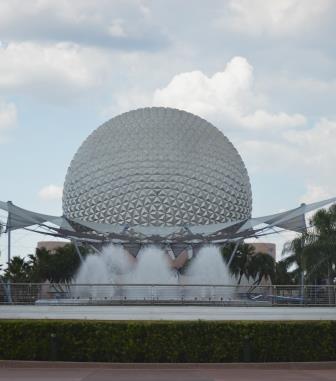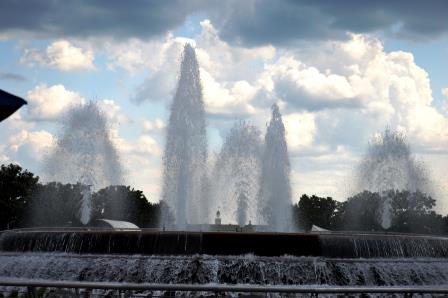 This fountain is choreographed to music and is pretty impressive to watch a complete show.  It is also a very cooling place on a hot, breezy day (stand downwind of the fountain).  After shopping, we decided to take the monorail to TTC, the ferry to MK, and the boat back to the Fort.  On the way out we were approached by a Disney survey taker (the first of this trip).  We took a short (5 minute) survey about our meal at EPCOT today.

We got up to the monorail station just a couple of minutes before the monorail arrived and a quick ride later we arrived at TTC and headed for the ferry landing.  The ferry got there just a couple of minutes later.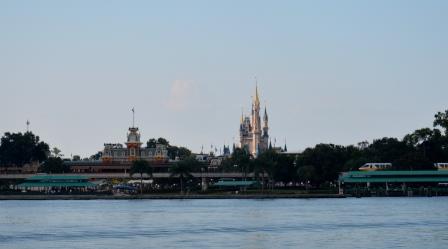 MK friom the ferry: train station on the left, Castle on the right

As the ferry was docking, our boat to the Fort was also docking.  We hurried to the cruiser dock and made our boat.  Timing this trip has been perfect.  We got back to ALF and the boys were very happy to see us (or was it just that it was dinner time?).  The boys ate and were very happy, we took them out for a little bit and then back inside to the cool.  It is looking like it might rain this evening.  We fixed dinner for ourselves and heard thunder in the distance.  Boys out one more time, just in case.  Nothing on TV tonight so we thought we would put a movie in the DVD player.  Couldn't get the player to turn on so we took the movie to the back and watched it there.  Have to check the front DVD player tomorrow.  Since we both fell asleep to the movie we decided to go to bed

Saturday, August 31:

We got up this morning and it looked  beautiful.  Forecast is for hot and humid today so we are going to get an early start.  The Mustang Club of America is holding it's annual Grand National Rally today at the Disney Speedway.  We drove over at 9:00 and finally got to the parking area (not marked too well).  They have shuttle service from the parking lot to the Speedway.  Unfortunately, they only have 3 twelve passenger vans to shuttle hundreds of people.  It is hot, humid, no shade, and no cold water.  Not a good start!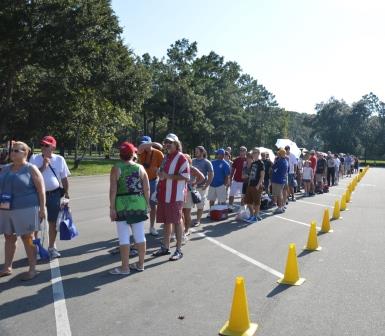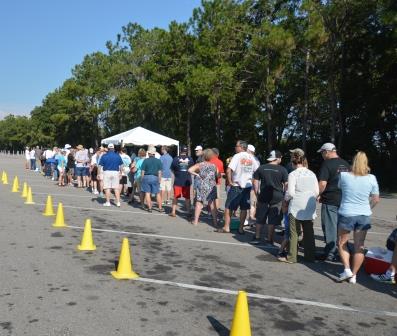 There were several hundred people waiting for those three vans.  We stood in line for over an hour waiting.  They had shuttle buses bringing 50 people at a time from the Coronado Resort, which made the line longer with each bus. When we finally did get into the Mustang show, it was overwhelming - there were over 600 Mustangs from 1964 to the present there.  Daily drivers and show cars from all over.



The other half of the line at 9:15 am

Part of the 600+ Mustangs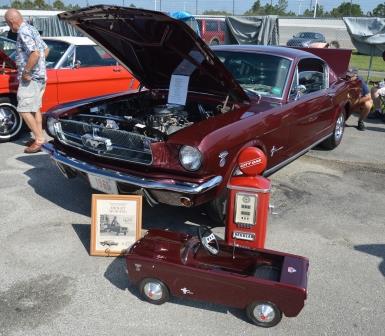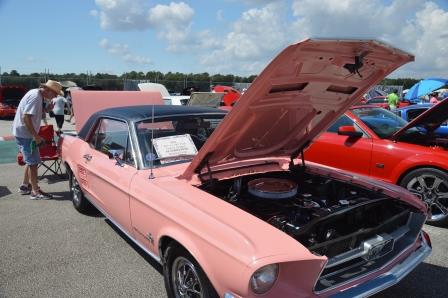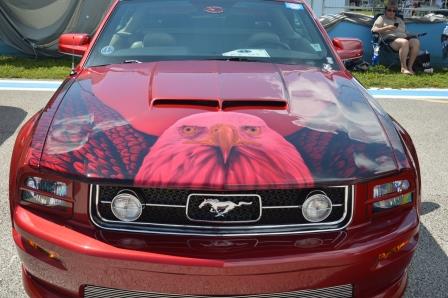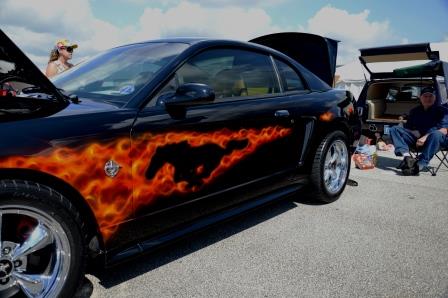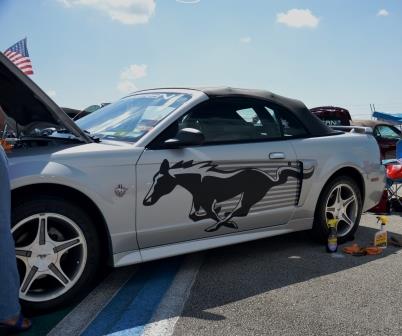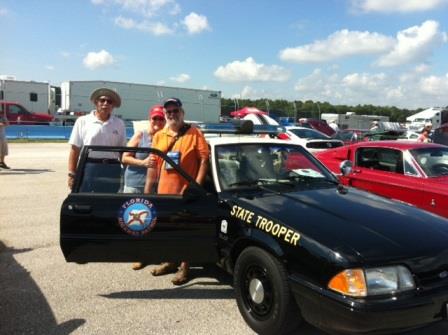 Original Playboy Pink Mustang

Jim (in white shirt), Jane, & Al

Some pretty spectacular paint jobs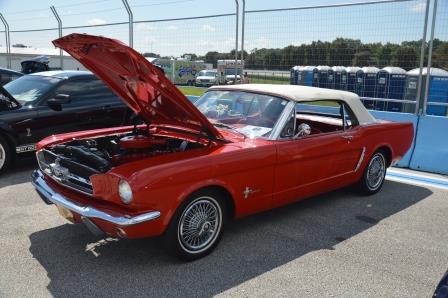 The car that started it all - 1964-1/2 Mustang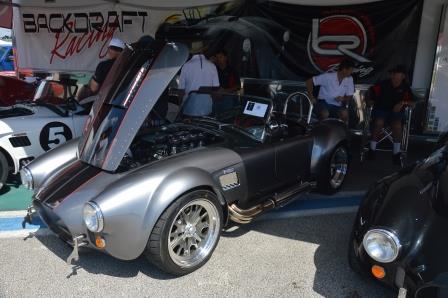 There were even some Cobra's

The aroma of car wax was heavy in the air.  While at the show we met a friend from Independence and a fellow Mavericks hockey fan.  We talked hockey for a while and had our picture taken by a car similar to Jim's - a Florida Highway Patrol Mustang!  After a couple of hours we were hot and tired, so it was time to head back to the Fort.  It was lunch time, so we decided that before going home we should have some lunch - at Beaches and Cream at the Beach Club resort.  We had a great lunch.  Our server, Sarah, also worked in the forensics lab for the Orange County Sheriff's office.  When we got home, the boys were eager to go out.  Good thing, too, as it looked like rain.  Loop 700 and most of the 1200 sites at the Fort look full now.  It was a great afternoon for a nap, so the 4 of us took a short nap.  After naps we were hungary, so we had dinner and watched some TV before going to bed.

Sunday, September 1:

This morning we got up and took the boys for a long walk - no gators this morning.  It is going to be hot today so we decided to go to another car show here at the Coronado Resort.  We had heard that parking was an issue so we let Disney do the driving (boat to MK, bus to Coronado).  We got to the show about 9:30 and got a quick bite to eat before heading into the show area.  We found that once again that the show wasn't too well organized.  We had heard that Disney offered to organize these two shows, but the car clubs decided to do it themselves - big mistake.  Once inside we found the cars and today they are all makes, models and years from stock to highly customized.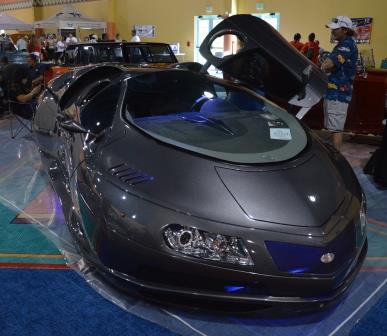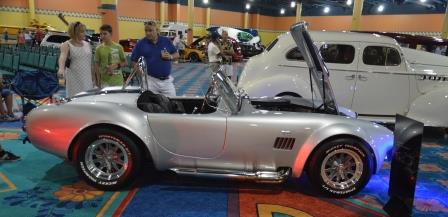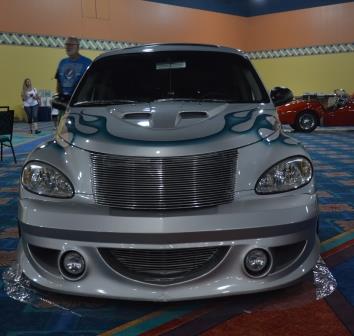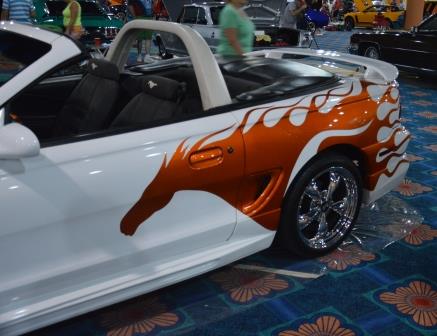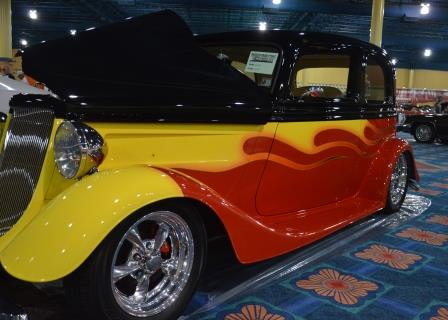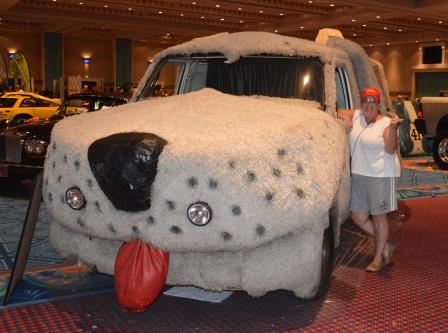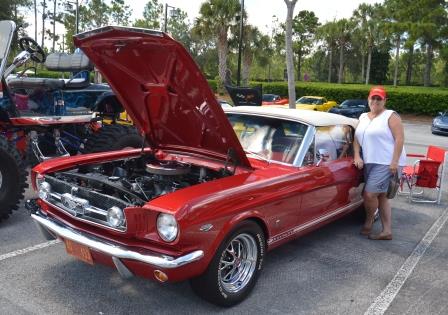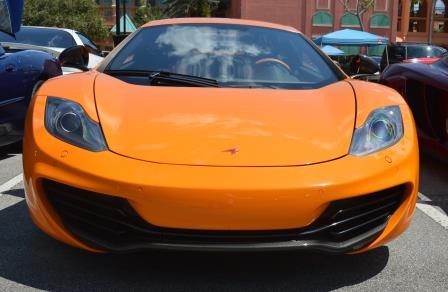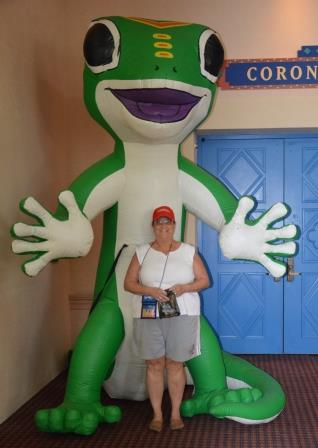 Jane's Dad had one of these.

A McLaren - in correct color, McLaren Orange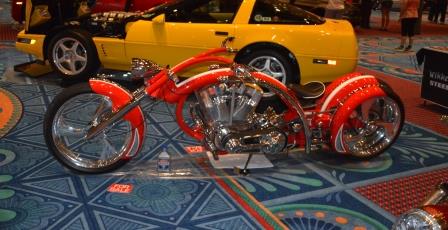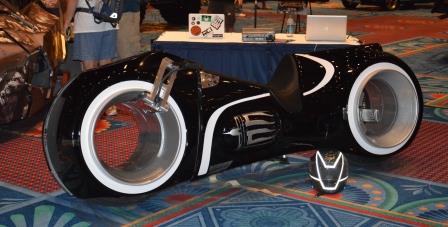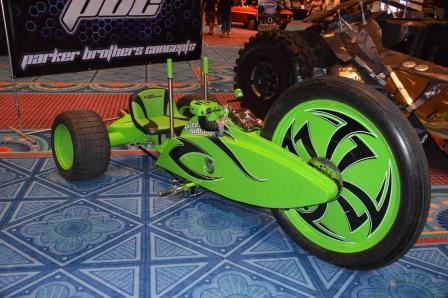 There were even some very futuristic motorcycles

After the show we took the bus to MK and boat to the Fort.  It is very hot now, near 100 degrees.  We made some lunch and crashed for a while.  There were some prescriptions ready at Walgreen's so I took the car over and picked them up.  We fixed hot dogs and Rib-Eye (leftover from Le Cellier) on the grill for dinner and waited for the rain that sounds like it is very close.  Lots of thunder and one crack of lightning that sounded very close - even woke up the dogs.  Rain finally came, but pretty light and not very much.  We did 2 loads of laundry (still figuring out how to do cottons so they don't wrinkle too much) and went to bed.

Monday, September 2:

Today was a fairly uneventful day.  We took the boys for the long walk this morning, before it got too hot.  We watched while the exodus from the campground started.  By 11:00 (check out time) the 700 loop was about half full.  This morning it was full.  I guess people have to leave so that they can get kids back in school tomorrow.  We had some heavy laundry to do so we took it over to the comfort station to use the washers and dryers there.  We think Smudge might have a UTI.  Have to keep an eye on him and maybe check it out when we get home. 

After laundry was done we went to the pool for a while.  We had some lunch there (Chili-dog and a polish sausage) and only stayed about an hour.  When we got home we kind of napped and did some DOG paper work. It had started clouding up with some thundering of in the distance so we got the dogs out, just in case.  After a bit a front must have gone through because it really cooled off and the humidity dropped drastically.  It was so nice that we turned the AC off and opened the coach up.  By then it was time for dinner, hot dogs and beans on the grill with Peanut Butter Brownie "sandwiches" for desert.  About 9:00 the humidity and heat began to rise so it was time to close things up and turn the AC on again.  After a while it was time to go to bed.  Tomorrow I think we are doing the "Monorail Loop Shopping" with a stop for Dole Whip.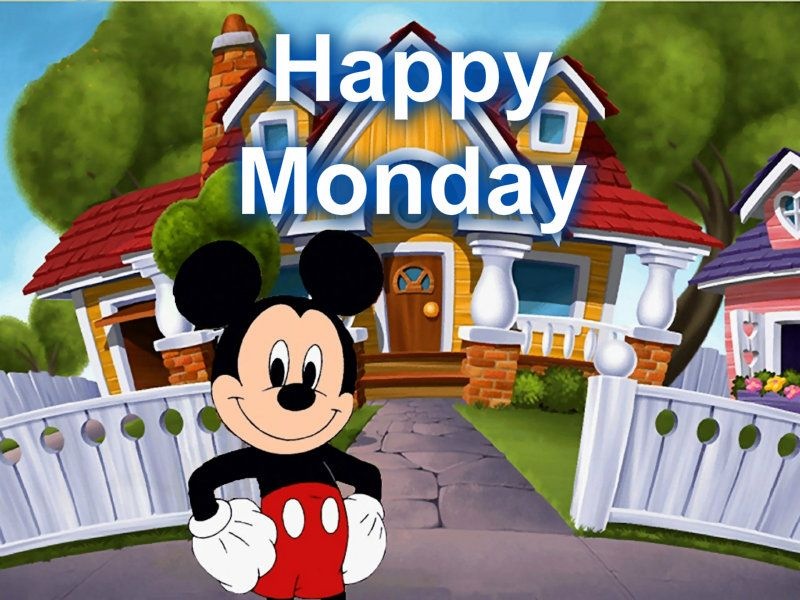 Tuesday, September 3:

Well this morning we read that today is the lowest attendance day of the year at the parks.  Our original plan of doing the "Great Monorail Circle Shopping Spree" was canceled.  We decided instead to do all 4 parks and Down Town Disney.  We left our site at 10:00 and took a golf cart to the Outpost bus stop where we caught a bus to Animal Kingdom.  We went in and headed to the Tree of Life, where we found a PhotoPass photographer and had our picture taken in front of the Tree of Life.  We went back to the bus to the Studio.  Most of our time will be spent either waiting for transportation or in transit.  We arrived at the Studio and went to find a photographer.  Had our photo taken and headed to the boat for our stop at EPCOT.  On our exit we had to say good morning to the Disney explosives dog and his handler.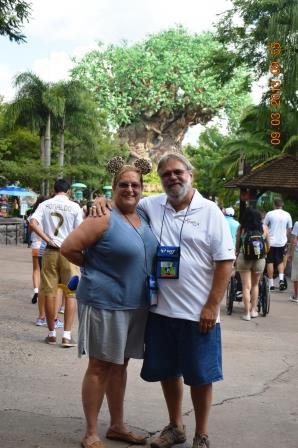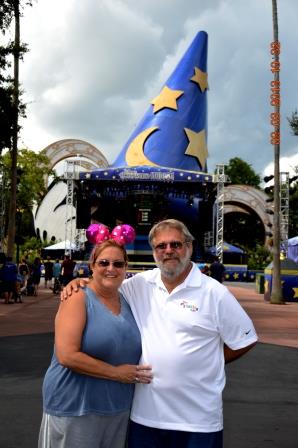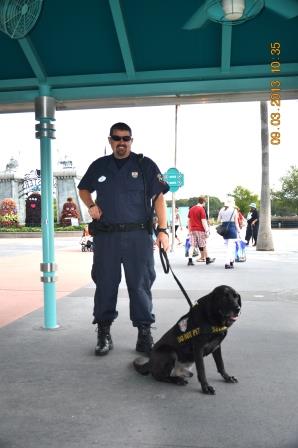 Disney explosive dog & handler

The boat to EPCOT was just pulling in so there was almost no waiting,.  It was a very nice ride to EPCOT so it was a good time to just relax until we got to our next photo spot.  It was about lunch time so we made a quick side trip to the French bakery for a Napoleon and Coke.  It had threatened rain all morning and it finally started to sprinkle.  By the time we got to the Fountain photographer it was raining pretty good.  We got our photos and made a quick detour through MouseGear before heading to the front gate for one more EPCOT photo.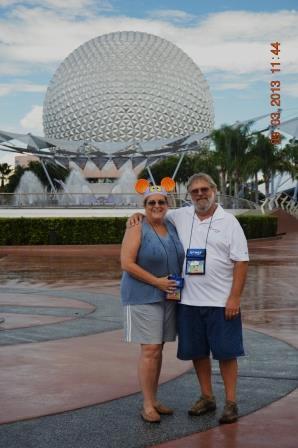 We went right to the Monorail station and waited a short time for the Monorail to TTC where we caught the ferry to MK.  The Monorail was almost empty, we have never seen the parks so empty.  We will have to make a point to be here the day after Labor Day in the future.  When we got to TTC we decided to take the ferry across to MK.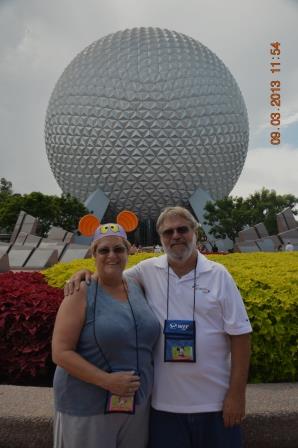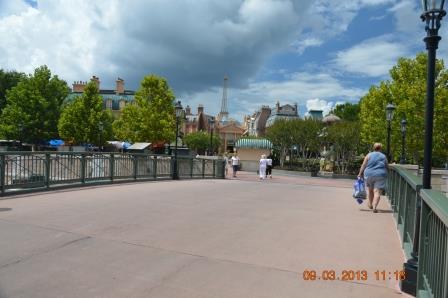 The bridge to World Showcase - virtually empty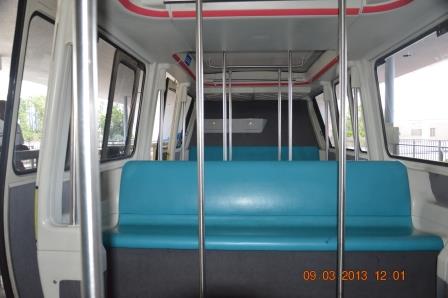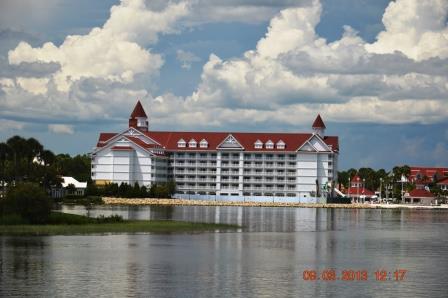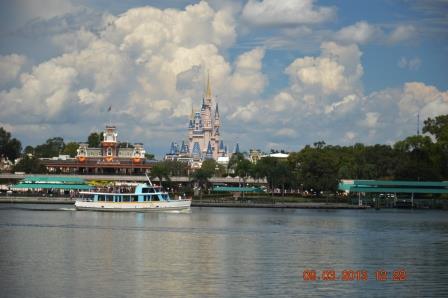 Grand Floridian Vacation Club addition

Magic Kingdom from the ferry

When we got to MK we went right in, no lines.  Jane had to make one stop at the hat shop (have you noticed she is wearing park themed ears in each photo?) and then we found a photographer at the end of Main Street.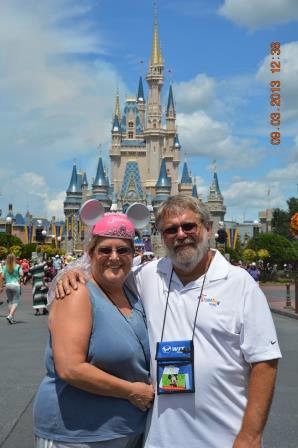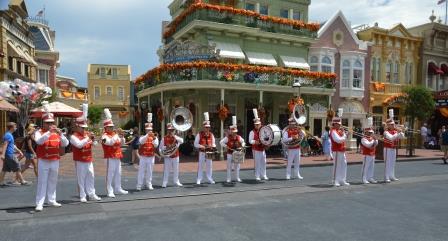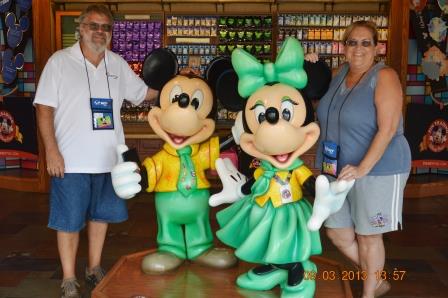 Magic Kingdom Main Street Band

Last stop - Downtown Disney Pin Trader - 2:57

When we left MK we had to decide how to get to Downtown Disney.  The best way (the only way) was to take a bus from a resort.  It was hot so we elected to take a boat to the Polynesian and a bus from there.  Since we were at the Polynesian we made a Dole Whip stop (ulterior motive for stopping here).  After we were sufficiently refreshed we caught the bus to Downtown Disney.  On the way we thought about where the photo should be taken there.  There are so many places that ARE Downtown it was tough to decide.  We agreed on the entrance to Pin Traders by the Mickey and Minnie characters.  But first, a stop at Earl's for sandwiches to go for lunch.  They need to have a PhotoPass photographer at Downtown, we found a guest that agreed to take our photo and we were off to get a bus back to the Fort.  We got back to our site 5 hours and 45 minutes after we left.  We didn't set out to see how fast we could do it, just to do it.  We could have done it allot faster had we not made some of the stops we did.  We could have evaluated the modes of transportation to see which way was faster, boat, monorail or bus.  It was fun to do, especially with no crowds in the parks.  Now Jane is wanting to do all 23 resorts in one day!  We will definitely have to plan a route to make the most efficient use of time.  Maybe a UPS type route - all right turns!  Guess I am studying a map in the next day or so.  After we ate our Earl's we just relaxed and spent time with the boys.  I think tomorrow we are going to take advantage of the low crowds and hit the Studio for Toy Story and maybe EPCOT for Soarin'.  We saw photos yesterday of Soarin' with NO LINE! 

Wednesday, September 4:

We decided last night to do EPCOT this morning.  The plan was to get up early, be at the park when it opened, and go straight to Toy Story, get a FastPass, and then go to the standby line.  Good plan - didn't happen.  Someone wanted to sleep in.  Around 9:00 we were all up and awake.  We took the bus to the Studio and went straight to Toy Story, but by now the FastPasses were for 2:45 and the standby line was 45 minutes long.  We got our FastPasses anyway and waited in the standby line.  Jane's accuracy was much better than mine this morning. 














Since we had a couple of hours until our FastPass time we did a













little shopping.  We learned that friends of ours,Chris and Amber,













were having a little girl so the theme was PINK.  Lots of pink













baby stuff.  We also shopped for the boy across the street  that













is taking our papers in at home.  We sent all our purchases back













to the Fort to be picked up Thursday afternoon.  I love that













service, saves having to drag all your bags around with you. 













While shopping we saw a couple of the street shows that are













always going on at the Studio.  They are just cute little skits,













but are fun to watch.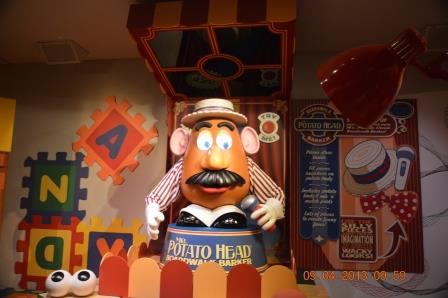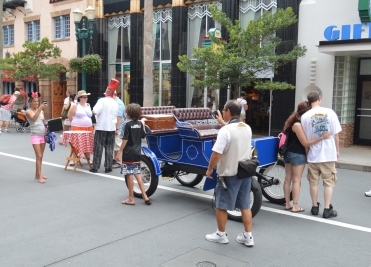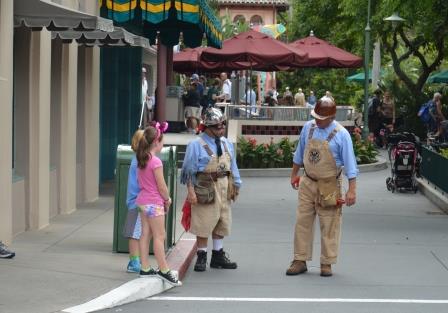 Mr. Potato Head at Toy Story

A couple of the street shows

By now we were getting hungry so we looked for a place to get a quick bite to eat.

We found a place on Sunset Blvd that had pretty good burgers and sat and ate and people watched.  WDW has to be the best place in the world to people watch.  You see some pretty interesting folks.  After lunch we split up, Jane to continue shopping, me to go to Guest Relations to get a confirmation number for our Candlelight Processional show in December.  We met up again in one of the shops and did a little more shopping.  We were getting tired and still had an hour before our FastPass times so we decided to give them to a couple coming in and we would head back to the Fort and  the boys.

While waiting for our bus we saw a new bus wrapped for the Marvel group.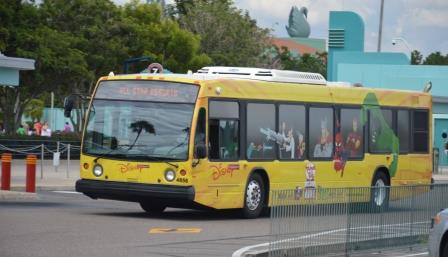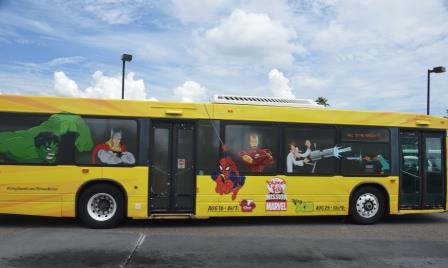 The afternoon clouds were building and it looked like we were in for some rain this evening.  We got home and let the dogs out.  I started looking at a map to figure out a route for our "all the resorts" day.  There are still some details we need to work out (photos inside or just the exterior,etc.).  The thunder started in earnest about 4:00 and then some rain.  The rain pattern was strange, the picnic table was wet, but not the patio around it.  Maybe the concrete patio was so warm the rain just evaporated when it hit.  Rain didn't last long which is typical here in the summer.  We watched some TV, did some planning, decided to go to EPCOT tomorrow.

Thursday, September 5:

This morning I went down to get a paper and when I got back to ALF, in the site near us was an Airstream Patio Roof 390.  Pretty cool idea.  A motorhome with a built in patio on the roof.  The original plan for today was to go to EPCOT today.  Well, plans are made to change.  New plan, today is the day for the "Great Monorail Circle Shopping Event".  But first, some breakfast to build up our stamina.  Took the boat to Fort Wilderness Lodge and Whispering Canyon for breakfast with Chad.  After a great breakfast of chocolate chip pancakes and a good visit with Chad, Bridgett, and George (it was a slow morning) we took the boat to the Contemporary Resort to start the Monorail Shopping Event.  We did some shopping for friends there and then hopped on the Monorail to the Grand Floridian for more shopping.  We bought the boys a ball at the G.F. and took the Monorail to the Polynesian and did some serious damage there.  We went into the Wyland gallery to look around. On the way down to the gallery we noticed a hidden Mickey in the carpet.  We had never noticed this one before.  They had a very nice Lady & the Tramp painting.  We talked to the salesman (art consultant) and eventually bought it (lots of Disney Visa points).  The artist is going to be here October 1 and is going to add some hidden Mickey's and then it will be shipped home.  After that we needed some refreshment - a Dole Whip was in order.  We decided to take the boat back to MK and then another boat back to the Fort. On the way to MK we passed the new Grand Floridian Vacation Club addition.  It looks just like the original.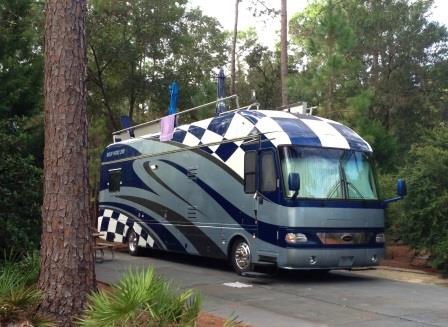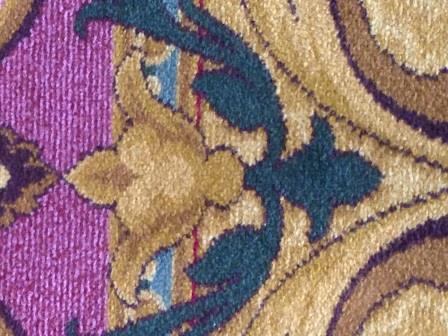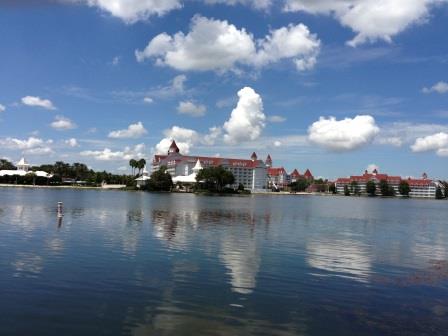 A beautiful day on the lake with Grand Floridian Vacation Club in background

When we got home we took boys out and just sat and enjoyed the day for a while.  It is real nice, but the clouds are building and it looks like rain is on the way - maybe heavy storms.  We are taking Hilda (travel agent and good friend) and her daughter Stephanie to dinner at Ohana's (at the Polynesian) tonight so we rested and fed the boys early before we left.  Had a short wait at Ohana's for a table and had a wonderful dinner.  During dinner it started to rain, hard.  Hard enough to make seeing across the lake almost impossible.  By the time we were done and on the way home it had stopped raining and the sun was trying to come out, which led to a beautiful double rainbow!!!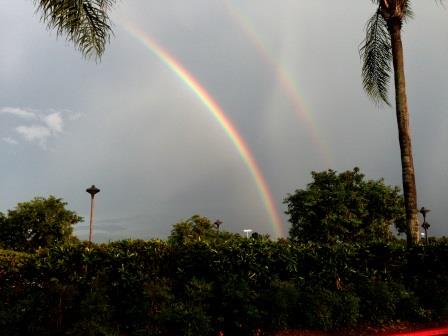 Once home we let the boys out before the next round of rain.  It was a great day and we had a good time. One thing came to mind though...........................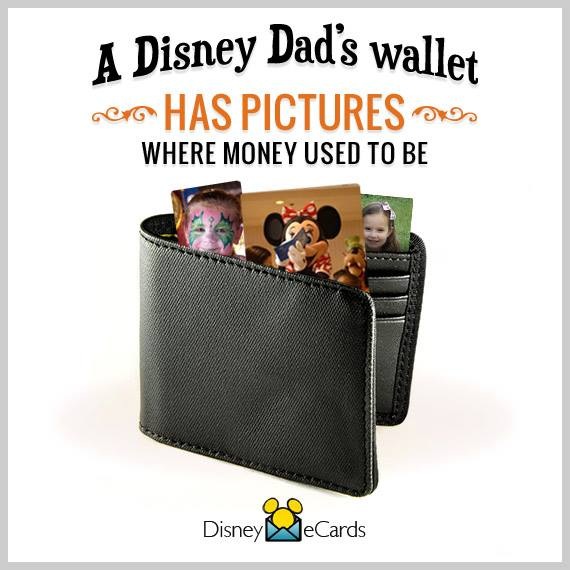 A beautifu; double rainbow that ended up being a big, full rainbow.

We are still working on routing and details for the resort challenge in a few weeks.  We have friends coming in next week so we can't do it then. But soon, once details and rules are finalized.  Now, it is off to bed until tomorrow.

Friday, September 6:

When we got up this morning Formula 1 practice was on from Monza, Italy.  We watched practice then I went down to the Meadows and picked up some packages that we had sent back to the Fort.  It was kind of like Christmas opening packages to see what we had bought.  When I got back to Alf we had some time before we had to go to the Studio for lunch at Sci-Fi restaurant.  Took the boys for a long walk since they didn't get one yesterday.  We did see the Osprey up in the trees, a large group of turkeys and RICKI the alligator!!  We hadn't seen him/her this trip yet.  We can't

figure out how those gator's can be so motionless, it is

just amazing.  Jane first spotted him/her in the algae cover

on the creek.  After "The Walk" we had to get ready to go

to the Studio for lunch.  Sci-Fi is kind of a cool place to

eat, modeled after a drive-in theater.  They have a movie

screen that they show old movie clips on, mostly old b&w

monster movies.  Food is really good, too.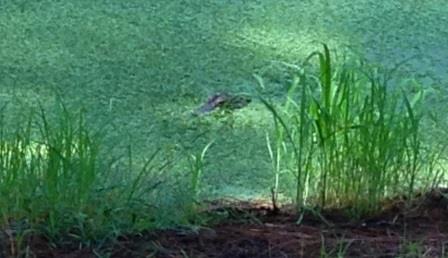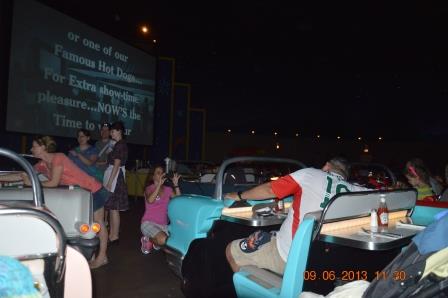 Ricki, barely visible in the green slime

After lunch we made our way back to the bus via the Main Street shops.  We went through a few of the stores along the way and then to our bus.  We still hadn't been to the grocery store so I went and got a few weekend supplies before the afternoon rush.  It was looking allot like it was going to storm when I went in so I hoped that I could get done before the storm.  Didn't happen!  It was storming when I got done, raining very hard!  By the time I got back to the campground it had let up a little, but it continued to rain for the rest of the afternoon and evening.  It is supposed to be dryer  for the next few days.  After some TV, we were off to bed.

Saturday, September 7:

I got up this morning and discovered that Disney doesn't want us to go home.  The Morning Glory outside our door has attached itself to the boys X-Pens  I think we are going to have to cut it off the pens when we leave.  I have never seen anything grow into a fence as fast as this has.  Maybe we

should stay, hate to cut up a pretty Morning Glory.  Today is supposed

to be a rest day.  Our loop is pretty empty now, 4 of our "neighbors left

early this mornings so it is very quiet now.  We did a little cleaning up and

a load or two of laundry.  Jane thinks we have the dryer thing figured out.

the day started out cloudy and overcast, but it is forecast to clear up and

be sunny the rest of the day.  Ahh, weathermen, it's just a guessing game.

About 1:00 it started clouding up again.  It was time for lunch and Earl's

sounded good, so I got in the car and went over to Downtown Disney to

get a couple of sandwiches.  Since it is the weekend I expected the place to

be mobbed - it wasn't too bad.  The sign at the parking lot said "Lot Full"

but I counted at least a dozen empty parking spots.  Earl's wasn't even too

busy.  I love being here in September!!!  When I got back, we ate and then

we went outside to enjoy the sun while it lasted.  That didn't last long, it

started to get very cloudy and seriously look like rain again.  About4:00

it rained - hard - again.  We looked out and saw 3 deer hurrying for cover.  It has rained hard every night for the last 3 nights.  I hope that this stops next week when Chris and Amber are here.  The forecast if for a drier week next week, but as we saw today, some of those forecasts are not to be believed.  We stayed in and did some reading, some DOG work and possible a nap happened sometime.  We kind of scrounged for dinner, neither of us was real hungry.  I think I worked out our route for the upcoming "Disney Resort Tour".  We have to do it in the car since you can't go from resort to resort using strictly Disney transportation.  We have decided to take our picture in the checkin area of each resort.  We are going to try and us the UPS system - using mostly right turns.  We will see how it goes in a couple of weeks - stay tuned!  Time for bed, we have to get up at 7:00 for a Formula 1 race at 7:00.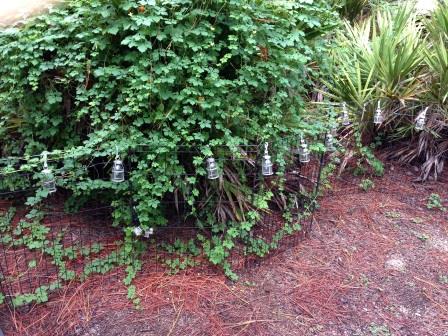 Yes, there is an X-Pen under there

Sunday, September 8:

This was supposed to be a relaxing day, no plans, no where to go.  We got up early to watch the Monza F1 race. After the race the weather was clearing up.  It was a sunny day and warm so we decided to go to the pool for a while.  We stayed for about an hour and then it was getting hot so we left and went home.  Since it was Sunday and the crowds would be low, we decided to go see "Planes" at the AMC Fork and Screen at Pleasure Island and have lunch there.  The movie was very cute, recommend it to everyone.  After the movie we went home, fed the dogs and crashed.  Watched a little TV, did some DOG business, and played with the boys before going to bed.

Monday, September 9:

Got up to a beautiful morning, nice breeze, sunny, and warm.  We decided to go over to the Contemporary Resort for

breakfast at the Contempo Cafe.  Had a light breakfast and did some quick shopping then headed back to the Fort. 

We took the boys for a long walk and met a couple that were apparently getting ready to leave.  They were just taking a

tent down, but are staying until Saturday.  They have an

interesting method of people watching in the parks.  They

pick a bench to sit on and stay there until a certain criteria

are met.  It might be when 10 people wearing Crocs walk by,

then they will move to another bench and start over. 

Sounds like fun.  After the walk we went to the pool for a

while.  It was almost empty when we got there - amazing!

We know that the campground is low on attendance,

but didn't realize how low.  It is awesome that there is

no one here, but this is crazy. We stayed until one of the

cast members decided that it was time for games, and

loud music.  When we got back we fixed a light lunch,

took a short nap and just relaxed.  We are waiting for Chris

and Amber to get here from Independence.  About 6:30 we

got a text that said they were just checking in at Shades of

Green and would be ready shortly.  We went over and

picked them up to go to Earl's for dinner.  After dinner we

walked around the Downtown shops and, surprise, we

bought some stuff (actually Jane and Amber bought stuff).

After a bit we were all wearing down so we took them back to Shades of Green and we went home to turn in for the

night.

10:00 am and the pool is nearly empty

Tuesday, September 10:

We got up early to pickup Chris and Amber to have breakfast at Whispering Canyon and Chad.  We had a good breakfast and visit with Chad then went back to the campground to clean love bugs off of Chris's Jeep.  We then took a boat to MK.  We had  some PhotoPass pictures taken while we were there. After going to the Tiki Room, riding The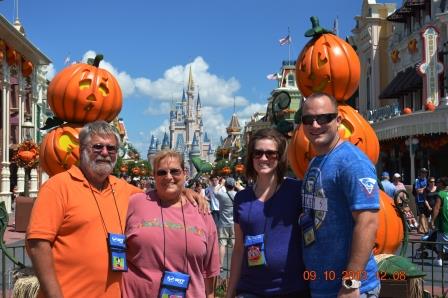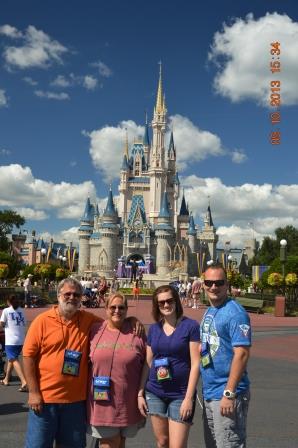 Al, Jane, Amber & Chris on Main street

Chris & Amber at "Be Our Guest"

Pirates of the Caribbean, Haunted Mansion and It's A Small World we stopped in at Be Our Guest for lunch. There wasn't much of a line so we got in fairly quick.  After lunch we wandered down to Monsters, Inc and watched a show.  By now, we are all getting tired, so we took the boat back to the campground and Chris and Amber went back to Shades of Green for a nap for Amber and some pool time for Chris.  We are going to pick them up about 9:15 for dinner at the California Grill at the Contemporary Resort.  We  fed dogs, napped and cleaned up before picking Chris and Amber up.  At the appointed time we picked them up and went to Contemporary for dinner at Califonia Grill.  We checked in and were almost immediately ushered to the express elevator to theroof top resturant.  Our buzzer was going off before we got off the elevator and we were seated immediately.  Good start so far.  The California Grill just opened Monday night after a long period of renovation.  Some changes were apparent right away, new carpet, expanded windows (taller) and some seating changes.  After we were seated our waiter showed up to take drink orders, and shortly after that he took our orders.  The menu is fairly limited to about 6 entrees.  The view is great, especially at night.  They have a viewing area for fireworks, which got crowded when the fireworks started.  After we finished our entrees our waiter must have gone on break since we didn't see him for a long time.  He finally appeared at the same time we stopped the manager to take the dirty dishes away.  Desert was ordered and took a while for us to get.  We again had to wait for him to bring a bill.  So,our evaluation of the "new" California Grill is they are great at getting you up and your order taken, after that it is downhill.  To me the food was average and over-priced.  The service left alot to be desired.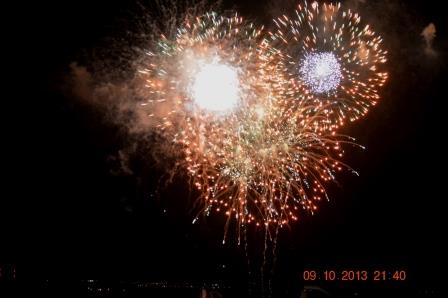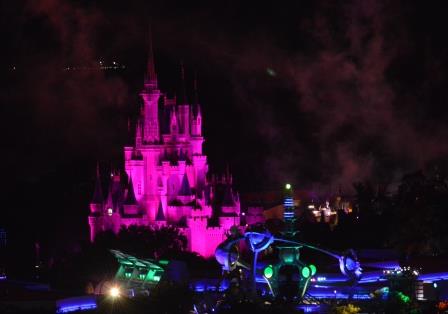 Hidden Mickey in the sky!.

the Castle also has a light show!

After dinner we planned tomorrows events.  We are having lunch at Sci-Fi resturant so we are doing the Studio.  We are meeting Chris and Amber at the park, Chris is anxious to get to the Rockin Roller Coaster ride.  Have fun Chris, the rest of us will wait for you.  Jane & I will get Chris FastPasses if we get there before he and Amber do.  Then we will probably set out to the Toy Story ride.  We took chris and Amber back to Shades of Green and we went back to the Fort and the boys to turn in for the night.

Wednesday, September 11:

We got up early to meet Chris and Amber at the Studio.  We got there first

so I went and got Chris 2 FastPasses to Rockin Roller Coaster.  He loves

that ride.  When they got there, Chris went toRockin roller Coaster while

Jane and I waited at Staring Rolls for a little breakfast.  After we all met up

we went over to Toy Story for a test of our shooting ability - Chris won.

After Toy Story we went to Muppet 3D for the show.  It is a really cute show

and the effects are great. After the Muppet's I went back to the Fort to let

dogs out while the others did some shopping.  We had reservations at the

Sci-Fi Drive-in at 12:30 so I had to hustle and hope I made bus connections

everywhere to get back by 12:30.  Did it! I got back to Sci-Fi just at 12:30

and we had a great lunch and awesome horrible movies.  After lunch we

All decided we needed to take a break, so we all went our separate ways to get some rest.  As we were leaving the

park we saw that the clouds were building and these were definitely Disney clouds.  We decided  to pick them

up at 6:00 to go to Downtown Disney for dinner at ....... Earl's.  Then some shopping and just

exploring West End.  Along the way we ran across a "living statue".  He had drawn quite a

crowd.  He stood there motionless while people took pictures, etc.  Every now and then he

would move and really startle someone.  He was amazing!  We took a picture on him with

Chris and Jane.  We continued down to Circ de Solei where Chris and Amber bought tickets

for the Thursday performance.  We then returned to Downtown Disney the way we had come

and the "statue" was still there.  This was at least an hour after we had first seen him.  This

guy doesn't get paid enough!!  We took Chris and Amber back to Shades of Green and we

returned to the Fort and the boys.  We all turned in early as we have to get up early to go to

breakfast at Cinderella's Castle.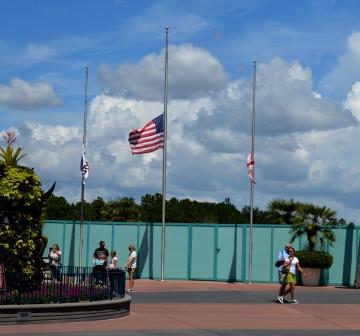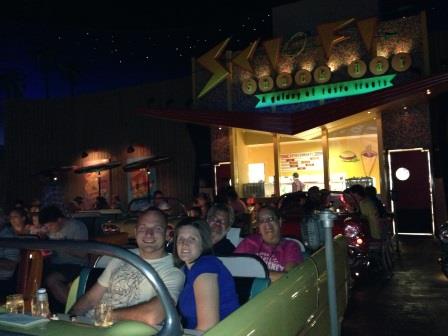 Chris, Jane, Amber & Al at Studio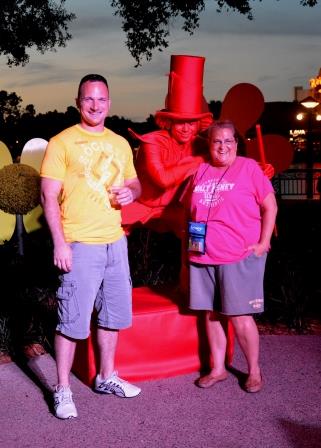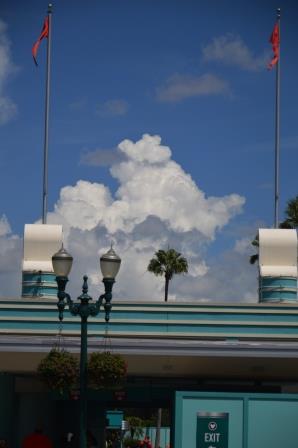 Thursday, September 12:

Long day coming up today.  Up early, 7:00 am, so we can get to MK for breakfast at Cinderella's Castle at 8:30.  The plan was to take the boat to MK.  Boats  didn't start running 'til 8:30 (we thought) so we drove to Contemporary, then took the Monorail to MK.  Chris and Amber were on the same Monorail so we got MK at the same time.  We went to the Castle and got right in, but first photos with Cinderella herself.  Then it was upstairs for breakfast with more princesses.

Jane, Al, Cinderella, Chris & Amber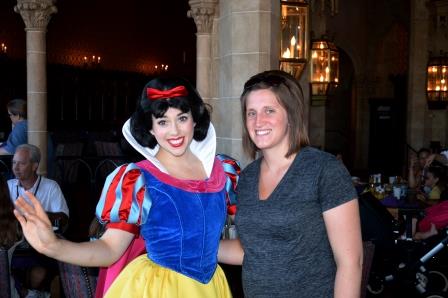 Snow White and Amber White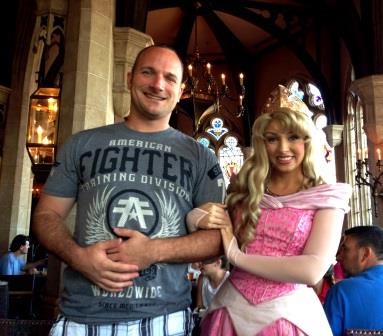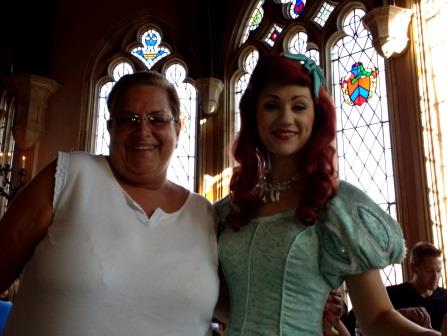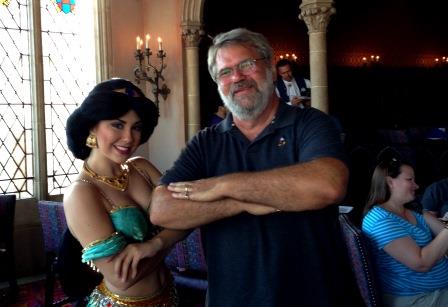 After breakfast we took Monorail to Contemporary, picked up car, and took it to the Fort and let dogs out before we went to Animal Kingdom.  Long wait for bus to AK and some folks were getting a little impatient.  Bus finally came and since it had been so long a wait, the bus was jammed.  We went straight back to the Kilimanjaro Safari ride.  It seemed to be rougher than in the past.  We saw lots of animals including a trio of elephants.  When we got off the safari, we headed over to Asia, Chris wanted to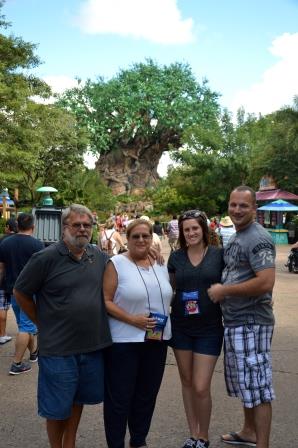 In front of "Tree of Life"

ride Expedition Everest.  Chris survived Everest while Jane, Al, & Amber waited in the shade. When Chris was done, we went over to the Lion King show.  We were early, so the girls did some shopping.  Chris had never been to Animal Kingdom so this is all new to him, he is loving it.  When the doors to the show opened one of the ushers noticed the anniversary buttons Chris and Amber were wearing and took us over to a front row bench - cool.  The theater is separated into 4 quadrants - Warthogs, Lions, Elephants, and Giraffes (we were in the Warthog section).  Well, when the show started one of the performers came over and pulled Chris out and had him demonstrate a Warthog to the rest of the section.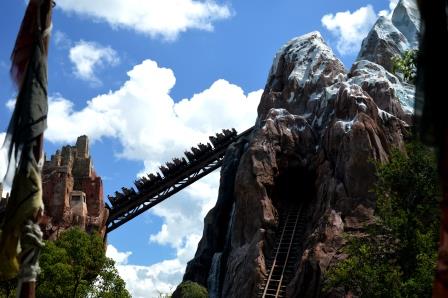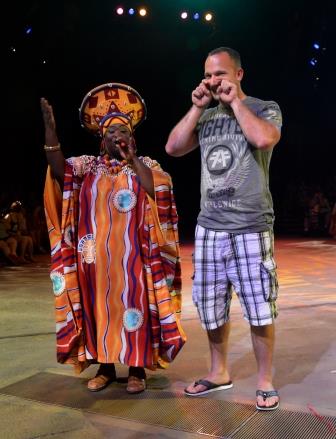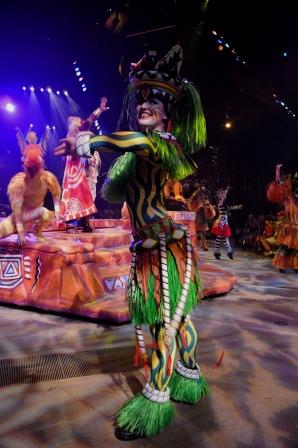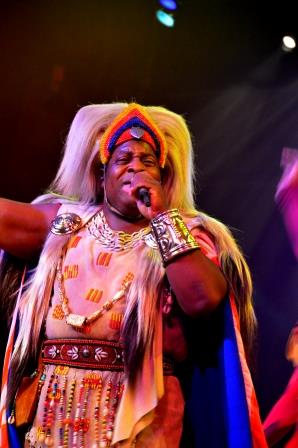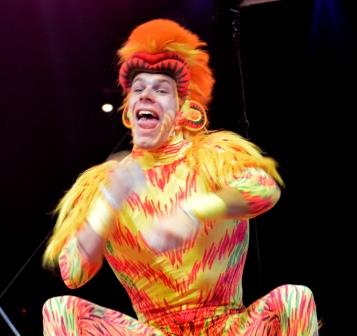 The costumes are awesome!

...and the acrobatics are fantastic!!

After the Lion King show, we went over to Yak and Yeti for lunch.  It was only about 2:00 and our reservation was for 3:00, but we thought we would see if we could get in early - they seated us right away.  We were hoping the rain would hold off until we were done - it didn't - it poured. I went next door and got 4 ponchos so we could get to the buses without getting soaked.  The Fort Wilderness bus was waiting for us!  We got back to the Fort and since we had left the car up by the bus stop, we just took Chris and Amber back to

Shades of Green so they could get some rest before they had to leave for the Circ show at 6:00.  We got back to the RV, let the boys out, fed them and settled in for the night. Tomorrow, we can sleep in, not meeting Chris and Amber until lunch at Coral Reef at 12:20.  Then we will do some shopping and take a turn on Soarin' and maybe Test Track.  Time to turn in and get some sleep.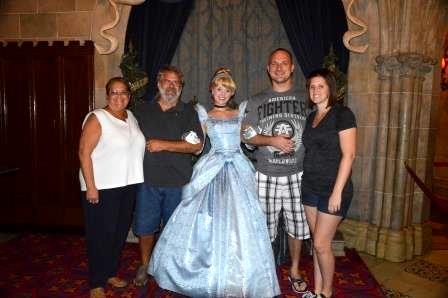 FRIDAY, SEPTEMBER 13:

After last night, we slept in a little.  We got up and just relaxed for a while and then went to meet Chris and Amber at EPCOT for lunch at the Coral Reef.  Great lunch! After lunch we went to see Crush in Turtle Talk.  Real cute show as always. After Turtle Talk we went over to the ride we all wanted to go on - Soarin'!  Very short line, we asked for the first row in car B and got it.  Great show, I just wish they would change it up a little.  They have 2 DVD's in the gift shop we need to get.  they look similar to the Soarin' film, one is California the other is Florida,  From Soarin' we went back to World Showcase. and walked around.  Chris stopped in at Germany and had a beer, the rest of us got bottles of water.  We continued around the "World", stopped at China to

watch the acrobats- they were wonderful.  As we continued around we commented on the few people were in the park.  We ended up at MouseGear where Chris and  I left the girls to shop while we went on Test Track.  Before we left, we had a photo taken of the 4 of us.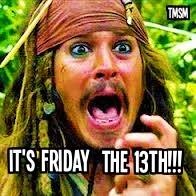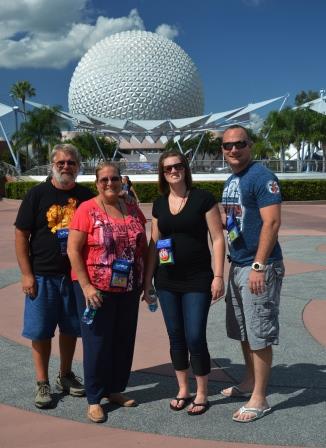 At about 3:30 we left EPCOT to go back to our "rooms" to rest up for the "Not So Scarry Halloween Party" at the Magic Kingdom.  We returned to MK and met Chris and Amber at the boat dock.  We went in and immediately went to the Haunted Mansion ride.  we were hoping that there would be something special on the ride, but there wasn't.  Casey's was our next destination for a bite to eat and then to find a viewing spot for the parade.  We had a little picnic on the sidewalk waiting for the parade to start.  Nothing better than sidewalk picnics!

As usual the Headless Horseman led the parade.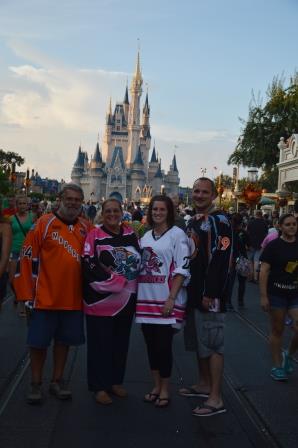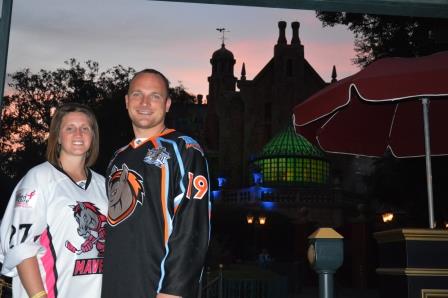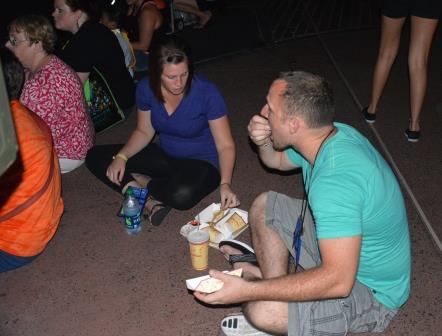 Amber & Chris at Haunted Mansion

90+ degrees and we decide to do Halloween as hockey players

After the picnic and a short bout of shopping, the parade started!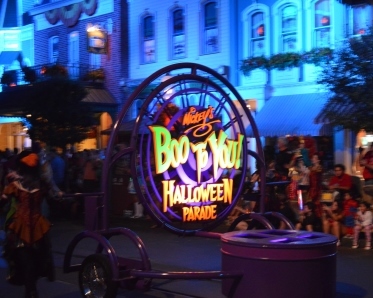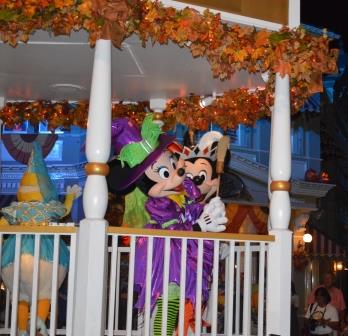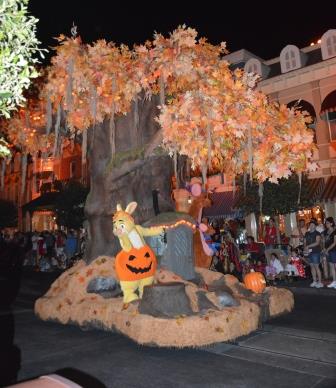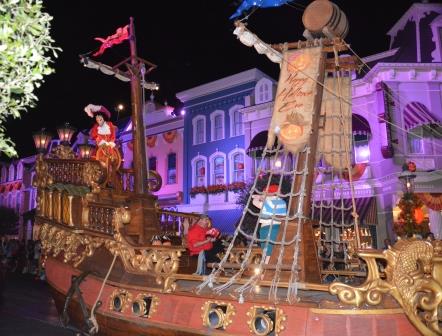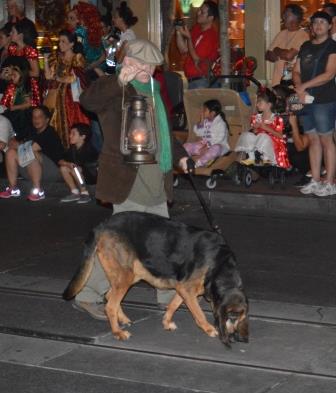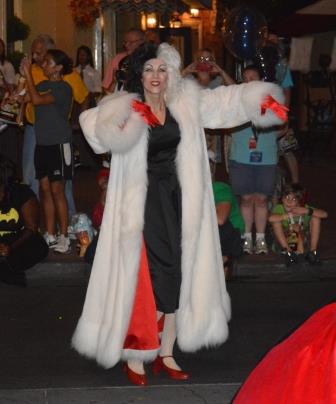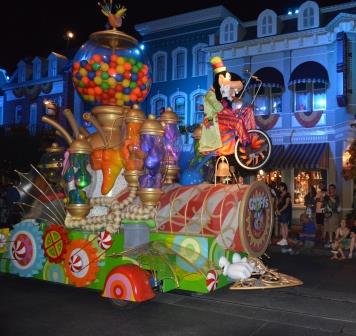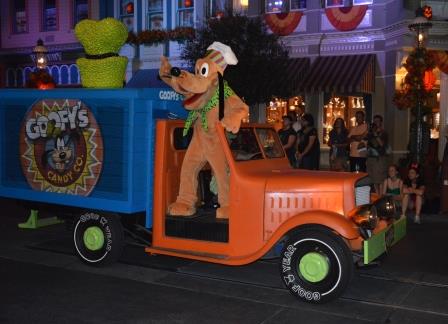 And then there were fireworks............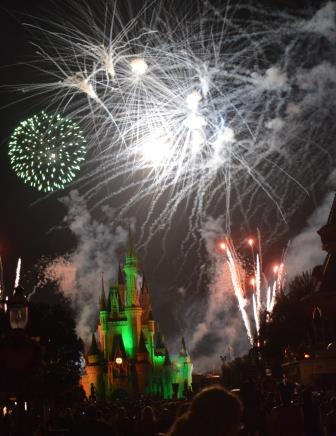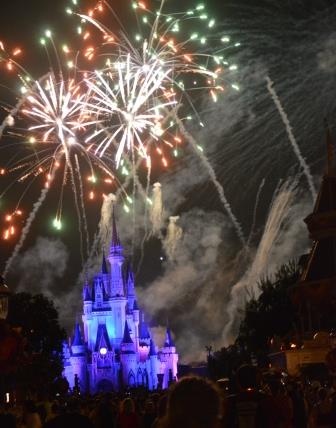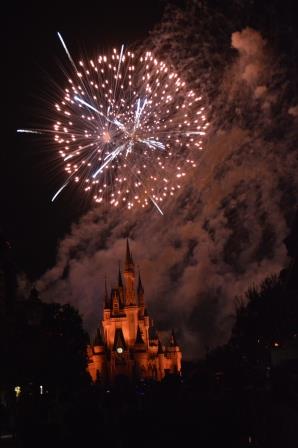 After the fireworks show (which was awesome as usual) there was more shopping. Chris and Amber are leaving in the morning to go home and back to work.  We walked out so they could catch the Monorail and we caught the boat back to the Fort.  We thought of the EPCOT acronym  "Every Person Comes Out Tired" and tonight we were all tired, it was a LONG day.

Saturday, September 14:

Today is a day of rest!  Chris and Amber left early this morning.  We got up early to feed and exercise the dogs then we went back to bed.  We are exhausted from the past week.  Since it was Friday the 13th and the Halloween Party yesterday, Disney decided to have a Villains event at the Studio.  If  Chris and Amber hadn't been here we would have tried to go to the Studio.  It's a good thing we didn't, we heard that the place was mobbed! The studio was at capacity and they were turning buses, boats and cars away.  No one here had ever heard of that happening before!  Anyway, we stayed home and rested/slept all day.  At 6:30 we went down to Mickey's Backyard Bar-B-Que for dinner.  It is something we haven't done before and we needed to eat.  It is just like it sounds, a buffet of hot dogs, hamburgers, pulled pork, potato salad, corn on the cob and ice cream for desert,  Of course they also had some corny entertainment.  While we were there an infant was either hurt or sick that ended up being taken away in an ambulance.  Kind of a downer for the end of the day.  Hope it is okay.  When we returned to Alf, it was another early to bed day.  Tomorrow may be another rest day with a couple of walks for the dogs thrown in.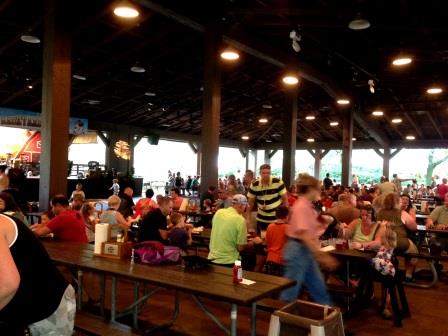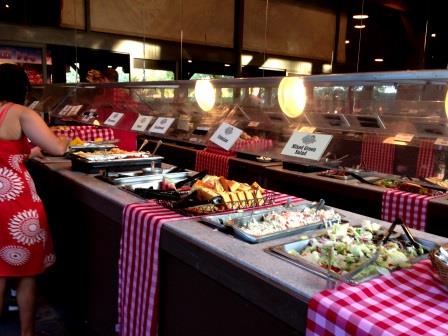 Sunday, September 15:

Well it was one more lazy day.  We slept in.....again.  We all went for a long walk today, the boys really enjoyed it.  Need to do it again tomorrow.  We even ate in twice!  Took care of some DOG business and did lots of laundry.  It was a pretty uneventful day, and very relaxing.  I think we are going to EPCOT tomorrow, we have to go to Canada to pick up some hockey shirts and some Tim Horton coffee (to see what all the fuss is about).  We also have to pick up a couple of things at MouseGear for friends back home.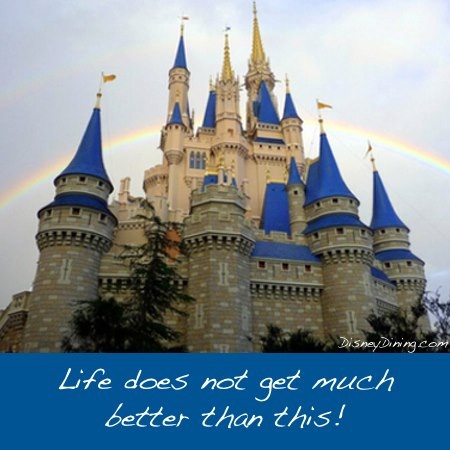 Monday, September 16:

Today was another relaxing day, sort of.  We got up and took the boys for

a walk, they love their morning walk.  We haven't seen Ricki lately, no

turtles, no otters, mostly just birds, and an occasional deer in the evening.

After the walk we needed to go to EPCOT to some shopping for things we

didn't get Friday.  We went to Art of Disney first, and bought a Disney Dogs

painting, then to MouseGear for a couple of things.  From there we went to

a Character Spot to get a surprise for some folks back home.  Then it was

over to Soarin' to get a DVD "Over Florida" that we tried to get Friday, but

the computer wouldn't put in my discount ($2.00) so we said we would come

back later.  Well, later (today) it was gone.  We recalled an axiom we learned

early, "if you want it, get it now".  After that we went to Canada to hopefully

get a couple of hockey tee shirts for some of the guys back home. It was starting to cloud up and look like rain,so we decided to head home.  We were right - shortly after we got home it started raining.   We decided on Earl's for dinner - again.  Earl's is probably our favorite quick meal.  Many times (like tonight) I will get in the car and just drive over and get it to go.  After dinner, we watched allot of news on the Washington D.C. shooting.  Then it was off to bed.