MEET ALF 2:  JANUARY 13, 2014:

Since we spent about 5 months in Alf last year we decided to start looking for a coach with a little more room.  We looked through the brochures and web sites at coaches over 37' and under 40' (so it would still go in the garage).  We settled on an Itasca Suncruiser 38Q.  It had the options that Jane wanted (residential refrigerator, separate washer and dryer) and a little more living space.  We found that Olathe Ford RV had one on order that was supposed to be delivered to them in late December 2013.  One nice Saturday in January Jane wanted to just go look (cabin fever I think).  The 38Q wasn't in yet so we looked at a Winnebago Tour (42') and an Itasca Meridian 36M DP (diesel pusher).  The Meridian was very nice and it would fit in the garage!  We decided that this was our next coach.  On Monday, January 13, 2014 we said good-bye to Alf and took delivery of Alf 2.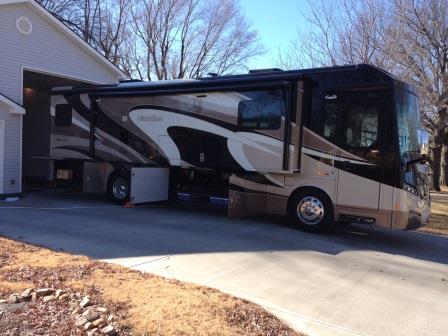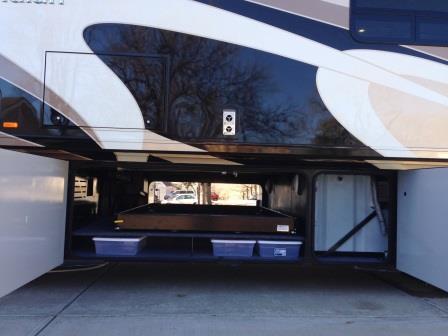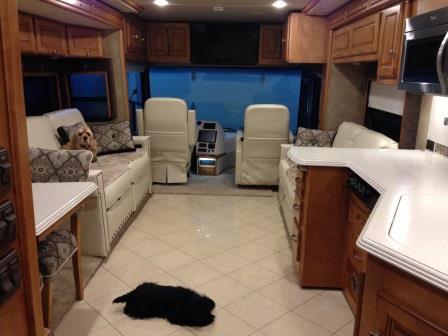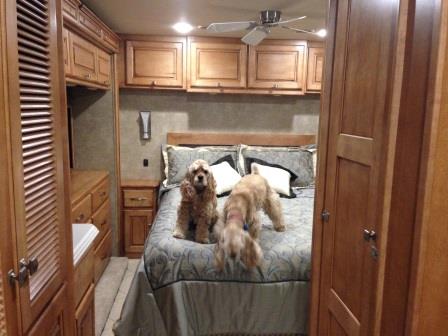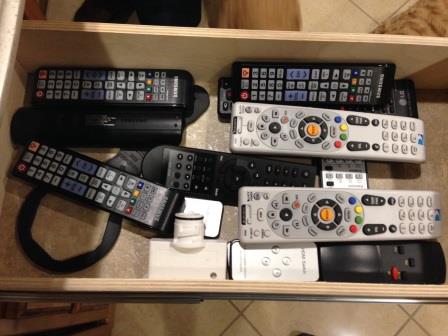 About 60 cu ft more "basement" storage.

The Main Lounge; with Smudge and Boo

Bedroom with Nico & Smudge

Alf 2 is a DP with a 360 HP turbo-charged Cummins diesel engine & a 6 speed Allison transmission. 

Lots of power.  It also has air ride suspension, air brakes and best of all AIR HORNS!!! 

He has 4 (yes 4) TV's; one in front, one mid-ship, one in the bedroom AND one outside. This also means that it comes with a drawer full of remote controls.  I guess I will have to learn what works what before we leave.  I think there is lots of reading on how systems work (air systems, DEF, and all those electronics) before we hit the road.  There is also 60 cu.ft. more basement storage than in the first Alf.  Jane immediately thought about how much more she can buy or how many more inflatables she can take at Halloween and Christmas.  We spent Sunday in the coach lining shelves and drawers, making the bed, and deciding on what should go where.  Fun times ahead!!!!

Sunday-Monday, February 9 & 10:

We are still loading and putting away stuff.  We are going to be really organized this time.  Jane has purchased all the plastic containers  that she can find to put things in to keep them from moving around too much.  Everything will have it's own place!  I have been going through the many remote controls for the TV's, and the Home Theater unit.  Very confusing, too many options.  What ever happened to a simple on/off unit?  So far everything works, at least all the over-the-air options work. the kids have been "helping".  I think they love having more space now.  The new floor plan is more open and it seems allot bigger.  We talked to the new owners of Alf 1 over the weekend, they live in Warsaw, MO (about 100 miles from here) and I will send them some things that were left from Alf 1 (light bulbs, service records, etc.)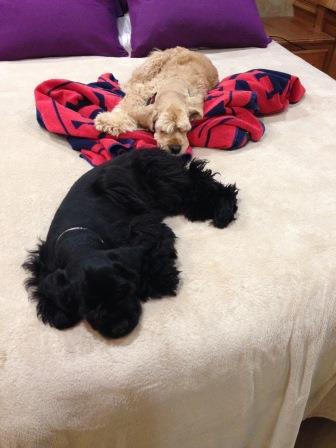 Boo & Smudge on the RV bed - they are ready to go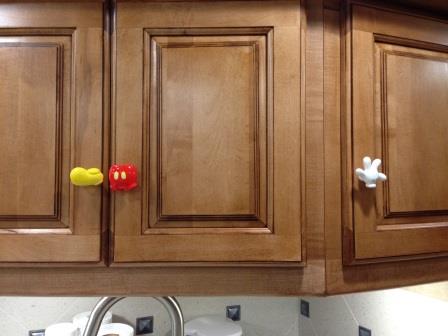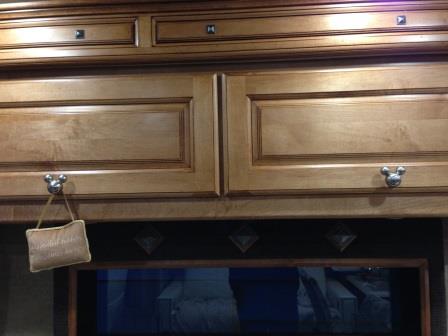 The Mickey-fying has begun!!  Many more knobs on the way from Ebay (thank you Carol, I would have held out).

I won 19 more today.  can't wait to get them.  Also have some window perfs on order.  We are in the final stages of "moving in" and getting things "just right".

Saturday, February 15:

Some of the knobs I won on Ebay arrived today, now to find screws for them.  We did a little more loading and arranging today.  We are almost done and ready to go somewhere.

Monday, February 17:

Mikki from Vital Signs came over this afternoon to look at doing some graphics on the windows. I took a few more pictures of the interior.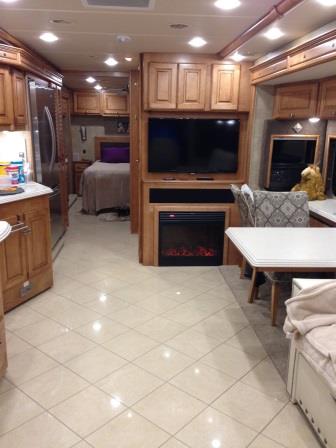 Interior shot looking from the front back to the bedroom.  Ceramic tile floor and LOTS of lightsmake it very bright inside.  Yes, that is a functional fireplace under the TV.

Wednesday, February 19:

New drawer pulls arrived today, have to get screws for them.  Alf 2 is ready and waiting.  First trip may be to Mavs hockey in St Charles, MO. on the 28th. If that goes without a hitch we will probably go to St Charles for an Arizona game then to Quad Cities for a Mavericks game on March 5th (maybe) and then to Peoria to watch Cole Ruwe for a couple of games on the 7th, 8th and 9th.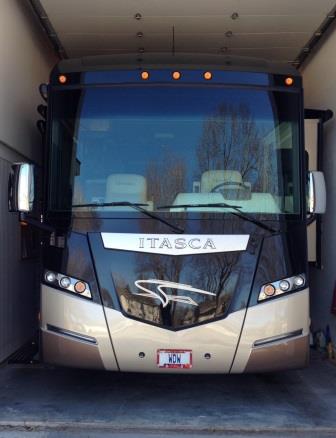 Sunday, February 23:

Today we spent some time planning our fall trip and thinking about maybe doing some real snowbird things like spending at least part of the winter in Florida.  Disney has some really good deals during the months of January and February.  I also installed a very sophisticated, state of the art parking assist system to aid in getting Alf positioned correctly in the garage.  It works great!!!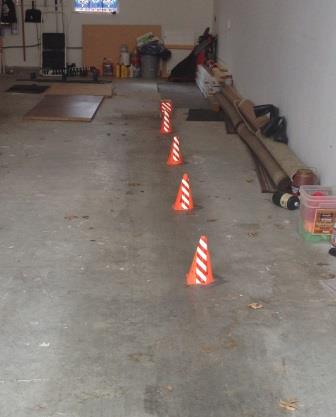 Just stay left of the cones!!

Tuesday, March 4:

We now have 27 new disney door knobs for Alf 2 with 4 more to come next week.  Now the dilema is:

Where do we put them?  A few of them may end up in our kitchen at home - we will see.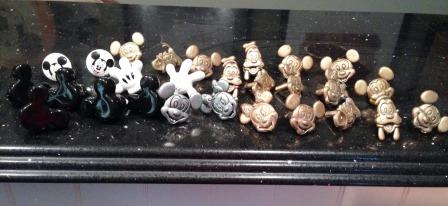 Friday, March 21:

We decided to do some Disney-fying on the exterior.  Today it happened!  What do you think?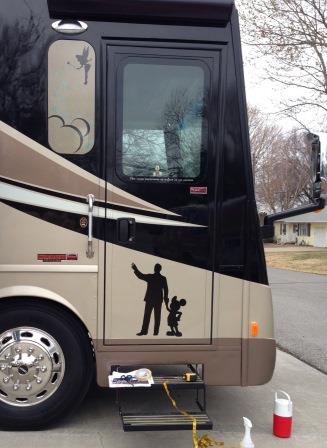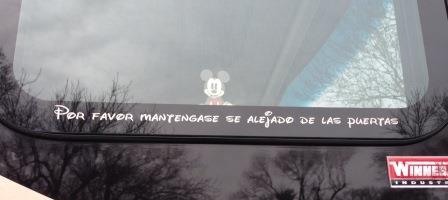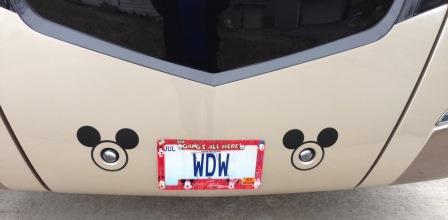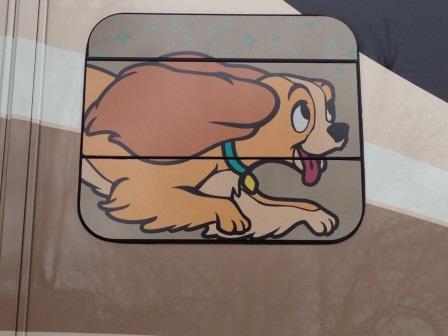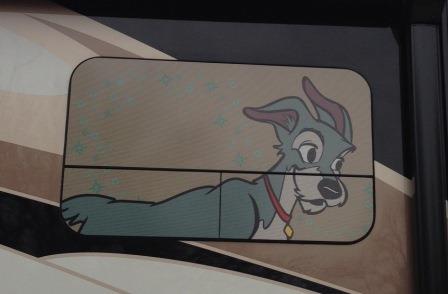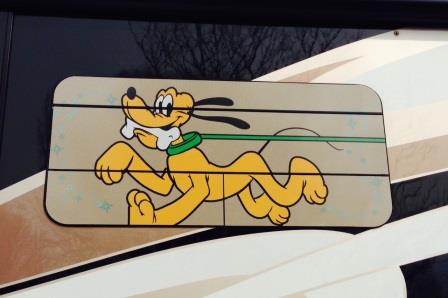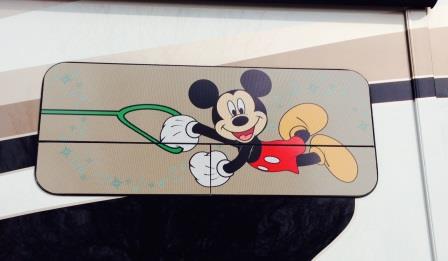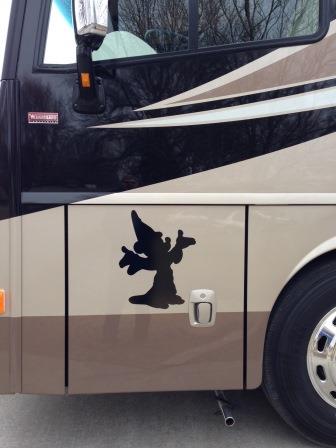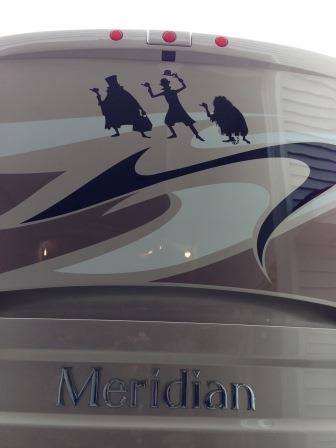 Friday, March 28:

We discovered that the ceramic knobs had a tendency for the threaded inserts to pullout when used on the

doors in the coach.  On toPlan B, use all metal cast knobs.  Fortunately we have plenty of those.  Here are a few of them (thanks again to Carol for not bidding against me).  We also have 20 standing Mickey knobs that I might share with Carol if she wants them.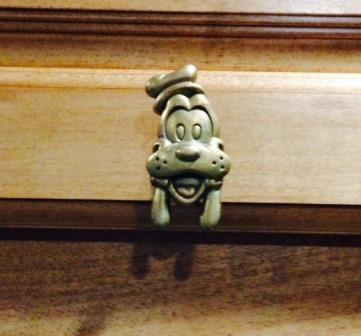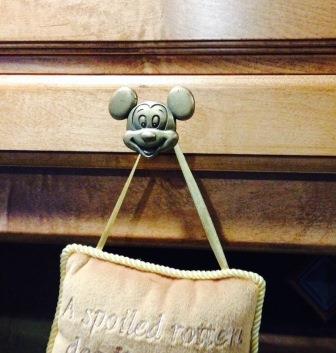 There are 12 of these (above) scattered around the "Lounge" area now.  More to come.